Dear international readers of Beautyjagd,
Welcome to the next English-language edition of Beautyjagd! This is a condensed version of the most important articles that have appeared on my blog over the last few weeks. For more information about this format, click here. And now: enjoy the best of Beautyjagd in English!
Best wishes
Julia
Travelling and beauty are two of my favourite things! And I like it even better if I can combine them both 😉 . So, in cooperation with the experts from German aromatherapy brand Primavera, I have collected some cool DIY aromatherapy beauty tips especially for travelling. Enjoy!
♦ Hotel room wellness
Let's start with some suggestions for general well-being! I often have trouble sleeping well in the first night of a hotel stay – I have to get used to the new bed and the new surroundings and it can take me a couple of days until I feel at home. What really helps me in this situation is the Primavera Sleep Well Pillow Spray which reminds my nose of my room at home. The spray is scented with lavender and vanilla which soothes and relaxes me. I also use the Regenerating Hand Cream (which also contains lavender) to massage my hands before I go to bed – another relaxing ritual which helps me go to sleep. If you want to find out more about the hand cream and the pillow spray check out this blog post here.
To make my hotel room feel more comfortable I often put up one of my Japanese tenugui – I simply wedge one side of the printed rectangular cloth into the door of a wardrobe or shelf. I never travel without at least one tenugui in my luggage! If you want to read more about these traditional Japanese cloths, check out this German-language article here.
A little bottle of organic essential bergamot oil is a great help if your hotel room has a less-than-pleasant smell – bergamot is a special kind of citrus fruit which is traditionally used to scent earl grey tea. It is also a very uplifting scent. Simply put a few drops of bergamot oil on a handkerchief and place it somewhere in your hotel room. You can also take the scented handkerchief to bed and smell or inhale the fragrance. "Breathe in. Breathe out. Then sleep" – this is Primavera product manager Maria von Känel's favourite tip when she is tired but has trouble falling asleep.
Bergamot oil is also helpful if you have a sore throat or feel a cold coming on: most hotel breakfast buffets will offer some kind of honey – simply add a drop of bergamot oil to a teaspoon full of honey and use your tongue to slowly move the mixture around your mouth and throat. Bergamot has strong antiviral, antibacterial and antiseptic properties.
♦ On the road: Desinfection, mosquitos, bruises and skin injuries
I am not one of those people who have to constantly disinfect everything around them. However, when I am travelling there are often situations where such a spray is helpful! I therefore asked Maria von Känel which Primavera spray she thinks is antiseptic and would be suitable to disinfect the skin or the surfaces in a room. She recommended the Organic AirSpray Lemongrass. You can simply spray this on any surface that looks like it might not be 100% hygienic – toilets, for example – but use a cloth to wipe it dry afterwards; plastic surfaces can be damaged by the spray. The Organic AirSpray Lemongrass contains water, alcohol and essential lemongrass oil, a combination which has a very strong anti-bacterial effect. You can even use this spray on your hands if you don't have a disinfection gel handy.
Or use the Lemongrass spray against mosquitos because insects don't like the scent of lemongrass – you can spray it on the hotel drapes, for example. Other essential oils that insects hate are citronella (the classic) but also lavandin, lavender, eucalyptus citriodorata and tea tree oil.
Primavera's Organic Immortelle Water is another multi-functional product: you can use it as a soothing toner if your skin has had too much sun during the day, or use it for first aid: immortelle helps against heavy-feeling legs, sore muscles, scratches or bruises. Simply spray the immortelle water onto the affected skin areas or soak a piece of cloth in the water and use this as a compress.
Another great travel aid is a jar of Primavera's Shea Butter Raw & Organic. Blend the shea butter with a bit of sea buckthorn oil and use it to moisturise dry lips, hands or feet, as an emollient for small scratches and injuries; as a protective face care balm against cold and snow or as a moisturising ointment for the inside of your nostrils (particularly good in air-conditioned spaces).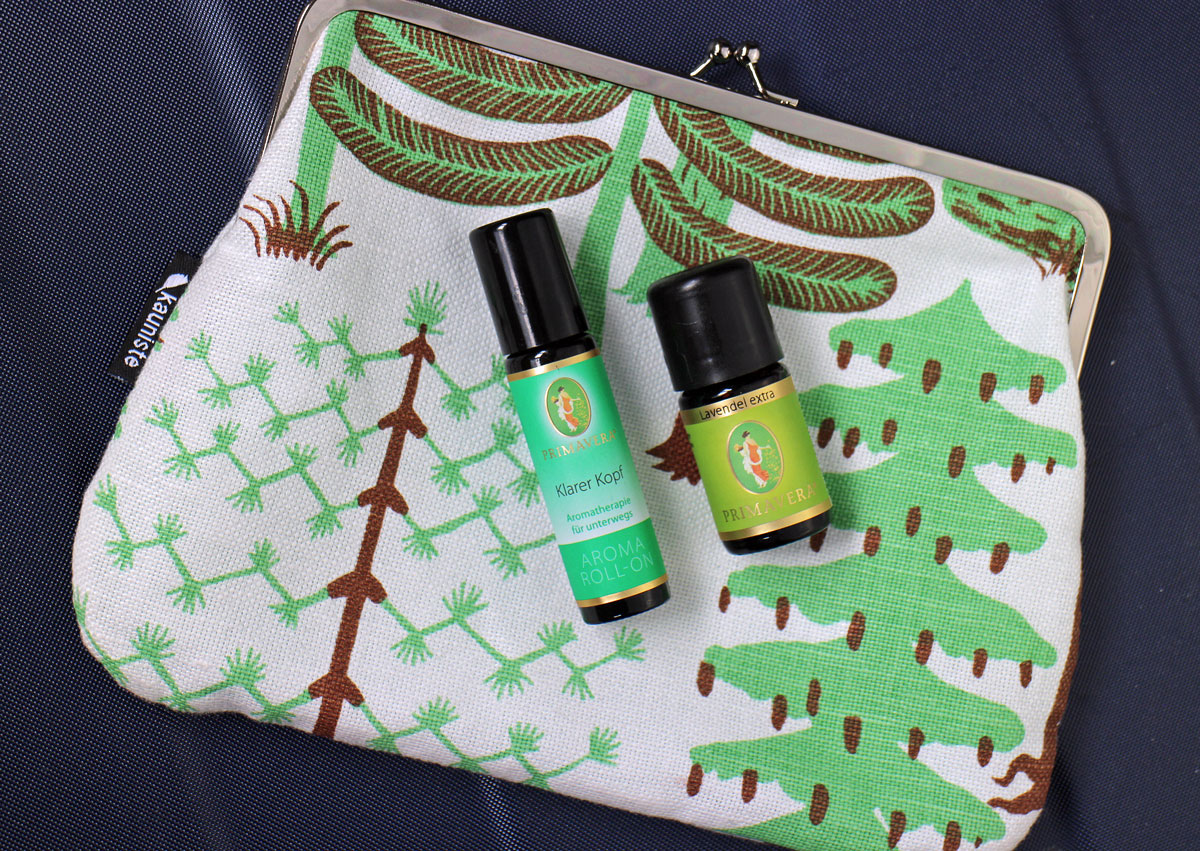 ♦ Always by my side
If you read my blog regularly you'll know that I always carry Primavera's Clear Head Aroma Roll-On with me in my hand bag – I have often mentioned this essential oil blend on my blog. The roll-on really helps which my tension headaches; it contains a blend of oil, peppermint water and essential peppermint oil. I apply the mixture to my neck and massage it into the skin. The roll-on is also good for treating insect bites: peppermint is cooling and alleviates the itchiness. You can also use pure peppermint oil and apply it straight to the skin. Peppermint is also good for when you feel queasy or your stomach is upset: simply apply a drop of peppermint oil to a handkerchief and inhale – or dissolve one drop on your tongue.
More hand bag-sized first-aid: A small bottle of organic essential lavender oil. Lavender is one of the most traditional healing plants in Europe; it helps against infections, stimulates the immune system, soothes cramps, regenerates the skin and has a soothing and mood-lifting effect. You can use lavender for most injuries or complaints – when I am stressed, exhausted or restless, for example, I put a few drops of the oil onto a handkerchief and inhale the scent. Or I apply the oil directly to damaged cuticles, insect bites, smaller skin injuries or burns.
Please note: There are very few essential oils that I use in their pure form (like the lavender oil I described above). Usually I dilute essential oils in a base oil (which you can also do with the essential oils I've listed above). If you have an open bottle of lavender essential oil you should use it up within twelve months or so, otherwise it will start to oxidise.
♦ For smaller emergencies
A few more medical aromatherapy tips! There are few things more annoying than falling sick whilst you're travelling. However, there are a couple of base oils which – in combination with selected essential oils – will allow you to treat most minor ailments, such as an upset stomach, a cold or skin bruises.
You can buy all Primavera products online or in selected retailers. I received most of the products I wrote about in this post from Primavera.
[Click here for more pictures and the original German article Aromatherapie für die Reise mit Primavera]
When I was in Los Angeles this spring I checked out the product range of US brand Milk Makeup in my local Sephora perfumery store. In my opinion Milk Makeup is one of the most exciting makeup brands on the market right now; many of the company's products are in stick form, like the Highlighter or Bronzer. This April, Milk Makeup launched Matcha Cleanser Stick (presumably inspired by Korean cosmetics) and the Matcha Solid Toner – two solid skin care products in stick form.
When I visited In-Cosmetics trade show in Seoul this June I saw Milk Makeup's Solid Toner again; it was presented by market research company Mintel as one of the most interesting trend products from the US. And it really is an extraordinary idea: a toner in stick form! Convenient for travelling, ideal for carrying around in a hand bag, and a real product innovation.
I didn't buy the Matcha Solid Toner in Los Angeles because the ingredients were much too non-organic for my taste. Also, I had read that US organic brand Ilia Beauty was going to launch a very similar product in their summer collection. Yay! I was so excited that I ordered the Cucumber Water Stick from Sephora while I was still in the US; by now the product is also available in Germany.
Like all Ilia products, the Cucumber Water Stick comes in stylish clean packaging. You take the cap off the tube, remove the additional protective covering and twist up the solid toner. The toner glides across the face and it feels beautifully cooling. The texture is gel-like, not oily, and doesn't leave the skin shiny. On my dry combination skin the moisturising effects of the Water Stick are not quite enough; I apply a cream on top of it. The Cucumber Water stick is also an excellent base for a sun cream. Or you can apply the toner as a refreshing pick-me-up on face, neck or décolletage during the day, or when you are travelling.
The Cucumber Water Stick is based on water, natrium stearate, butylene glycol and glycerine. The pH value is slightly alkaline and not acidic like a classic hydrosol. The INCI declaration also lists extracts of cucumber, green tea, camomile, aloe and chicory as well as hyaluronic acid. The preservatives are ethylhexyl glycerin and phenoxyethanol which are not certified by either Natrue or Cosmos. The stick is fragrance-free and didn't smell like cucumber as I had expected –instead the scent is neutral with very subtle floral notes.
I'm willing to bet that other beauty brands will also launch solid toners soon! And I am happy that this trend has already reached the organic beauty industry. The Cucumber Stick feels refreshing on the face; for my dry combination skin, however, it is not quite hydrating enough (which probably has to do with the alkaline pH value of the product). It should be a great skin care product for summer time or in tropical climates!
The Cucumber Water Stick from Ilia Beauty contains 26gr and costs 43.95 Euro in Germany (available, for example, at Amazingy).
[Click here for more pictures and the original German article Beauty-Trend: Cucumber Water Stick from Ilia Beauty]
It's summer time and the little sea otter you can see in the picture (above the Santaverde tube) has managed to swim all the way into these Beauty Notes! I discovered this cute little wooden otter in a toy store here in Nuremberg; it is made by German wood toy manufacturer Ostheimer – suitable not just for children but also for adults 😉 .
Summer time is also the topic of my new blog article for organic online perfumery Najoba (German only, sorry!): I am presenting organic beauty products which are suitable for summery temperatures (i.e. light and cooling) but will also protect and moisturise the skin. Like the Hydro Repair Gel from German aloe vera brand Santaverde which I have been using frequently this week. On really hot days I apply it as a moisturiser, then some sun cream on top and my morning skin care routine is finished! The HydroRepair Gel is also suitable as a light and moisturising night care product – it feels like a serum and doesn't leave the skin feeling tight like pure aloe vera gels sometimes do. I'm not surprised that the HydroRepair Gel is one of Santaverde's bestsellers!
And I simply have to show you my last Helsinki purchase: when I visited the city's Stockmann department store I discovered a pop-up store which sold high-end organic niche beauty, right next to the counters of Clarins and Kiehl's. Products available included Tata Harper, hair care products from Tabitha James Kraan, the lipsticks from Axiology and Plume's eyelash serum – and also some products from US brand Hynt Beauty (which used to be Christopher Drummond Beauty). The Perfecting Concealer Duet from Hynt is a cult product: I simply couldn't resist the temptation and bought the concealer in shade Medium. There are five shades altogether. Medium has yellow undertones and is a comparatively light kind of medium colour. The texture of the concealer is supple and light, with a high load of colour pigments but at the same time it is neither too waxy nor too oily. And after I tried the concealer out for the first time I could certainly understand all the hype! In Germany you can buy the concealer online, for example at one of the British or Finnish online stores. Except for the solvent propylene carbonate, the ingredients of the concealer could easily be certified organic. You can check out the concealer on the homepage of Hynt Beauty. The little jar costs 29 Euro.
At Vivaness trade show this February, Nathalie from French organic beauty brand Douces Angevines had already told me that the brand would launch a new fragrance soon – and a few weeks ago I received the press sample. The outer cardboard packaging and the little bag are so pretty! The Eau de Parfum Anima was created by Michèle Gros, the founder of Douces Angevines. She blended white blossoms with light resins – the fragrance is described as "Souffle d'etoile" (breath of the stars) on the packaging. I particularly like the heart note of jasmine, tuberose and frangipani which is rounded off by a base of sandalwood, fir tree, frankincense and clove. An unusual blend which is surprising airy. The fragrance also has an aromatherapeutical effect; it is described as helping to be optimistic and creative and to follow one's own path. Anima is not yet available in retail but you can read more about the perfume on Douces Angevines' homepage. I have written several times about Douces Angevines; it is one of my favourite beauty brands and is definitely following its own path.
German beauty brand Ayluna is new on the market; I first saw it at Vivaness trade show. The brand was founded by Aynur Weiland and her husband Heinz Jürgen Weiland (former CEO and product developer of German organic beauty giant Logocos). Ayluna is a brand inspired by oriental beauty traditions; certified organic, vegan and halal. Halal certifications on cosmetics are still a comparatively rare thing in Germany; products from Australia or New Zealand very often carry a halal certificate. Since Ayluna is halal the products are, of course, alcohol-free; the product range offers body care and hair care as well as hair colourants. The company sent me a press sample recently and I tried out the Activating Duschbad Morgenröte (Shower & Bath Gel Dawn). The product is based on water, a sugar tenside and ginger water; it has a subtle spicy smell. Here is Ayluna's homepage; some German online shops like Najoba or Bionaturel are already selling the products.
And here are some organic beauty news for you:
German drugstore retailer DM's certified organic own label brand Alverde has launched a new limited edition makeup collection, Island Love. The collection offers a pressed shimmering multi-blush and multi-bronzer, two powder eyeshadow trios, two eyeliners (gold and turquoise), three lip glosses and a salt face scrub. I didn't buy any of the products although I was briefly tempted by the turquoise eyeliner 🙂 .
Alverde has also launched Aqua Hydro Pfege-Essenz, a gel-like toner – very trendy!
And US brand RMS Beauty has brought out a new Highlighter Palette, the Luminizer X Quad, which looks great.
[Click here for more pictures and the original German article Beauty-Notizen 21.7.2017]
In my recent Beauty Notes I mentioned that I had visited ingredients trade show In-Cosmetics Korea while I was in Seoul. There are also In-Cosmetics trade fairs in Europe, the US, South America and Thailand – In-Cosmetics Bangkok is about twice the size of In-Cosmetics Korea, which is the most recent addition to the In-Cosmetics family.
It is no surprise that the In-Cosmetics organisers decided to launch a Korean edition of their trade show – after all, so many global beauty trends begin in South Korea! This was also the reason why I decided to visit the show – I wanted to see the latest Korean trends before they hit the stores.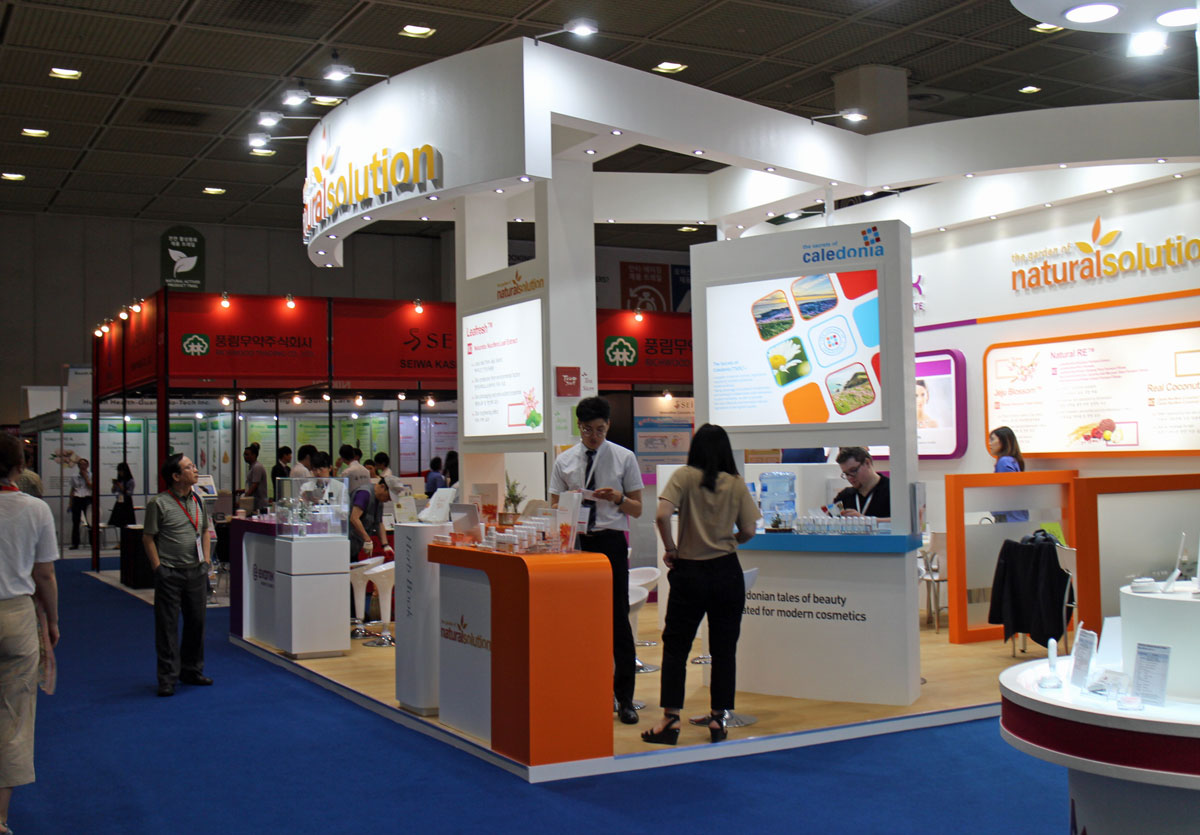 The trade show took place from 20th to 22nd June 2017 at COEX exhibition centre in Seoul. There were around 200 exhibitors who presented their ingredients; many of the companies were from Korea but there were also international exhibitors, including several companies from Germany.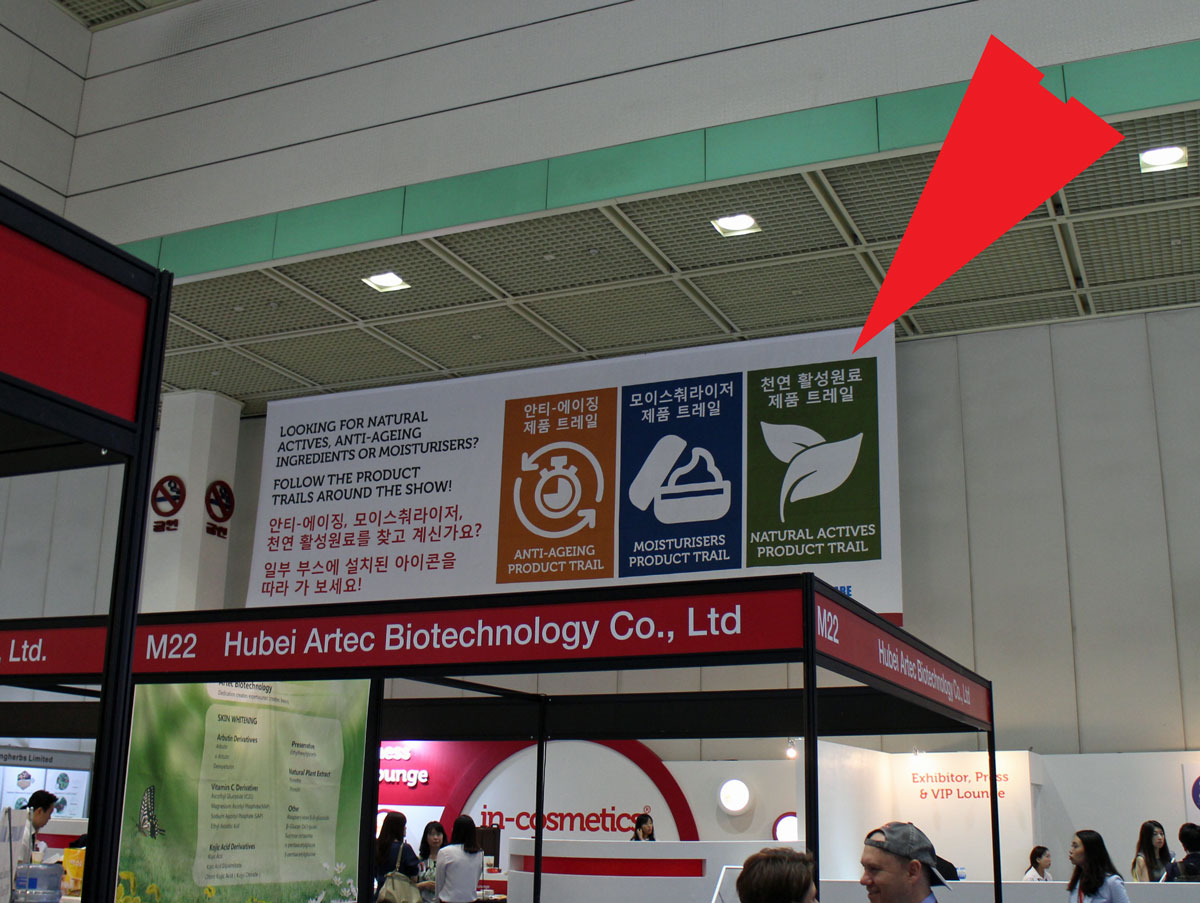 In-Cosmetics had organised three Product Trails across the show. Each of these Trails highlighted specific ingredients and exhibitors, with ten booths per Trail. For me the most interesting Trail was, of course, Natural Actives (ingredients for organic cosmetics!), but there were also Trails for Moisturisers (one of the most popular product categories in Korea) and Anti-Ageing products. A really great trade show feature and such a big help in finding my way around the exhibition hall!
One of the ingredients that I especially noticed was SamminChem's Panasome Lutein, an ingredient extracted from the calendula plant. Panasome Lutein protects against the rays of Blue Light (high energy visible light) – very likely a future trend ingredient! European organic certification association Natrue also had a small booth at In-Cosmetics Korea, by the way.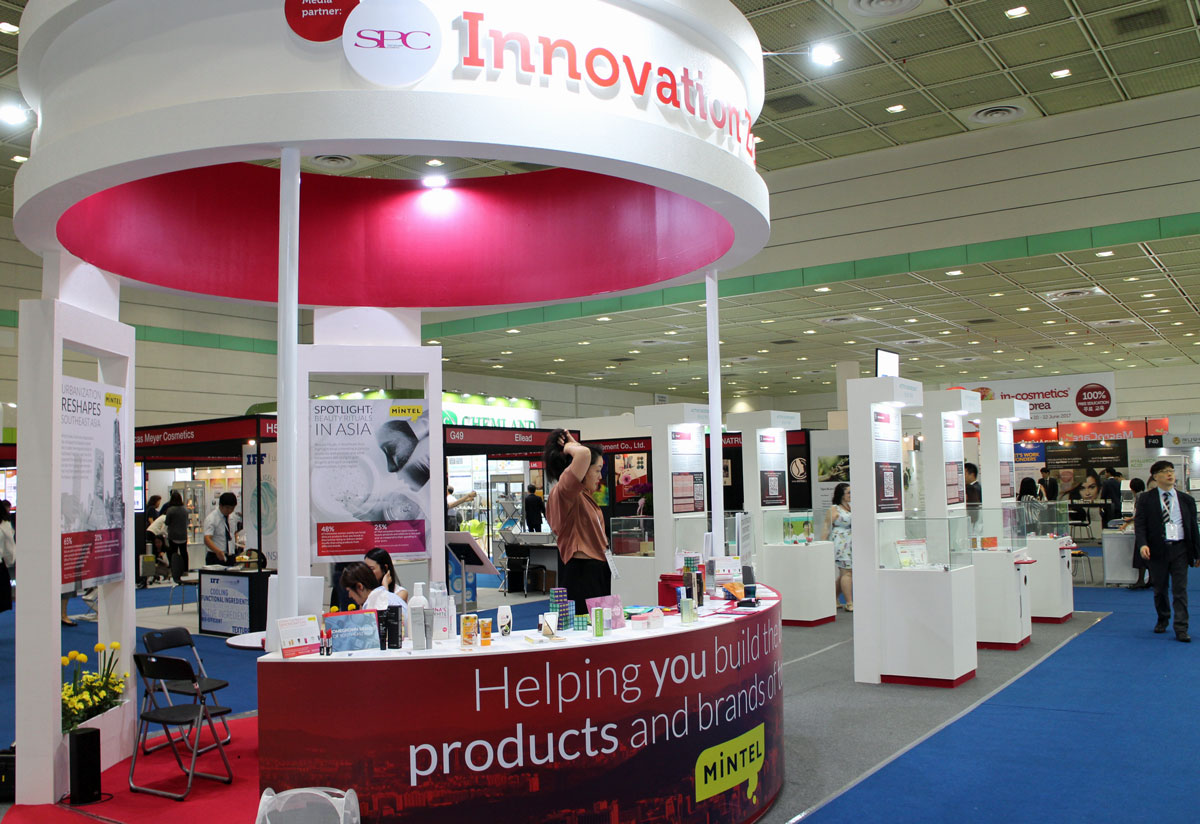 The Innovation Zone in the middle of the hall was exciting; this section presented selected ingredients which were developed over the last eight months. You could even try out these ingredients to see how they perform in a product formula.
Twice per day market research company Mintel offered a Live Demonstration trend tour around the most exciting and successful beauty products from Asia, Korea and the US. For me this Live Demonstration was one of the highlights of the trade show – and yes, I admit that I was a little proud of the fact that I knew most of the highlighted trend products! One example was the Solid Toner from US brand Milk Makeup which I mentioned on my blog recently (check out the article about the Cucumber Water Stick from Ilia Beauty).
It was also fascinating to get a glimpse of beauty products from South East Asian countries like Singapore – for example, in these markets there are innovative hair care products for women who wear headscarves! Now I really want to go beauty-hunting in Malaysia or Singapore 😉 .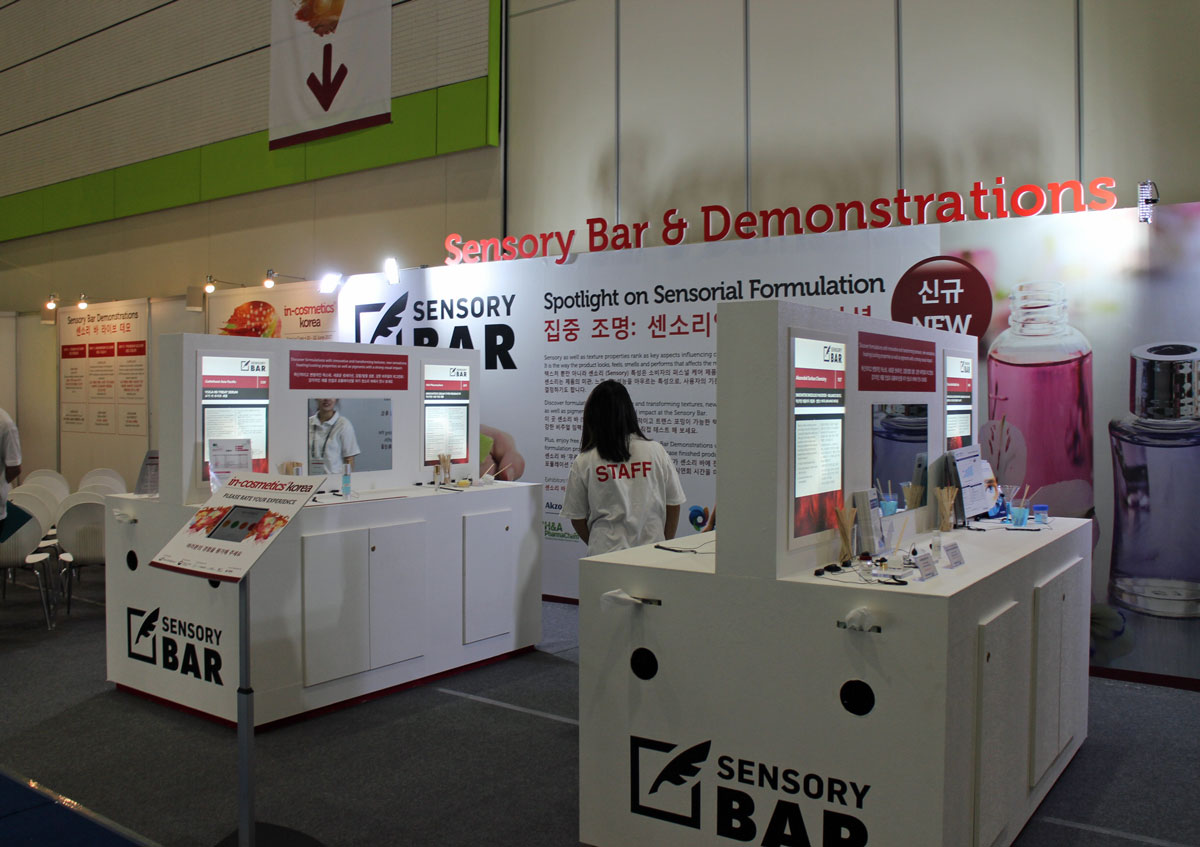 Another interactive section of In-Cosmetics was the Sensory Bar where you could try out new ingredients and product formulations. Several times a day there were demonstrations and explanations by exhibiting companies as well as technical seminars especially for cosmetic product developers – part of the conference programme of In-Cosmetics. One of the seminars, for example, focused on how to develop a bi-gel which is a kind of oil-in-water-emulsion produced without an emulsifier.
I also attended some of the lectures at the trade show, mostly from the sections Marketing, Trends and Regulations – the presentations were very popular; long queues at the entrance! Dr. Chang Seo Park, for example, spoke about the latest sustainable and green ingredients from Korea (a very scientific presentation about the development of ingredients from tangerines or green tea which are harvested on the Korean island of Jeju). There were also lectures about topics like DIY trends, European organic beauty or Asian hair care.
Altogether I was (positively) surprised by how many natural ingredients I saw at In-Cosmetics Korea – organic beauty and sustainability is definitely a trend. It was also pretty obvious that many of the big Korea and Asian cosmetics manufacturers are already beginning to think about greener product development.
For me the visit to In-Cosmetics Korea was absolutely worthwhile – there were so many inspirations and trends, and things to think about. And of course it is easy to continue the beauty trend hunt in Seoul – in neighbourhoods like Myeongdong or Gangnam you can discover plenty of beauty products which are not (yet) available over here in Europe.
You can find more information about In-Cosmetics Korea (and the other international fairs) on the trade show's homepage. The Seoul fair will take place again next year. I think I'd also like to visit In-Cosmetics Europe one day.
[Click here for more pictures and the original German article Auf der In-Cosmetics Korea 2017 in Seoul]
What's the best way to spend an eight hour train journey from Nuremberg in Germany to Graz in Austria? That's right, writing my weekly Beauty Notes! I was very busy this week: on Monday I took the train to Munich to attend a blogger Masterclass by NZ brand Living Nature – Birgit Corall, the German representative of Living Nature (you can read more about her in this interview here), and her team first introduced us to New Zealand and its unique plants like Harakeke, Manuka or Kumerahou. Then Birgit explained Living Nature's skin care concept, we all took off our makeup and tried out the brand's products. My personal star product, by the way, was the Flax Serum which I had only read about. The serum contains harakeke and manuka honey and moisturising plant oils. It feels wonderful on the skin; the texture is not too light. I'm looking forward to testing out the serum thoroughly as part of my summer routine! Living Nature also has a colour cosmetics range and at the end of the Masterclass, two Living Nature makeup artists offered complimentary touch-ups. Altogether it was a great blogger event! Also, I really want to travel to New Zealand now… 😉 .
On Tuesday I took the train from Munich to Graz, the capital city of the Styria region in Austria. The very long train ride was delayed by an additional two hours in Salzburg (birthplace of Mozart!) – I used the opportunity to buy Mozartkugeln chocolates at Fürst store on Mirabellplatz and go on a very quick beauty-hunt in one of the outlets of Austrian drugstore chain Bipa. You can see the Quince Body Butter that I bought from Bipa's certified organic own label brand Bigood in the picture above. The body butter is rich and has a thick yet still liquid and smooth texture; it moisturises the skin well so is should be suitable for dry skin. The scent reminds me a bit of quince but it is also rather sweet and not summery enough for my taste.
After I arrived in Graz I began exploring the city, checking out the local organic beauty stores in Graz city centre. Reformhaus health food store Prokopp opened just a few weeks ago; I think it might be one of the most modern reformhaus stores I've ever seen! Afterwards I visited Mangolds in Griesgasse street; Mangolds is a canteen-style vegetarian restaurant which, however, also sells a small selection of organic cosmetics (thank you to Hanna from Foxy Cheeks for this tip!). Some of the brands I saw at Mangolds included Austrian label Less is more, L:A Bruket, Pure Skin Food (also from Austria) and Sóley Organics from Iceland. I was particularly interested in Austrian brand Rivelles and bought the Hemp Protect Sun Cream with SPF 30. The texture is nice and non-greasy (no shine on the face!) and the whitening factor is totally acceptable, at least on my light to medium-toned Caucasian skin colour. I will continue testing this sun cream.
I also couldn't resist the amazing spicy-green-floral scent of the Rose Cardamom Hand Cream from German brands Saint Clouds / I want you naked. Saint Clouds is a young niche brand from Munich; I had met them at Vivaness trade show this February. You can find more info about the hand cream on the brand's homepage.
On Wednesday I visited the offices of online store Ecco Verde (you can read an interview with the company here). It was great to finally look behind the scenes of one of the biggest organic online retailers in Europe! I had been invited to an after-work beer on Tuesday evening at Ecco Verde's premises and you could hear the sound of the company's band rehearsing from one of the upper floors of the building! Ecco Verde has two locations: the headquarters in Graz city and a second office location and brand-new logistics centre some 50 km away in the small town of Feldbach. It's really impressive; almost everything is done in-house at Ecco Verde and the atmosphere in both offices is comfortable, relaxed and very informal. I'll tell you more about my visit to Ecco Verde later on!
One of the beauty products I had taken with me on my trip was the Radiance Enhancing Facial Lotion from Italian brand Biofficina Toscana. The lotion is very Korean (a supple, gel-like texture) and at the same time very Italian (the lovely orange blossom fragrance!) The fragrance-free lotion is based on aloe vera and orange blossom water and contains extracts of tomato, mallow and mullein. These gel-like toners are so convenient (and economical): it is easy to apply the correct amount to your face or to individual skin areas; and they don't evaporate as quickly as watery lotions. Well done, Biofficina Toscana! You can check out the lotion and the complete ingredients listings on Ecco Verde's homepage.
And last but not least: would you like to know which is my favourite shower gel to wake me up in the morning? Then check out my new Bio-Blog article (German only); I usually shower at night but for this blog post I changed my routine temporarily. You might be surprised at the winner 😉 .
[Click here for more pictures and the original German article Beauty-Notizen 28.7.2017 (Graz-Edition)]
Good-bye everyone and see you soon!
Julia