Dear international readers of Beautyjagd,
Welcome to the next English-language edition of Beautyjagd! This is a condensed version of the most important articles that have appeared on my blog over the last few weeks. For more information about this format, click here. And now: enjoy the best of Beautyjagd in English!
Best wishes
Julia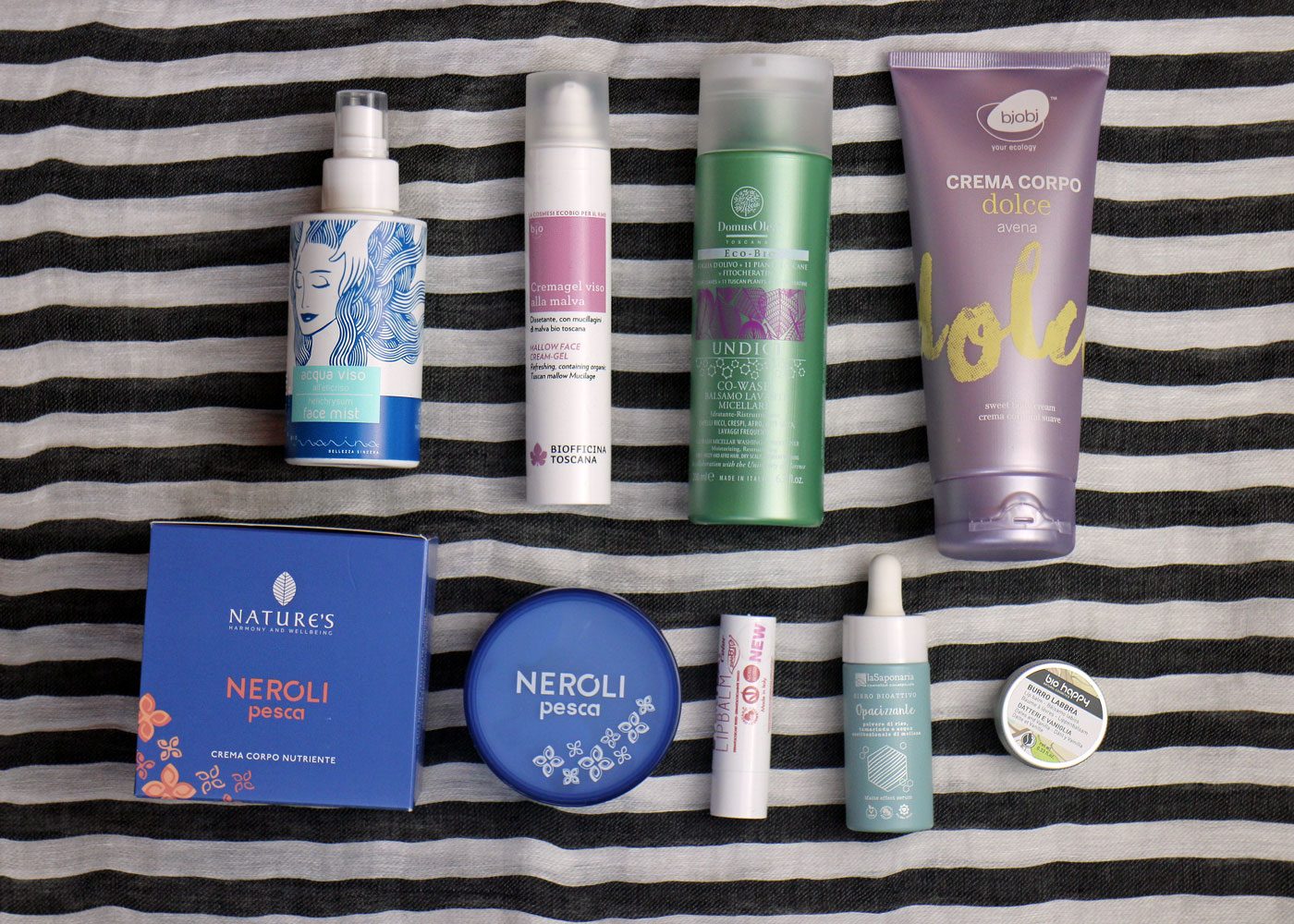 If you follow me on Instagram you've probably seen where I was last weekend – in Bari, a city in the Italian province of Apulia. Finally, back in Italy! A little bit of early spring weather and a few days without my laptop were really therapeutic. And of course I also checked out the local organic beauty scene – you can see the result on the photo above 😉 .
Organic beauty for sensitive skin
Before I'll show you the beauty products that found their way into my shopping bag I'd like to tell you about my new post for the Bio-Blog of German organic supermarket chain denn's (German only, sorry!). I'm currently researching cosmetics for sensitive skin (last week I showed you the Ice Plant Face Cream from German brand Dr. Hauschka) and in the Bio-Blog article I'm talking about five further products that are suitable for sensitive skin. Enjoy!
Organic beauty from Italy at natural supermarket chain NaturaSi
My first stop whilst beauty-hunting in Bari was organic supermarket chain NaturaSi. I visited the retailer's outlet in Bari's new town – the store has a modern and comprehensive organic beauty department. You can find all the usual German labels like Dr. Hauschka, Lavera and Benecos, but of course I was particularly interested in the Italian beauty brands some of which I had only read about.
My last trip to Italy was five years ago (I went to Milan) and compared to the brand selection I found in the stores back then, the choice of organic beauty in Italy has grown considerably. The retailers have also become a lot stricter: five years ago most of the beauty brands I saw were natural-inspired or near-natural rather than organic. However, almost all organic brands that were sold at NaturaSi were real organic brands (even if not all products of a given range are certified). I also noticed that the packaging design of the Italian organic beauty brands has improved; the products have become a lot more modern and attractive.
As I was standing in the organic beauty section at NaturaSi one of the first products that I noticed was the Crema Corpo Nutriente Neroli Pesca from Nature's Harmony und Wellbeing (a beauty brand from Padua) – peach and orange blossom, exactly what I am craving at the moment! I'm so looking forward to spring. The scent of the body lotion is sweet and floral (it smells very Italian to me 🙂 ) although it probably isn't entirely natural.
I also liked the Crema Corpo Dolce Avena from Bjobj (a brand from Lombardy) because I like oat extract as a skin care ingredient. The texture of the body lotion is liquid and easy to apply; it is absorbed quickly into the skin and has a pleasant light grain-scented fragrance. – I also bought a small tin of the Burro Labbra Datteri e vaniglia from Bio Happy (the brand comes from the region of Emilia-Romagna); the lip balm contains a slight shimmer (other variants were tinted).
Organic perfumery Kosmetika Point in Bari
I was excited to find an actual organic perfumery in Bari. Kosmetika Point is located near the train station – not the prettiest area in town but the store is surrounded by other cosmetics shops and a beauty training school. It's almost a beauty souk! Kosmetika Point sells over 50 organic beauty brands and the store assistants are friendly and very knowledgeable.
I bought the Helichrysum Face Mist from Bio Marina Bellezza Sincera because I liked the blue packaging with the face design; the immortelle hydrosol is certified by Italian label AIAB. You can check out the brand on Ecco Verde. – I noticed that many Italian organic brands seem to focus on hair care. Domus Olea from Tuscany offers a number of micellar shampoos – micellar products are still a big trend at the moment. I decided on the AIAB-certified Undici Co-Wash Balsamo Lavante Micellare from Domus Olea, a hair wash balm for dry hair and scalp. – I already knew La Saponaria (a company from Pisa) from their sun cream for children but hadn't remembered the brand as looking so stylish. At Kosmetika Point I noticed La Saponaria's new facial serums and bought the milky Matte Effect Serum which is packaged in a matte-opaque glass bottle with dropper. The serum is based on melissa water and rice powder; the first test on my t-zone was very satisfactory, it's almost like a liquid powder! The product is also available at Ecco Verde.
I have written several times about Biofficina Toscana on Beautyjagd (check out the articles here or here). At Kosmetika Point I used the opportunity to take a closer look at the brand's face care products. I like the soothing effect of mallow root, so I bought the Mallow Face Cream-Gel from Biofficina Toscana. The light cream-gel is absorbed quickly and feels light on the skin; for my dry skin it's more suitable as a summer time product, I think – the Face Cream-Gel provides hydration rather than protection. A lot of reviewers on Ecco Verde love the powdery scent of the cream-gel (yes, Ecco Verde definitely offers the biggest choice of Italian organic beauty in Germany!) although I think that the fragrance probably isn't entirely natural. – My final purchase (at the till!) was the Everyday Lipbalm Color from PuròBio, a tinted lip care balm with a strong brownish-pink colour which looks beautifully natural on my lips.
I was surprised by how much organic beauty I found in Bari – after all, this is not a big metropolis (Bari has around 300,000 inhabitants) – and I really liked the city, too, even though it doesn't have any spectacular touristic sites. But Southern Italy is a tourism spectacle all by itself! I was really impressed by the friendliness and helpfulness of the locals that I met in the stores and restaurants. Bari is definitely worth a visit. I've posted a few pictures of the city on Instagram.
Organic beauty news of the week
Organic clay beauty brand Luvos is celebrating its centenary this month; the company was launched by Adolf Luvos on 15.1.1918. The brand's current ceo Ariane Kästner is the great-granddaughter of the founder. Happy Birthday Luvos!
US brand RMS Beauty has introduced a number of nutritional supplements. More info is available here.
And Kjaer Weis has just launched a pressed Translucent Powder, check it out here.
It's finally here: the fragrance-free cleansing oil from German organic niche brand Yverum. More information is available here.
[Click here for more pictures and the original German article Beauty-Notizen 19.1.2018 (Bari-Edition)]
Hi everyone; I'd like to introduce myself: my name is Uwe Schürmann. I work for Mainz-based organic beauty store Die Naturdrogerie in the IT department but also as a customer adviser. And I am excited to be the first contributor in the Guest Author article series on Beautyjagd. These articles will focus on expert information and advice rather than advertising a certain brand or company.
To kick off the new format I decided to write about skin types and skin conditions. This is something we notice at Die Naturdrogerie almost every day: there is a big discrepancy between how our customers talk about what their skin is like and the "official" terminology used by the beauty manufacturers to describe their products. Here are a few typical examples.
Combination skin
First of all, every person has combination skin. The T-zone always contains around 30% more sebaceous glands than the rest of the skin, no matter how dry or oily your skin might be. These sebaceous glands are often more active than the glands in other area of the face. A certain shine on forehead and nose is therefore completely normal, and in my personal opinion this natural glow looks perfectly fine without a mattifying powder.
The term "combination skin" on a beauty product, however, can mean several things:
Dry combination skin – this is when the cheeks do not produce enough sebum and as a result you get a tendency towards tightness, redness or dry patches
Oily combination skin – extreme sebum production in the T-zone and an overall tendency towards impurities
A combination of both skin types
This also means that the term "combination skin" should only be used if the skin really has a problem with a severe imbalance. If some areas of your face are a little shinier than others and there are no other problems (such as impurities or flakiness) you actually have normal skin.
It's important to not let anyone tell you that you have a skin problem when you don't. And if you are really bothered by the shine but want to keep the basic glow, you can always use a soft powder which contains silk or mica.
Sensitive skin
If we were asking our customers to tell us what type of skin they believe they have, I think around 90% of them would state that they have "sensitive skin". And yet in most cases these customers would be entirely mistaken about their skin type. Where does this discrepancy come from?
On the one hand it's the fault of the manufacturers. Our skin is alive so it is only logical that it also reacts to certain exterior and interior influences. Any type of skin is sensitive so you have to treat it with a certain consideration.
However, if you see the word "sensitive" on a face cream or lotion, it suggests the following skin type: an increased tendency towards redness, especially as a reaction to temperature changes or mechanical pressure. If the capillary walls are weak, this type of skin can also develop tiny burst blood vessels.
These sensitive skin types need to be protected, so you should be careful not to expose your skin to high temperatures (like hot showers); a few splashes of cool water, however, can have a refreshing effect. If the weather is cold outside make sure to protect your skin with a cream that contains lipids and waxes. Whatever cosmetics you use, I recommend that you stay away from anything that boosts blood circulation. Instead, go for products that strengthen the skin's tissues.
Hyper sensitive skin is an entirely different thing. This skin type can also have a tendency towards redness and sometimes itchiness. However, the reasons for this are different: often the skin has certain allergies (but not always) and the redness is caused by a defense reaction of the skin rather than a strong blood circulation or weak capillary walls. Whether the skin's defensive reaction is caused by an allergy or not should really be tested properly. Often, however, this is not done and as a result someone might talk about an "allergic skin reaction" even when there is no actual allergy.
This kind of hyper sensitivity can have a number of different causes. Ideally you'd avoid potentially irritating ingredients for a while so that your skin can regain its natural balance. If that doesn't work the only solution is to change your skin care routine, using products that are formulated specifically for the requirements of hyper sensitive skin. We have found that a "skin diet" often works well: you cleanse the skin in the morning and evening with a clay wash and then use an alcohol-free hydrosol, nothing else. After around 4-6 week the skin usually stabilises itself and you can then slowly add lipids to your skin care routine, like a high-quality camellia seed oil.
Dry skin
Another tricky one! With this skin type the problem usually is that manufacturers use the term "dry skin" but don't specify whether they mean a lack of lipids (oils) or a lack of hydration, or both. Because there are different types of dry skin.
If your skin doesn't have enough lipids (when it doesn't produce enough sebum) it frequently has fine lines and wrinkles, can look dull or feel uneven and, as a worst case scenario, produce dry scaly patches. Very important: if you have this kind of skin, never use a facial scrub! This will make the situation even worse.
If your skin doesn't have enough hydration, on the other hand, it tends to lose elasticity, develop deep expression and frown lines and feelings of tightness in the skin. Often (but not always) the skin also looks pale which is the exact opposite of sensitive skin. These two types of dry skin can also appear together.
Once you have identified the type of dryness your skin has the solution is pretty straightforward: use skin care products that provide whatever is lacking in your skin. If your skin doesn't have enough hydration, a lipid-based face cream won't help. And if your skin lacks sebum, you can use the strongest moisturizing serum and it won't make any difference. When you select your products you should also pay attention to the composition of ingredients: "heavy" lipids like shea butter or sweet almond oil can actually help to lock moisture into the skin.
Impure skin
I think this is probably the fault of decades of incorrect product advertising: most people believe that "impure skin" and "oily skin" is the exact same thing because these two descriptions almost always appear in conjunction, whether it's on product packaging or in advertising. However, based on what we are observing amongst the customers in our store, a much more common skin type is a combination of dry (moisture-deficient and/or lipid-deficient) and impure skin.
Often this leads to confusion and the impurities are treated with the wrong kind of products: like harsh creams or lotions that are supposed to dry out or "disinfect" the skin. This in turn completely upsets the skin's natural flora and also sends the skin the wrong signals.
Impurities are frequently caused by sebaceous glands that are clogged and then get infected. The skin is trying to balance the lack of lipids on the surface of the skin – whether it exists or not – and as a result, the pores are overtaxed.
With classic acne skin – which often appears in puberty – the skin frequently really is too oily. This particular type of imbalance is caused by hormonal changes in the body; it's a learning process. If you have these kinds of acne impurities, it can help to treat skin with steam baths, apply products that are rich in lipids and moisture, cleanse thoroughly but very gently and use skin care that contains sebum-regulating ingredients such as sage.
If you have dry and impure skin, a skin care routine which offers sufficient lipids and hydration can often help – the skin becomes softer, hornification (thickened skin which often causes clogged pores and inflammations) are reduced and ingredients such as manuka honey and kalmus (which are particularly good for deeply embedded impurities) are also helpful.
Very important: don't use a facial scrub! It is better to apply clay masks. Although a scrub can remove horny patches from the skin so it feels softer temporarily, the skin then reacts with an even stronger hornification. And you're stuck in a vicious circle.
Individuality and changes
The skin types I've outlined above are all typical examples. However, every skin type is as individual as the person behind it. And with the exception of a few cases, skin types can rarely be categorised into "dry", "sensitive" or "oily". Usually you get a mixture of different skin types, such as "sensitive combination skin with a tendency towards dry cheeks and impurities on the chin area". Also, our bodies are changing constantly and so, of course, does our skin. It helps if you regularly check your skin care routine and update it with suitable products for whatever skin condition you have going on at the moment.
When we are advising customers in our store or on the phone I have found that it helps if you avoid talking about skin types in the official "terminology". Instead we ask our customers to describe how their skin looks and feels like in their own words. This makes it much easier to recommend appropriate skin care products.
[Click here for more pictures and the original German article Gastbeitrag: Weshalb so viele Menschen ihr Hautbild falsch einschätzen]
When I found out that organic French beauty brand Avril had launched an Ecocert-certified waterproof mascara I had to order it immediately! The terms "waterproof" and "certified organic mascara" are usually mutually exclusive – either a mascara is formulated with certified organic ingredients OR it is waterproof because a truly waterproof mascara formulation needs certain ingredients which can't be manufactured from natural sources.
And if Avril's Le Mascara Waterproof really is waterproof – well, that would almost be a small organic beauty revolution…! In this article you can read my detailed product review with pictures and several consecutive test-runs in watery circumstances!
I have written about Avril several times on Beautyjagd: the brand is from the North of France and its goal is to offer certified organic beauty products at affordable prices. I paid exactly 7 Euro for Le Mascara Waterproof.
A small note about the pics: My lids look redder than they are in real life, sorry! Just look at the lashes which, after all, are the key attraction here 😉 .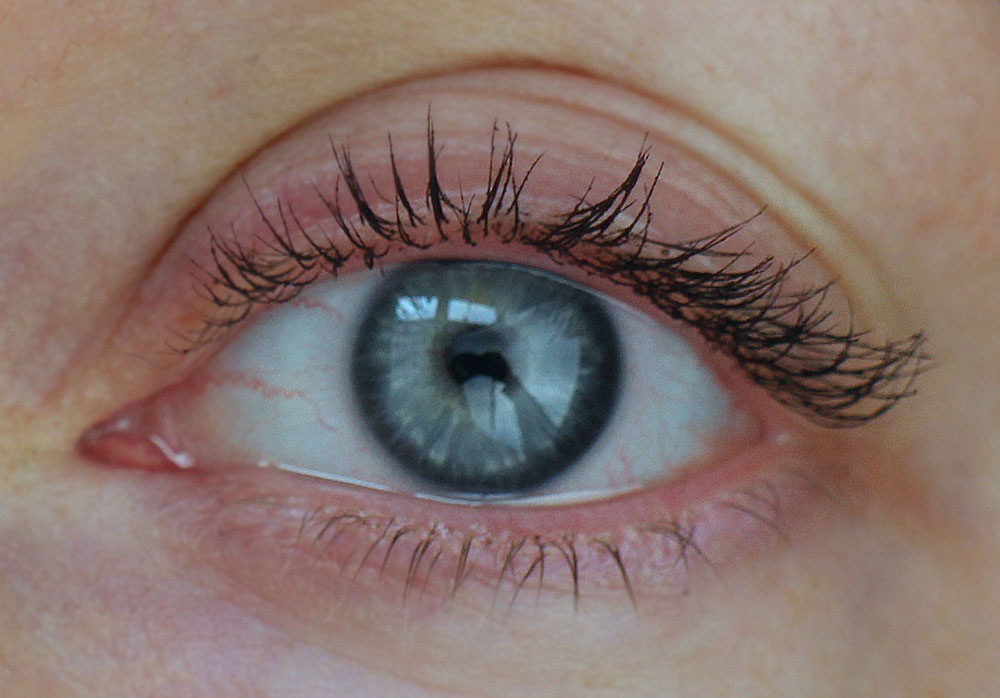 Le Mascara Waterproof from Avril is packaged in a slender black flacon; the applicator brush has a classic shape with spiral bristles and an elongated tip (see picture at the very top). As I had expected, the texture is waxy and dry rather than liquidy but the mascara is still easy to apply. The effect in terms of volume and length is ok but not overwhelmingly so, probably because it isn't easy to layer this mascara; after two coats the colour had already started to dry. I would imagine that it's better to use up the mascara consistently so it doesn't dry out in between uses.
As you can see, it's a classic look which I like – but we're here to test the waterproof effect, right? Because Avril promises that the mascara will survive playing sports, swimming at the beach or tears during a romantic movie.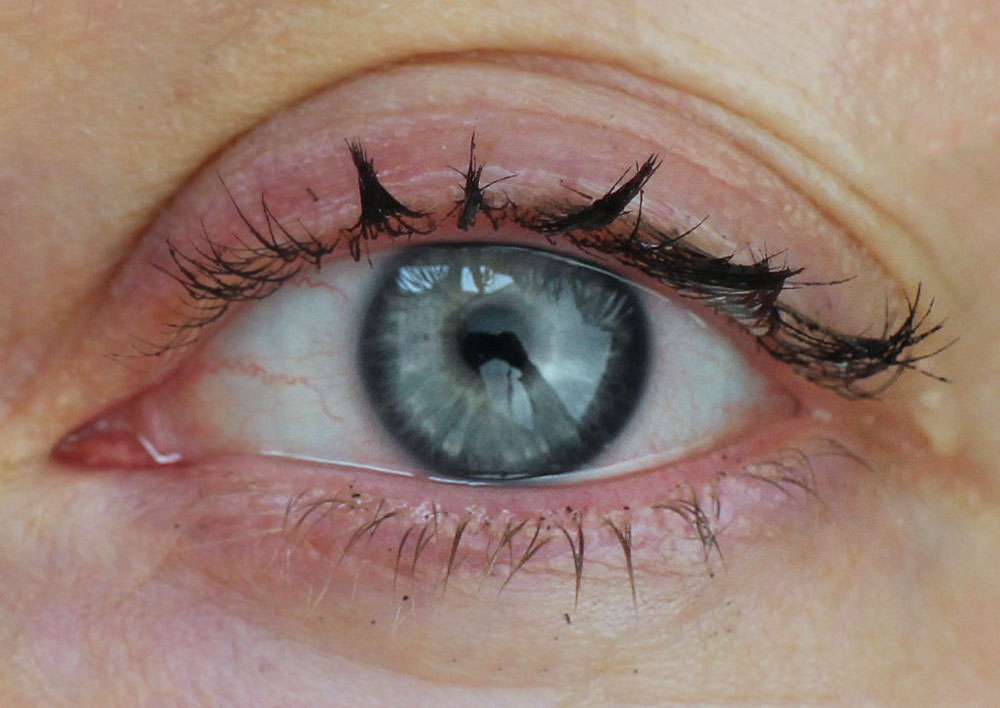 Test run #1: I splash handfuls of water on my face, watering my eye intensively for over one minute. After I resurface, my lashes have a certain "spider legs stuck-together" effect but that's what wet lashes without mascara look like, too. I can see a few tiny crumbs on the lower lid. After the lashes have dried the spider legs have disappeared and the mascara looks almost exactly like it did before. Bravo!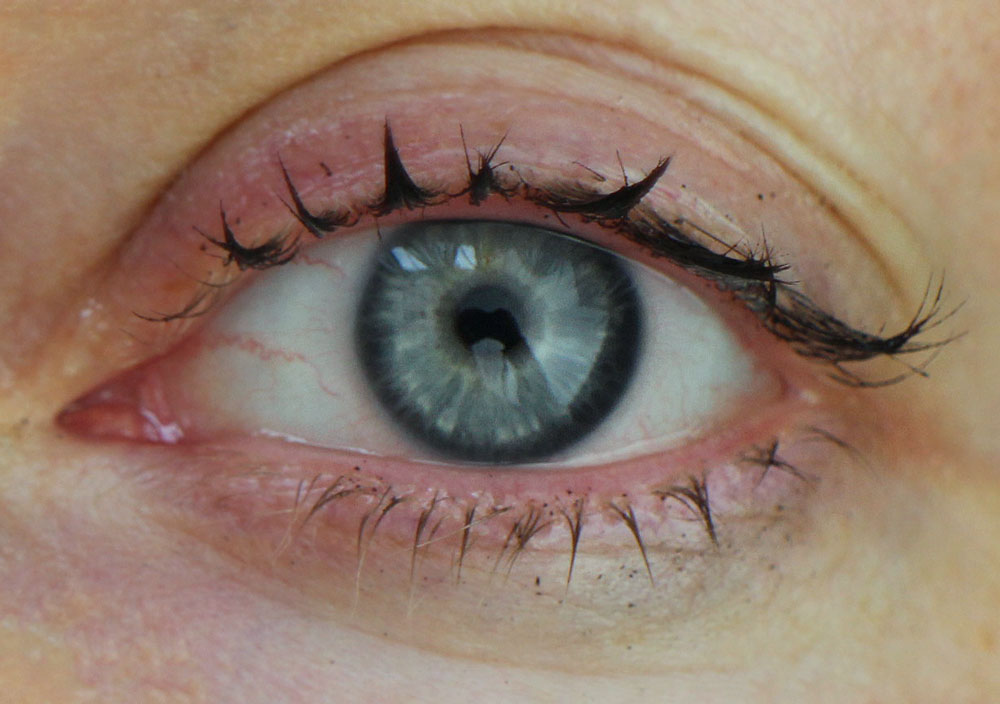 Then followed diving round #2: I use the shower head to spray water directly at my eye (it's crazy what one does for these kind of product tests, right? 😉 ). Now the mascara is starting to struggle a bit, I can see more black crumbs on the lower lid. Still, I'm impressed with the result because my usual organic mascara would already have dissolved into a much more severe panda eye look.
After this test I decided to go all-out and started to scrub at my water-soaked lashes – and now the mascara was starting to dissolve. It really is water-resistant and waterproof but if you start to rub the lashes with your hands (combined with traces from my face cream and some (oil-dissolving) sebum from my nose) – well, then even Le Mascara Waterproof from Avril will give up. I've decided not to post picture from this test round; trust me, it's not a pretty sight 😉 .
Ok, so the mascara isn't as waterproof as a conventional waterproof mascara but that is actually an advantage: removing the mascara isn't as complicated! An oil-based makeup remover works best but my usual micellar waters from Eau Thermale Jonzac or Speick also did the trick; I just had to soak the lashes a few second longer with the micellar lotion before the mascara came off completely.
Le Mascara Waterproof is certified by Ecocert /Cosmos Organic and is based on rye water and beeswax – which is water-resistant, just like the other plant waxes and oils that are contained in the mascara.
As mentioned above Le Mascara Waterproof is priced at 7 Euro for 10ml. The product is available in the two Avril shops in Lille and Paris, in selected organic food stores in France and, of course, in the brand's own webshop. I ordered the mascara from Monde Bio but it is also listed at Ayanature (which has an English-language website version). I assume that Le Mascara Waterproof will also be available at Ecco Verde soon.
My conclusion: Le Mascara Waterproof can't quite compete with conventional waterproof mascaras but it is a lot more water-resistant than other organic mascaras. Unless you rub your eyes or use very rich, oily eye creams, Avril's Le Mascara Waterproof should be a pretty good product choice. All other mascara users will have to live with a few black crumbs underneath their eyes but hey – I still think it's a pretty impressive product: a mascara which lasts well, at a low price. And who knows what other product innovations organic beauty will achieve in future….
[Click here for more pictures and the original German article Ist Le Mascara Waterproof von Avril wirklich wasserfest?]
Wow, it's been a long time since I last wrote about my personal face care routine! Three years ago, in fact; you can read about it in this article here (German only, sorry!). One of the reasons for this long gap is that I test a lot of different products and therefore don't really have a "regular" skin care routine where I use the same products every day. My skin care regimen also changes according to the season – in summer I tend to use products which offer hydration; in winter I prefer protective skin care products that are rich in lipids. In addition, my skin has also changed over the past three years. While I used to have dry combination skin with a tendency towards impurities I would now describe my skin as dry (dehydrated) with a T-zone that has a certain shine during the summer – actually a fairly normal skin type for my age.
However, the biggest change has happened in my head: because I test so many different products whilst intensively researching ingredients I have learned to closely observe my skin. If my skin doesn't like a product or it is lacking a certain ingredient I notice this much more quickly: is my skin a little redder than usual? Do I see a little flaky patch? Is there a small pimple on my forehead? When I see such changes I react quickly and adapt my skin care according to what my skin needs at the moment. And I don't really believe any more that it is best to unthinkingly use the same products year in and year out. Don't get me wrong: if you have really sensitive skin it makes sense to stick to a routine that your skin feels comfortable with, rather than wildly trying out new products all the time.
What I mean is that it is important to find a range of suitable products (and it's ok to pick & mix from different skin care ranges and brands) and then vary your skin care routine according to what your skin needs at the moment (apply more hydration if your skin requires it or, alternatively, focus on lipid-rich products)
In this post I'll tell you about my current skin care routine but will also explain the principles according to which I select my skin care products. I won't focus on individual beauty products which are not really that important – I will, of course, mention a few product examples but there are plenty of alternatives for each product type which I can equally recommend.
This skin care regimen is also my "fall-back" routine whenever my skin need a break from the constant product testing or otherwise signals me that it needs some peace and quiet 😉 .
My morning routine
Cleansing: I don't really experiment with my morning cleansing products. Ever since one of my readers suggested that I try cleansing my face with liquid honey and lukewarm water, this has become my basic cleansing ritual. I apply an organic flower honey on dry skin, massage it in and then gently take it off with lukewarm water and my super soft cleansing cloth from French beauty brand Tendances d'Emma. A good alternative is the Face Cleansing Cream from Dr. Hauschka. Because I try not to apply too much mechanical pressure I don't scrub the cloth across my face. Instead I gently press the warm moist cloth against the skin. Afterwards I pat my skin dry with a towel (again, no scrubbing).
Moisture: The next step is hydration. For this I either use a thermal water spray, a floral hydrosol (like immortelle water, rose water, orange blossom water or rose geranium water) or a gel toner (from, for example, Whamisa, Sanoflore or Eau Thermal Jonzac or the Toning Gel von Living Nature). I alternate quite a few products in this treatment step! The amount also varies according to the season – it's winter time here in Europe so at the moment I will not apply several layers of a gel toner (à la 7 Skin Method) if I know that I have to go out into the icy cold immediately afterwards (my skin would get irritated).
Care: For several years I've almost exclusively used facial oils to moisturise my skin. My face really liked this kind of minimalistic routine and my skin has become even-toned and clear. However, I have now started to use face creams again. In the last few months I have discovered moisturisers such as the Crème Hydro-Biotique von French brand Novexpert or the Ice Plant Face Cream from Dr. Hauschka Med – it helps my skin to recover after product testing. I also like the products of German brand Sensisana, like the Maritim range.
For me it is important that my skin receives an even balance of moisture and lipids – if my skin needs hydration or an emulsifier it's no use applying yet another face oil or multipurpose balm. But I digress! Around 2-3 times a week I use a face oil instead of a cream, like the Rosehip Oil from UK brand Pai or the Beauty Elixir from German brand Primavera – or an oil blend, like the 3in1 Face Oil from German brand Annemarie Börlind or the Anti-Aging Face Oil from Austrian brand mysalifree. I usually select my face oil intuitively.
Eye care: I must admit that I tend to neglect my eye care. I like the Eye Essence from Whamisa but I guess I still haven't found my holy grail product in this category.
Sun protection: I only use SPF products in summer because I mostly work at my desk, and I don't want to burden my skin with daily UV filters if the weather is overcast and dark. Yes, I know; UV exposure also happens in winter time but I rarely use face peels that make my skin sensitive to light or sun. Everyone has their own opinion on this but personally, I try to keep a sense of proportion (as in all things!). In summer time I like to use the Pot of Shade Heliotropic from US brand Kypris or the Sun Cream from French brand Algamaris, often without a moisturizer or oil underneath it.
Lip care: During the day I like the Lip Balm from German brand Martina Gebhardt. But because the glass jar isn't really suitable for the handbag, I take along a lip balm stick when I'm out and about, like the lip balm stick from Argan d'Or or Dr. Hauschka.
When I have impurities: Although I rarely have impurities these days (then again I've probably jinxed myself now 😉 ) I always have the Manuka Gel of the Balancing Day Lotion from NZ brand Living Nature at home.
My evening routine
Cleansing: In the evening I do a double cleanse – first I remove my makeup, then I cleanse the rest of the face. I've been using micellar waters as eye makeup removers for years, usually from French brands So'Bio or Eau Thermale Jonzac or the Micellar Gelée from Cattier. However, a recent favourite is the Thermal Sensitive Micellar Water from German brand Speick. The Makeup Remover from Living Nature also works well. After the makeup has gone I use Aciana Botanica Gelée d'Huile Démaquillante von Sanoflore or a cleansing milk (like the Cleanser from Martina Gebhardt/Sensisana or the Mellow Mallow Creamy Cleansing Gel from Berlin-based brand Lovely Day) or sometimes a cleansing foam (but only if my skin doesn't feel dry and irritated afterwards). I also use my soft Tendances d'Emma cleansing cloth for this skin care step – it really makes a difference to my skin how soft a cleansing cloth is.
Facial scrubs: If I decide to use a scrub I'll do it in the evening, before applying a face mask or other moisturising product. However, I am very careful about the kind of scrub that I use – I won't apply anything with sharp-edged or rough peeling particles which can irritate my skin. Gentle clay scrubs or jojoba pearls are ok but even here I carefully press the scrub onto the face rather than actually massaging it into the skin! I am also careful with acid-based face peels or "vitamin peels" – I tend to use these as a special treatment course (like the Supreme C Serum Treatment from Danish brand Nuori) and afterwards use a sun protection product in the morning. I prefer a gentle acid and a low concentration (like, for example, the AHA Peel Mask from Latvian brand Mádara which is based on lactic acid). I know that some women use chemical peels every day to boost collagen production (anti-ageing) or to prevent the development of pimples on impure skin. This constant removal of the upper skin layers might be suitable for certain skin types or as a temporary treatment. As far as my own skin is concerned, however, I don't want to stress my skin's barrier with these abrasive treatments, especially not in heavy dosages. Then again my skin doesn't really suffer from hornification so it doesn't actually need these kinds of products. However, I still find face peels a fascinating product category.
Hydration: "Are you still doing the oil-free night care routine?" is one of the most frequently asked questions by my readers. My answer is "yes and no" – it depends on the current state of my skin. On average I use an oil-free (or almost oil-free) night time routine on three days a week; more frequently in summer of course. If I follow this kind of lipid-free skin care routine I prefer to layer my gel toners according to the 7 Skin Method (for product choices, see above), or use ampoules and other liquid skin treatments (from, for example, German brands Santaverde, Alsiroyal, Annemarie Börlind, Dr. Hauschka). Some serums are also suitable as a stand-alone night time product.
Care: If hydration alone isn't enough or my skin feels like it need an extra protective layer I use one of my beloved face oils. At the moment I particularly like the sesame oil with vanilla from French brand Aroma Zone and the Strawberry Seed Oil from Austrian brand Hartl. I use a number of different face oils and like to try out new oils and oil blends.
Masks: Evenings are masking-time! The masks I use depend on what my skin needs on that particular day – sometimes I use 3-4 masks per week, sometimes 3-4 masks per month. In summer time I like the cooling hydrogels or sheet masks from Whamisa. Earth-based masks like the Peel-Off Masks from French brand Secrets des Fées are always good; I use classic clay-based masks (like from Cattier) whenever I have the feeling that I might get impurities (I try to keep the clay masks damp so they don't dry out the skin too much). I like to use soothing masks when I want to minimize redness (like this mask here). And in winter time I love creamy masks or sleeping masks.
Eye care: I keep it light so my eyes won't be puffy in the morning. I love the Aqua Hypnotica from French brand Sanoflore – it's a pity that there is still no German brand that offers a similar liquid product. In the evening I tend to use fluids on my eye area. I also recommend that you pay attention to whether the skin around your eyes needs lipids or hydration and adapt your eye care accordingly. I like the long-lasting Hyaluronic Eye Pads from Annemarie Börlind.
Lip care: Well, I'm still searching for my holy grail product in this category … my super-demanding lips need an extra dose of skin care at night. I've already written about my dilemma here.
Before I sign off I want to say something that is very important to me: skin care is a very individual thing and it is only one factor in beautiful skin. Hormones, the psyche, nutrition and genetics probably have a much bigger influence on the state of our skin than the products that we use. Still, I want to support my skin as much as possible by using the right kind of beauty products. And an integral part of this approach is to start listening to your skin, to develop empathy for what your skin requires. It's an on-going process; it has taken me years to get to know my skin and I continue learning about it, so be patient! Also, it is important to like your skin, even if it doesn't conform to the photoshopped pseudo ideal that we see on Instagram or in so many glossy magazines.
When I apply a face oil or a cream I touch my skin. I like the sensuality of beauty products very much and I am sometimes surprised by how little the tactile aspect of cosmetics is mentioned in articles about the cosmetics industry.
PS: The hair band with the cat ears is, of course, from Korea 😉 !
[Click here for more pictures and the original German article Naturkosmetik: Meine Gesichtspflege-Routine (Update)]
Good-bye everyone and see you soon!
Julia