Dear international readers of Beautyjagd,
Welcome to the next English-language edition of Beautyjagd! This is a condensed version of the most important articles that have appeared on my blog over the last few weeks. For more information about this format, click here. And now: enjoy the best of Beautyjagd in English!
Best wishes
Julia
This May, Germany's Reformhaus®stores are holding their annual Beauty Weeks! For more information on reformhouses – a uniquely German retail channel – check out this article here. And in this Sponsored Post in cooperation with the Reformhaus® association I will introduce you to some of the organic cosmetics brands you can find in Reformhaus® stores and present my personal beauty highlights!
What kind of organic beauty is sold in Reformhaus® stores?
The roots of the Reformhaus® retail channel go back to the late 19th Century and the so-called "reform movements". In the 1930s a recently founded association of Reformhaus® stores introduced the Neuform certification: a set of ingredient regulations for beauty products which were sold in Reformhaus stores. Today Reformhaus® cosmetics are still certified according to an updated version of the Neuform seal.
Reformhaus® cosmetics may not contain silicones, paraffin, parabens, genetically modified ingredients or nano particles. Since the Reformhaus® movement propagated vegetarianism, Reformhaus® beauty brands do not contain ingredients from dead animals either. And quite a few of the beauty brands that are sold in Reformhaus® stores are also certified organic by the two big European certifiers Natrue or Cosmos.
This March I introduced to you Reformhaus® Mayr with its massive beauty department. But even the smaller Reformhaus® stores in Germany offer a good selection of high quality organic cosmetics. For many of Germany's famous organic beauty brands the Reformhaus® was one of their first sales points – Dr. Hauschka, Annemarie Börlind, Weleda or Heliotrop, for example, are all sold in Reformhaus® stores. Several beauty brands, like Arya Laya and Alsiroyal (more information further down this article), are exclusive to the Reformhaus® channel but you can also find mainstream favourites like Bergland, Dadosens, Santaverde, Primavera, Logona, Lavera, Sante oder Walther Schoenenberger in Reformhaus® outlets.
Customer advice is very important in Reformhaus® stores and this includes organic beauty since organic cosmetics are a key part of any Reformhaus® product portfolio. Reformhaus® staff tends to be very well trained so if you have any beauty-related questions, this is the place to ask them!
The annual Beauty Weeks are organised by the German Reformhaus® association: under the slogan "Holistic Beauty", participating Reformhaus® stores across Germany offer selected products for outer and inner beauty at a special introductory price.
And now let's check out some of the organic beauty products you can find in a Reformhaus® store!
Smoothing Day Cream Aqua Nature from Annemarie Börlind
Annemarie Börlind is a very well-known brand in Germany; the company's founder Annemarie Lindner was one of the organic beauty pioneers in Germany. She developed a multi-step skin care ritual which comprises Cleansing, Strengthening, Care and Eye Care. And the Smoothing Day Cream from Annemarie Börlind's Aqua Nature range does exactly that: the cream is based on processed plant oils so the texture is light and pleasant; my skin really feels velvety soft, smooth and moisturised. The Day Cream leaves a very light non-greasy film on the skin which locks in moisture. Hydrating ingredients in the product formula include aloe vera, hyaluronic acid derived from Chinese snow mushroom (tremella fuciformis sporocarp), papyrus leaf extract and salicornia herbacea extract. The Aqua Nature products are recommended for demanding and deyhdrated skin which needs more moisture than lipids. The Day Cream has a subtle aquatic fragrance which sort of matches the product name; it is based on a blend of essential oils and synthetic fragrance components. My tip: because the texture of the cream is so light and fresh you can easily mix it with mineral foundation or a BB cream!
◊ The jar of Aqua Nature Smoothing Day Cream from Annemarie Börlind contains 50ml and costs 29.99 Euro during the Beauty Weeks (RRP: 33.50 Euro).
Rose Day Cream from Dr. Hauschka
When I discovered organic beauty many years ago one of the first products I bought was the Rose Day Cream from German brand Dr. Hauschka – which is probably the best-known organic beauty product in the world! The Rose Day Cream was first launched in 1967 and it's also a bestseller in the Reformhaus® stores, so I simply have to include it in this post. As the name indicates the face cream contains various rose ingredients: rose water and essential rose oil have an anti-inflammatory effect, rose leaf extract and rosehip extract are antioxidants and the rose wax protects the skin. The Natrue-certified Rose Day Cream has a rich texture; it is based on water, peanut oil and beeswax and also contains skin-soothing mallow root extract (a healing plant that I like very much). I recommend that you apply the Rose Cream on slightly damp skin; you only need a small amount. The product is especially suitable for dry and mature skin types. I like to use the Rose Day Cream as an additional moisturiser on my (drier) cheeks, especially in the colder season. The cream leaves a very light protective film on the skin – and I simply love the rose-scented fragrance!
◊ A tube of Dr. Hauschka's Rose Day Cream contains 30ml and costs 20.50 Euro. There is also a lighter version (Rose Day Cream Light) which has a fresher texture and focuses on moisture rather than lipids.
Rich Moisture Balancer from Arya Laya
The two-phase Rich Moisture Balancer (Fett-Feucht Balancer) from Arya Laya has been around for over 25 years, and it was also the first Arya Laya product that I discovered (a friend pointed it out to me; she knows that I like interesting products). The Heidelberg-based natural cosmetics brand is another traditional German beauty brand: the roots of the company go back to natural medical practionicer and herbalist M.E.G. Gottlieb, who launched Arya Laya over 100 years ago. The name is derived from Sanskrit and means "carrier of beauty". Arya Laya products are available exclusively in Reformhaus® stores.
The Rich Moisture Balancer contains two phases: the oily phase you can see in the top of the flacon is based on a blend of peanut, jojoba, safflower, wheatgerm, avocado and almond oils. The watery phase below contains aloe vera juice, water and rose water. This lotion does not contain emulsifiers so you have to shake the bottle before use. Then you appy a few drops of the liquid to the skin: this way the skin receives a balanced mixture of hydration (moisture) and lipids (oils). When it is warm outside the Rich Moisture Balancer is hydrating enough for my skin during the day, but you can also apply a moisturiser or sun cream on top of the lotion. The natural orange colour of the Balancer comes from the carrot oil, the beetroot extract and the other plant extracts that are contained in the formula; once you distribute the product on the skin, however, the orange tinge is barely visible (it evens out the skin tone a little bit). The scent is a nice blend of orange notes, spiciness and herbal accords. In a nutshell: the Rich Moisture Balancer combines face oil and hydration in one flacon – for someone like me who loves hydrosols and face oils it is the perfect product!
◊ During the Beauty Weeks in May the Rich Moisture Balancer from Arya Laya costs 17.99 Euro instead of the usual retail price of 19.99 Euro. If you buy a duo pack it is even cheaper. The brand also offers two further variations of the classic Rich Moisture Balancer: Aqua Vital and Cell Repair (this last one is said to contain anti-inflammatory ingredients and a magnolia fragrance – sounds intriguing!)
Hyaluron 5 Effect Gel from Alsiroyal
I already introduced German brand Alsiroyal on my blog: the company was founded in 1949 and is based in Bavaria near the Ammersee lake. Alsiroyal's products are certified by Natrue and Neuform and are exclusively available in Reformhaus® stores. Like the Hyaluronic Acid Ampoules which I wrote about in this article here the moisturising Hyaluron 5 Effect Gel from Alsiroyal contains 5 types of hyaluronic acid in different molecular sizes: the high-molecular hyaluronic acid forms a gentle protective film on the skin while the low-molecular hyaluronic acid transports moisture into the skin's deeper layers. The gel is based on water and aloe vera juice as well as hydrating glycerin, grape water, betaine (a plant-based moisturiser), xylitol and the afore-mentioned hyaluronic acid. The clear gel has a subtle, fresh fragrance and does not contain any lipids so I use it as a serum underneath a face oil or cream – or on its own as an oil-free night time moisturiser. The fresh texture is absorbed well into the skin and my skin feels hydrated and smooth. I particularly like that I can apply two layers of the gel without it peeling off the skin (as gels sometimes do). The perfect summer-time face moisturiser!
◊ Instead of the usual retail price of 18.49 Euro a flacon of the Hyaluron 5 Effekt Gel from Alsiroyal (30ml) costs only 16.99 Euro during the Beauty Weeks. The ampoules are also on special offer at the moment.
Hyaloevera Sorbet from Heliotrop
And here is another German beauty brand which originated in the Reformhaus®: Heliotrop was launched in 1965, the brand is now part of Logocos group which also owns organic beauty brands Logona and Sante. The majority of Heliotrop's products are certified by Natrue or EcoControl. My impression is that the brand is currently going through a kind of rejuvenation, with a host of interesting new products launches over the past couple of years. Like the new Hyaloevera Sorbet which I discovered at Vivaness trade show last year: this gel moisturiser has an innovative bouncy texture (these type of products are very popular in Asia) and offers cooling hydration without weighing skin down; especially good for summer. The Heliotrop Sorbet has a transparent-milky colour and is packaged in a glass jar. The ingredients include moisturising aloe vera, glycerin and hyaluronic acid; gingko extract which boosts collagen production and antioxidant witch hazel extract – I think the alcohol that is contained in the product (and which has a preserving effect) also derives from these plant extracts. The oil-free sorbet feels fresh and cooling on the skin, it has a very subtle floral fragrance with a hint of sandalwood. You can apply it on its own or blend it with a few drops of face oil (which is what I did). The sorbet also works well as an after-sun body care product.
◊ During the Beauty Weeks the jar with 50ml Hyaloevera Sorbet is priced at 13.99 Euro instead of the usual retail price of 14.95 Euro.
I received some of the products as press samples, some of them I bought myself.
You can find more information about the Beauty Weeks in your local Reformhaus stores, or check the website of the Reformhaus® association (where you can also find a list of participating stores).
[Click here for more pictures and the original German article Naturkosmetik: Beauty-Wochen im Reformhaus®]
I was unpacking an order from organic online store Ecco Verde (yes, I use the special promotion codes on Beautyjagd.de myself from time to time!) when it occured to me that it would be fun to do a classic beauty haul blog post; I haven't posted one of these for ages! Ecco Verde liked the idea of me presenting my new discoveries (and re-purchases) and this article has now turned into a Sponsored Post.
As always the order arrived very quickly, it's never taken longer than two days. Unlike some other (French… 😉 ) online stores the products I order from Ecco Verde are always packaged properly; fragile glass flacons are wrapped in paper, the caps of large bottles are additionally secured. If you're interested in finding out where and how Ecco Verde's parcels are packed check out this blog post here. You can now also select your product samples during the shopping process – more on that further down.
And now let's check out all the great organic beauty products that I bought!
New organic beauty brand Fitocose from Italy
I was particularly intrigued by the products of Italian brand Fitocose: the labels look imperfectly pretty and have a certain hand-made charme. However, don't judge a book by its cover: Fitocose offers some unusual products. The brand is considered one of the organic beauty pioneers in Italy: the company is headquartered near Milan and its portfolio offers some 400 (!) products. Wow! Ecco Verde has listed around 250 Fitocose articles.
All products are freshly made and have to be used up within 4 months. Fitocose does not just focus on raw ingredients from sustainable sources but also on dermatologically interesting product formulas: one of the reasons why I noticed this brand was that Fitocose offers an Azulene Cream and Vitamin C Fluid but also a Ceramide Restructuring Cream, a Glycolic Acid 12% Facial Cream or an AHA Anti-Wrinkle Fluid. Exciting! These are all pretty unusual products for an organic beauty brand.
I bought the Azulene Cleansing Lotion for 8.99 Euro which is a liquid makeup remover (also suitable for removing eye makeup). The lotion is based on water, camomile extract and sugar-derived surfactants; azulene and essential camomile oil are also included – a nice, compact ingredient list. I saturate a cotton pad with the lotion, place it on my eyelid and gently wipe my eye makeup off. The Cleansing Lotion removes mascara, eyeliner and eyeshadow without any problems and it doesn't sting either. Can definitely compete with a micellar water!
As a huge mallow fan I also ordered the Mallow Mucilage Tonic Lotion from Fitocose, a hydrating and soothing facial toner. The scent is amazing: a blend of vanilla, camomile and frankincense which are all included as essential oils (and have a skin-calming effect). The mallow extract also soothes the skin. The Tonic Lotion costs 7.79 Euro.
My third Fitocose product is the Facial Cream Mandelic Acid 10%. The cream contains 10 % mandelic acid which has a gentle peeling effect to make skin glow and reduce pigmentation spots. Mandelic acid (which is derived from bitter almonds) is said to be just as effective as glycolic acid but gentler on the skin since its molecules are larger. In the INCI declaration mandelic acid appears in second place, followed by ingredients like propanediol and squalane. The pH value is less than 4 (according to my rough measurement) and is therefore the correct value for the peeling effect of the mandelic acid. The cream has a gel-cream texture; when I apply it to the skin there is a little streaking at first and I even had the impression that I could feel the individual tiny crystals of the mandelic acid on my skin. The cream is absorbed well and isn't greasy either – in fact, I'd describe the texture as comparatively light. My skin liked the mandelic acid and the peeling effect which didn't leave any red patches. Still, make sure to wear sun screen when you use this face cream! Since I am currently testing various sun care products this wasn't a problem for me 😉 . The Mandelic Acid Cream has a light fresh scent which does not contain any allergens that would need to be declared. The product cost 17.99 Euro.
What an interesting brand! Not all products are certified organic; this is also because high percentages of certain ingredients such as vitamin C or mandelic acid can't be certified at all. I like the affordable price point which is probably one of the reasons for the "unglamorous" and unusual packaging design. I read that the company is proud of the fact that it is independent.
New products from Dr. Scheller
German brand Dr. Scheller presented its relaunched product portfolio at Vivaness trade show this year – and there are some particularly interesting new products. I wrote down three of these on my personal beauty wish list and it is these three items that I now ordered from Ecco Verde.
I immediately liked the look of the Almond & Calendula Soothing Sheet Mask from Dr. Scheller – these kind of cooling and hydrating masks are especially good in summer. The new Dr. Scheller sheet mask is made from a flexible stretchy cellulose material so it's easy to adjust the fit to your facial contours. The mask is saturated in a blend of water, orange extract, glycerin and almond extract as well as pentylene glycol (from renewable resources). The mask serum also includes the active ingredients calendula, aloe vera, hyaluronic acid and liquorice root extract. My skin felt cool and smooth afterwards and the red patches on my skin were visibly reduced. After I had taken off the mask I massaged the rest of the liquid into my skin and didn't need any additional moisturiser. In winter time, however, I would probably apply a few drops of face oil as a finishing touch.
I was also curious about the Cleansing Anti-Pollution Tonic from Dr. Scheller which is a combination of cleanser and toner – if you were doing a Double Cleansing you'd use this product as a second step. Apply the tonic to a cottonwool pad and gently wipe it across the cleansed face. The toner has a soft powdery-floral scent and contains orange blossom and peach blossom extracts as well as aloe vera to moisture the skin (and protect it against pollution, of course!). My skin felt soft and hydrated after I used the toner; I apply a cream or oil on top of it. I also tried taking off my eye makeup with this toner and that worked well. The Anti-Pollution Tonic is priced at 5.99 Euro at Ecco Verde.
A big trend are day creams with integrated sun protection so I absolutely had to try out the Natrue-certified Argan & Amaranth Anti-Wrinkle Day Cream SPF10 from Dr. Scheller! The second ingredient listed is the sun filter zinc oxide, in addition to processed plant oils and sunflower oil. The formula also contains titanium dioxide and plant ingredients such as amaranth seed extract. The Day Cream SPF10 has a subtle citrus-scented fragrance and left a few white traces at first but then it was absorbed well into my skin (and the whitening effect disappeared). Although the texture is protective and not too light the cream didn't feel heavy or sticky on my skin. Since my dry cheek practically suck the moisture out of the cream I use a hydrating face toner or serum underneath. The cream is recommended for demanding skin and the jar is priced at 13.99 Euro.
Eyeshadow Palette Day to Night from Inika
I've been flirting with the Day to Night Eyeshadow Palette from Australian mineral makeup brand Inika for several months and now the product has finally made it into my shopping basket! The limited edition palette costs 55.99 Euro and is often sold out. I really like the colour combination of the seven powder eyeshadows: the choice ranges from neutral beige and browns over pink and plum shades to a strong orange. Depending on the shade the finish is matte or shimmering; the texture is flexible and not too crumbly and the pigmentation is good. What a nice-looking product! The round palette really makes me want to try out Inika's other powder eye shadows (like the duo palette Gold Oyster). All Inika eyeshadows are vegan; they are based on glimmer and corn starch. The Palette also contains a leaflet with some recommendations for different day and night time looks.
Playing with samples
On the picture above you can see the samples that I selected whilst ordering on Ecco Verde. I have already written about the tinted day cream from cool Italian beauty brand Agronauti in this article here, so I selected a sachet of the Gea CC Cream from Agronauti as a travel size for my next trip. – I met Italian beauty brand Mater Natura at Vivaness trade show this year and really wanted to try out the brand's mattifying cream with magnolia: and yes, the silky-light texture really has a soft magnolia fragrance. Amazing! – The Body Oil La Surdouée from French brand Omum is said to help against stretch marks. It is based on sesame and jojoba oil but also contains aloe vera powder. The oil is free from essential oils but has a light spicy-nutty fragrance which comes from the plant oils.
DIY Cream from La Saponaria
And another Italian beauty brand: I have already been been positively surprised by La Saponaria's sun milk and the mattifying serum – and now the brand is offering DIY products! You can buy several neutral skin care products and then customise these with a range of individual active ingredients. I bought the DIY Cream from La Saponaria in a large 250ml jar for 9.89 Euro.
It's a fragrance-free basic moisturiser which can be used for face and body care but also as a hair mask or even as a scub (for example in combination with coffee grounds). La Saponaria has recommendations which active ingredients can be used for which product and how much oil-soluble and water-soluble ingredients can be added to the basic cream without endangering the emulsion. I received a little bottle of hyaluronic acid as a present and am now constantly thinking about which combination of ingredients and essential oils I would use for a tinted day cream, for example (I'd use mineral foundation for the colour). The texture of the basic cream is light and creamy and it really seems to be suitable for different product blends. A very nice idea of La Saponaria!
Be Wild Herbal Tea from Sonnentor
A reader recently recommended that I try out the new Be Wild herbal tea from Austrian brand Sonnentor – and she was so right! The tea has a herbal-woodsy fragrance dominated by juniper but the blend also contains aniseed-tasting pimpernel and fir needles. Yay! Definitely an afternoon tea (for when you need a burst of energy!)
Bio Bio Baby Hand Cream Peach from Pilogen Carezza
I'm still very much into peach flavour and peach fragrances – my peach craze started last summer and is still going strong. And if a hand cream has such a colourful retro-looking packaging I simply have to have it! Check out the tube of the Italian brand Pilogen's Hand Cream Peach 😉 ! And the fruity (but not too strong) scent hasn't disappointed me: it is reminiscent of peach ice cream. The texture is creamy-light and the hand cream is absorbed quickly into the skin. I can also imagine using the cream as a body lotion. Pilogen Carezza is a brand that has been around since 1898 so it is an Italian classic. Italy really is pretty cool (and check out the packaging designs of Pilogen's other hand creams!). The tube cost 2.39 Euro.
Denttabs and Le Mascara Waterproof from Avril
To finish this blog post: here is a re-purchase and a present. I ordered two two jars of Denttabs for 5.99 Euro each because I still use these toothpaste tablets regularly. I like it that the Denttabs leave my teeth feeling smooth because they polish the surface so gently. I usually use the Denttabs at night, in the morning I often brush my teeth with a creamy toothpaste. – I've already posted a product review of French brand Avril's waterproof certified mascara here; the mascara really lasts very well, so I bought it as a present for my mother who wears contact lenses and therefore uses waterproof mascara. Although my mother would like a little more volume she is also impressed by how long the Mascara Waterproof from Avril lasts on her lashes; she thinks that the mascara can definitely compete with conventional mascaras. And all of this for a very affordable price of 6.99 Euro!
[Click here for more pictures and the original German article Mein Einkauf beim Naturkosmetik-Onlineshop Ecco Verde]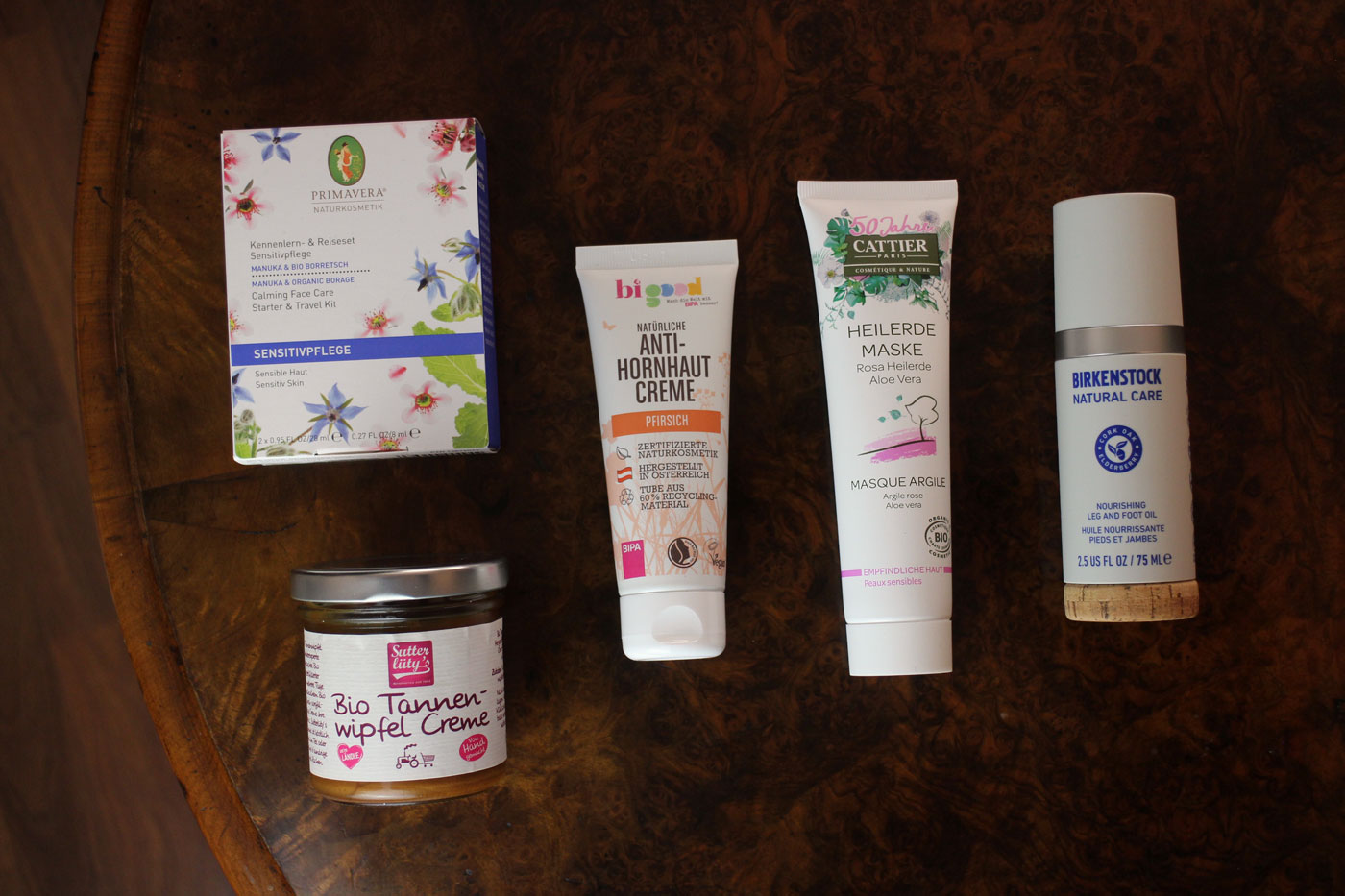 I visited the Allgäu area of Germany last weekend and the blossoming meadows, the grazing cows and snow-covered mountain peaks seemed almost exotic to me – I've spent so much time at my desk recently, dealing with necessary office paperwork. Especially tax matters but also the new EU General Data Protection Regulation (GDPR) which came into effect a few weeks ago. And then there is all the usual work that is associated with being a professional blogger. There was also a bad car accident in my family which really gave me a scare last week – but luckily things were less bad than they seemed at first. Still, this kind of experience really puts matters into perspective and helps you to remember what's really important in life.
Test Set Sensitive Care from Primavera
During my Allgäu trip I also visited organic aromatherapy brand Primavera's big store in Oy-Mittelberg, the small town where Primavera's German headquarters are located. Amongst my purchases were the Clear Head Aroma Roll On and an extra large tube of the Repair Hand Cream Organic Lavender & Organic Vanilla but also the Calming Face Care Starter & Travel Kit. The travel size kit contains the mild cleansing milk, the gentle toning face lotion and the skin-calming cream with manuka and borage which is said to help strengthen the skin's barrier and protect against redness. I tried out the set that very evening in my hotel: the cleanser is almost surfactant-free, the moisturising face lotion has a pleasant gel-like texture and the skin-soothing cream has been formulated with some interesting antioxidants. It has a light texture which make the product suitable as a base for sun cream or makeup. The Travel Kit was priced at 10 Euro. More information on Primavera's home page.
Anti Callus Cream Peach from Bigood
After a short walk around Primavera's healing plant garden in Oy-Mittelberg it started to rain so I decided on a quick detour across the border into Austria: the little town of Reutte offers two outlets of Austrian drugstore chain Bipa. At one of the Bipa store I bought the Anti Callus Cream Peach from Bipa's certified organic own label brand Bigood. You know how much I love peach fragrance! The Anti Callus Cream is certified organic and vegan; it is moisturising enough – only the fragrance reminded me more of apricot than peach, but let's not be petty 😉 . Here's the Bipa homepage. The cream cost 4.49 Euro. I am using a lot of foot creams at the moment (summery hot = sandal weather!) so I have another tip for you further down in these Beauty Notes.
Bonne anniversaire Cattier!
French organic beauty pioneer Cattier is celebrating its 50th anniversary this year. To commemorate the occasion, the brand has launched its bestsellers as a Special Anniversary Edition, including the certified organic Pink Clay Face Mask for sensitive skin. Face care products based on medicinal clay: that's how Cattier got started all those years ago and clay is still a key ingredient in the company's beauty products. The fine earth particles absorb sebum and dirt whilst regenerating the skin with minerals such as silica or magnesium. There are many different medicinal clays (all of which have a different effect on the skin) so there is a clay suitable for every skin type. Pink clay is based on kaolin and is particularly gentle which is why this clay is recommended for sensitive skin. The Pink Clay Facial Mask from Cattier is already pre-mixed with water, it also contains moisturising shea butter and aloe vera. You distribute the creamy pink mask on the skin and leave it on for 5-10 minutes. I try and make sure that the mask doesn't dry so I spray a floral hydrosol on my face occasionally. Then I rinse the mask off with warm water. I like the clarifying effect of the mask, my skin feels clean and soft and it is my impression that the skin care products I apply afterwards are twice as effective. One tube of the mask contains 100ml and costs 6.99 Euro (available online and offline wherever Cattier is sold). More information and the INCIs are available on
Cattier's homepage
(this part of the Beauty Notes is in cooperation with Cattier [Sponsored Post])
Nourishing Leg & Foot Oil from Birkenstock Natural Care
Ever since Vivaness 2017 trade show I've been curious about the new beauty products from Birkenstock (the makers of the famous Birkenstock cork shoes – I am spending most of my summer in Birkenstock sandals!). At the trade show Birkenstock Natural Care's CEO Oliver Reichert had told me about the beauty brand's new Leg & Foot Oil – and when I received a press sample a few weeks ago I tried out the product immediately. The oil is based on jojoba oil, sesame oil, olive oil and coconut oil plus evening primrose oil and elderflower oil. The scent is interesting, I like it: herbal-fresh with a certain spiciness but also floral notes. The product is packaged in a flacon with a cork base and the oil blend also contains cork oak extract, mugwort extract and comfrey extract. I was surprised by how light the texture is, the oil is quickly absorbed into the skin (I like to use it on my legs) and leaves almost no greasy residue! At the moment the vegan Nourishing Leg & Foot Oil is only available online in Birkenstock's online store; it costs 35.00 Euro.
Natural Cosmetics Camp
In a few weeks the fifth Natural Cosmetics Camp will take place – you can read about this organic beauty un-conference here or here on Beautyjagd. I'm holding the Key Note speech this year – if you can read German, a small preview is available in a recent interview with me on the Natural Cosmetics Camp blog. Enjoy!
Organic beauty new this week
German drugstore retailer DM's certified organic own label brand Alverde will launch a new hair care range with coconut milk soon.
Organic hairdresser Kastenbein&Bosch from Cologne is introducing three new products this June: a Chia Hair Cream Silver, a Shower Gel and a Green Smoothie Shampoo.
[Click here for more pictures and the original German article Beauty-Notizen 25.5.2018]
In cooperation with Santaverde // It all began over 30 years ago when Sabine Beer was in Andalusia and was introduced to freshly cut aloe vera leaves as a skin care product. She couldn't believe how well her dry, inflamed skin responded to the cooling aloe vera gel. After a short time her skin had improved so much that she decided to create her own aloe vera cosmetics. And this is how organic beauty brand Santaverde was born! In a way the brand's new Pure range goes back to the roots of Santaverde: the products were developed especially for impure and sensitive skin. This is a skin type that many people have, not just teenagers.
Caring for impure, sensitive skin
When people hear the term "impure skin" most of them will immediately think of young, oily skin and use aggressive skin care products that dry out the skin way too much (I am not mentioning the brand that almost everyone knows from their own time as a teenager 😉 ). This can actually irritate the skin further and result in more inflammation. Even impure skin needs hydration and lipids to balance itself and even more so when the skin type is sensitive as well.
You can get impurities and inflamed skin at any age, by the way; they can appear in any life phase. My own personal "impurities and problem skin" phase actually didn't take place when I was a teenager: no, I was in my 30s when my skin really began to act up (the reason for this was hormonal chaos). However, stress and nutritional issues can also affect the state of your skin. And if you use aggressive anti-pimple skin care products, your skin's flora will get even more unbalanced.
Santaverde's new Pure range is hydrating and has a mild formulation so it is also suitable for skin that is suffering from redness caused by couperose or rosacea. If you have this kind of problematic skin check out Santaverde's home page; they have a number of recommendations on how to care for these skin conditions.
Pure from Santaverde: Active ingredients
The Pure range currently offers three products: Pure Clarifying Toner, Pure Mattifying Fluid and Pure Refining Serum. All three products are fragrance-free and have a maximum alcohol content of 4% (this is organic non-denatured alcohol which has a clarifying and antibacterial effect), so the product formulations are very mild. And all products are based on pure aloe vera juice.
The active ingredients for the new skin care range were carefully selected:
◊ The aloe vera used in the products is cultivated in Andalusia on Santaverde's own finca (I visited the farm three years ago and wrote a blog post about it here – German only, sorry!). Santaverde's aloe vera is careful harvested and processed which makes this aloe vera juice much more potent and effective than, for example, a purified aloe vera powder. The aloe vera in the Pure products moisturises and heals the skin whilst hyaluronic acid adds a further boost of hydration.
◊ Salicylic acid from the bark of the willow tree (salix nigra bark extract) has an anti-inflammatory and antibacterial effect. This ingredient keeps the skin's pores clean so it prevents new impurities – salicylic acid is a very effective ingredient for impure skin (it is also good for rosacea-afflicted skin).
◊ Regionally sourced pansy extract (viola tricolor flower extract) has sebum-regulating properties, helps against inflammation and is rich in antioxidant flavonoids. Pansy extract also increases the hydration level of the skin.
The products of the Pure range are recommended for combination skin, impure skin, sensitive skin and normal skin. You can use the toner, serum and fluid in conjunction or individually. Since the textures are so light they might not be rich enough for dry skin which needs more lipids. However, you can easily combine the Pure products with other Santaverde products (like the Age Protect range if your skin is dry and impure).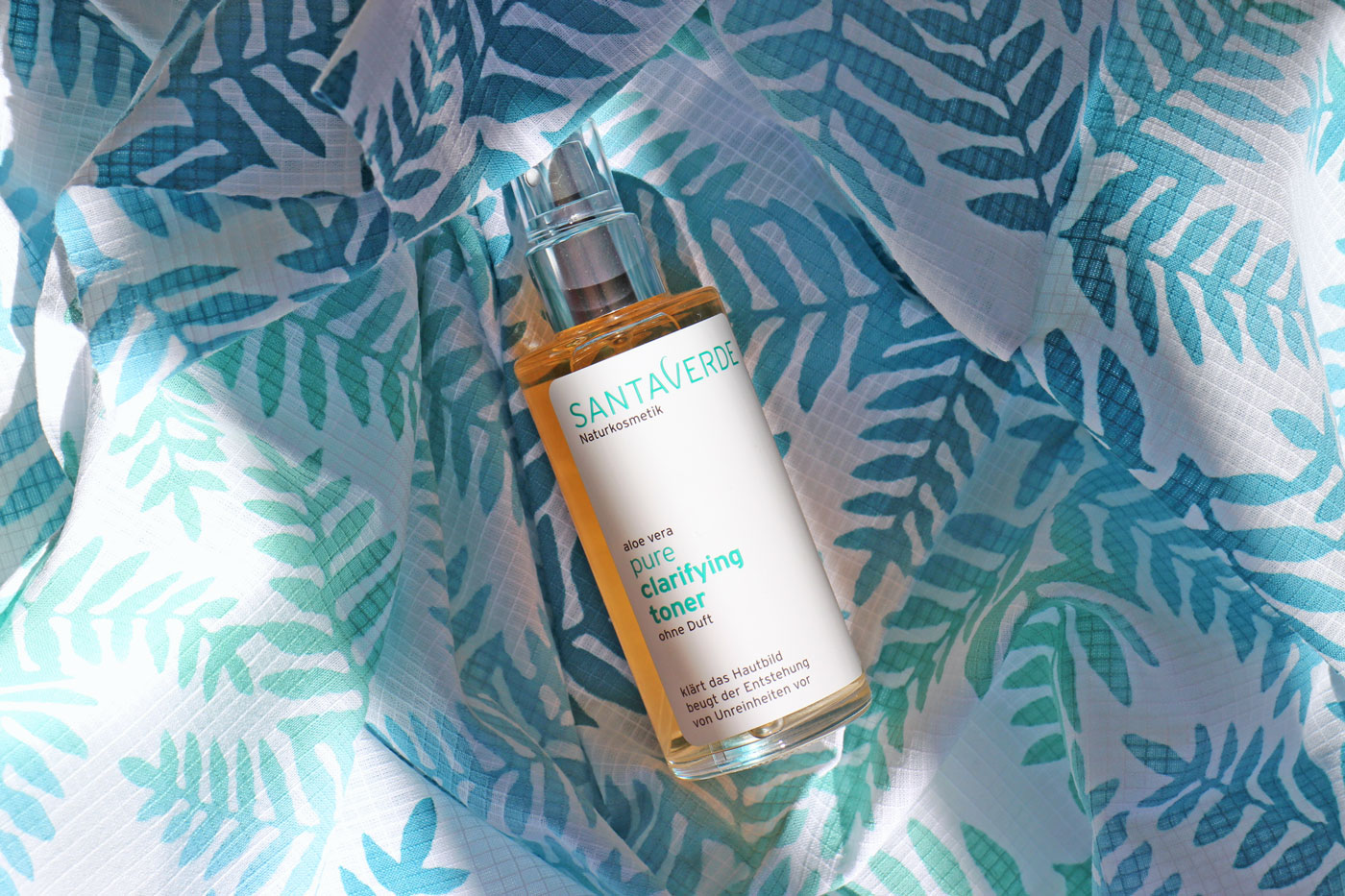 Pure Clarifying Toner (fragrance-free) from Santaverde
After you cleanse your skin the Pure Clarifying Toner is the first moisturising and skin-refining treatment step: like all Santaverde products the Clarifying Toner is based on aloe vera juice, it is the first ingredient listed on the INCI declaration. The anti-inflammatory ingredients I mentioned above, pansy extract and willow bark extract, are supplemented by thyme hydrosol. This plant water has an antiseptic effect and can soothe itchy skin. The formulation of this toner – it has a very light herbal fragrance – is very minimalistic.
A tip from Sabine Beer: Men can use the Pure Clarifying Toner as an after-shave product; the toner hydrates, soothes and refreshes the skin after shaving. It is also anti-inflammatory.
Since I have dry skin I apply a richer skin care product (like an oil or a cream) on top of the toner and serum. In the next paragraph I'll write more about the topic of dry skin.
The bottle of the Pure Clarifying Toner from Santaverde contains 100ml (the flacon has an atomiser button) and costs 25.90 Euro.
Pure Refining Serum from Santaverde
I think the Pure Refining Serum is especially suitable for dry, dehydrated skin which is prone to impurities and inflammations – you can easily add it to your usual skin care routine as an extra step and combine it with other products. The first three ingredients are aloe vera juice, willow bark extract and pansy extract followed by evening primrose oil – you can even smell the evening primrose oil a little. Evening primrose oil contains a high percentage of gamma-linolenic acid and is often used in skin care products for atopic or inflamed skin. This oil also helps to reduce redness. In terms of texture, evening primrose oil is pretty light so it doesn't weigh down the skin. Instead it helps to repair the skin's barrier. The serum also contains hyaluronic acid which adds extra hydration.
The texture of the serum is like a very liquid gel and it is easy to distribute on the face. On my skin the serum worked really well as a base for a richer face moisturiser (if it's a hot summer day the serum might even be moisturising enough to be used as a stand-alone product). It was my impression that my skin was more even-toned and calmer after I had used it for 1-2 weeks – then again I don't have many impurities at the moment (but I do have redness here and there). I think the serum should also be suitable if your skin suffers from rosacea or couperose.
The Pure Refining Serum from Santaverde is packaged in a tube with 30ml and costs 38.90 Euro.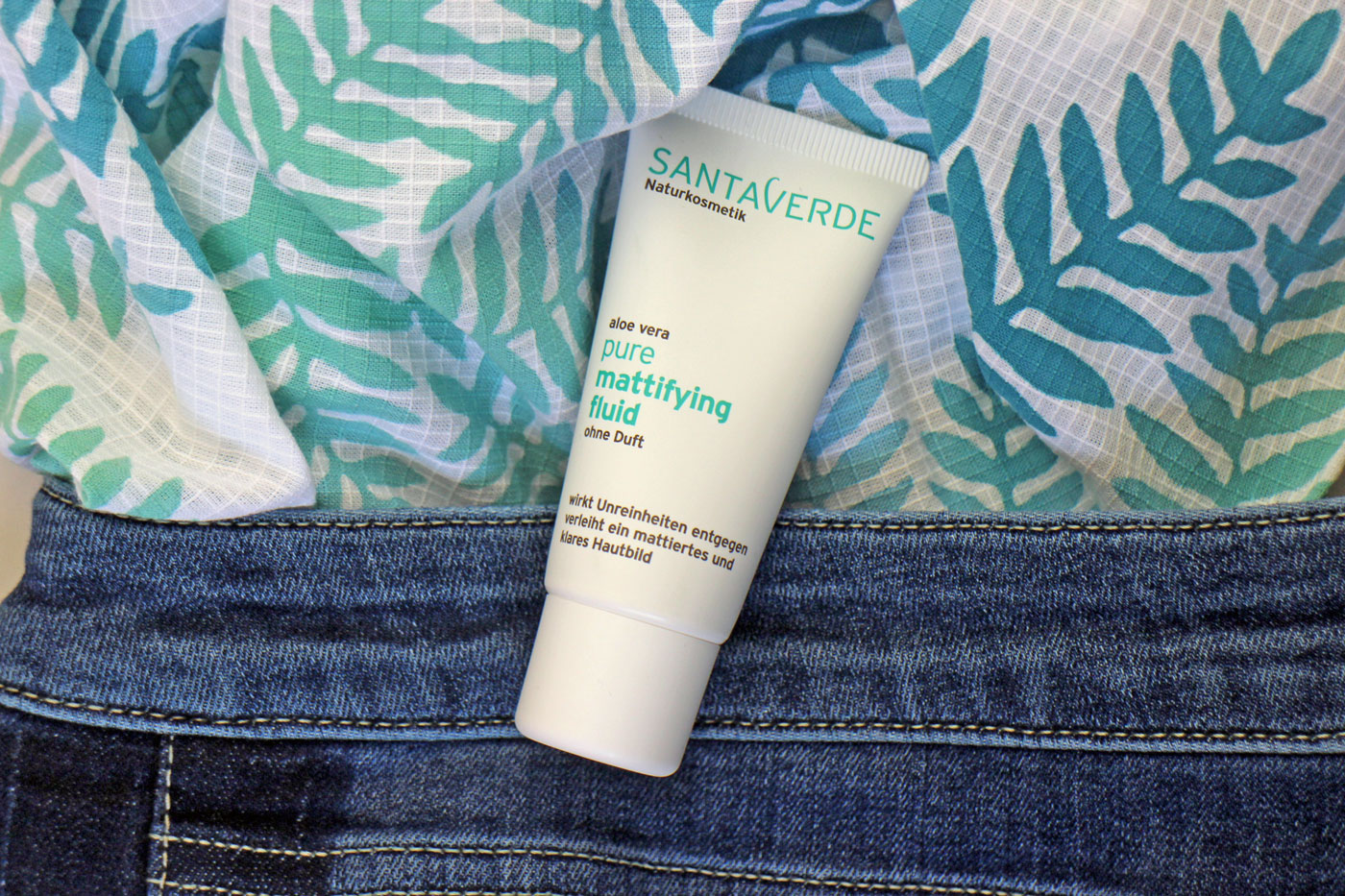 Pure Mattifying Fluid from Santaverde
The texture of the Pure Mattifying Fluid is beautifully light – not quite a cream but not a gel either. The fluid is based on aloe vera juice and hydrating sweet almond oil plus two further hydrating oils: evening primrose oil (see paragraph above) and rosehip oil. Rosehip oil is cell-regenerating and anti-inflammatory and helps to diminish the appearance of scars. These last two oils are both light in texture.
The fluid is absorbed quickly into the skin, it moisturises without stickiness and leaves the skin slightly mattified. The active ingredients responsible for this are the aforementioned pansy and willow bark extracts. If you have oily and impure skin it'll like the hydration and the light texture. My own skin is starting to get more dry so the fluid doesn't offer quite enough lipids – I apply a face oil or a richer cream on my (drier) cheeks. If the weather is really hot or I am in a humid-warm climate I'd probably wear the fluid as a solo product. The Pure Mattifying Fluid is also a great base for a sun protection cream – organic sun creams, after all, tend to be on the richer side – so for me this is the perfect summer combination.
One tube of the Pure Mattifying Fluid from Santaverde contains 30ml and costs 34.90 Euro.
Santaverde's Pure range is certified by Natrue and the products are available in organic supermarkets and beauty stores but also through the company's own webshop. And have I mentioned how much I like the packaging of this product range? I simply love the fresh, cool turquoise-green colours….
[Click here for more pictures and the original German article Für unreine empfindliche Haut: Pure von Santaverde Naturkosmetik]
Good-bye everyone and see you soon!
Julia