These are translations of my German blogposts about Vivaness 2019 trade show. Enjoy!

Vivaness – the biggest organic beauty trade show in Europe – is always an incredibly busy time for me. During the four days of the trade fair I have one appointment after the other, rushing around the trade show hall while at the same time trying to discover product innovations and meeting as many interesting start-up brands as I can. In the evenings I collapse into bed (at least it's my own bed – Vivaness takes place in Nuremberg, the city that I live in). I have barely any time to blog or post pics on Instagram so instead of the usual Friday Beauty Notes you'll get a small Vivaness preview! Over the next few weeks I'll post more detailed articles on Vivaness and the brands and products that I saw there.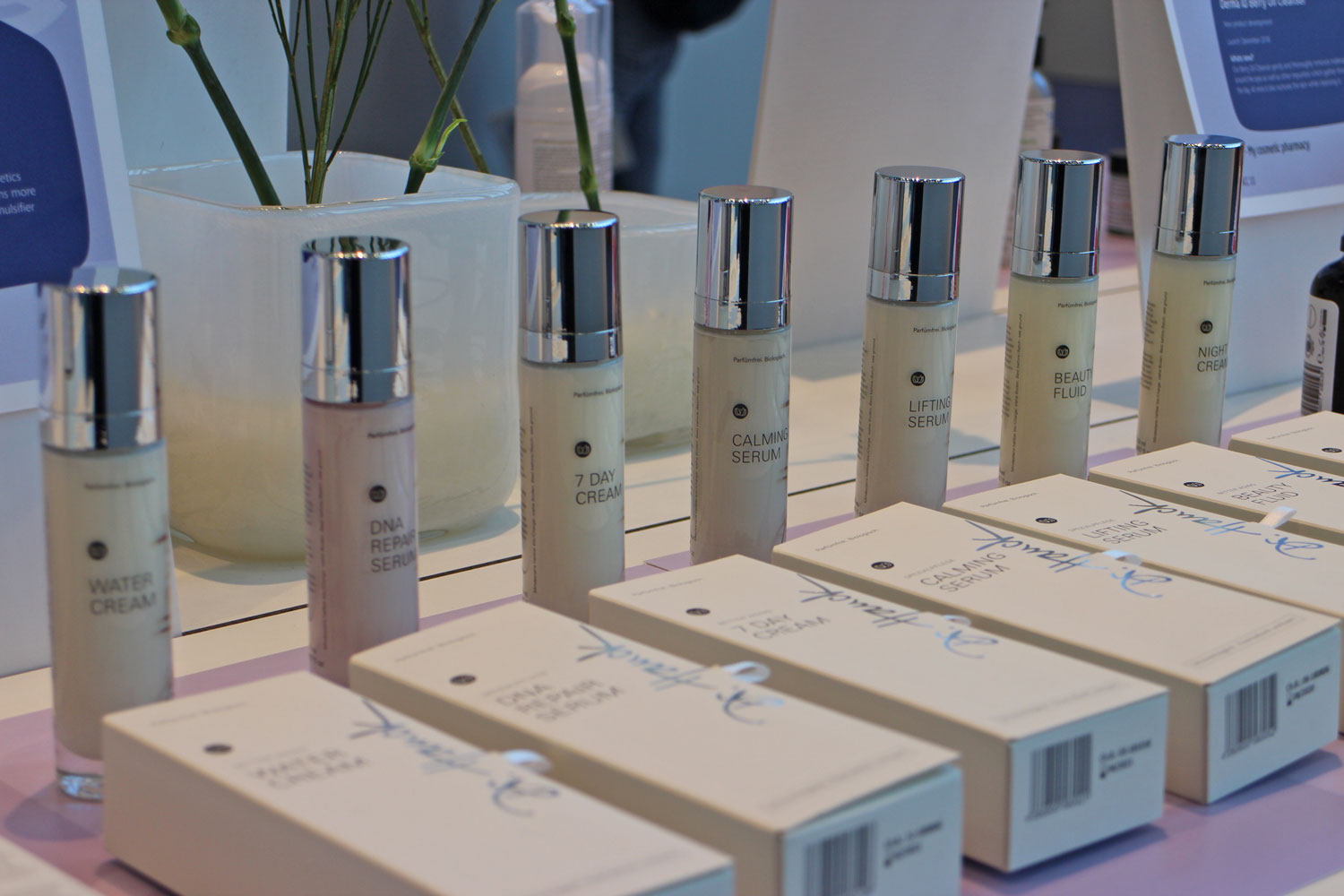 Better Aging from Dr. Hauck
I've been looking forward to discovering the new Dr. Hauck skin care range at Vivaness. The German brand was launched just a few weeks ago by Brigitte Hauck and Dr. David Hauck and the products are fragrance-free and mostly formulated without emulsfiers. The focus of the Dr. Hauck range lies on protecting and strengthening the skin's barrier. I immediately liked the pleasant product textures and now I really want to try out the Calming Serum but also the cleanser, the gel-textured toner and the 7 Day Cream. If you like Asian-inspired beauty products: the range also offers a super light Water Cream.
Speick Sun Sun Cream and After Sun Lotion
It's wonderful that German brand Speick is now discovering the sun care category! The company spent almost six years developing the three sun creams (with SPF 20, SPF 30 and SPF 50+) – the sun filter is non-nano zinc oxide and the products are formulated without fragrance. And all of the work has paid off: there's barely any whitening even with the SPF 50+ cream (I tested the creams on the back of my hand) which is impressive. I can't wait to try out the sun creams properly on the face (which is always the ultimate test for a sun cream). And I'd like to congratulate Speick on the modern, stylish design – well done!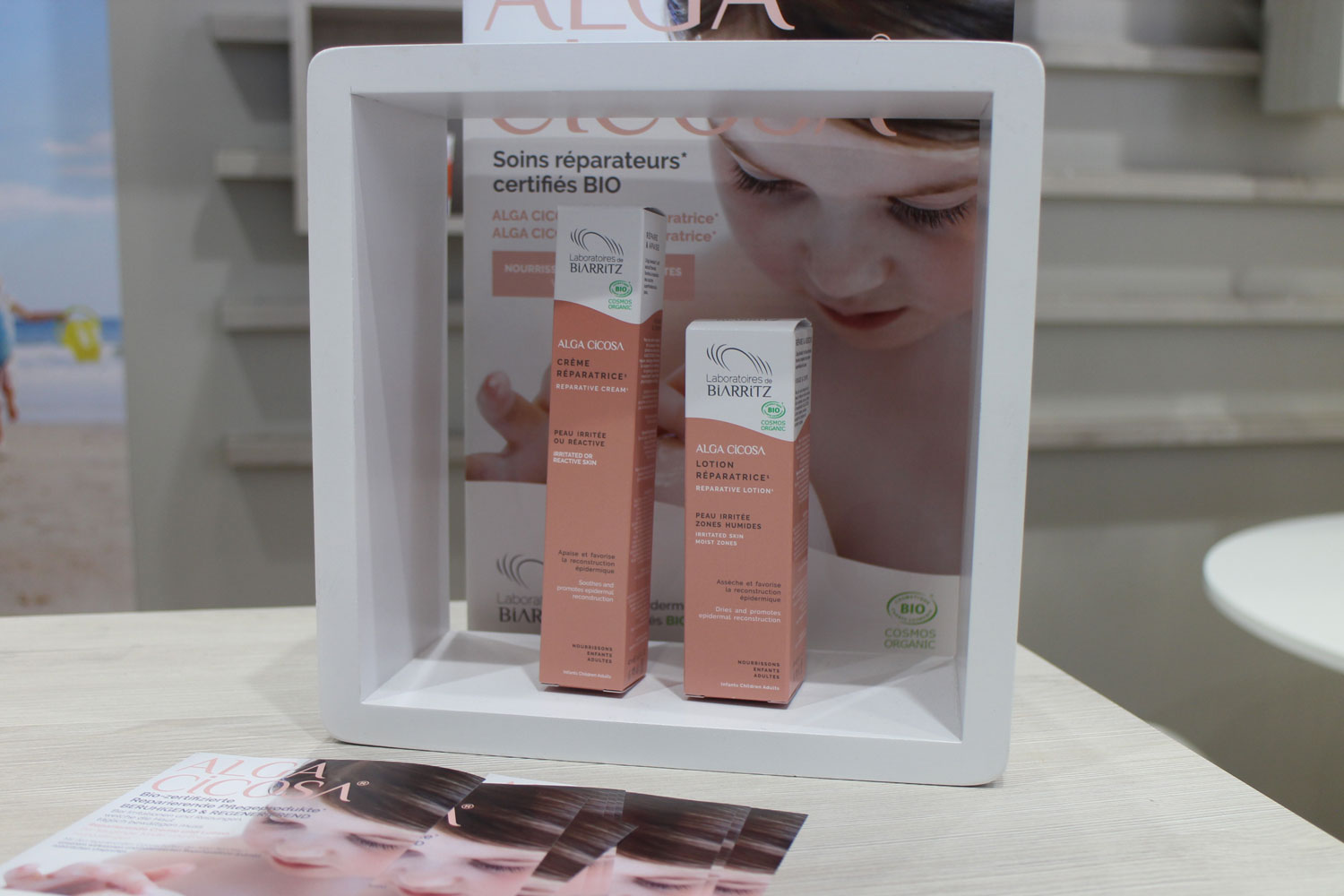 Alga Cicosa from Laboratoires de Biarritz
Visiting the exhibition booth of French brand Laboratoires de Biarritz was at the top of my list for Vivaness 2019. Most of my European readers are probably familiar with the company's Alga Maris sun protection range. The Alga Cicosa line is entirely new, it comprises two products – a Repairing Cream and a Repairing Lotion – and the products were inspired by the cica creams which are so popular in Asia but also amongst French dermocosmetic brands. The Alga Cicosa products are suitable for irritated, sensitive skin and atopic skin or for skin that has undergone a dermatological treatment, such as dermabrasion. The key ingredient in the range is derived from the red algae Gelidium and is supposed to help stimulate cell regeneration.
That's it for today (it's the evening of the second trade show day); enjoy the beautiful weather and have a good weekend!
[Click here for more pictures and the original German article 3x Sneek Peak  von der Vivaness 2019]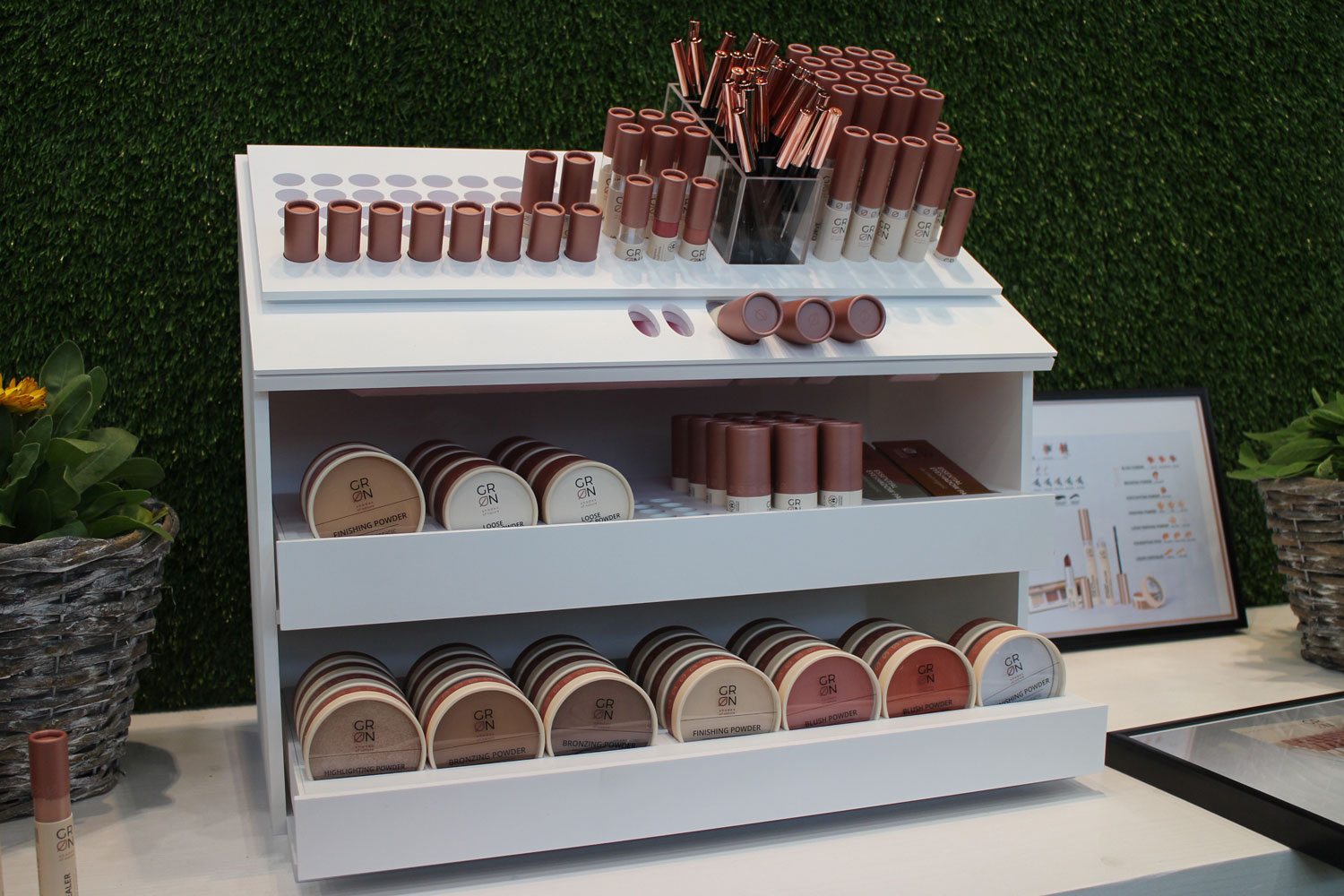 In my last article I wrote about three interesting product launches from the organic beauty brands Speick, Dr. Hauck and Laboratoires de Biarritz. In this article I'll show you some of the new product launches that the big organic beauty brands from Germany and Europe presented at the trade fair. Hope you enjoy the discoveries!
GRN
Let's start with an entirely new German brand which will be launched next month: GRN belongs to family-owned company Cosmondial (owners of the Benecos brand) and was developed especially for organic supermarkets and speciality retailers. The range will include decorative cosmetics (see display case in the pic above; the packaging is mostly made from paper) but also hair, body and face care. I look forward to seeing the products in my local organic supermarket!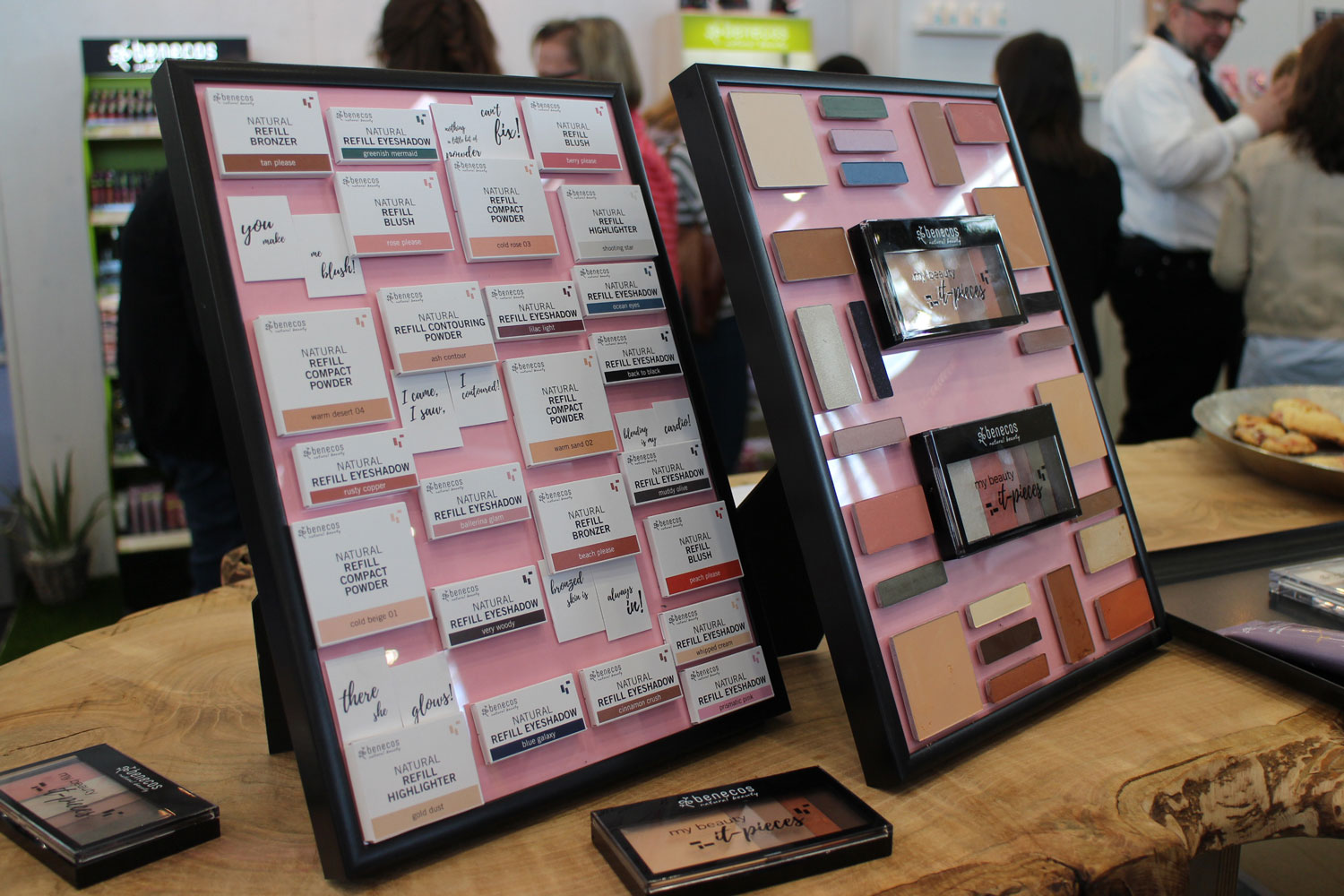 Benecos
Sister brand Benecos also had a range of new products: I immediately liked the refill system which allows you to assemble your own makeup palette but also the new foundation sticks and the matte, liquid lipsticks.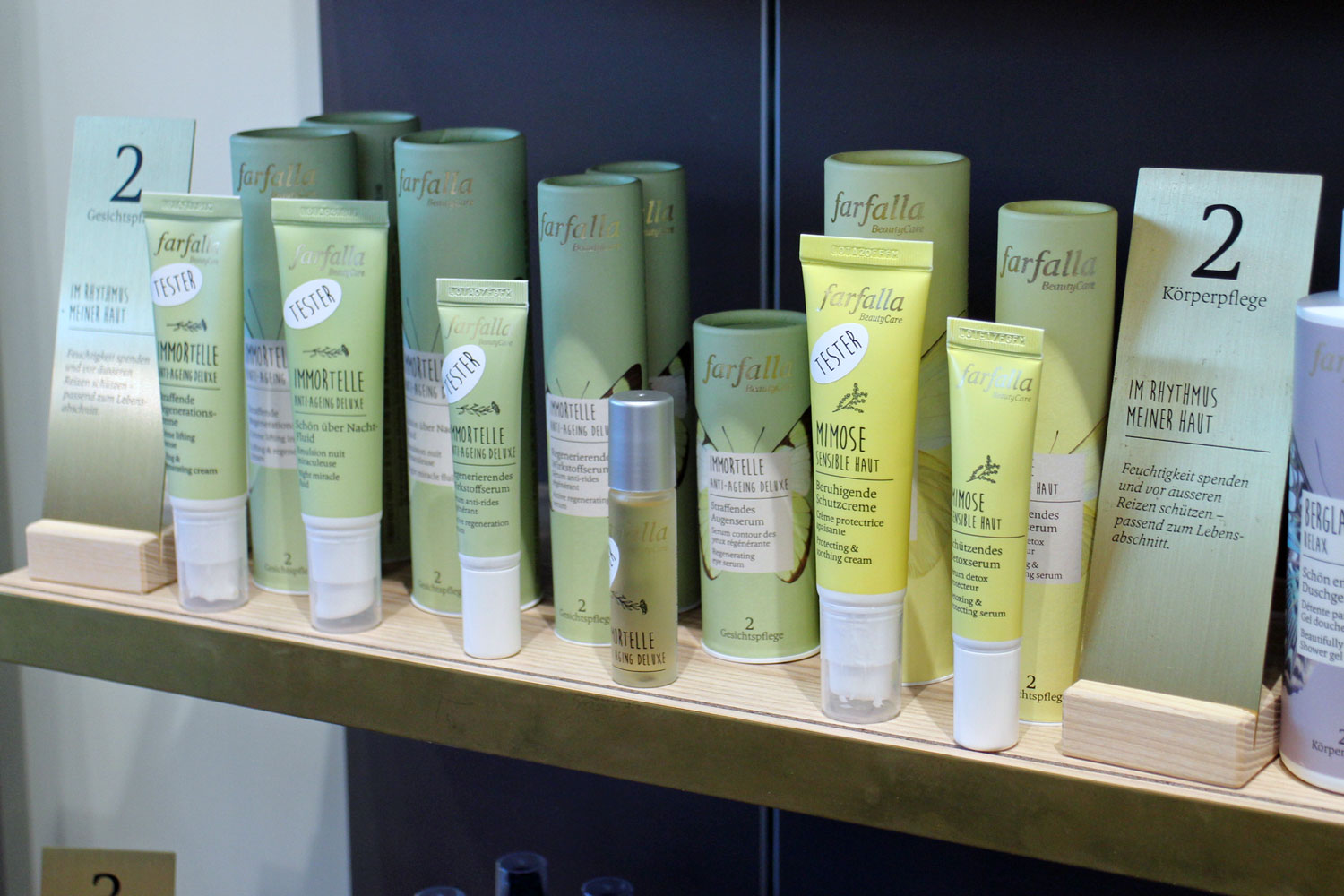 Farfalla
New launches in the face care range of Swiss brand Farfalla: a four-part range with immortelle extract, packaged in the beautiful Farfalla butterfly design! The two products with mimosa (see pic above, right hand side; yellow packaging) are for irritated skin.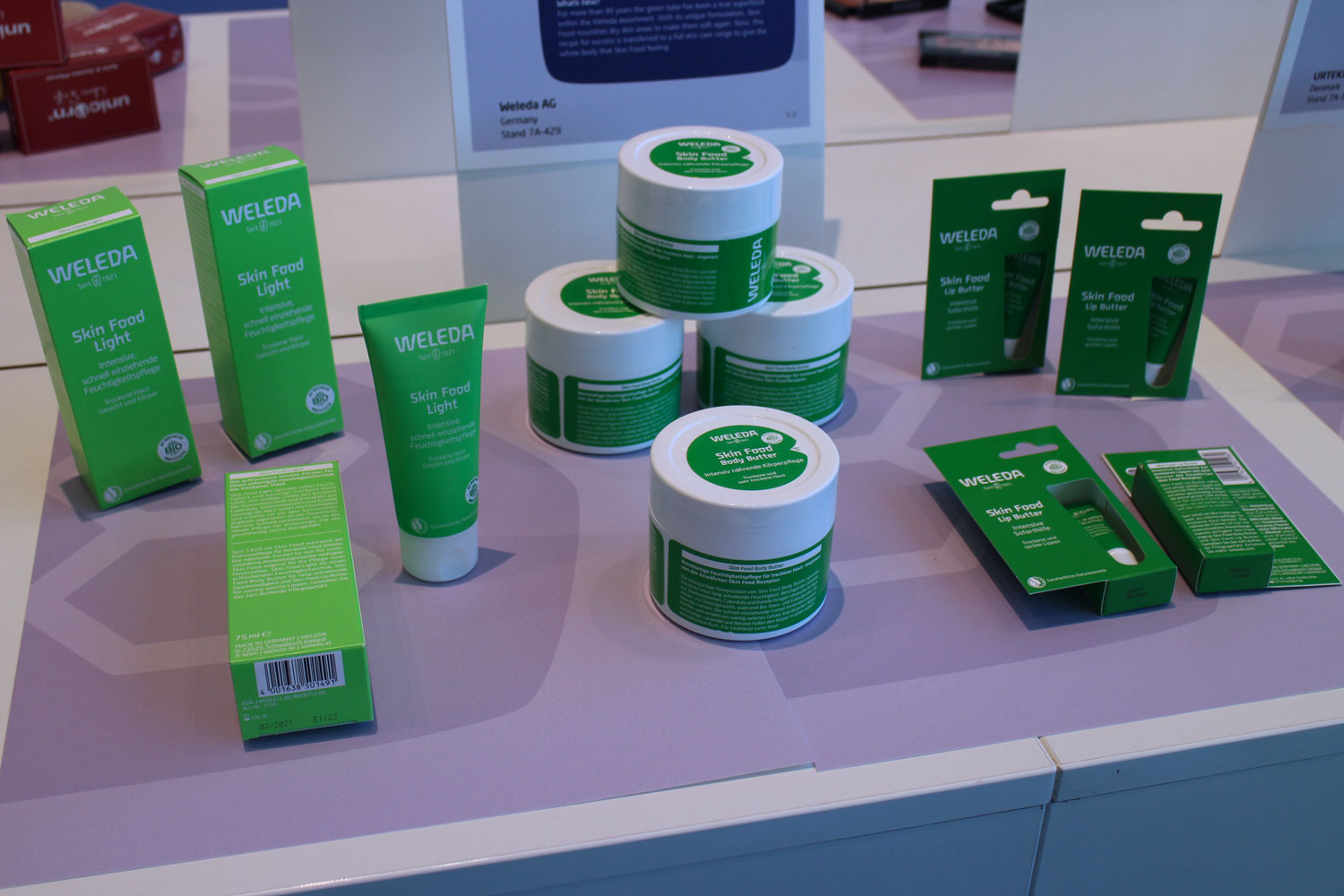 Weleda
As I had expected: German brand Weleda launched its new Skin Food range at Vivaness (I have already written about the launch here). Weleda's classic skin care cream was renamed Skin Food and the line then extended with Skin Food Light (a lighter version of the cream), Skin Food Body Butter and Skin Food Lip Butter. I also saw a new mattifying skin care range for impure skin at the Weleda booth.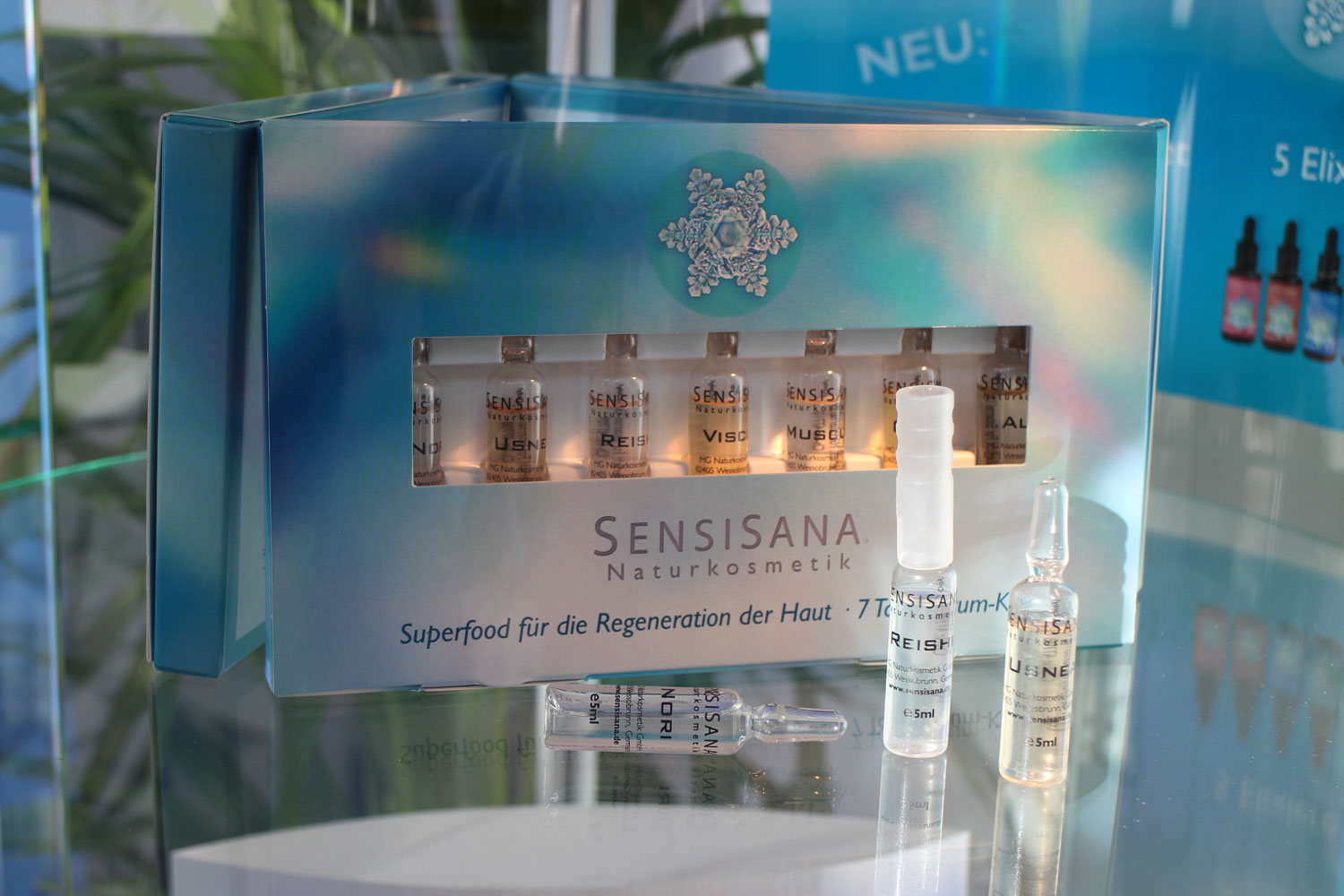 Sensisana
I recently wrote about the new SensiSana Elixier serum range on my blog (German only, sorry). At Vivaness the German brand presented a new 7-Day Serum Treatment ampoule set – each of the seven ampoule contains a different active ingredient, such as reishi, lichens, aloe or gingko.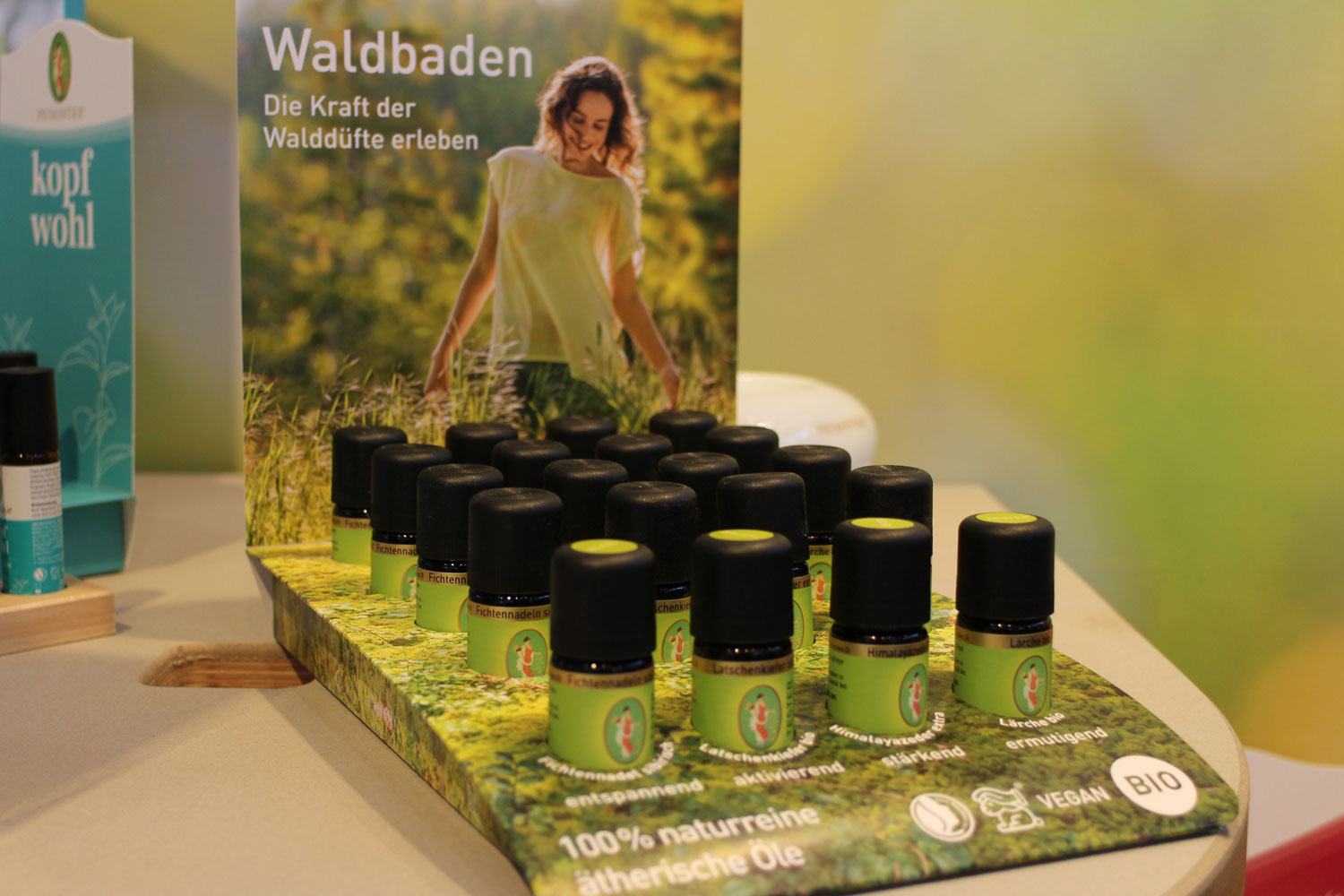 Primavera
My beloved Roll-On Clear Mind was renamed "Well Mind" and Primavera is picking up the "forest bathing" trend with a new display case which contains four essential oils: fir needle, mountain pine, Himalaya cedar and larch. There will also be a new hand cream soon.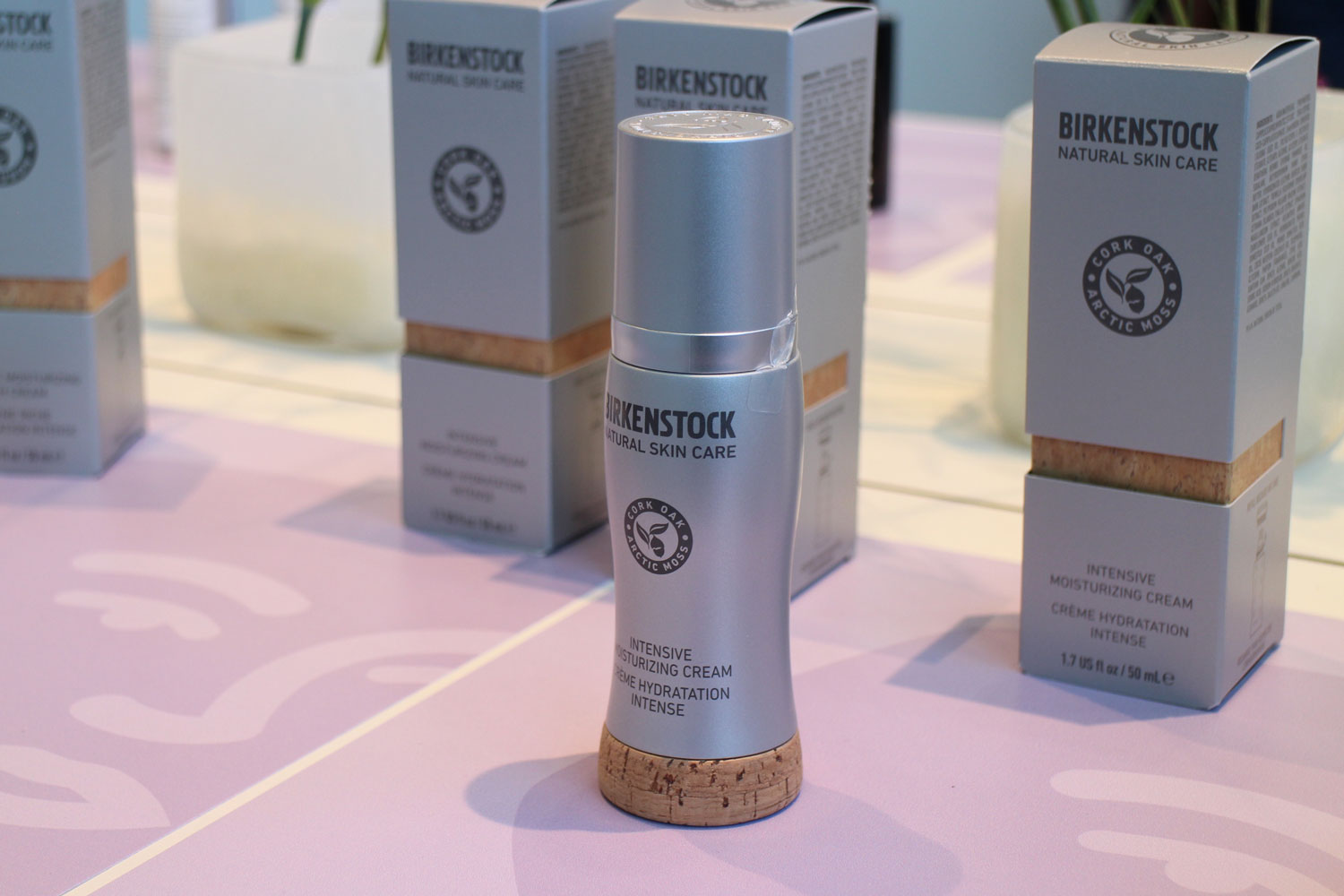 Birkenstock Natural Skin Care

This German brand had a very large booth at Vivaness. In addition to the already existing foot and hand care range the company presented the new Birkenstock Natural Skin Care face and body care line which is formulated with cork extract.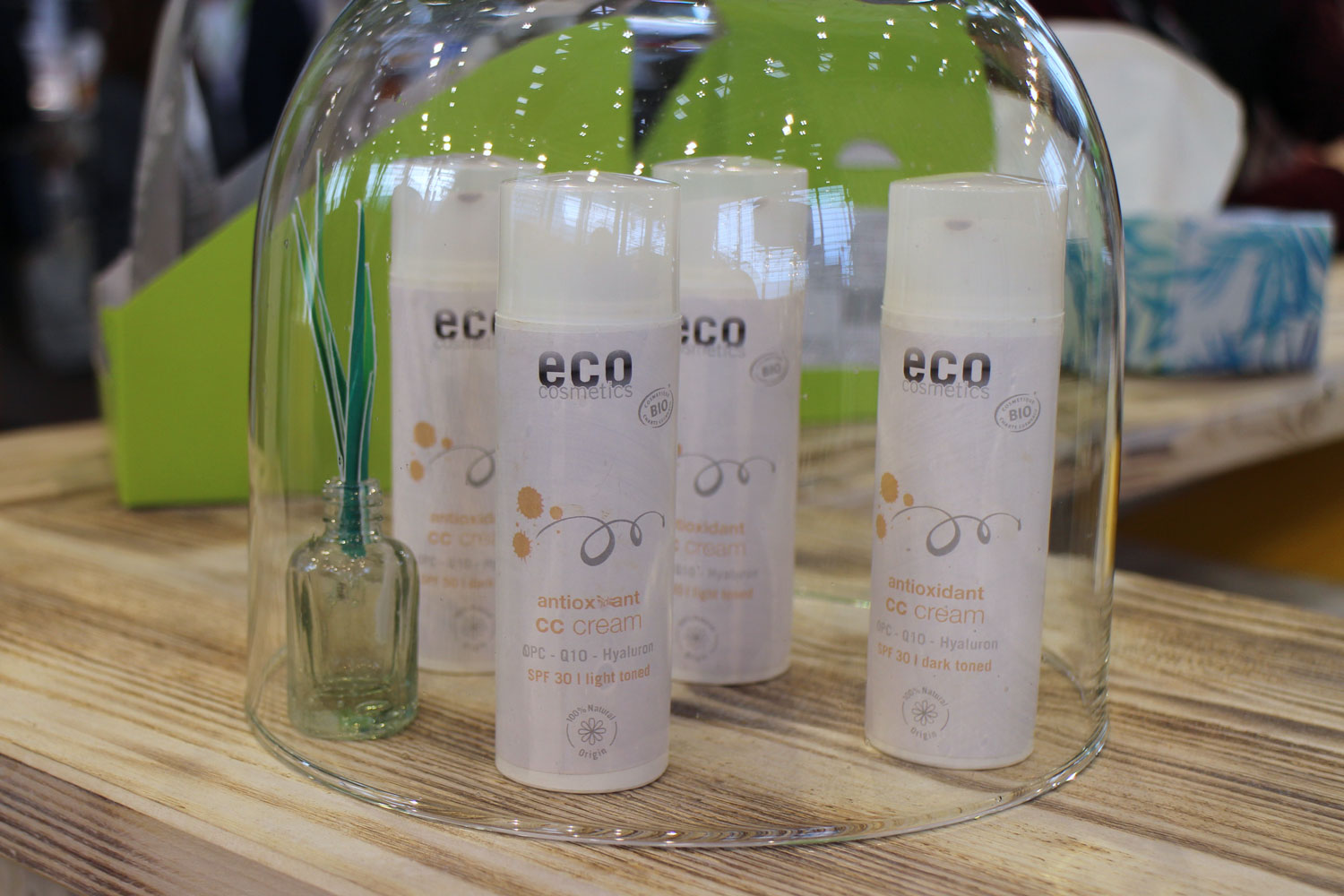 Eco Cosmetics
The new Antioxidant CC Cream from German brand Eco Cosmetics is available in two shades and two different SPFs (SPF 30 and SPF 50).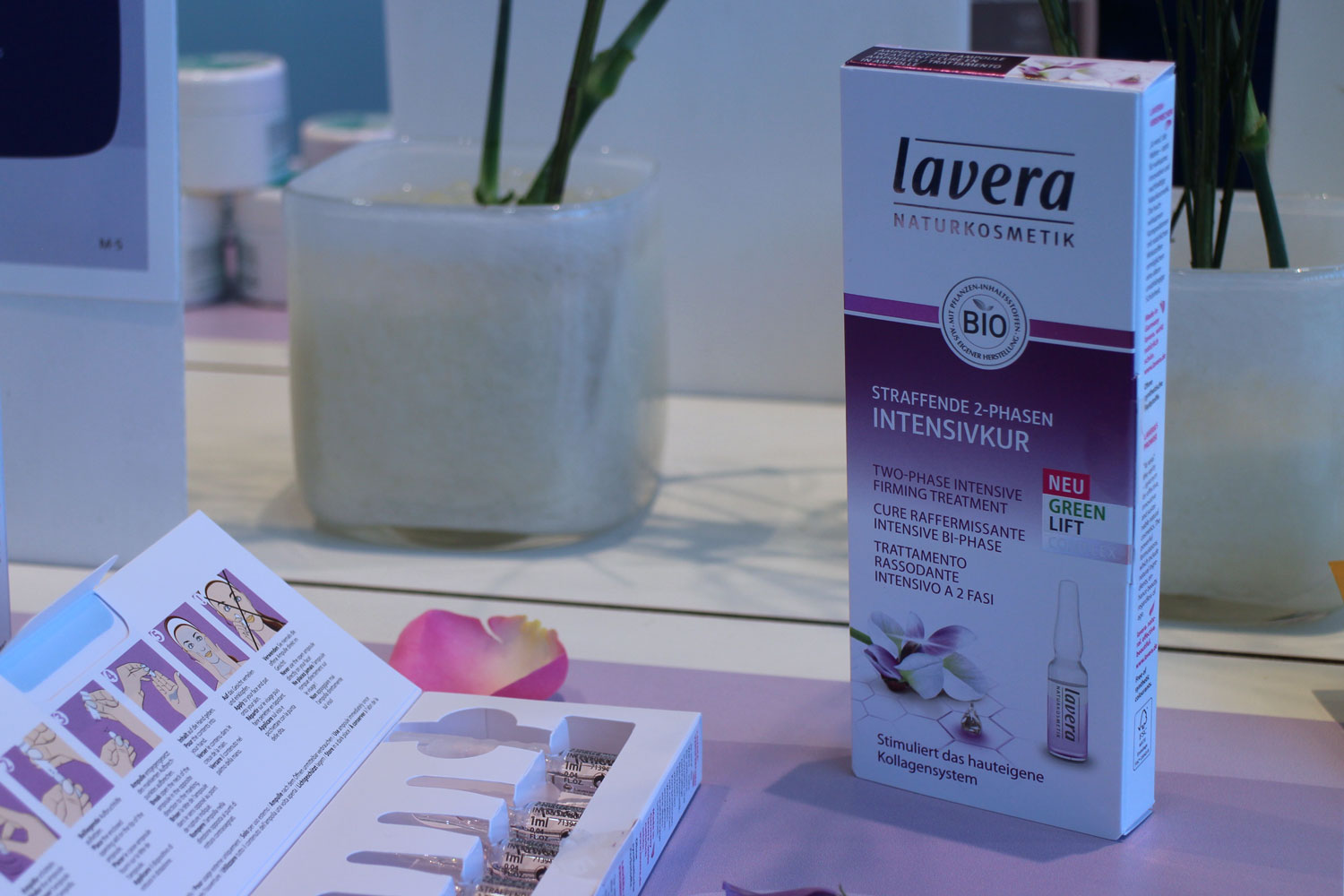 Lavera
German brand Lavera's skin-firming face care range was extended with the Skin-Firming 2-Phase Intensive Treatment which is packaged in glass ampoules and is supposed to activate the skin's own collagen production.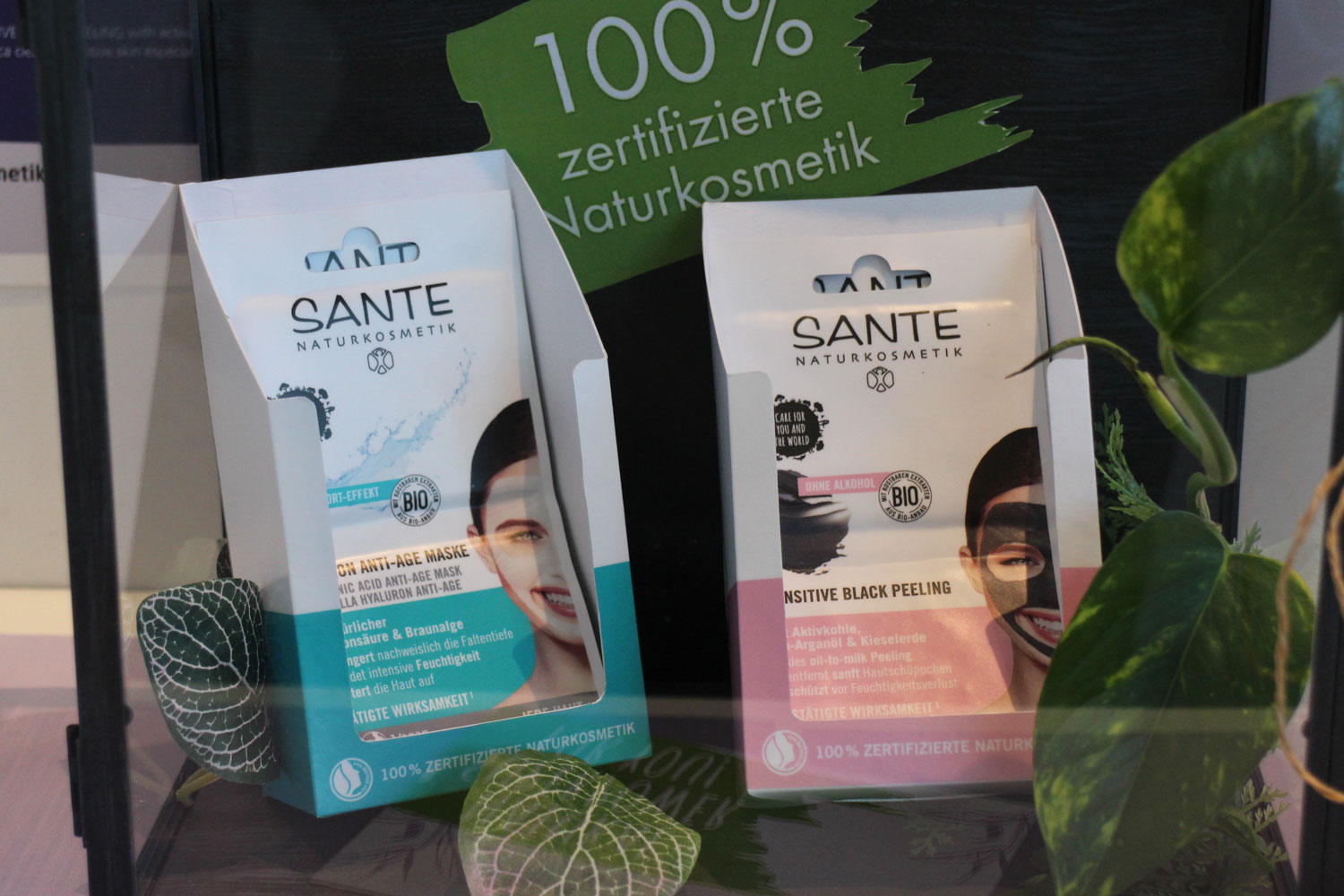 Sante
German brand Sante has introduced two new double sachet masks (Hyaluron Anti-Age and Intensive Black Peeling) as well as a Good Morning Shower Gel.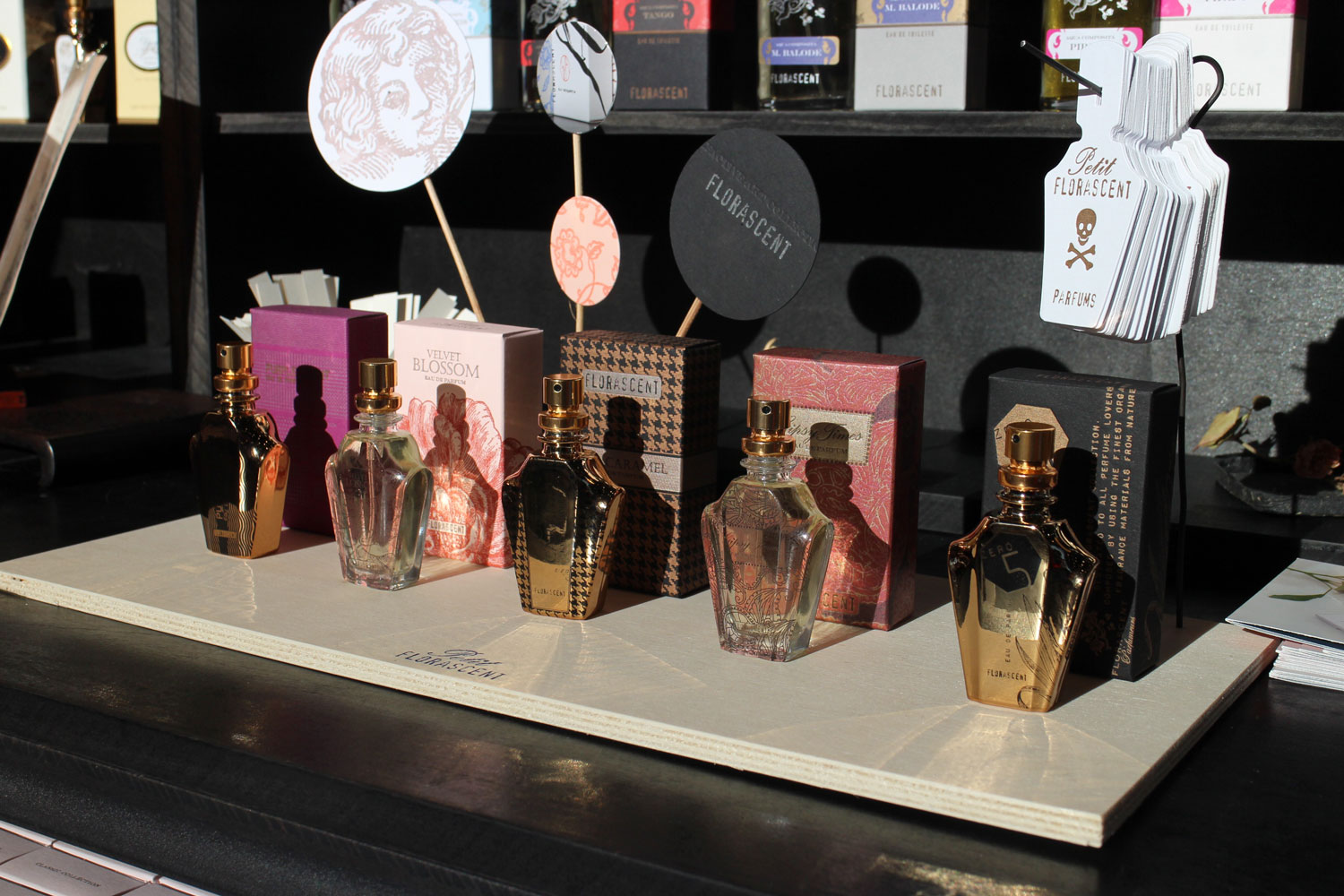 Florascent
Every year I look forward to discovering the new fragrances from organic perfume manufacturer Florascent. This year the German company presented five new fragrances which are packaged in small flacons, ranging from fresh and light over fruity and floral all the way to caramel-woodsy notes. And the bottles and outer packaging (also designed by Florascent) look so pretty! These perfumes are true works of art, inside and out.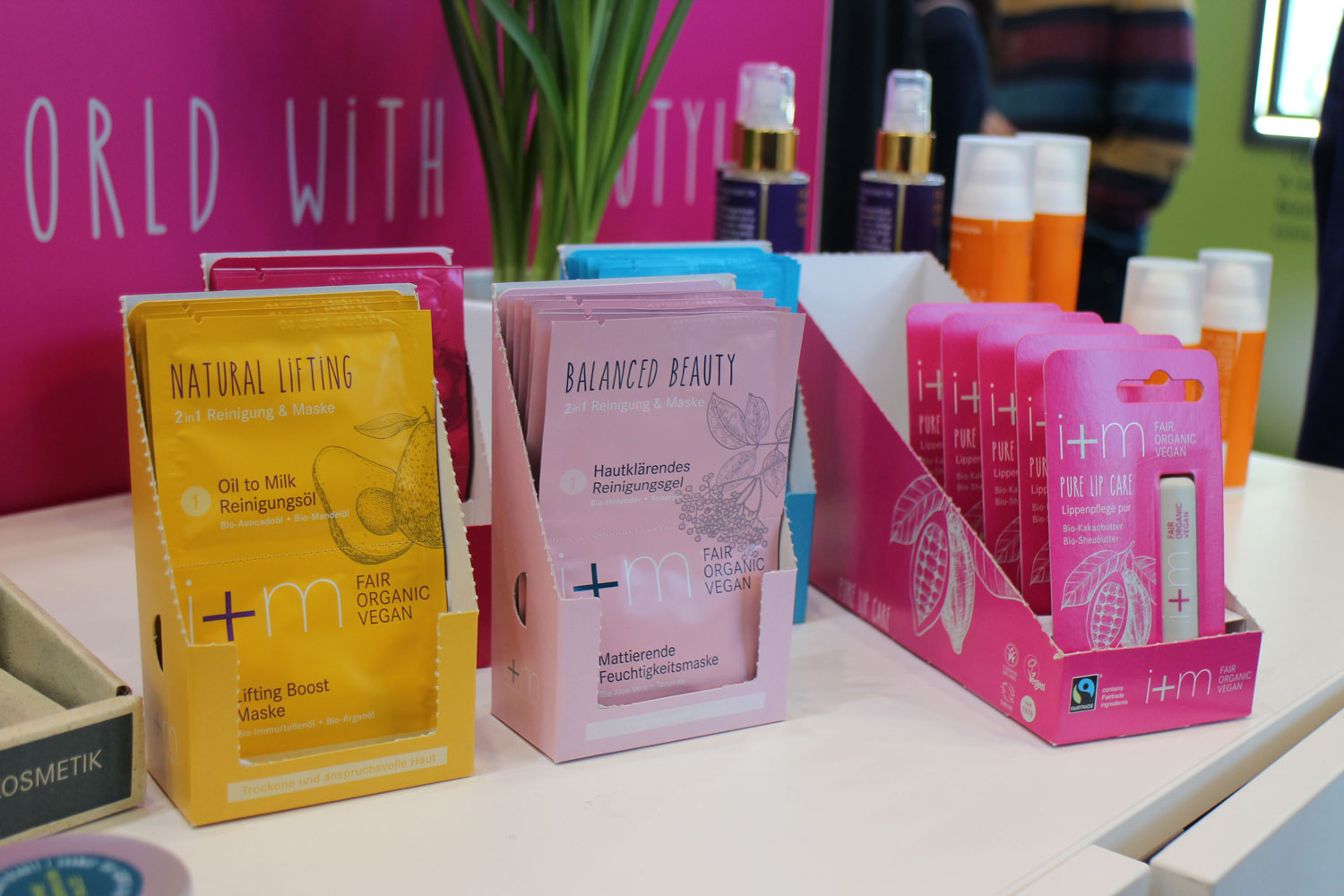 i+m Naturkosmetik Berlin
The German brand presented many new products at its booth: two sun protection creams with SPF 30, a new Oil to Milk Cleansing Oil and an extra-strong deodorant, plus four double sachets which contain a cleansing product and a cream mask, and a lip care balm. I'm looking forward to checking out the products in more detail!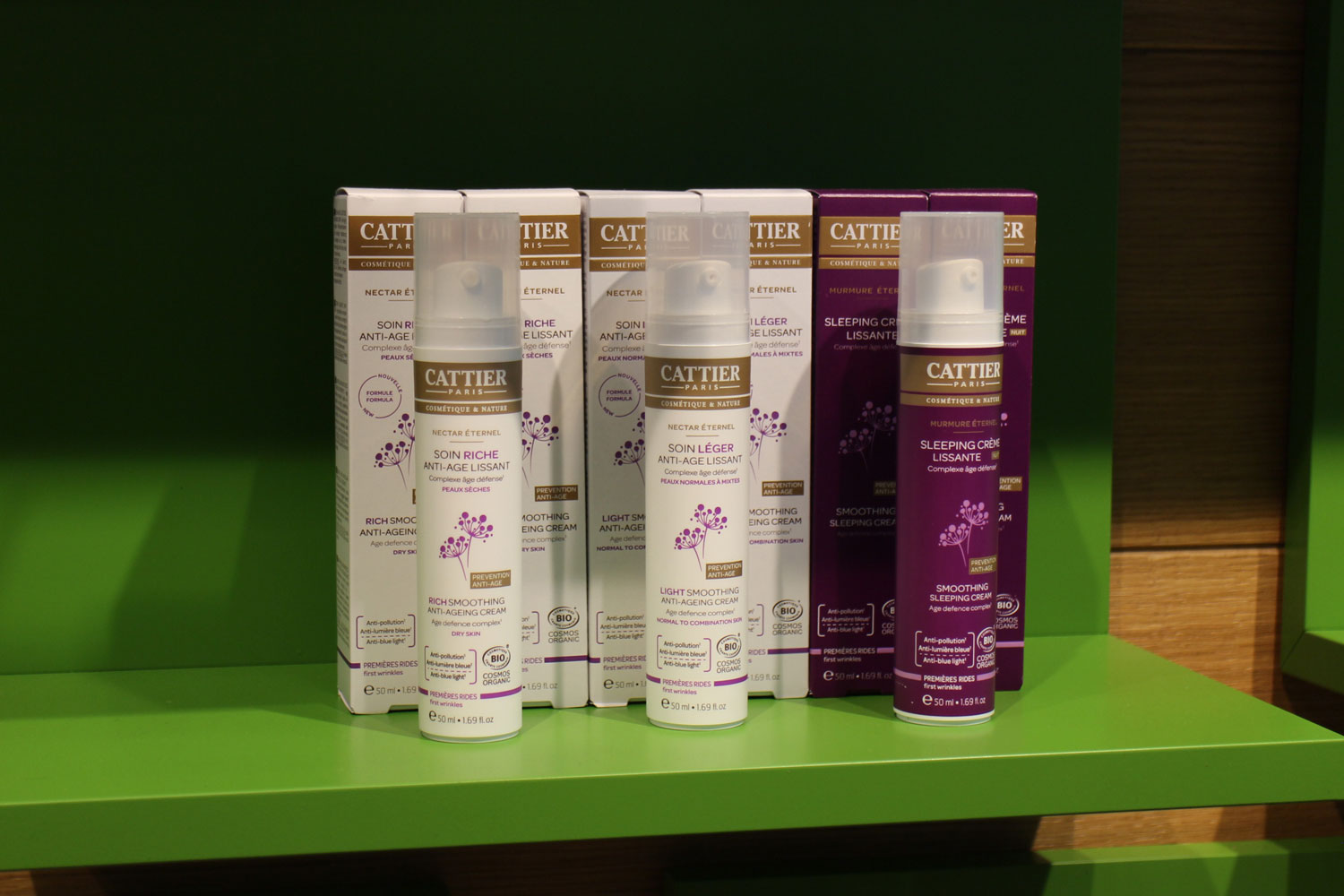 Cattier Paris

I already saw French brand Cattier's two new body care products with purple healing clay in France: a body balm and a body scrub packaged in a jar. The brand's Anti-Ageing range was relaunched; there are now two product lines (for the first wrinkles and for more mature skin) each of which offers a matching Sleeping Cream. The textures are great. There is also a new pink two-phase eye makeup remover.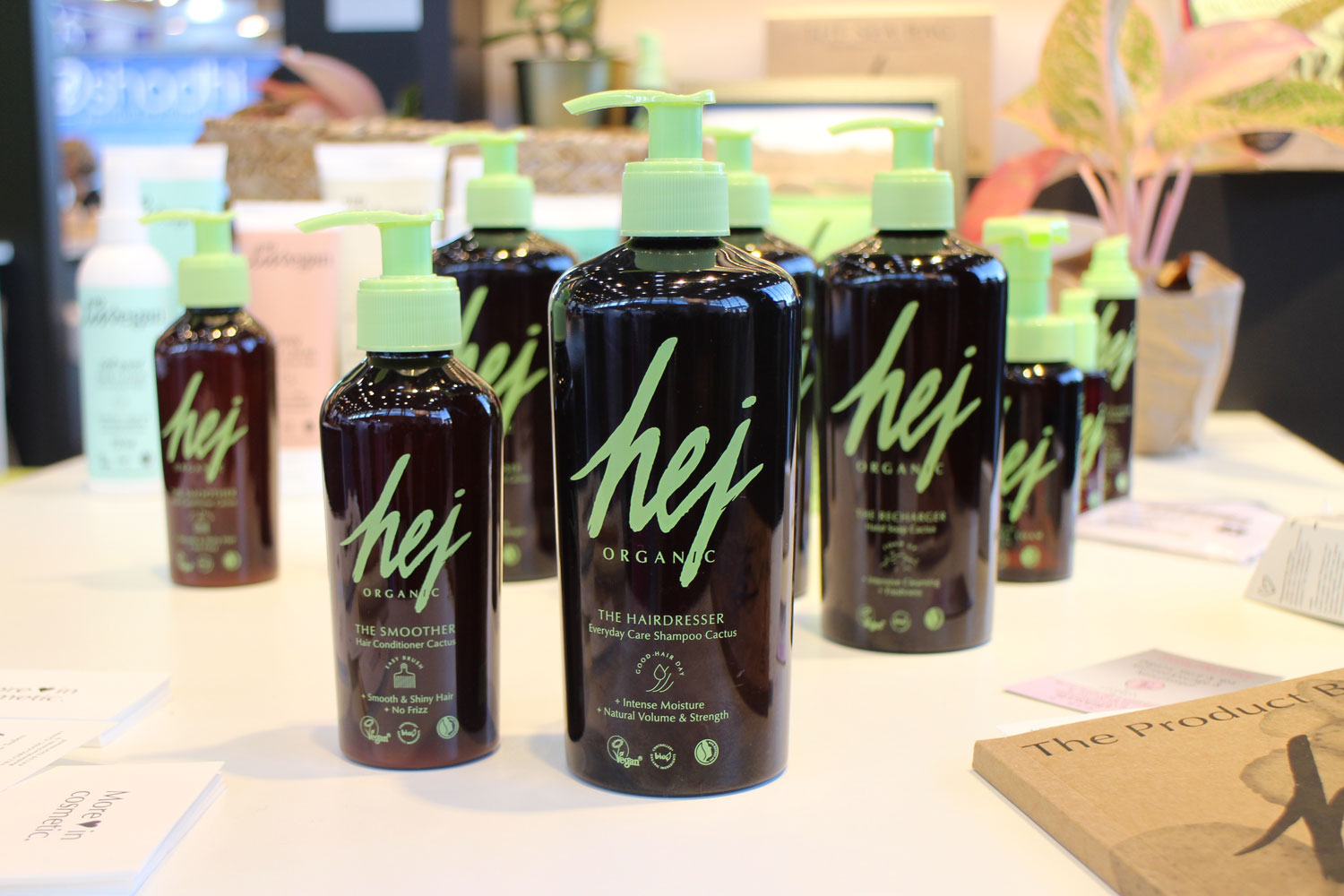 Hej Organic
Although German brand Hej Organic isn't one of Germany traditional beauty brands the company's products are widely available, for example in DM drugstores and Douglas perfumery stores, so it definitely needs to go into this review. Brand founder Laura Rath showed me Hej Organic's new shampoo The Hairdresser – you can check it out in the picture above.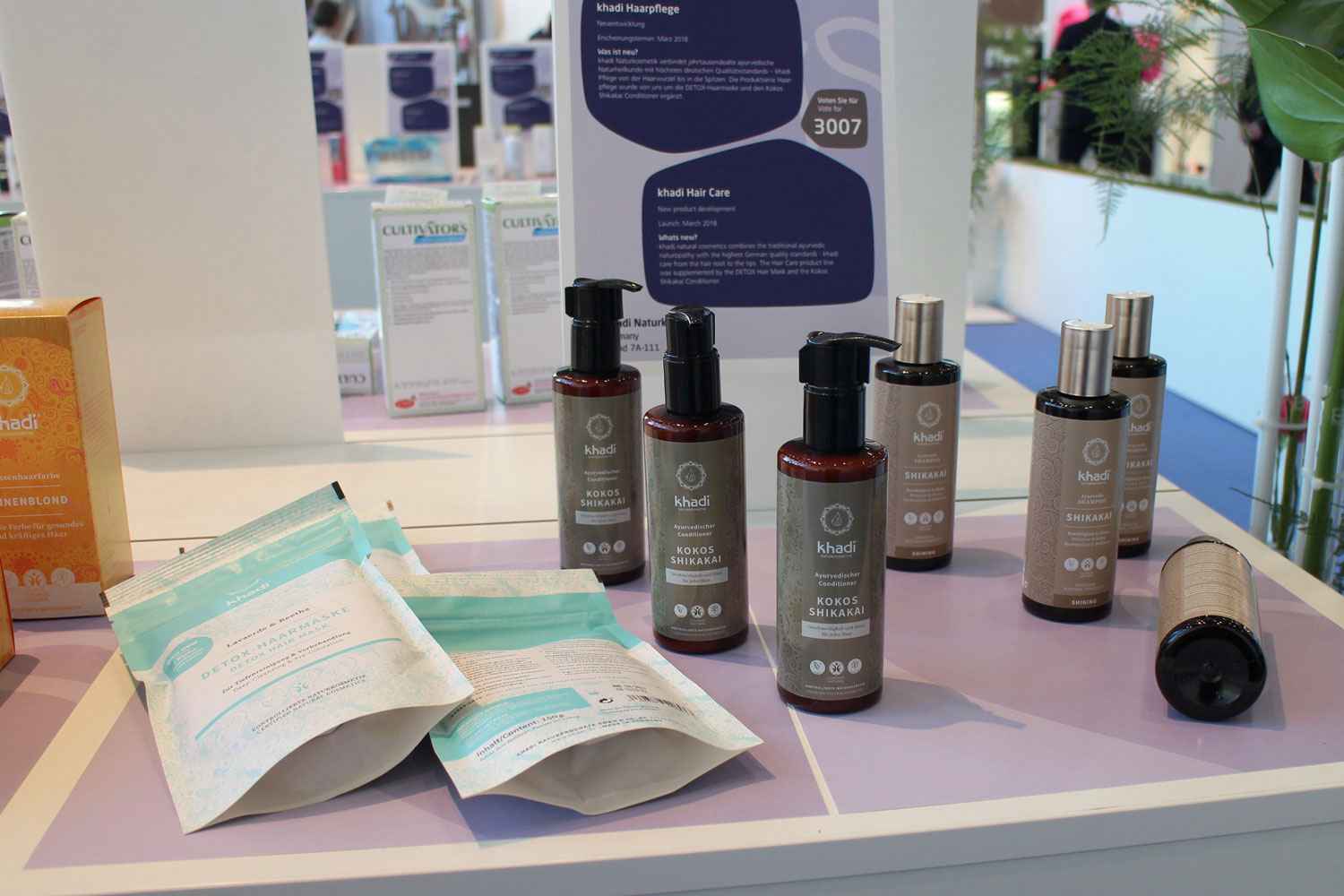 Khadi
German brand Khadi's Coconut-Shikai hair care range was extended with a Detox Hair Mask which can be used to deep-cleanse hair and scalp or to prepare your hair for a colouration.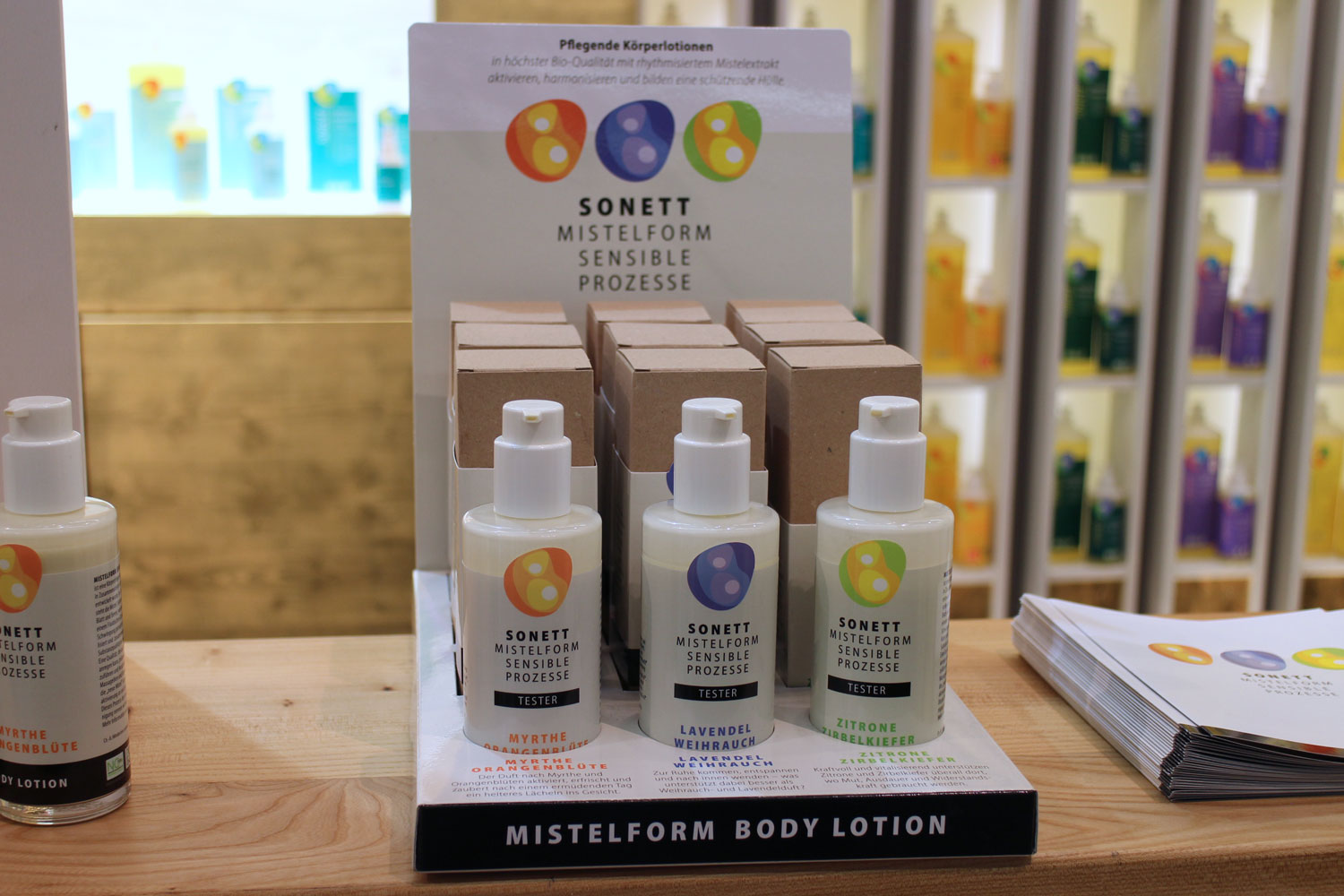 Sonett
Sonett is really a household cleansing products manufacturer but the German brand also has a body care range which was relaunched at this year's Vivaness. There are three massage oils and three body lotions which contain extracts of summer and winter mistletoe. The products were developed in cooperation with the anthroposophical Delos research laboratory which is researching the healing power of mistletoe.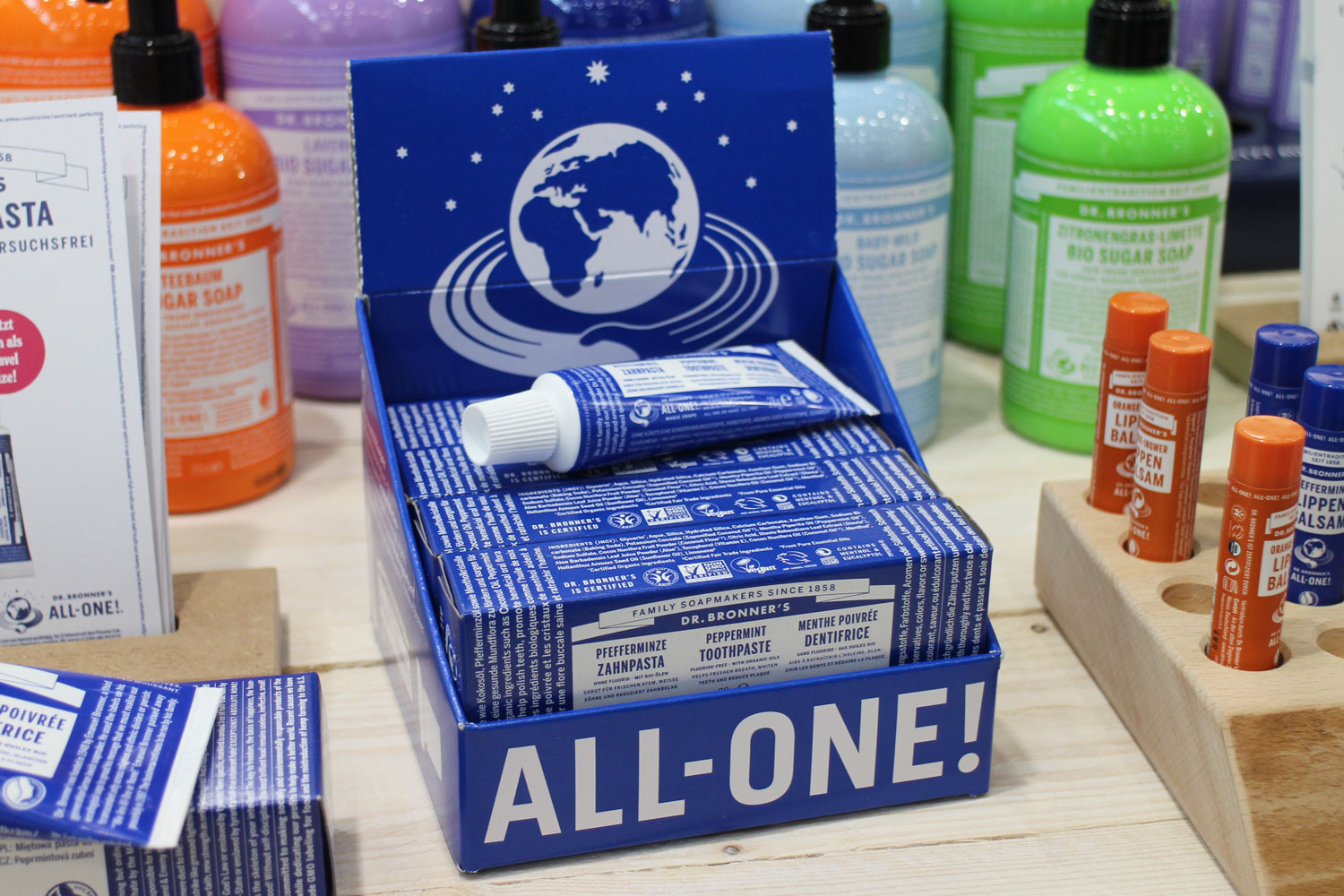 Dr. Bronner's
Finally the Peppermint Toothpaste from Dr. Bronner's is available in a smaller tube! The US brand's exhibition booth looked very pretty, decorated with cherry blossoms to match the Cherry Blossom Soap and the Cherry Blossom Lipbalm.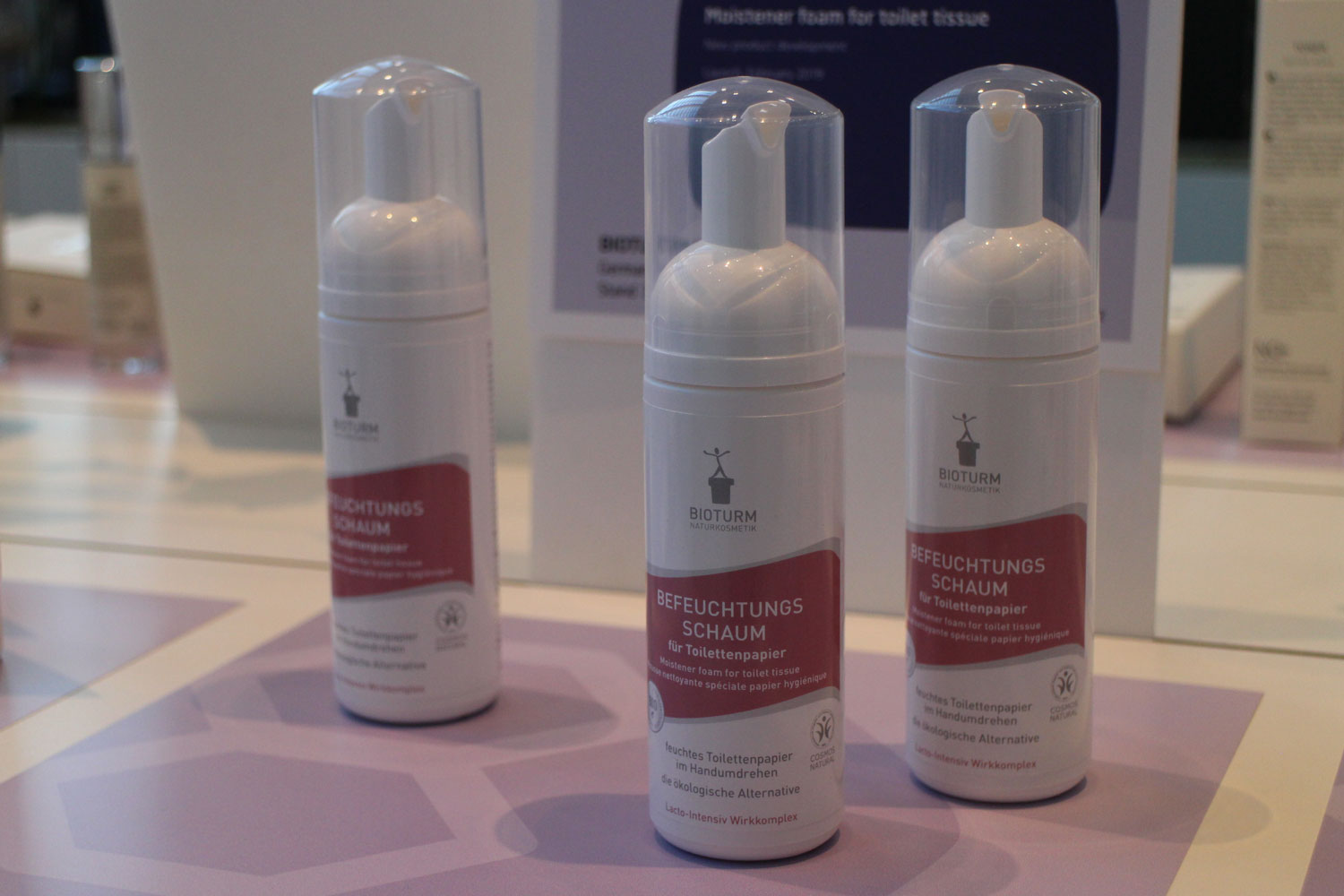 Bioturm
The product novelties from German brand Bioturm include a cleansing foam for the face (for sensitive skin) and a moisturising foam for toilet paper. The foam is intended for anyone who prefers moist toilet paper – simply apply the foam to dry paper and create your very own wet toilet wipes.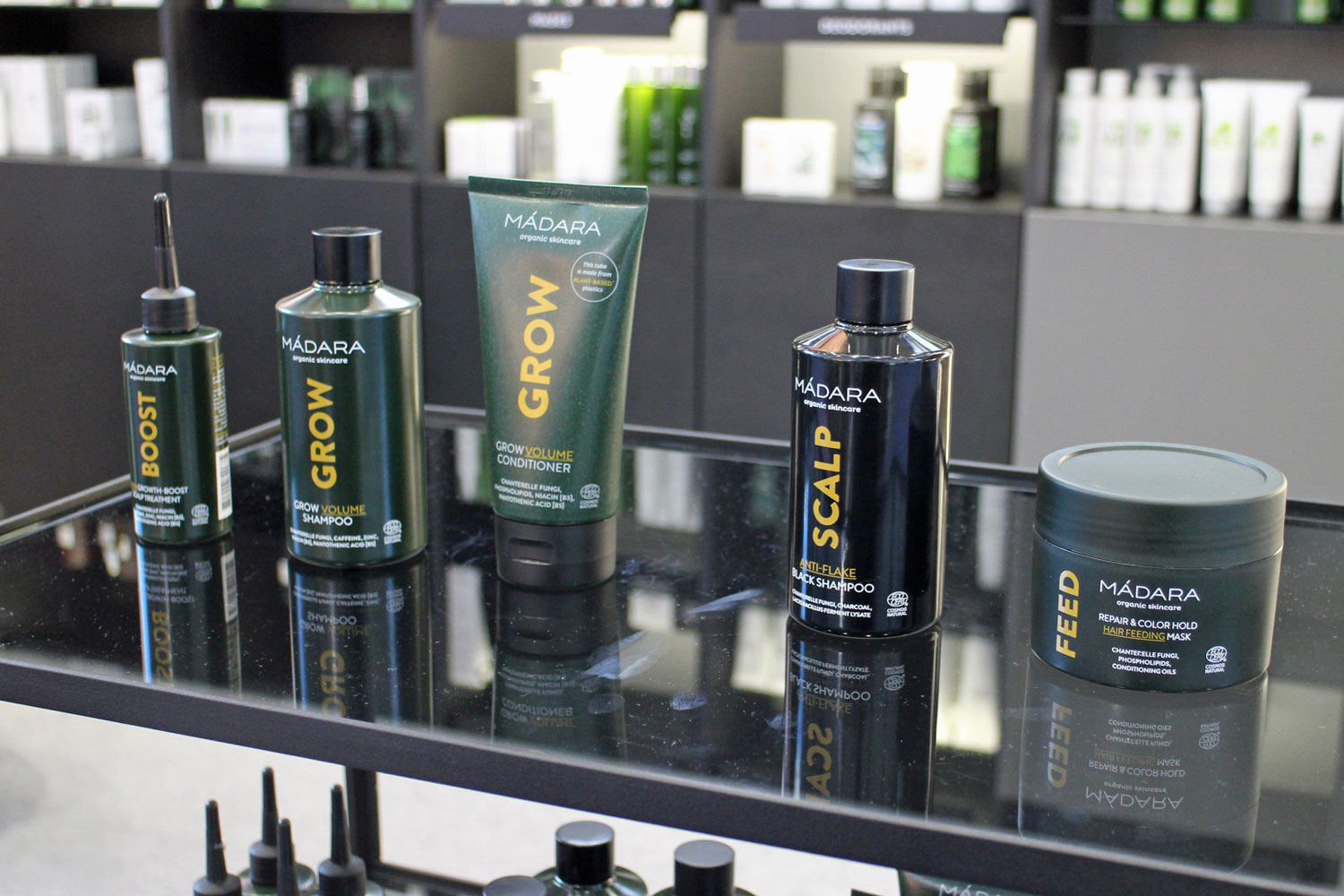 Mádara
Latvian beauty brand Mádara has developed a new hair care range: Grow contains chanterelles extract to help stimulate hair growth. There are also new sun protection products: A Beach BB Shimmering Sunscreen with SPF 15, a sun milk with SPF 30 and a self-tanning lotion.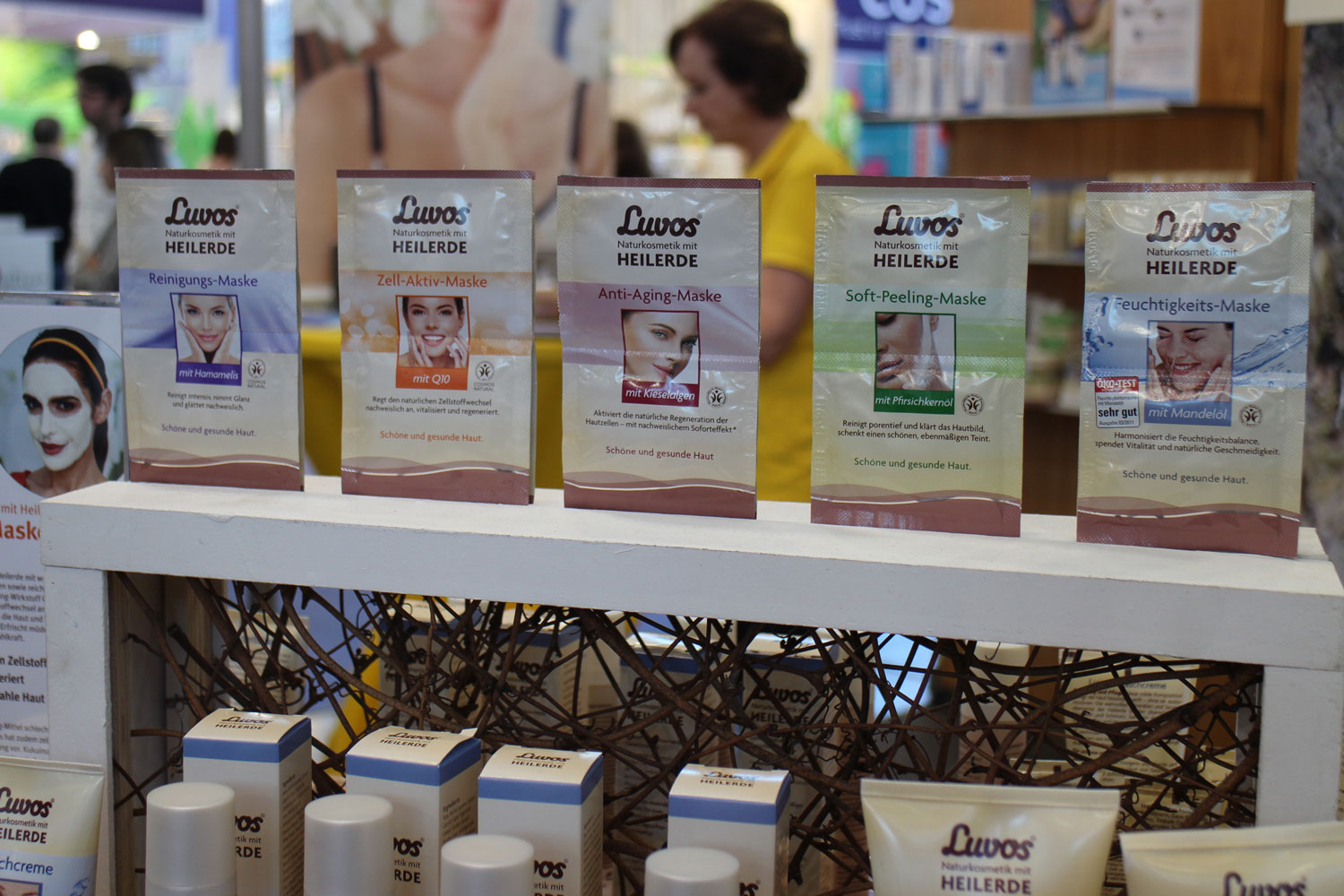 Luvos
Traditional healing clay brand Luvos from Germany introduced two new creamy face masks (packaged in sachets) as well as a firming anti-ageing face care range which offers a day and night cream and an eye serum. There is also a new foot balm.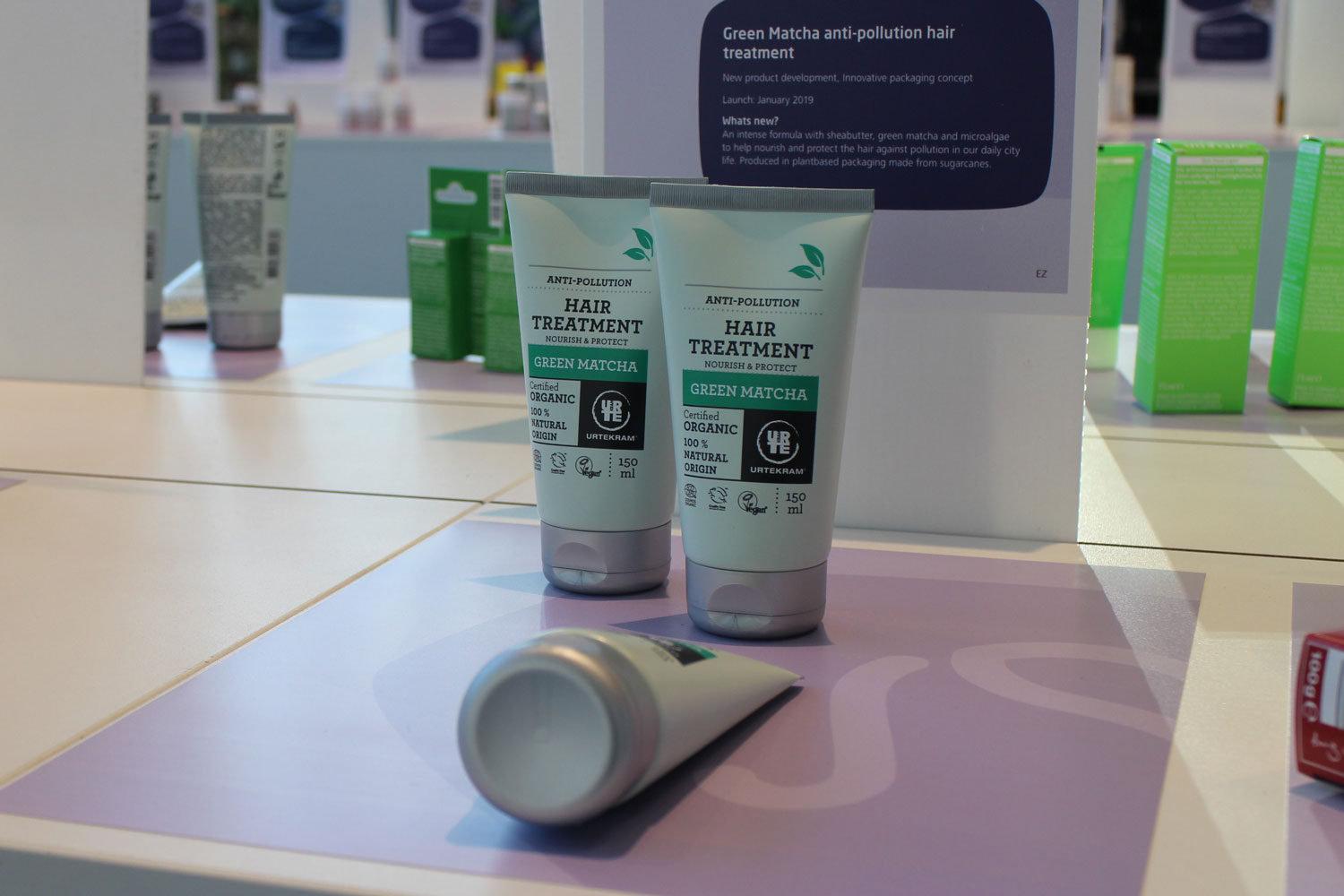 Urtekram
Danish brand Urtekram has launched the Green Matcha range of hair and body care. In the picture above you can see the hair treatment but the line-up also includes products such as a deodorant, a shampoo, a body lotion and a liquid hand soap formulated with green tea.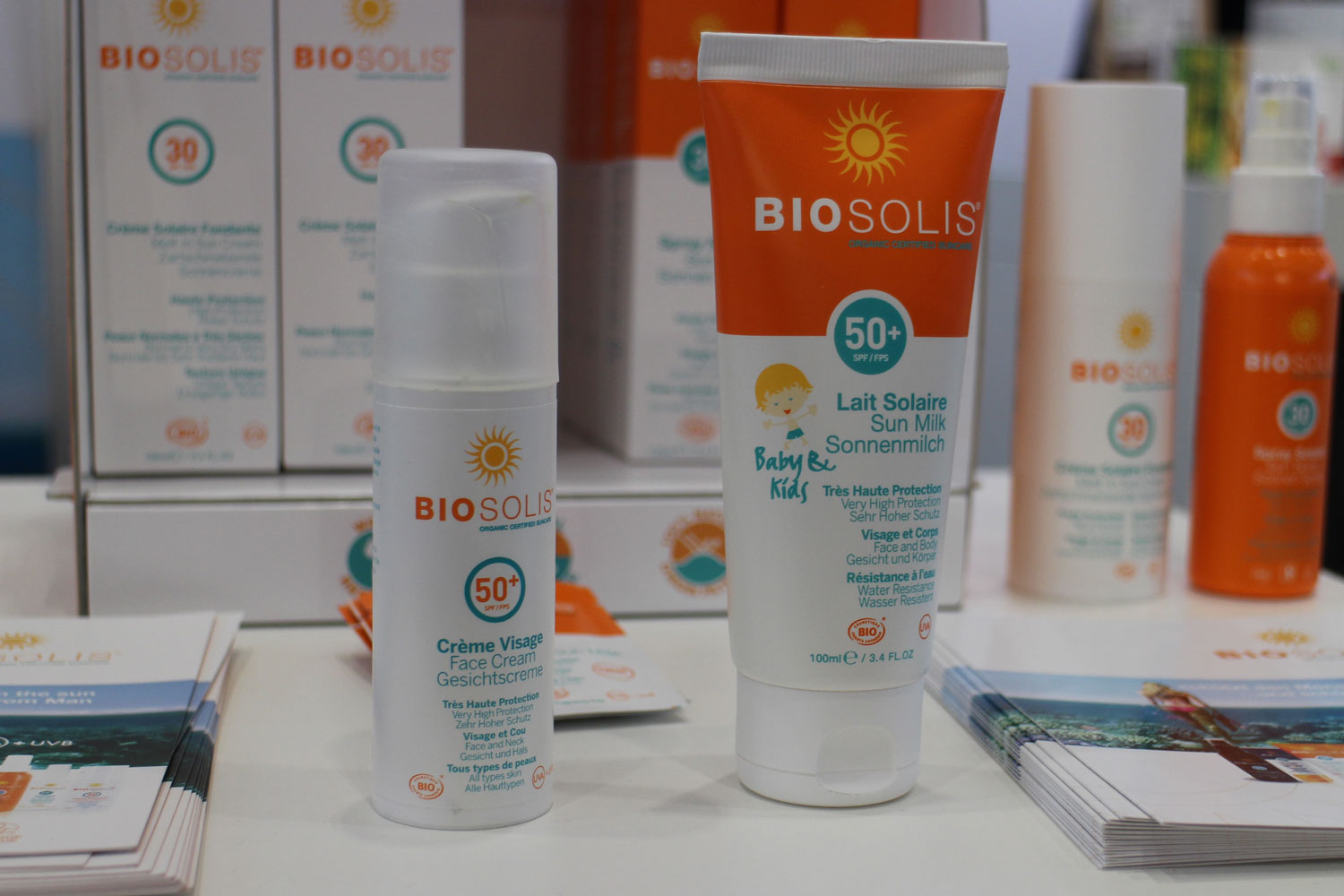 Biosolis
French brand Biosolis presented several new products: the Sun Milk Baby SPF 50 is now fragrance-free and there is a new Face Cream SPF 50+ and a Sun Spray SPF 50. The product formula of the self-tanner was reformulated and the product now has new packaging.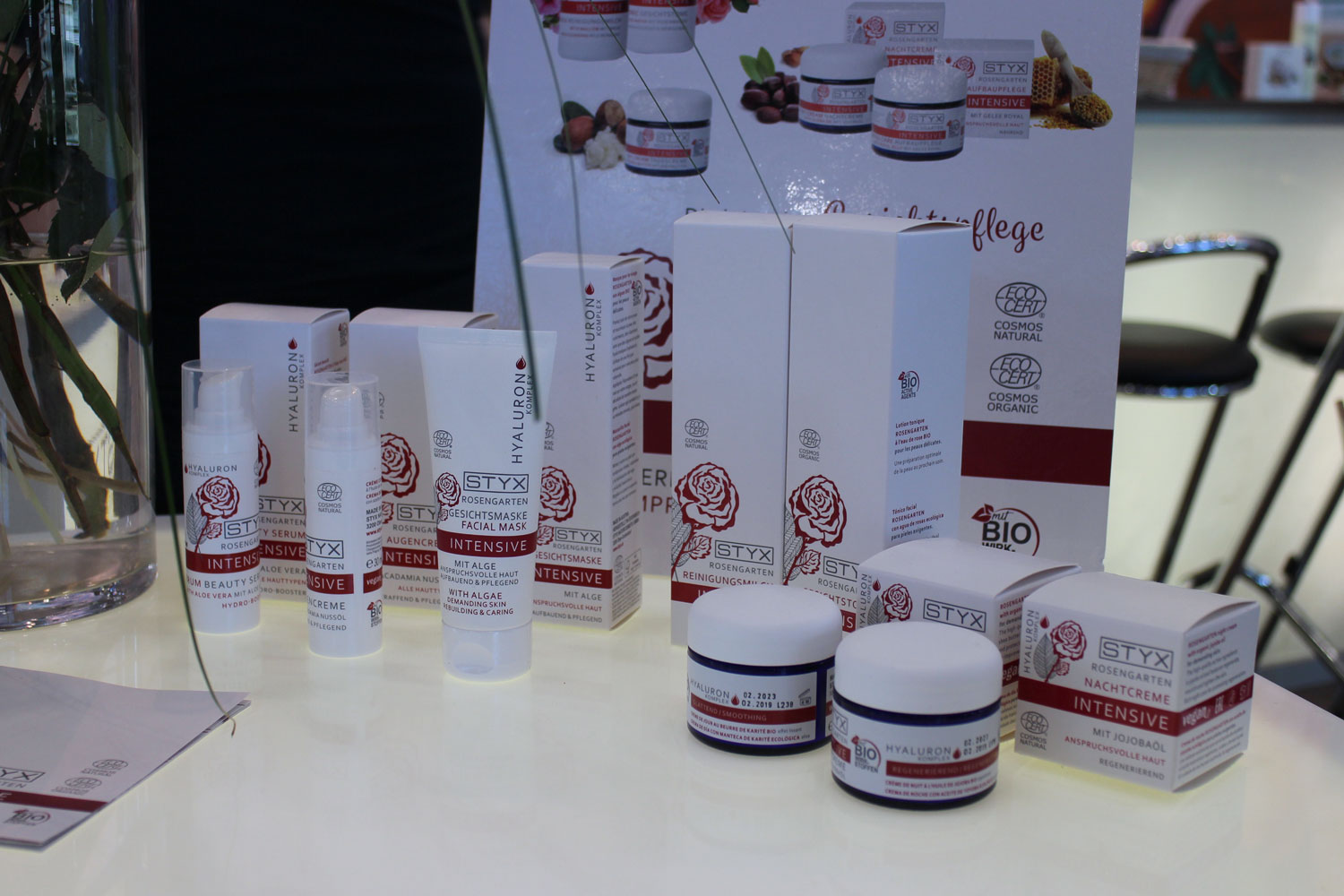 Styx
If I remember correctly, the first product I ever bought from Austrian brand Styx (many years ago!) was from the Rose Garden range. This line was now completely relaunched and the products are certified by Ecocert/Cosmos. There is also a new body butter and a shower gel with lavender and lemon scent.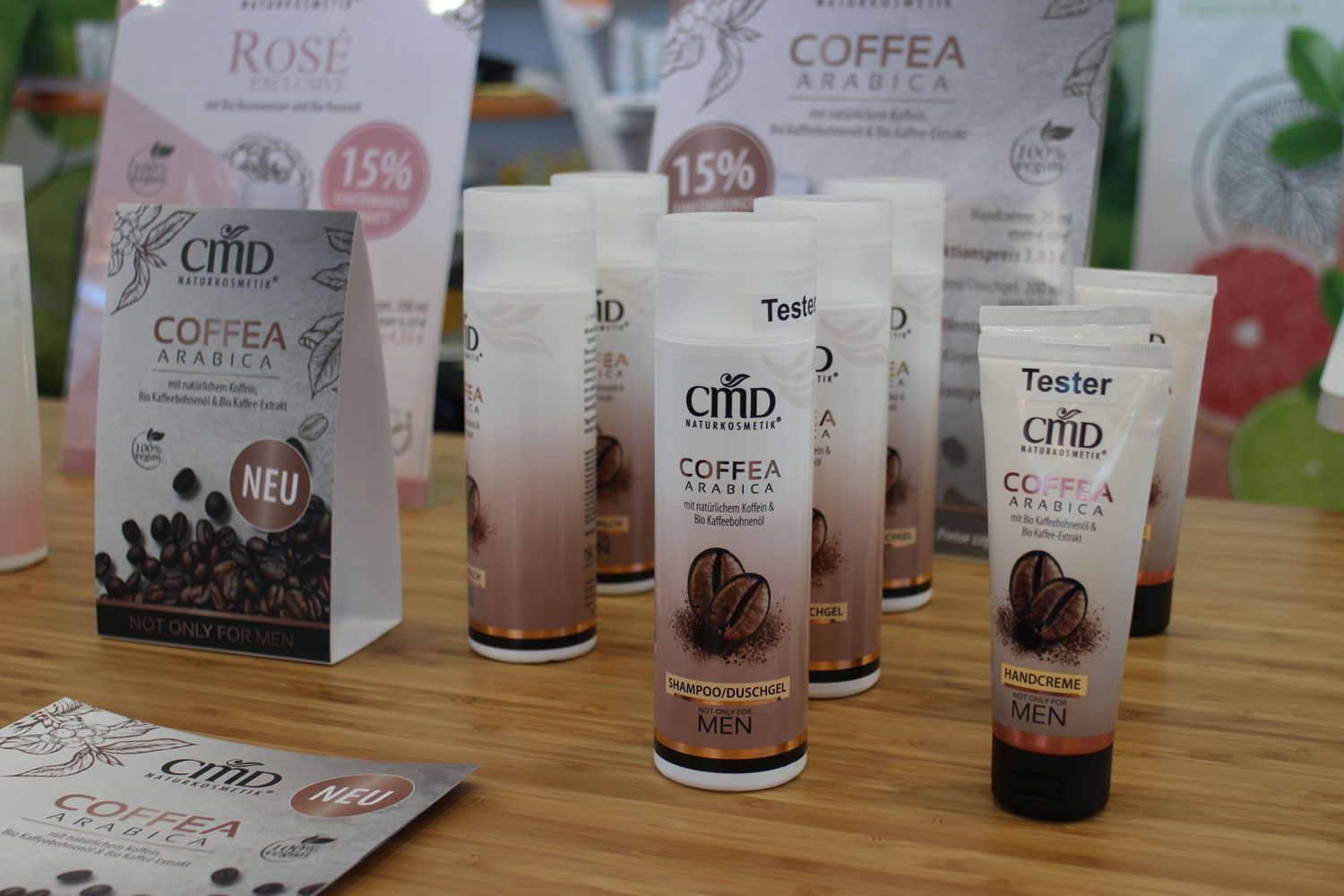 CMD Naturkosmetik
If you're a coffee lover you will like German brand CMD Naturkosmetik's new Coffea Arabica product range. Two other new body care ranges focus on rose ("Rosé Exklusive") and grapefruit/lime ("Sunny Sports").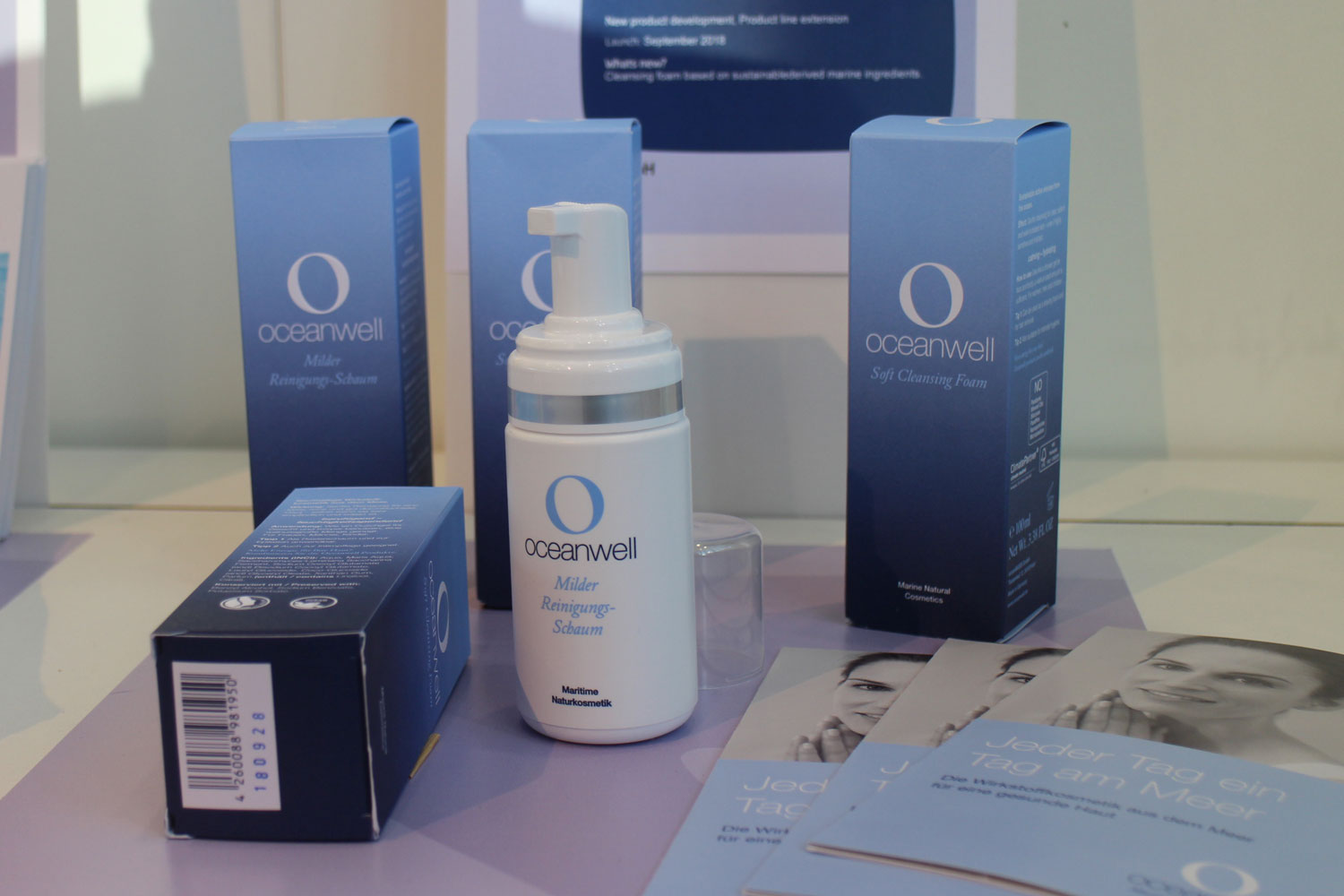 Oceanwell
Marine beauty brand Oceanwell from Kiel in Northern Germany has launched a Mild Cleansing Foam and a Smoothing Eye Care in the Basic range.
Santaverde
At the booth of organic distributor Biogarten I discovered the two new products from German aloe vera brand Santaverde: the Pure face care range for adult impure skin was extended with an Anti-Spot Gel and a fragrance-free Purifying Cleanser.
[Click here for more pictures and the original German article Neuheiten von der Vivaness 2019]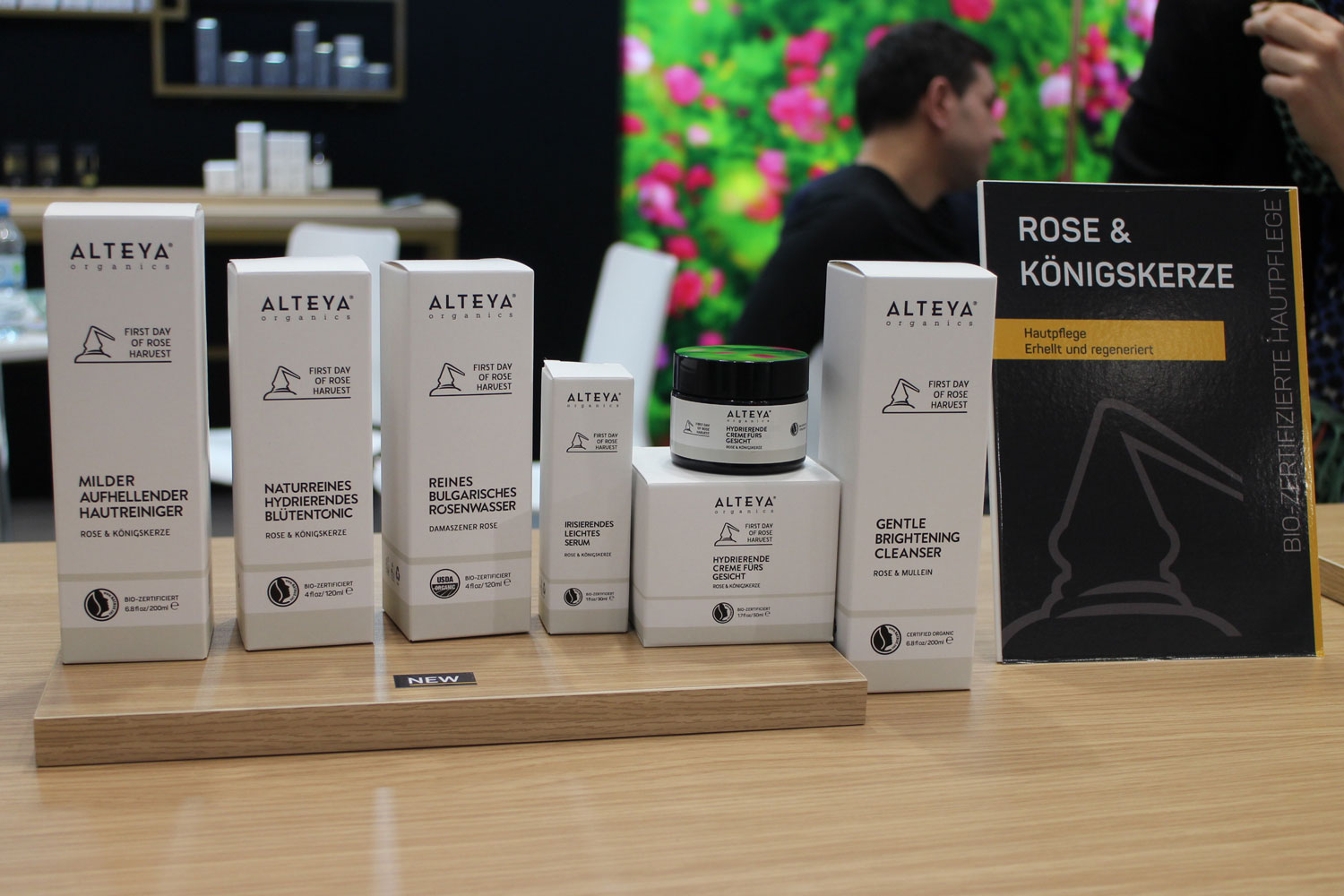 I already showed you many of the new products that were presented at organic beauty trade show Vivaness 2019: First the three highlights from Dr. Hauck, Speick and Laboratoires de Biarritz, then the product novelties from the bigger organic beauty brands. In this post I'll show you the product launches from the niche brands that I particularly liked. Brands are listed in alphabetical order. Enjoy!
Alteya Organics
Let's start with Bulgarian brand Alteya Organics (picture above) about which I have written several times over the past few years (like this post about the sun protection or the Rose Oil Beauty Capsules). This year Alteya Organics' big launch was the Natrue-certified brightening face care range Rose & Mullein which offers six products.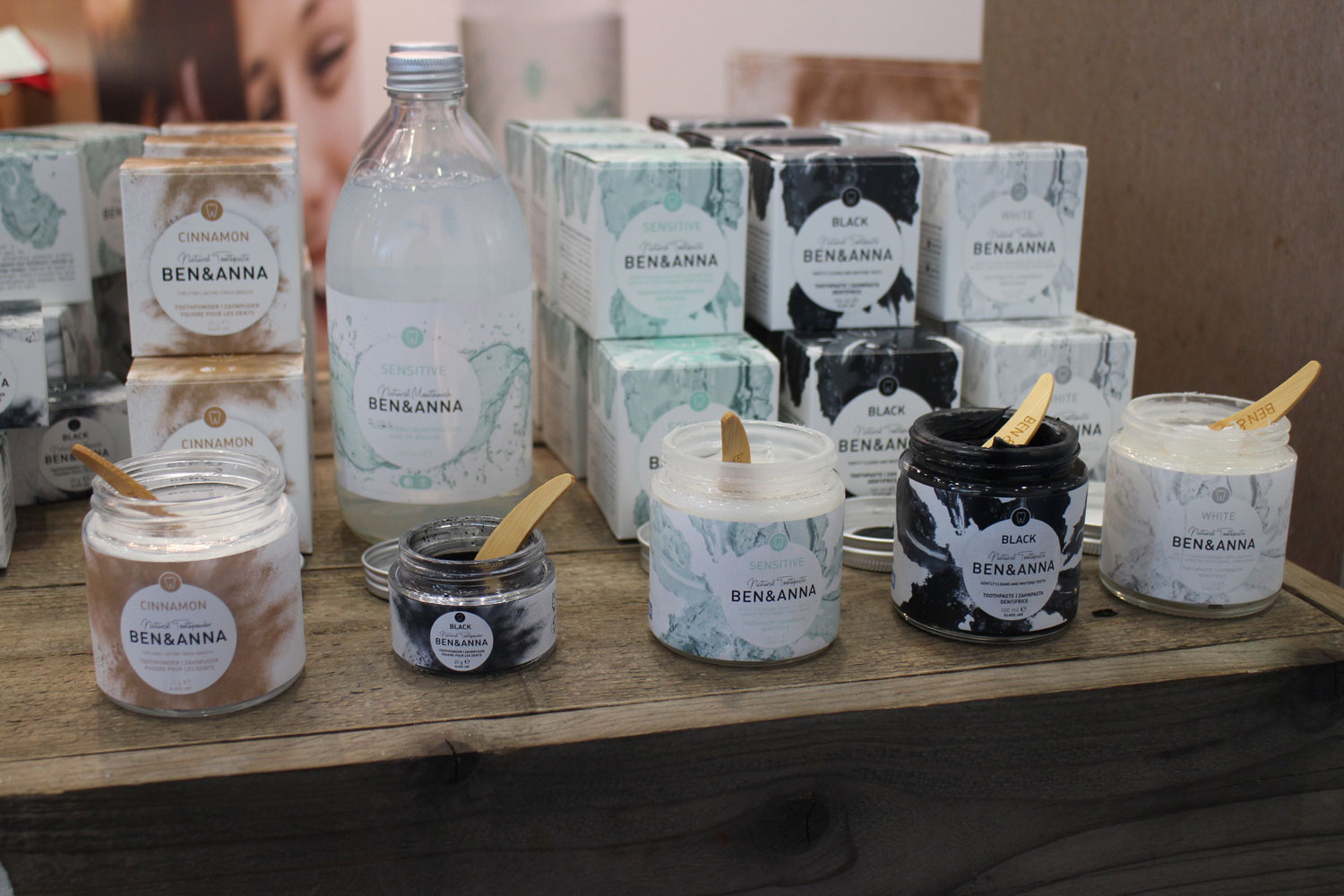 Ben&Anna
Wow, German brand Ben & Anna had so many product novelties! Three new deodorant sticks in cardboard packaging for sensitive skin (they contain only a small amount of baking soda), including one variant with cherry blossom fragrance. The company also introduced a new tooth care range: three toothpastes in glass jars, two tooth powders and a mouthwash.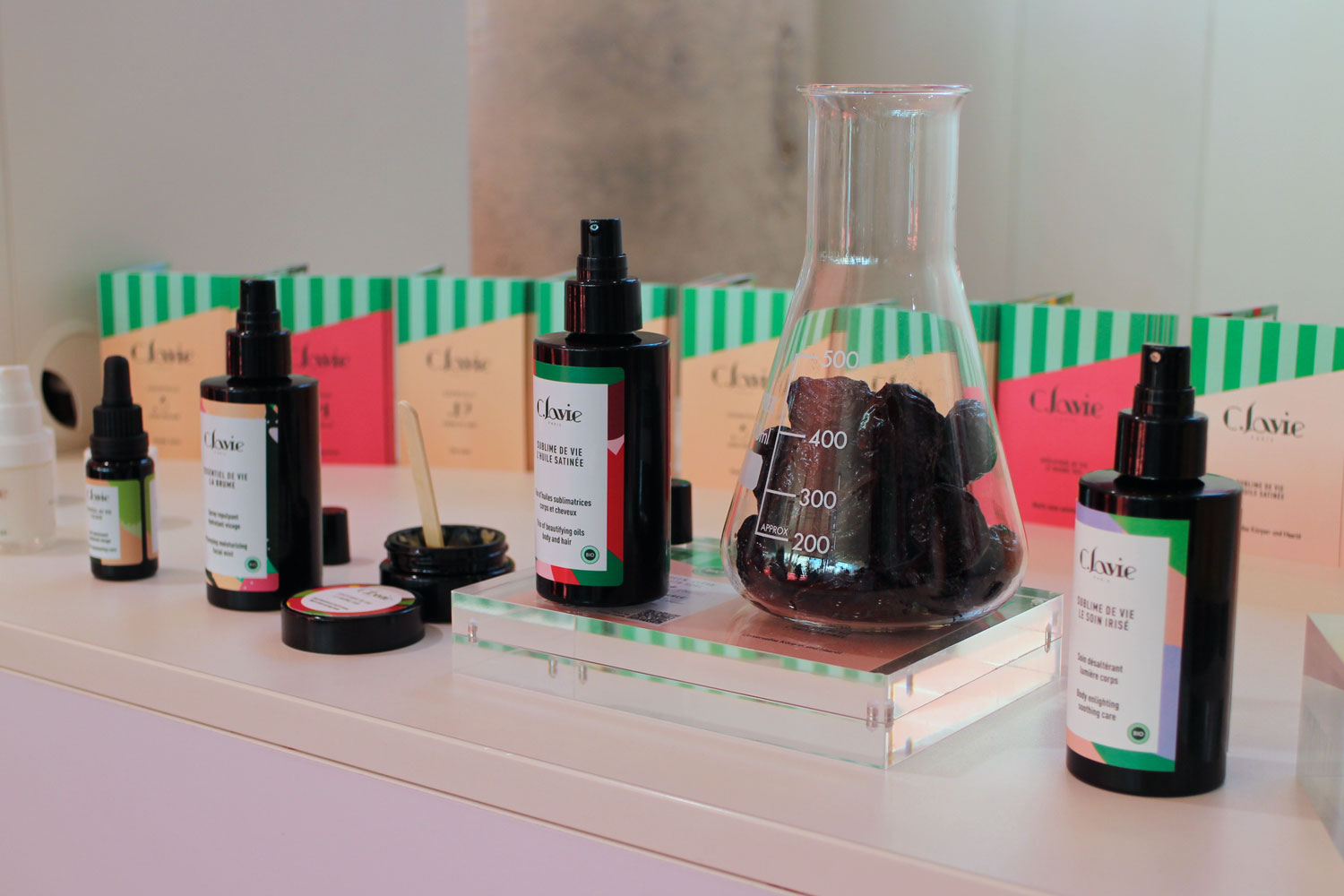 C.LaVie
Last year the product range of French organic beauty brand C.LaVie included only four products, but founder Sylvia Cazenave-Lavie has now launched another five products: a face mist, an elixir, an SOS balm, a body oil and a shimmering body lotion. The packaging is beautiful and so are the product textures!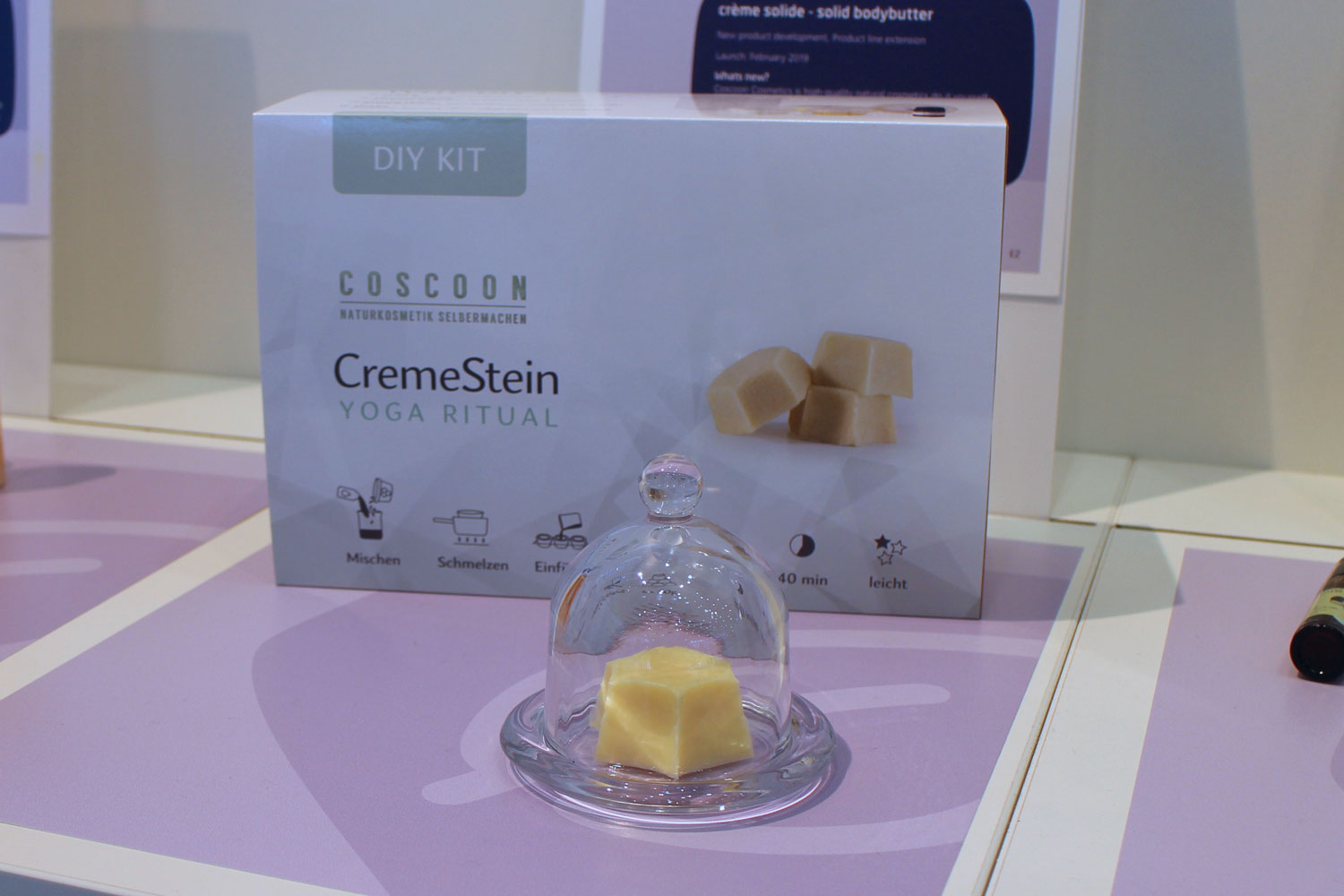 Coscoon
This is the second time that Berlin start-up Coscoon has won one of the New Product Awards at Vivaness: the DIY Kit contains all ingredients that you need for your own Cream Stone Yoga Ritual. Congratulations to the brand's two founders!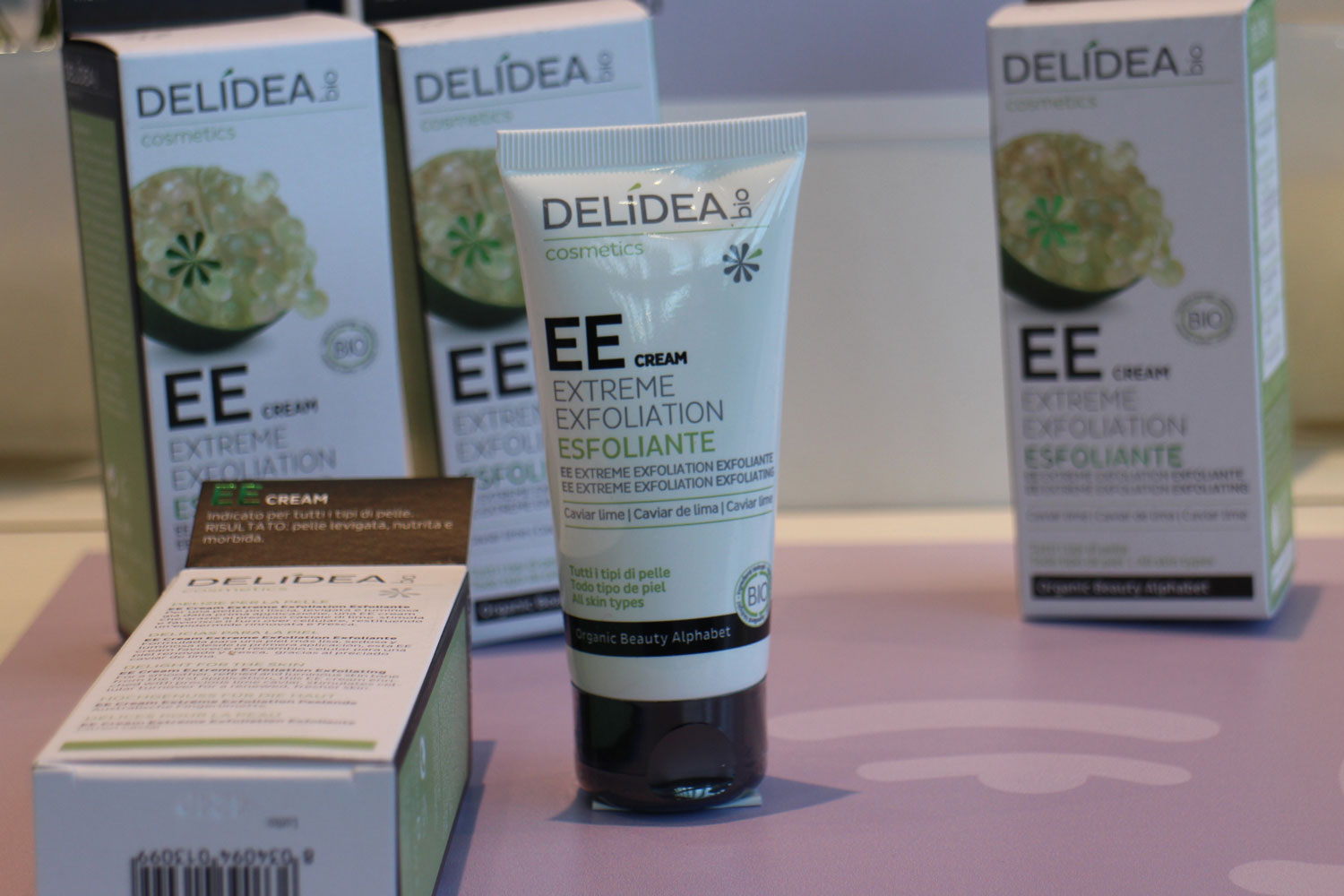 Delidea
Italian brand Delidea was one of the few organic brands at Vivaness that offered a fruit acid peel: the EE Cream (stands for Extreme Exfoliation) contains Australian finger lime extract and lactic acid.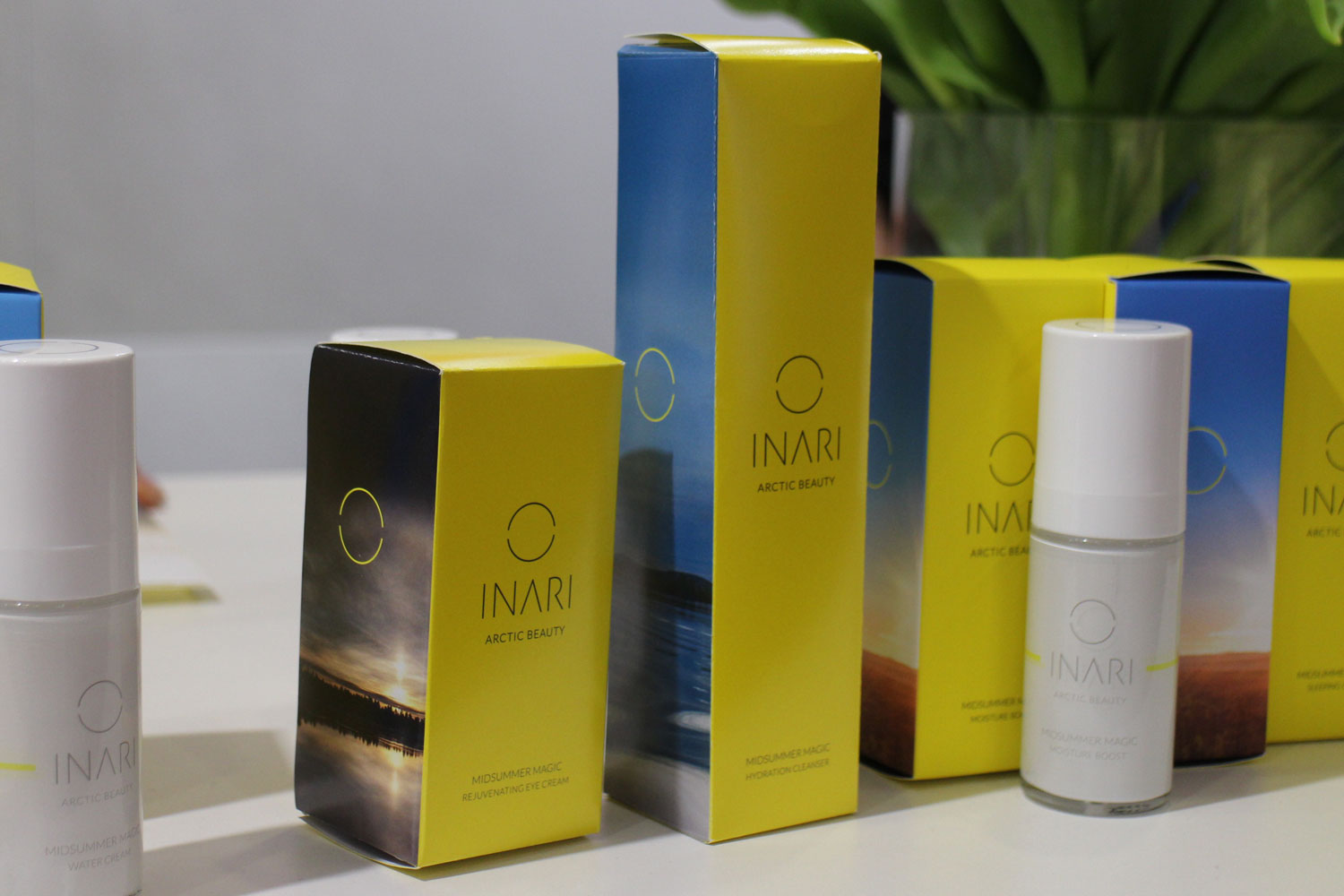 Inari Arctic Beauty
Finnish-German beauty brand Inari Arctic Beauty had its booth at the entrance of the Vivaness hall: The bright yellow packaging was definitely eye-catching! There will be a new face cleanser and an eye cream soon; the textures felt very promising when I tried the products out at the booth.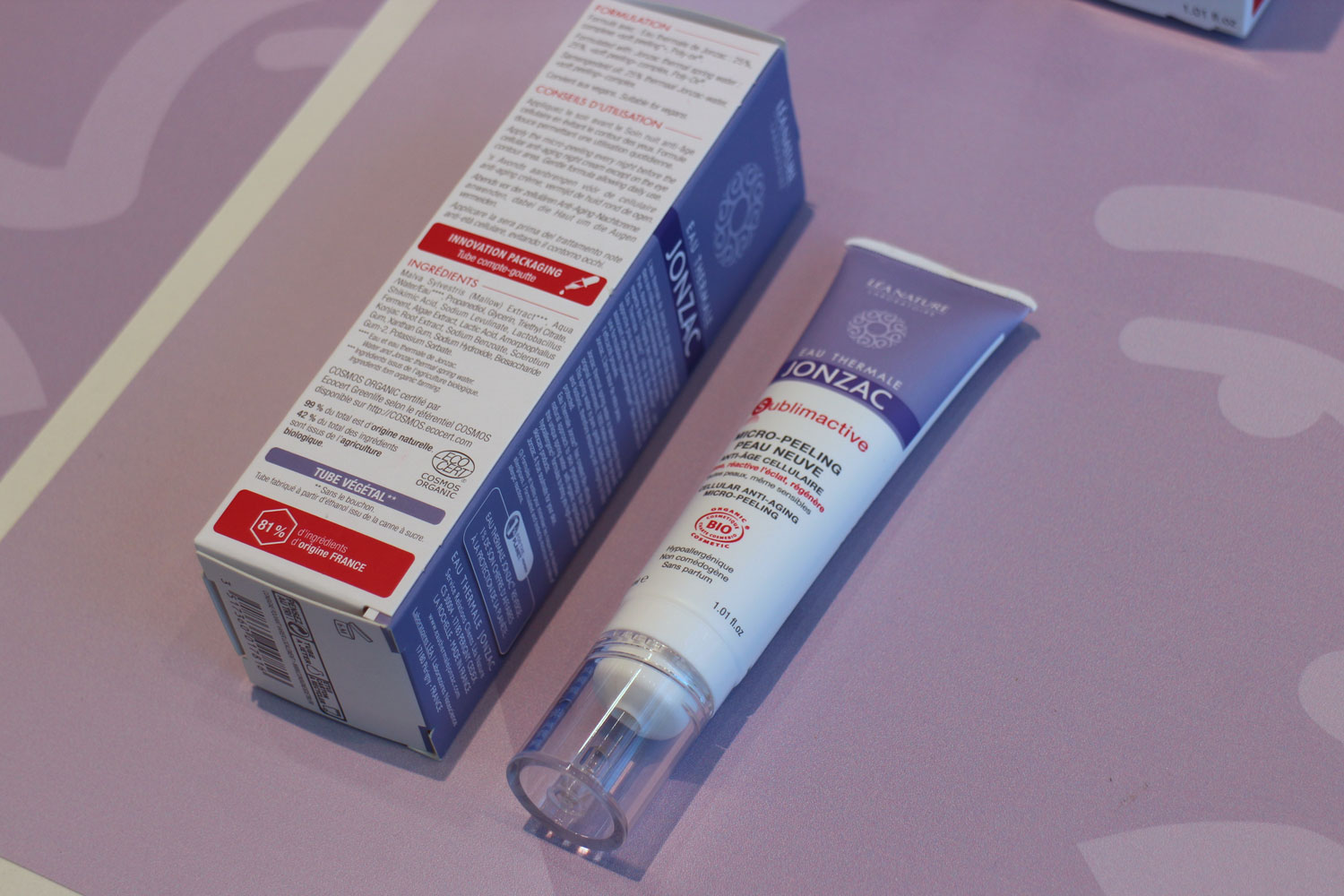 Eau Thermale Jonzac
I was curious about the new Sublimactive Micro-Peeling from French organic beauty brand Eau Thermale Jonzac. The product contains the active ingredient shikimic acid – and as soon as it is available I'll try it out!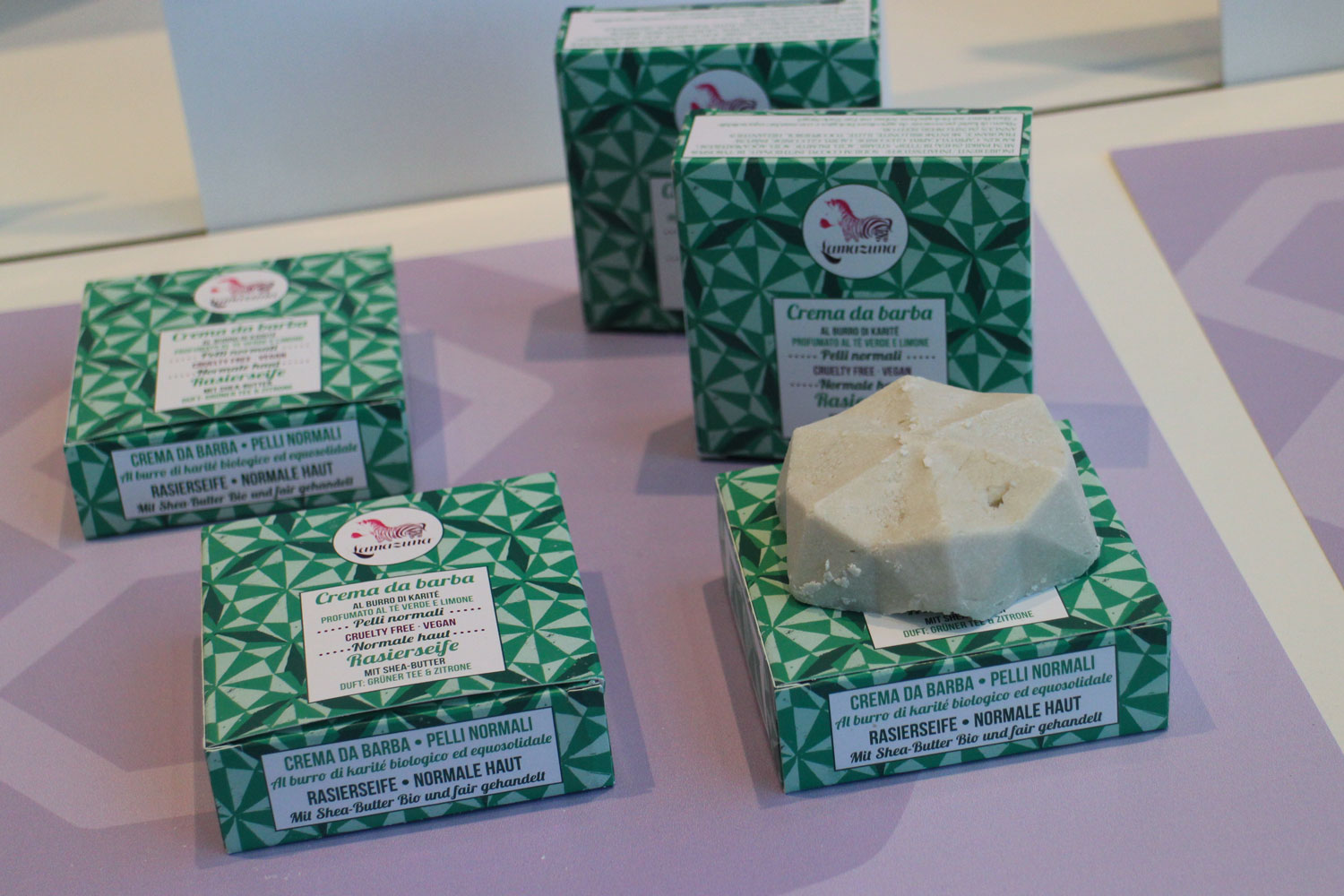 Lamazuna
The colourful Zero Waste brand from France has introduced a new solid shaving soap.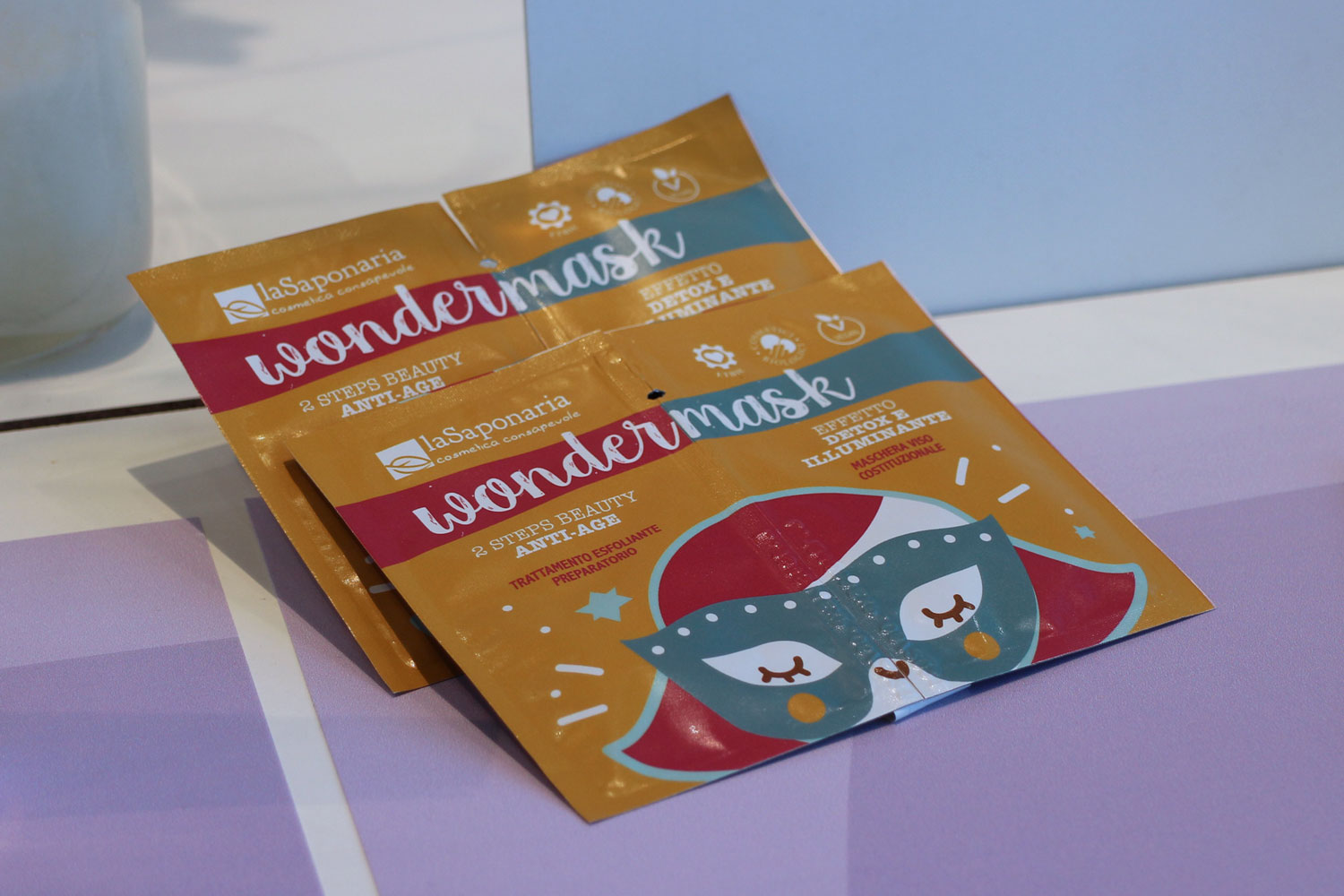 La Saponaria
Italian brand LaSaponaria presented the Wondermask: the sachet contains a face scrub and a creamy face mask.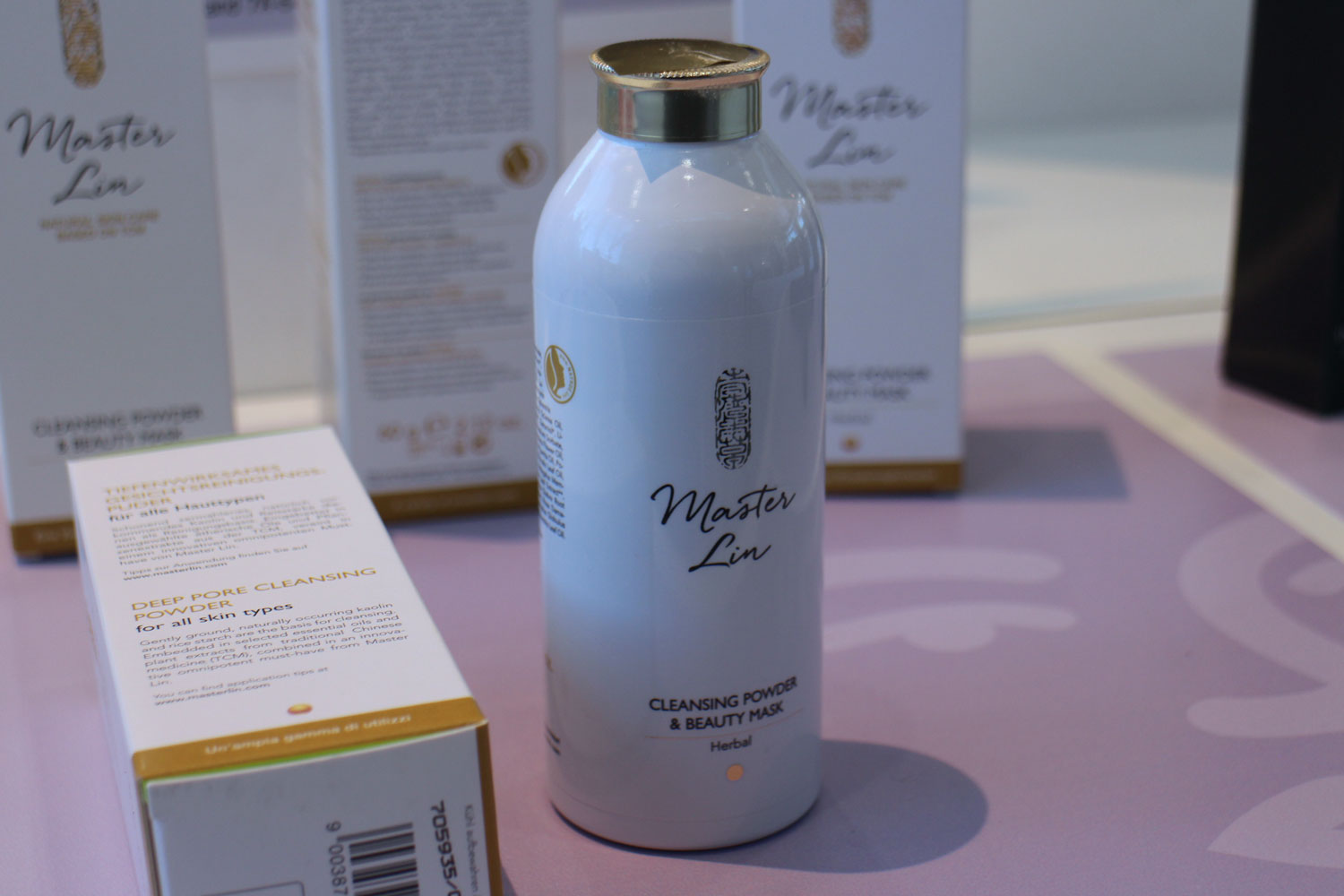 Master Lin
I already wrote about Austrian brand Master Lin two years ago – the Master Lin products are inspired by the principles of Traditional Chinese Medicine (TCM). The company recently repackaged its products and the Cleansing Powder can now also be used as a beauty mask.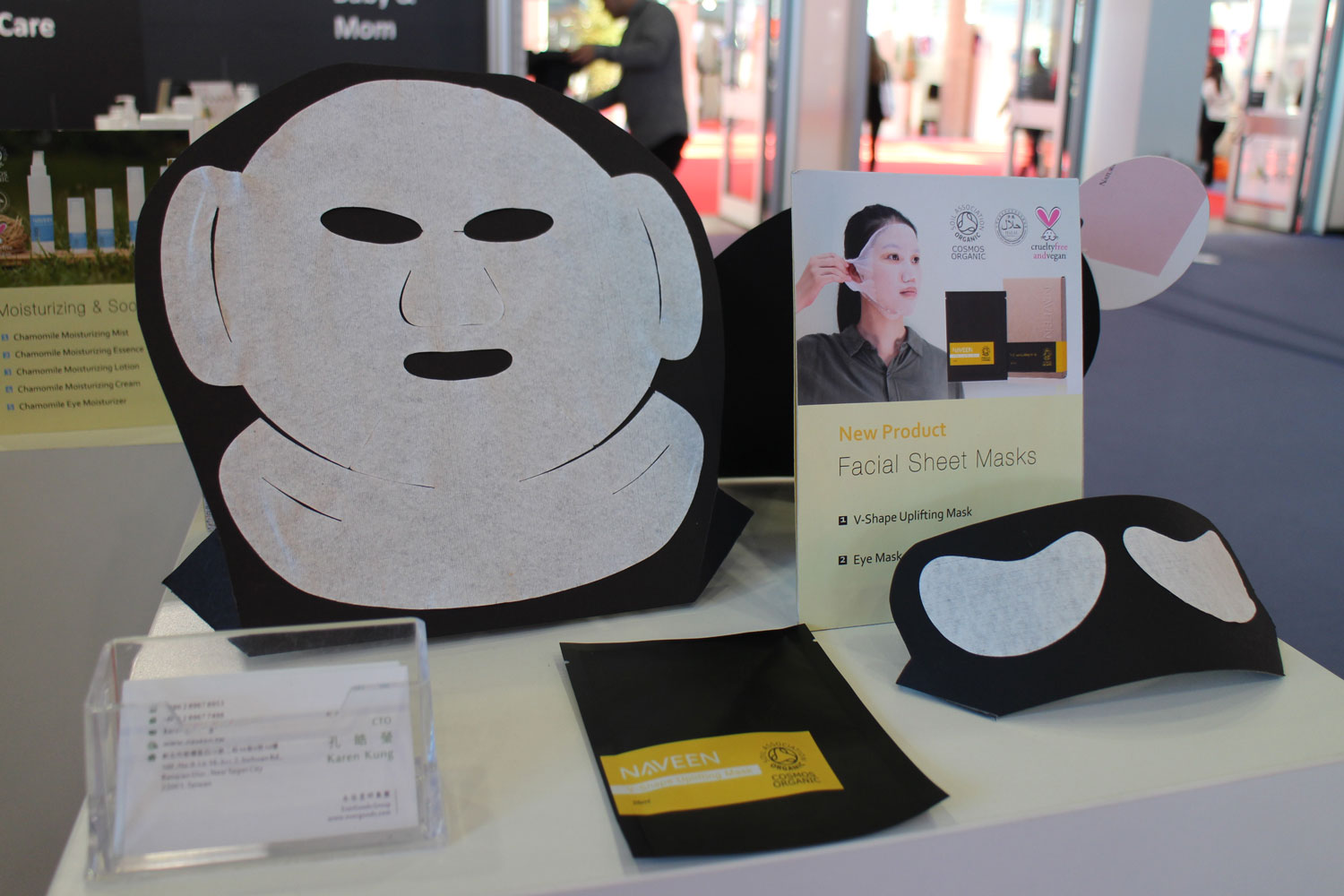 Naveen
Organic beauty brand Naveen from Taiwan has been a regular exhibitor at Vivaness for several years. This year Naveen presented the new V-Shape Up-Lifting Sheet Mask (which also covers the throat and is secured at the ears) as well as the Eye Sheet Mask.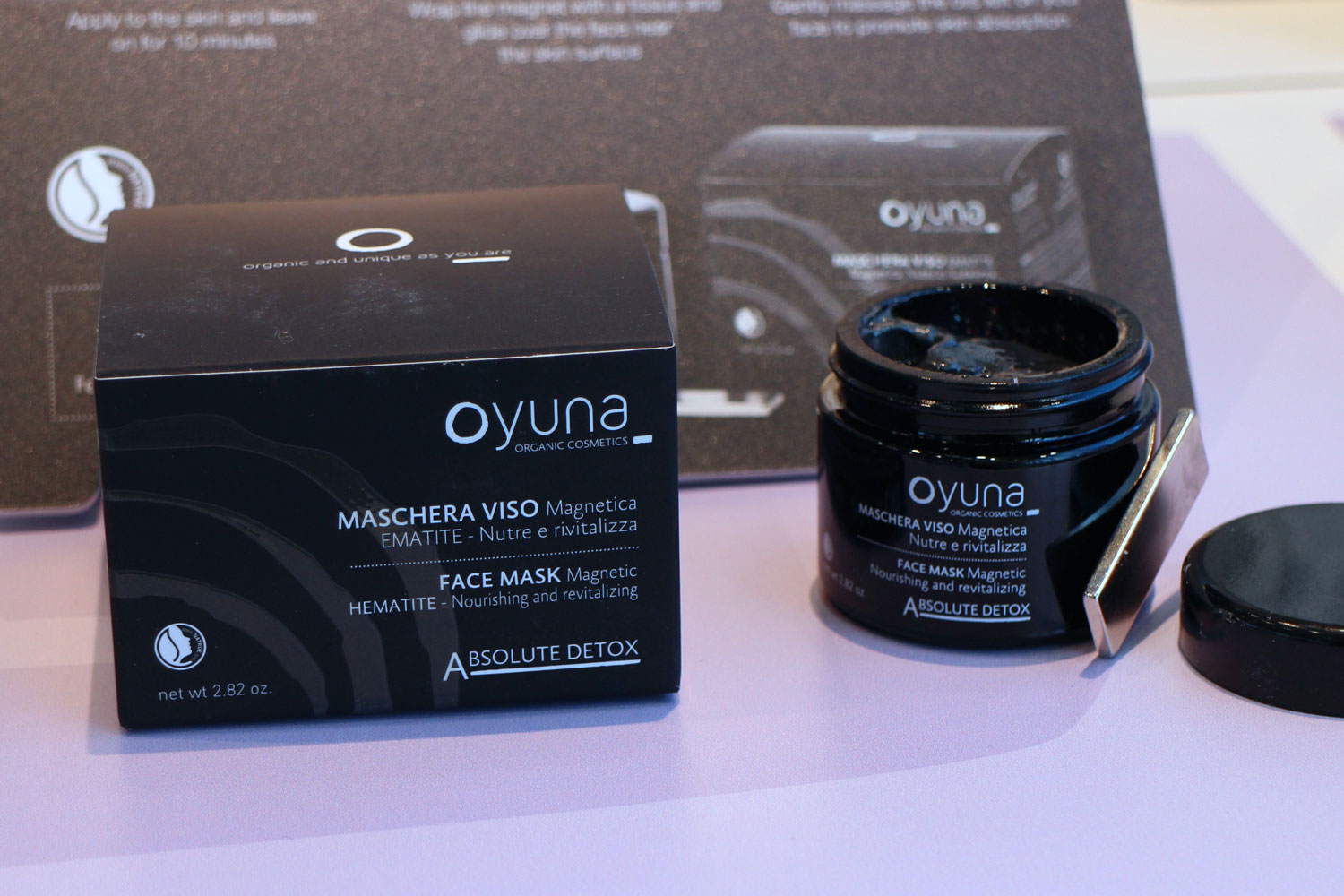 Oyuna
Italian brand Oyuna introduced a ultra trendy product with the black Hematie Magnetic Face Mask – I immediately thought of the magnetic mask from conventional beauty brand Glamglow. On the picture you can see the magnetic spatula (next to the jar). The brand also showed a new prebiotic face spray.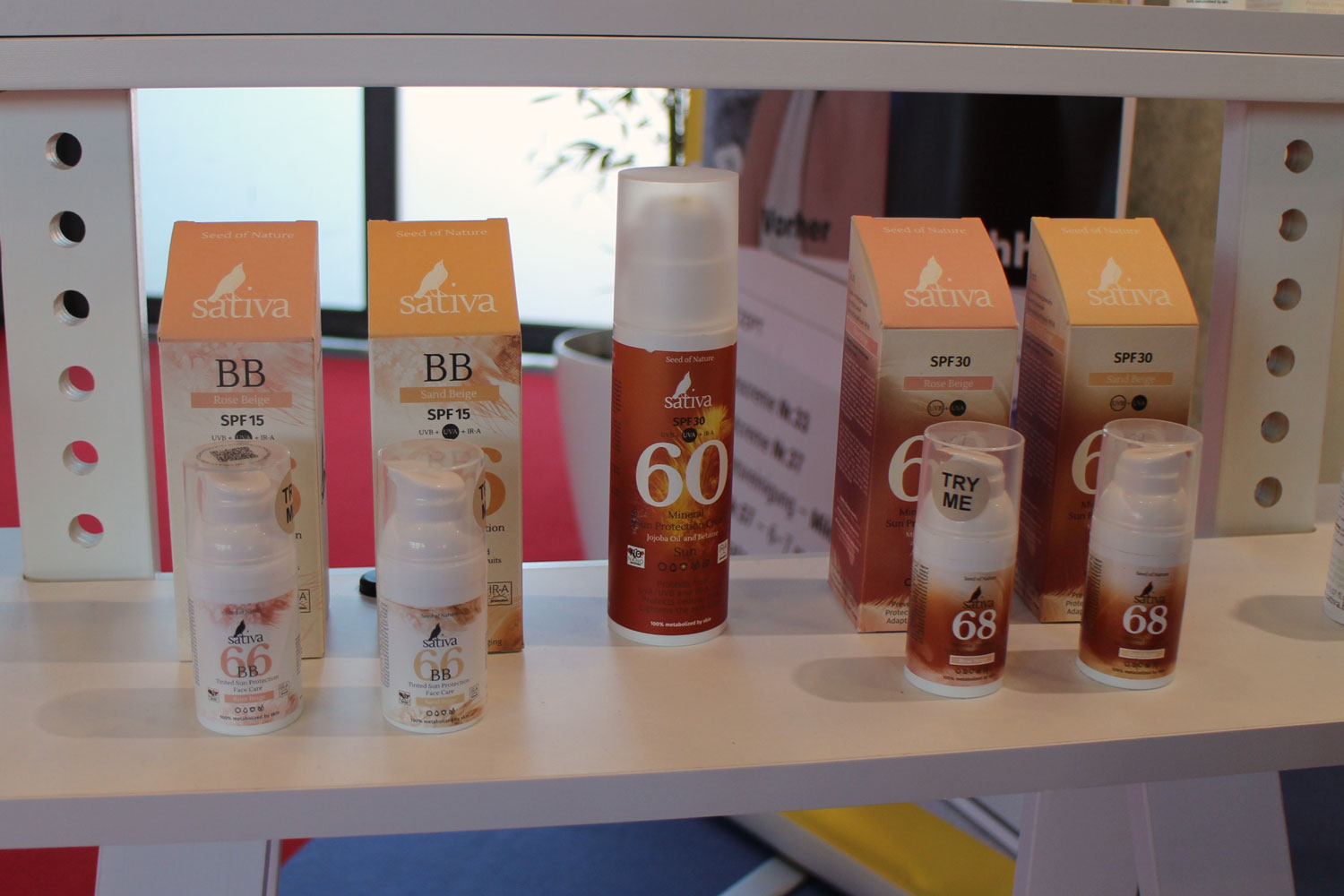 Sativa
One of my favourite brand discoveries from Vivaness 2018 returned this year: Sativa comes from Belarus and was launched in 2014 by Svetlana Mikhailiuk and Victor Gaponenko. The brand focuses on the microbiome, developing products which positively influence the skin's microflora. I have already written about the Minsk-based brand in this article here. Amongst the Sativa novelties this year was a sun care range; the UV filter is specially coated titanium dioxide. The tinted sun cream with SPF 15 (available in two shades) was created for use in the office or on the streets; the line also offers products with higher protection (SPF 30, also tinted and available in two shades) as well as the un-tinted sun milk with SPF 30.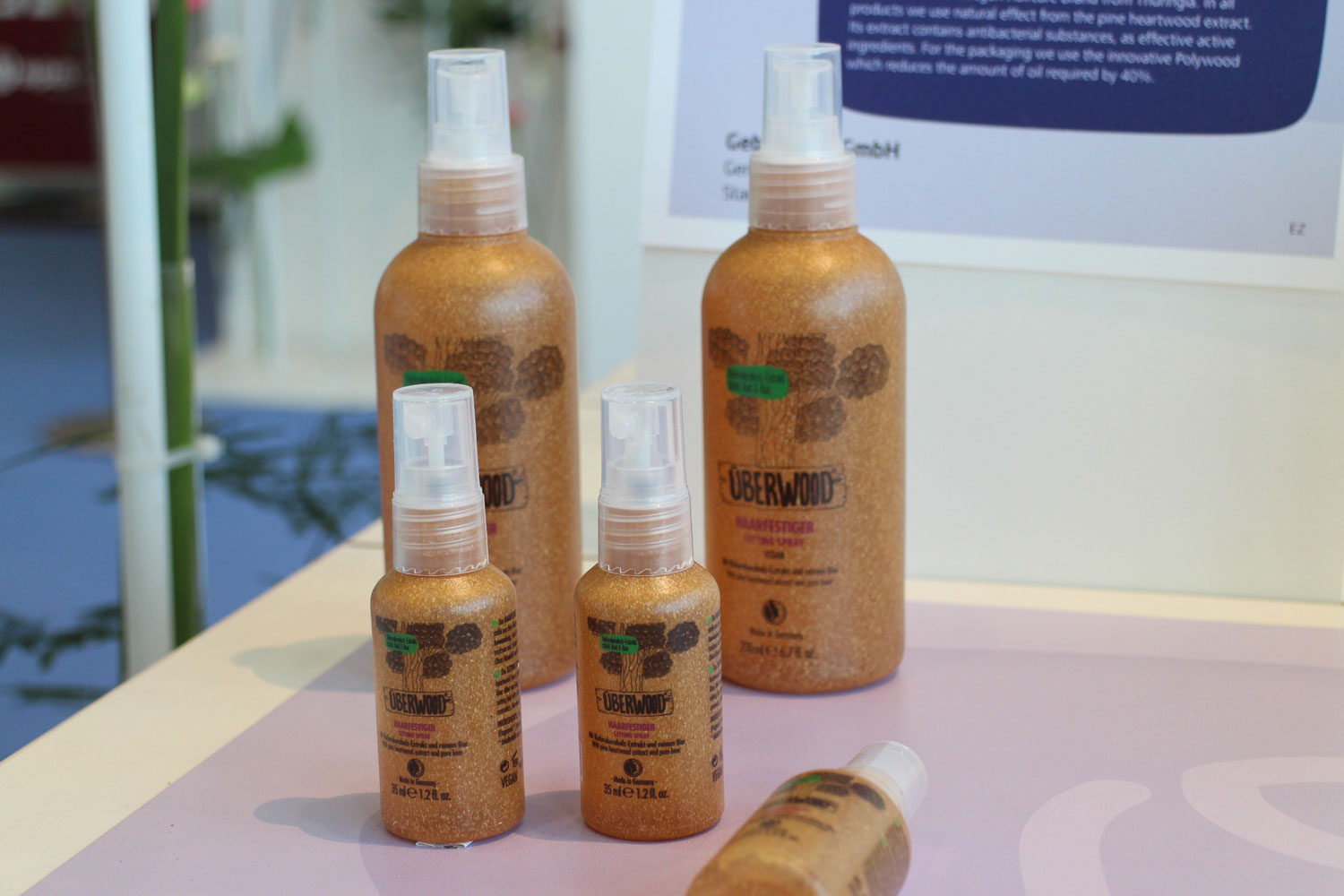 Überwood
German organic beauty brand Überwood focuses on the pine tree: The products are formulated with pine tree extract and the packaging contains a percentage of pine wood, thus saving plastic. At Vivaness the brand presented a new Setting Spray for Hair.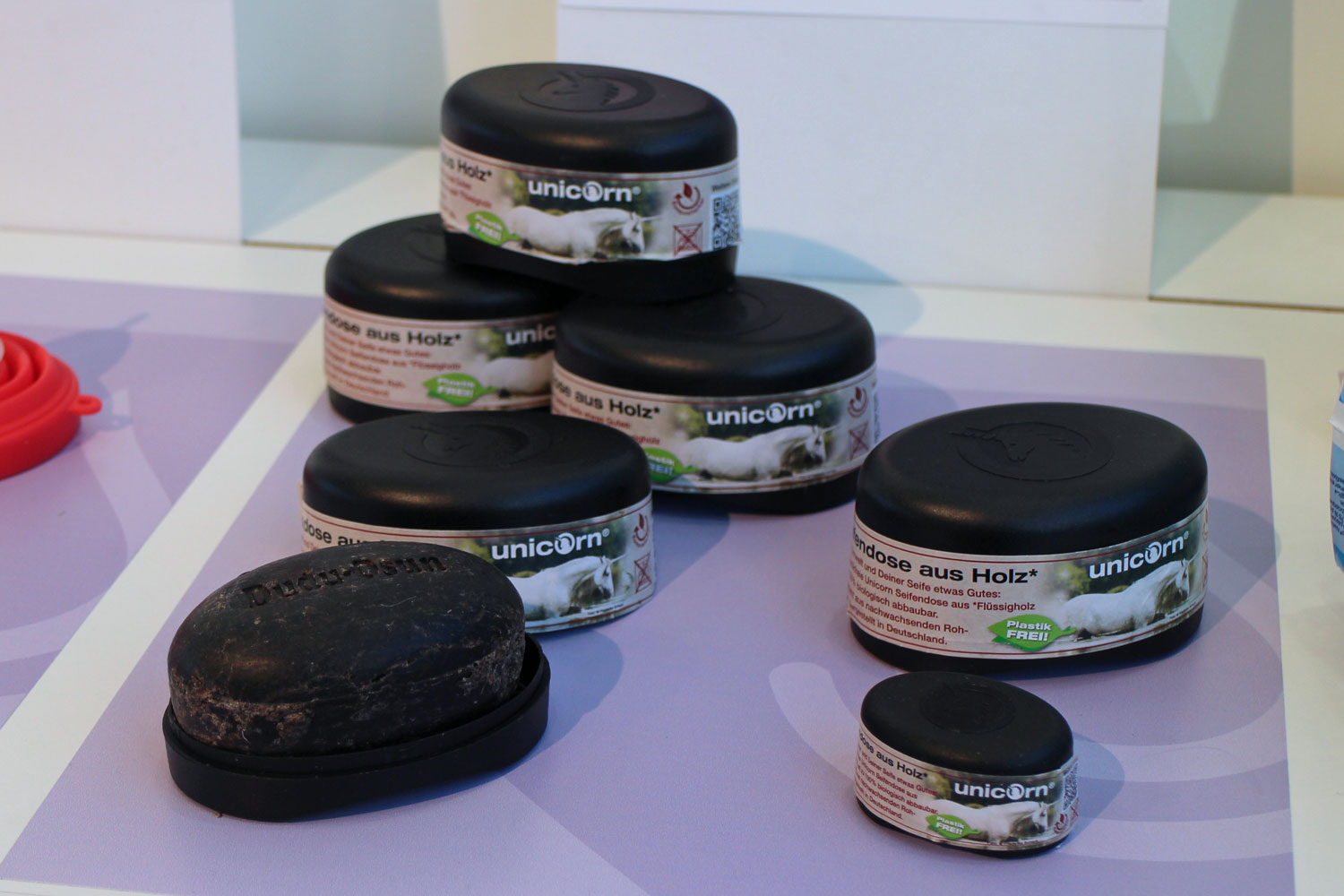 Unicorn
Sustainable packaging is one of THE major topics in the organic beauty industry, so I simply have to show you Unicorn's soap jar made from liquid wood: the Dudu Osun soap, for example, fits perfectly in the jar.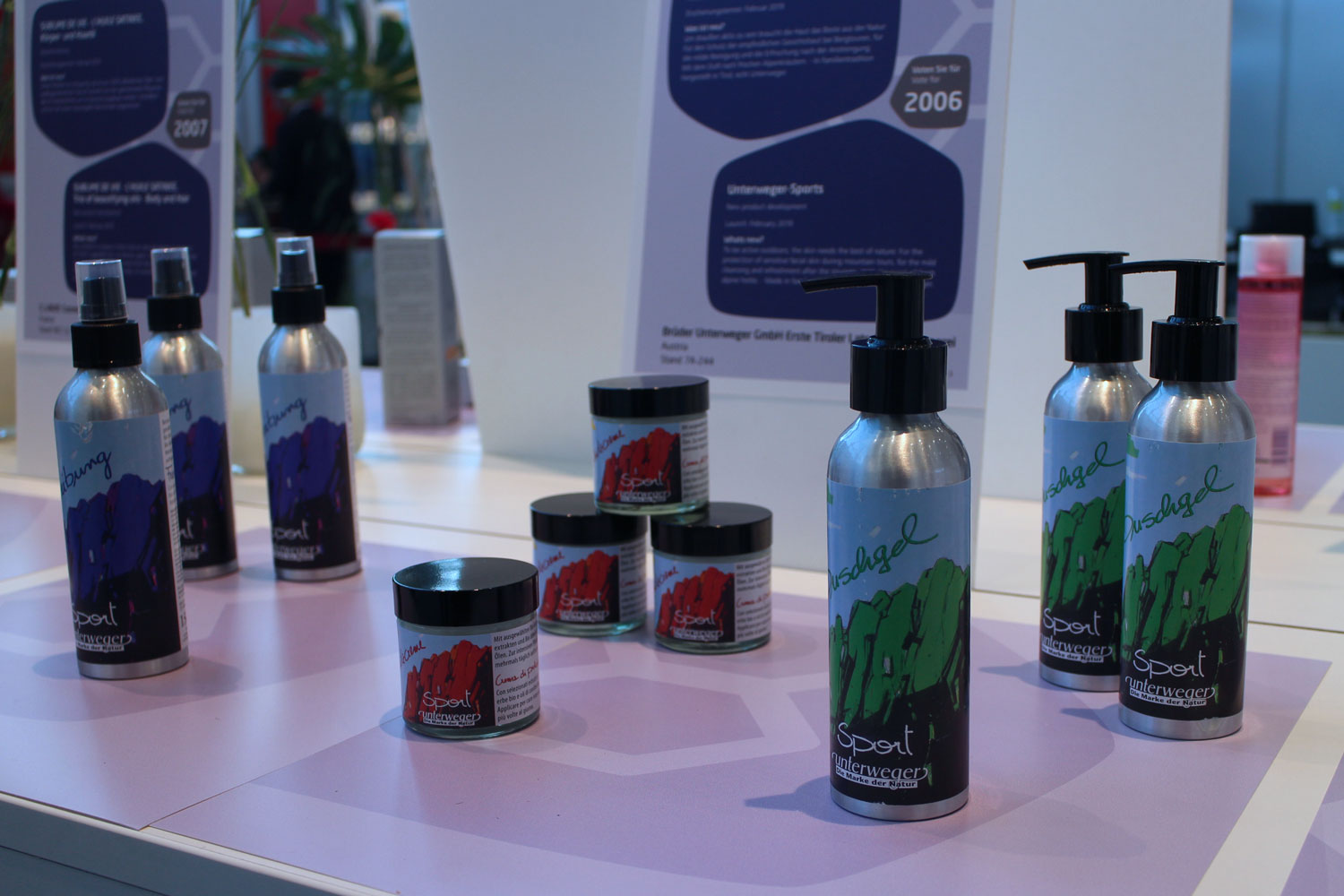 Brüder Unterweger
Tyrolean brand Marke Brüder Unterweger introduced a number of outdoor sports products: the Shower Gel, Protective Cream, Active Balm, Embrocation and Massage Oil are all scented with fresh alpine herbs.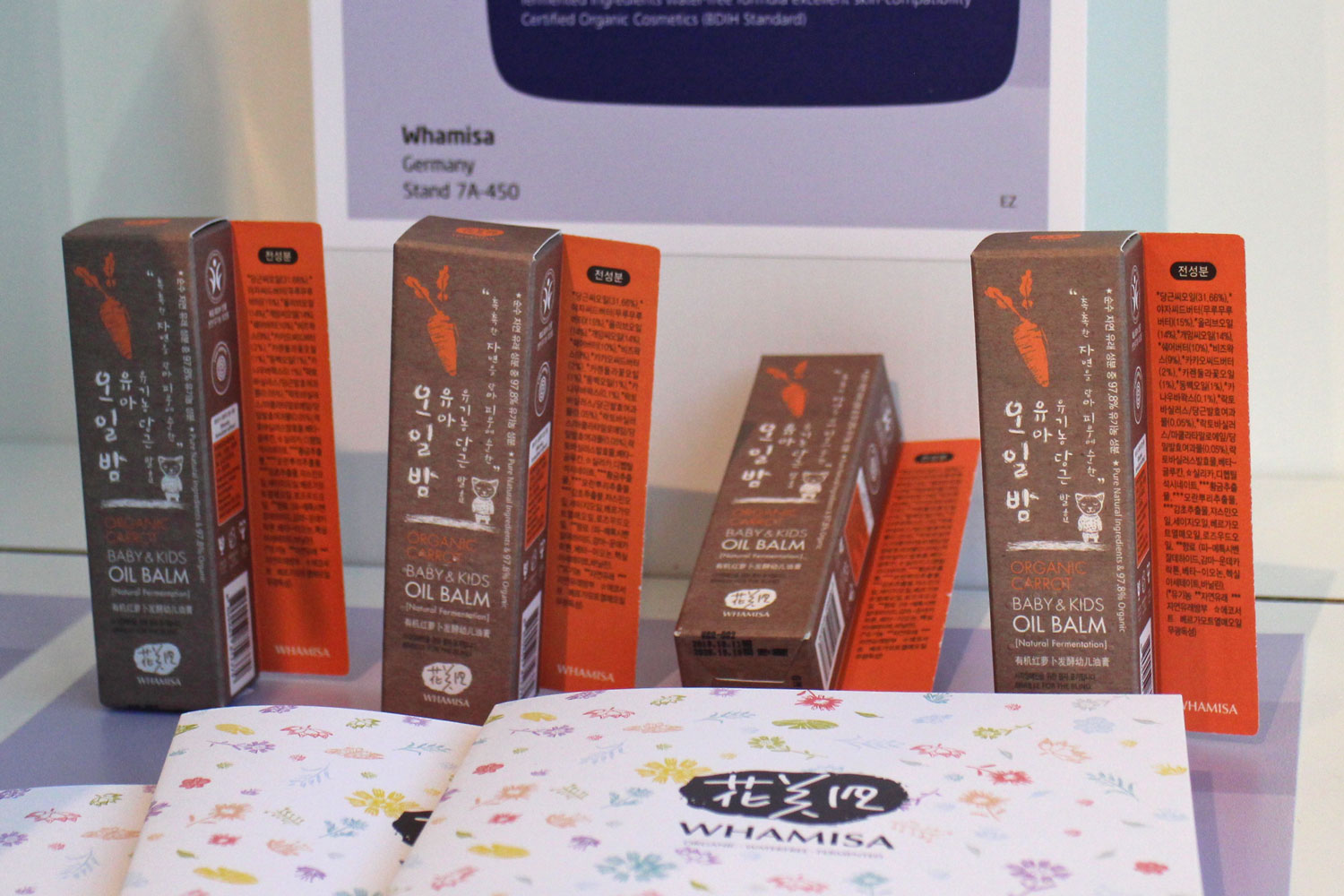 Whamisa
I already knew these products from Korea but it's always nice to see Whamisa: The organic brand presented the Organic Carrot Baby & Kids Oil Balm, the Cleansing Water, the Fruit Body Lotion and the Hand Creams. I think it's wonderful that so many organic brands from Asia are now available in Germany!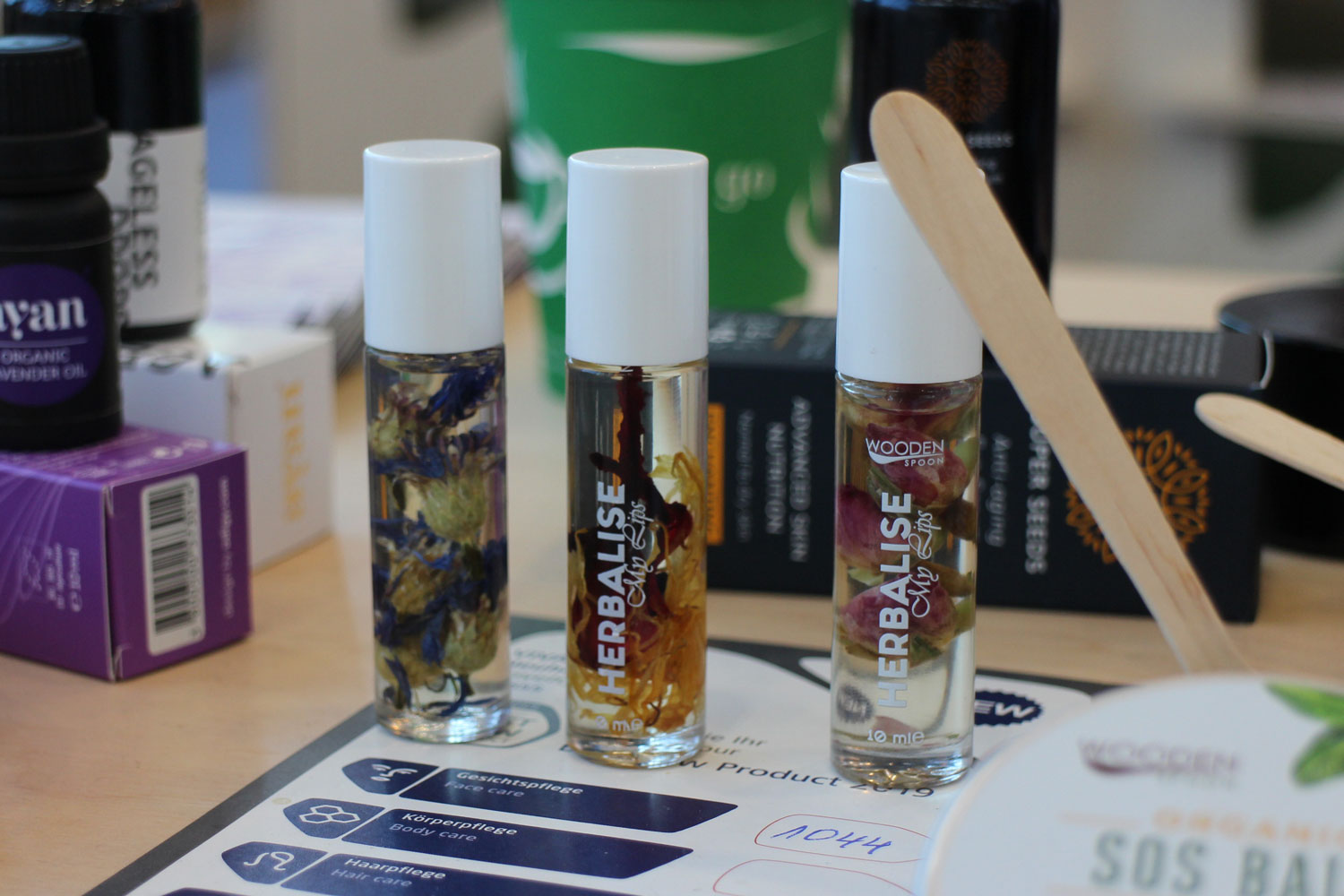 Wooden Spoon
Bulgarian brand Wooden Spoon is also a regular exhibitor at Vivaness. The three decorative Herbal Blossom Lip Glosses immediately caught my eye – the glass flacons contain dried flower petals.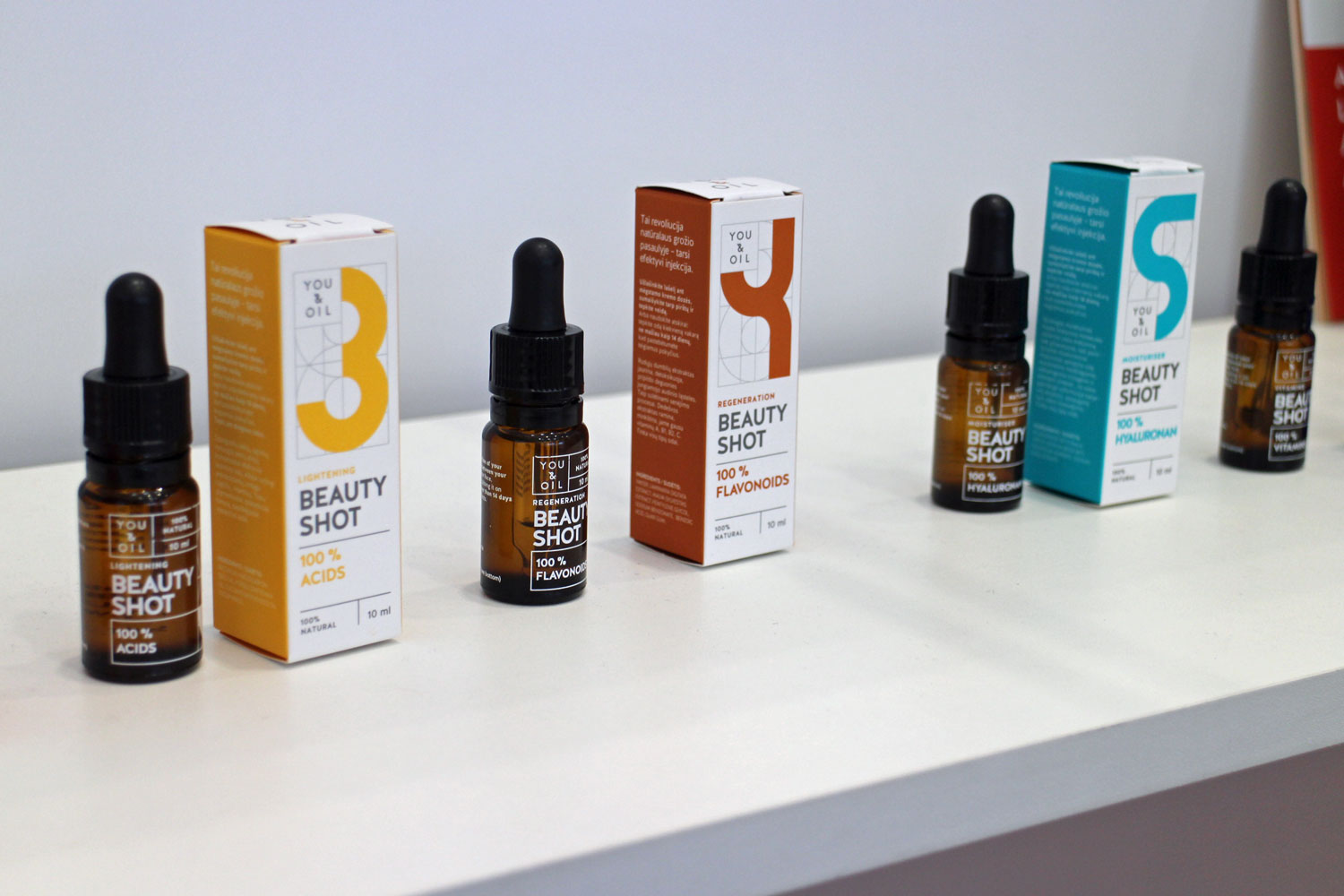 You&Oil
I was impressed with the many product novelties presented by You & Oil from Lithuania: first of all there is the range of ten Beauty Shots ampoules (for example polyaccharides, flavonoids, acids, collagen etc.) which can be added to skin care creams and lotions or used as stand-alone serums. The new Phyto Derma Therapy range for problematic and irritated skin focuses on hemp-derived CBD (a major trend at the moment): the seven Skin Repair Creams contain 5% CBD oil. Finally You & Oil also introduced two new toothpastes with coconut charcoal, a tooth powder and a mouth wash.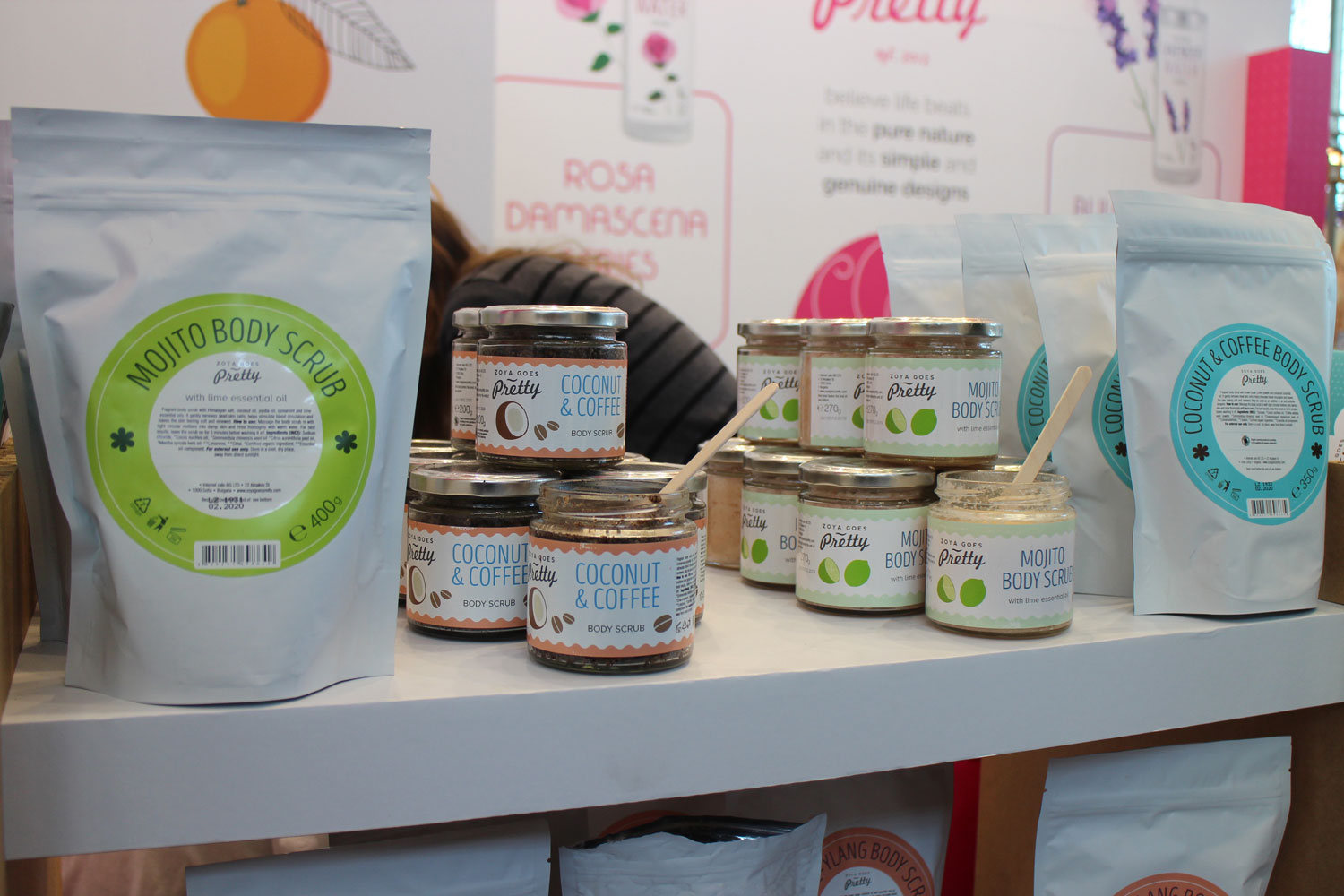 Zoya goes pretty
Bulgarian beauty brand Zoya goes Pretty presented two new summery products: the Mojito Body Scrub and the Coconut & Coffee Body Scrub which are packaged in refillable glass jars. The brand also showed three new Daily Face Cream with lavender, rose and orange (packaged in pump dispensers).
[Click here for more pictures and the original German article Neuheiten der Nischenmarken auf der Vivaness 2019]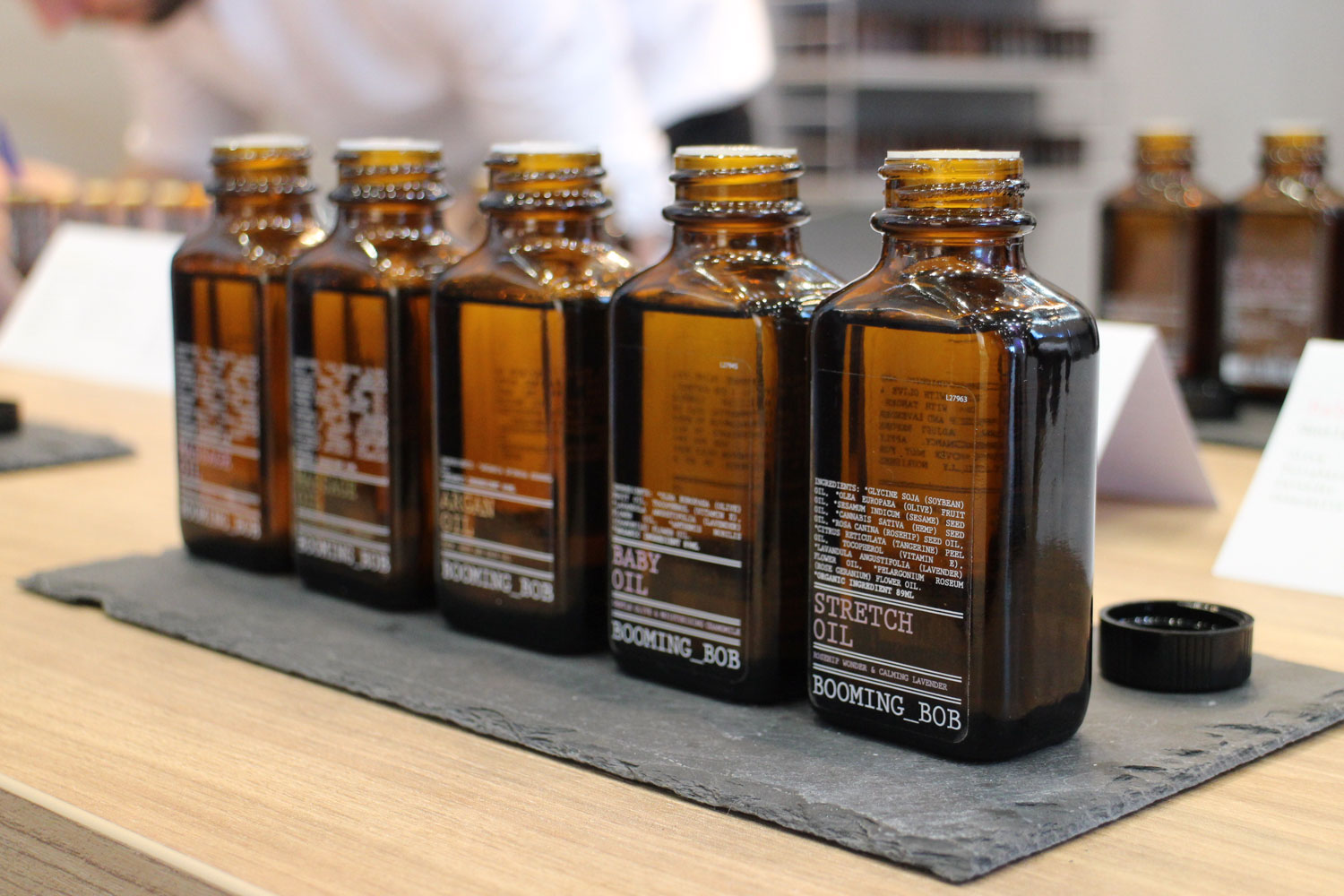 In this last part of my Vivaness 2019 coverage I would like to introduce you to some organic beauty brands that caught my eye at the trade show. The reasons why I liked these brands vary – sometimes it was because of the attractive product packaging, other times I was intrigued by a brand's unusual ingredients or because they offered an exciting new product concept. Let's go!
Booming Bob
Swedish brand Booming Bob (picture above) reminded me of the stylish Aesop packaging: plain brown apothecary bottles with the INCI printed on the front side. The ingredients are equally simple and streamlined, the 22 products for face and body are all oil blends of fatty plant oils and essential oils. Here is the homepage of Booming Bob.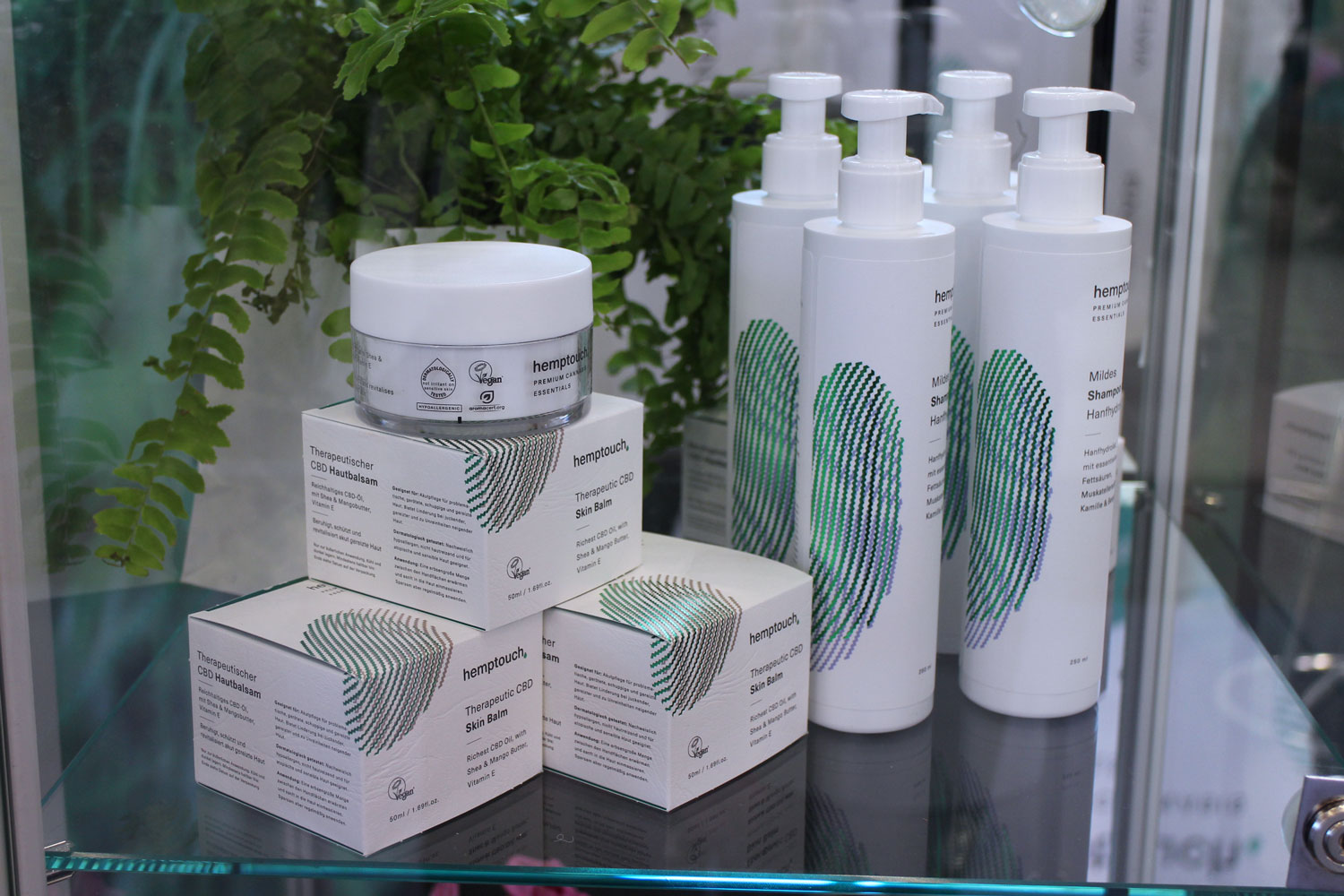 Hemptouch
Hemptouch is from Slovenia and their products are formulated with different hemp-based ingredients (hemp is a a big trend topic in the US at the moment): hemp oil, cannabidiol (CBD) and even hemp hydrosol. The skin care products are particularly suitable for atopic and sensitive skin – and the Hemptouch packaging looks so much better now than it did a few years ago. Here is the brand's website.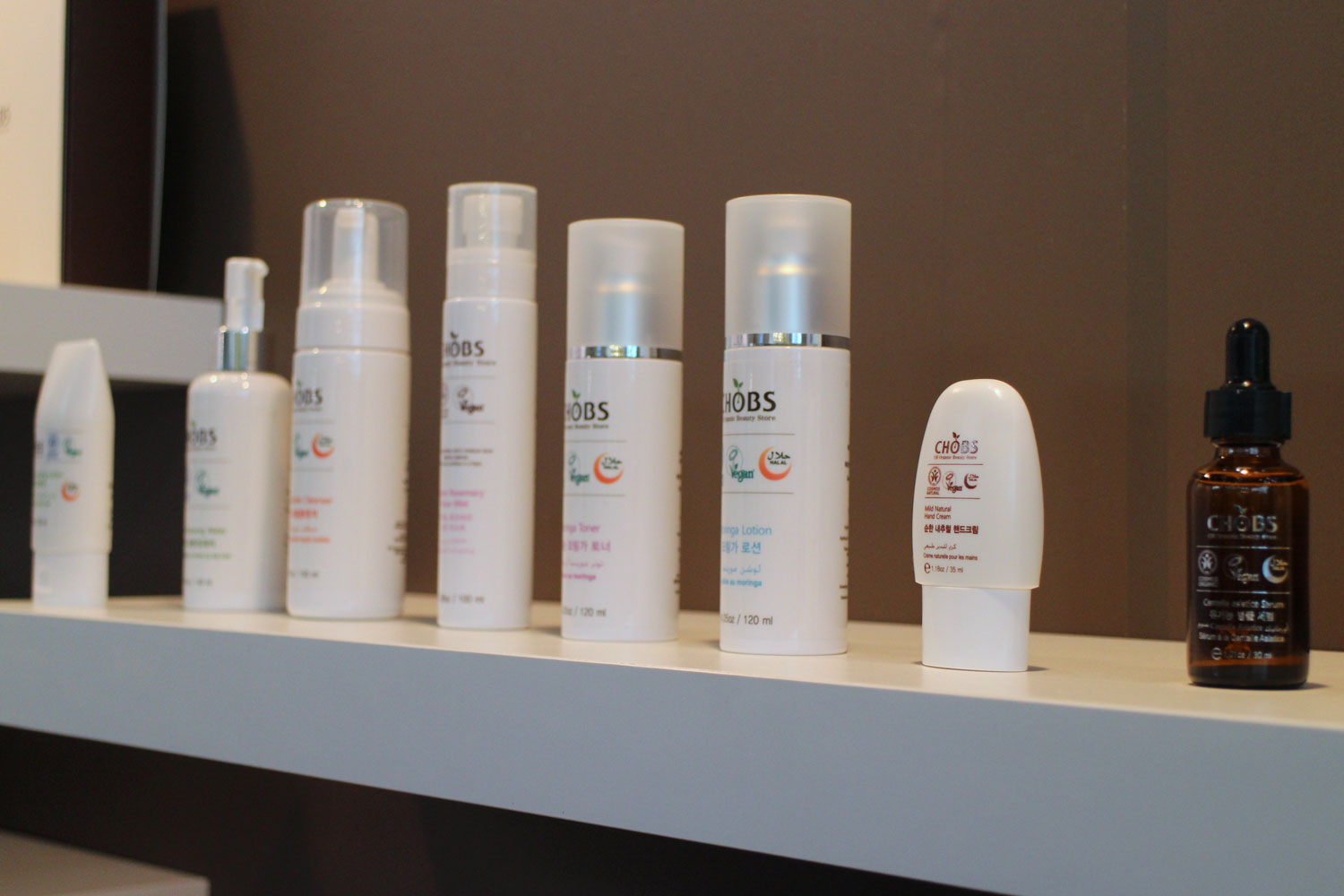 CHOBS
A few years ago I bought a certified organic sheet mask from CHOBS in an organic supermarket in Seoul, so I was glad to see the Korean brand at Vivaness. After I visited the company's booth I found CHOBS even more interesting: the founder takes the organic aspect very seriously – he supports organic farmers in Korea and manufactures his own plant extraccts. All CHOBS products are certified by Cosmos. Their bestseller is the Centella Asiatica Serum which has a amazingly silky texture. I look forward to testing it! Here is the CHOBS home page; luckily the brand has already found a German distributor.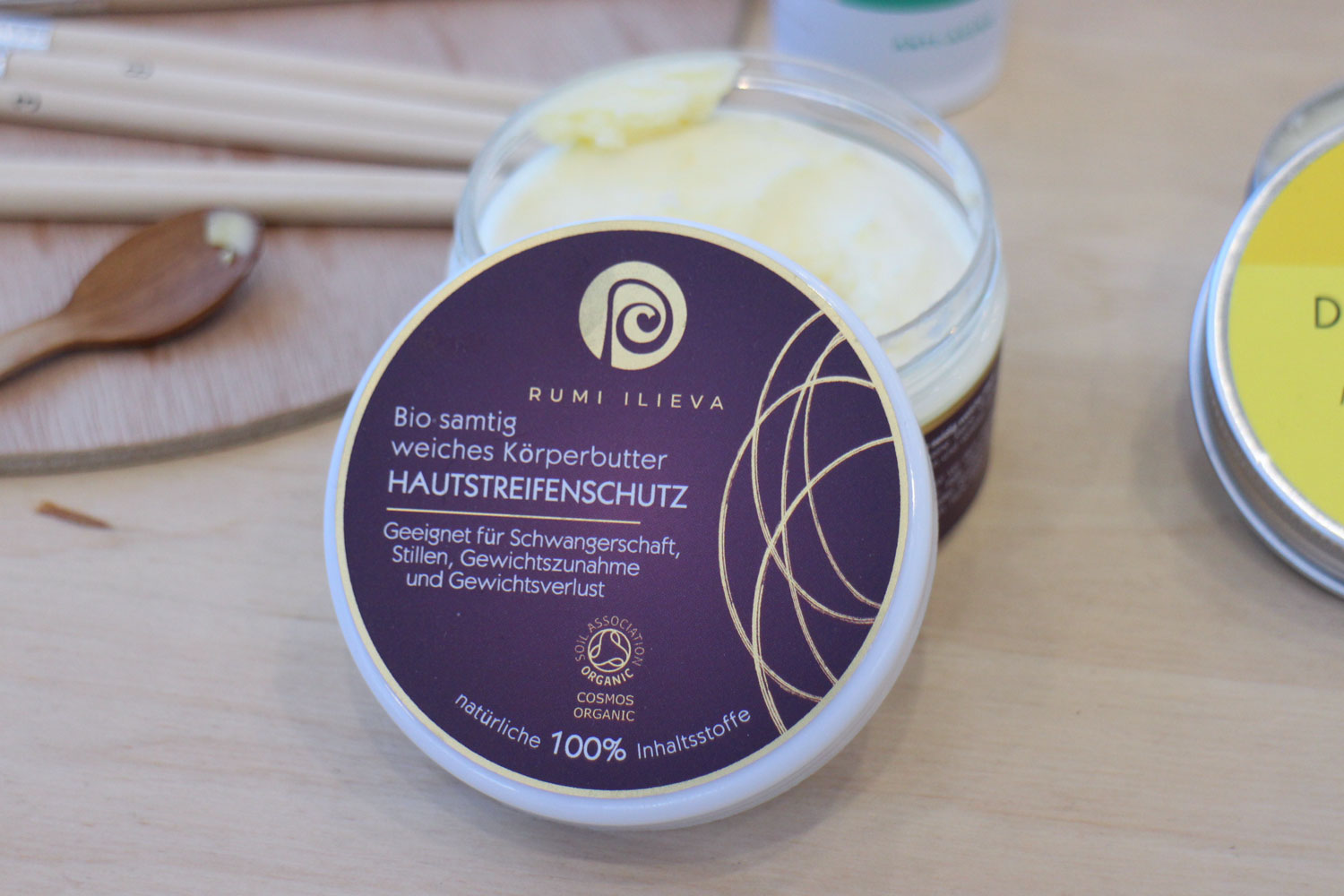 Rumi Ilieva
Rumi Ilieva is a well-known Bulgarian fitness trainer who launched a certified organic beauty range around a year ago. Her bestseller is the Glow Serum with prickly pear oil; the premium product line-up offers more serums, face creams, face cleanser, body lotion, body butter, shower gel, deodorant and lip care; there are also baby care products and men's products. You can check out the products in this presentation here.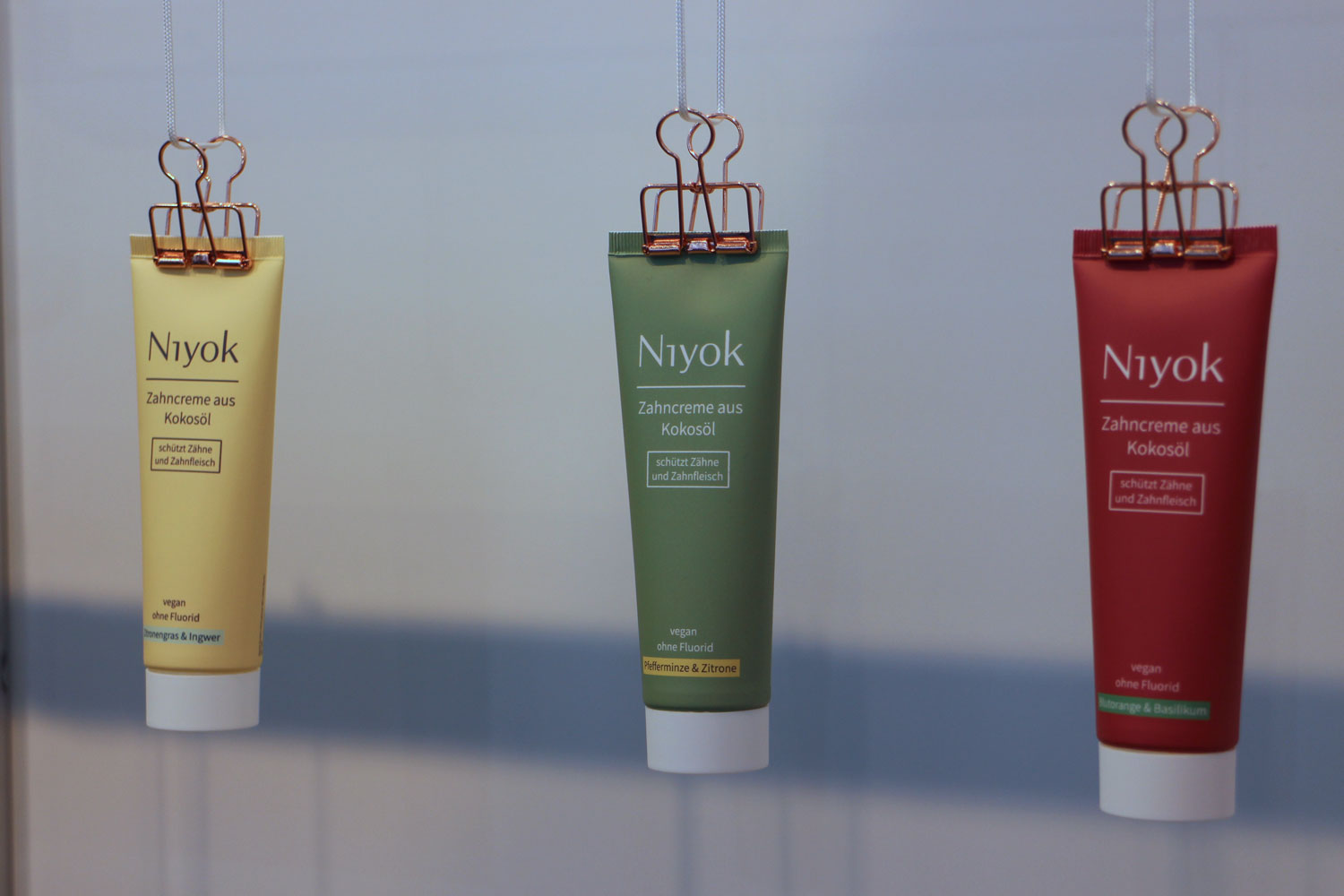 Niyok
There were so many oral care launches at Vivaness this year. I especially noticed Niyok from Berlin – not just because of the brand's minimalistic packaging but also for their ingredients: the three toothpastes are based on coconut oil and have a compact INCI listing. My favourite was the variant with blood orange and basil. The tube is produced with 50% chalk and doesn't contain plasticisers. Here is Niyok's website.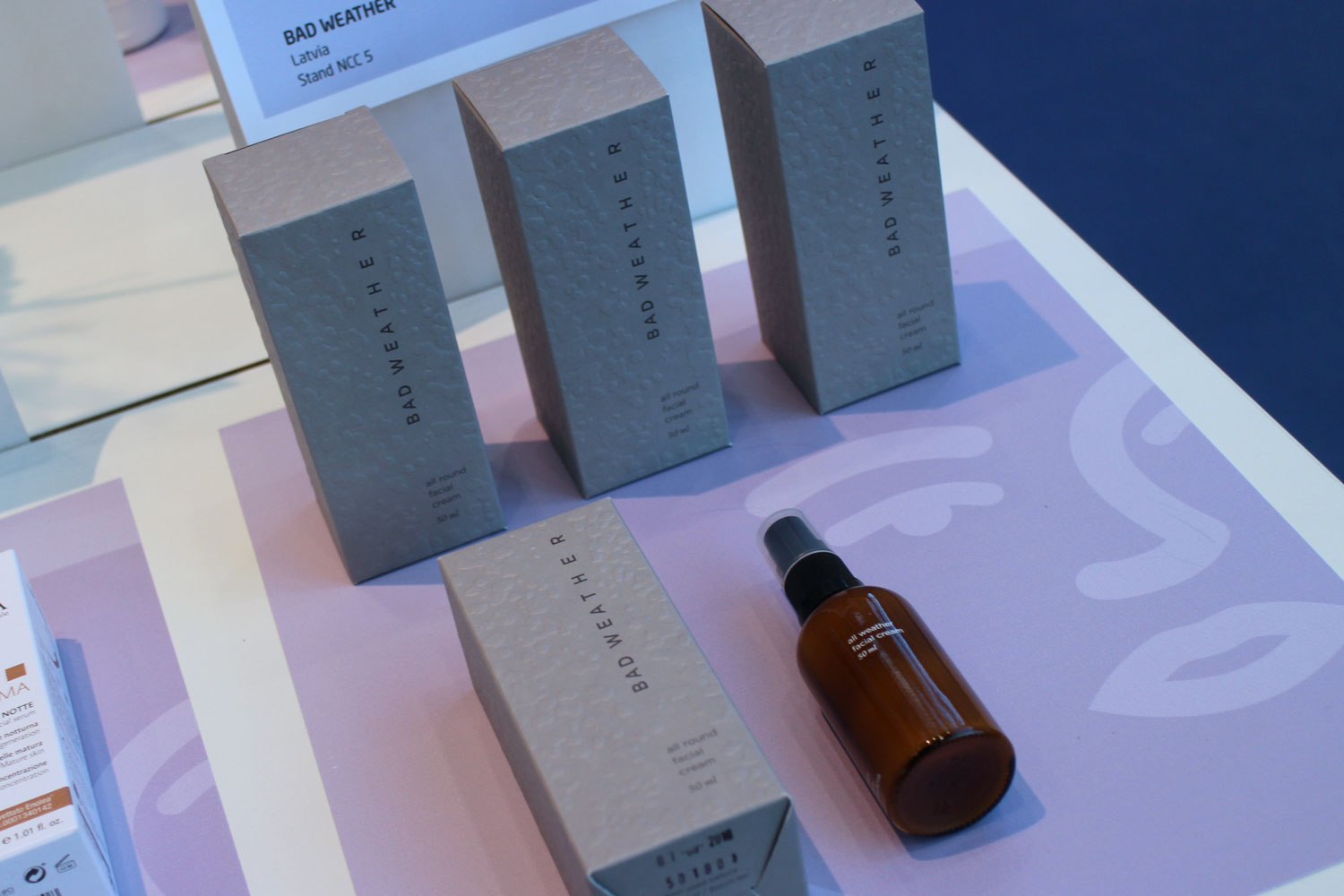 Bad Weather
What a name: Bad Weather is a men's care brand from Latvia which offers six minimalistically packaged products. Their slogan is "Born & Tested in Bad Weather" and the brand is produced by the people behind Dabba (the brand with the wonderful hydrosols). You can check out Bad Weather here (in my opinion the products are very suitable for women, too!).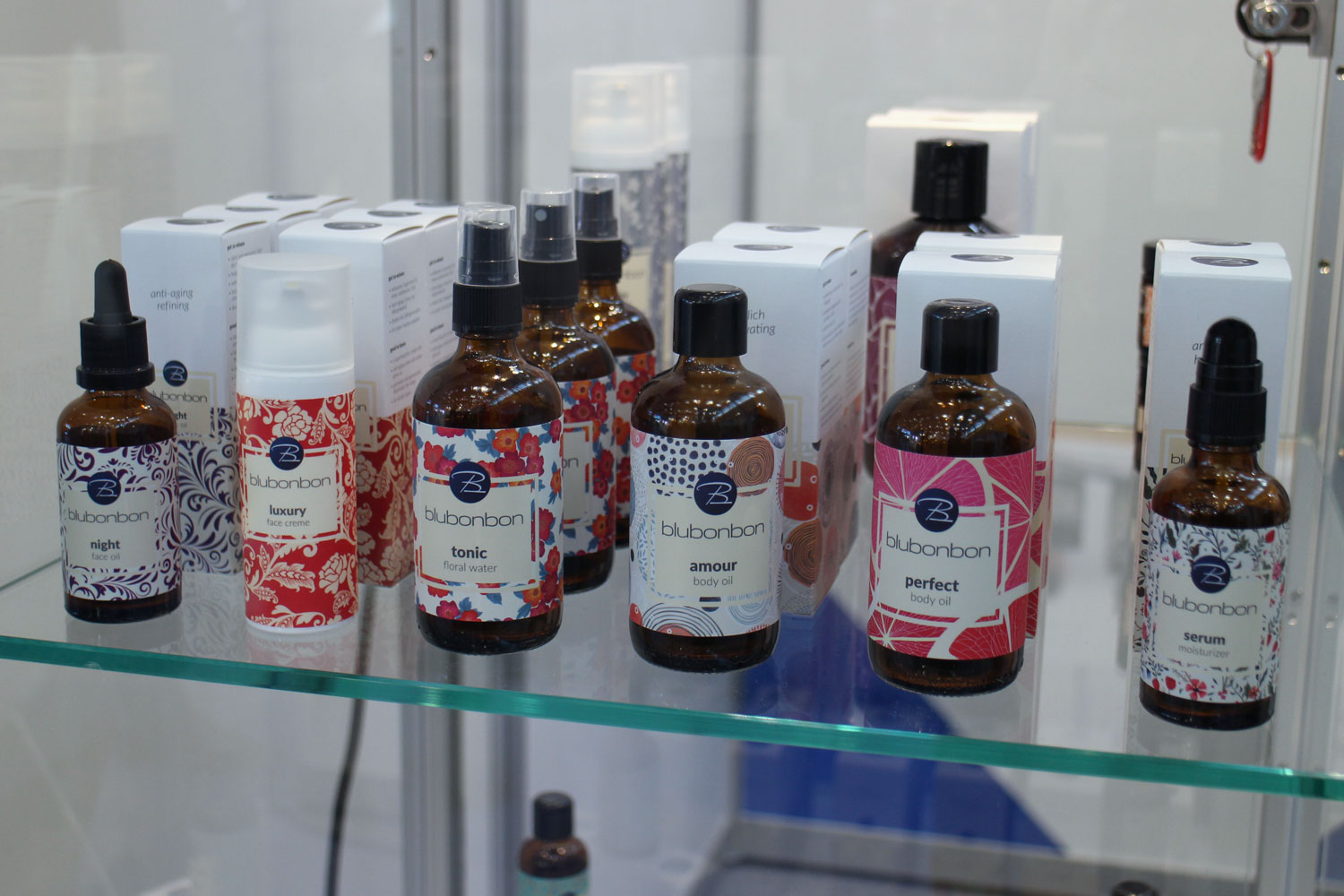 blubonbon
At Vivaness I finally had the opportunity to meet Beate Bösch and Monika Hofer, the founders of Austrian artisan beauty brand blubonbon. The brand was launched three years ago and the portfolio comprises 26 face and body care products. Blubonbon doesn't want to offer any unnecessary products so the brand encourages its customers to mix different products: you can make a face mask by blending the serum and the oil, for example. The products are certified by Bio Austria and look really pretty. Here is the home page of blubonbon.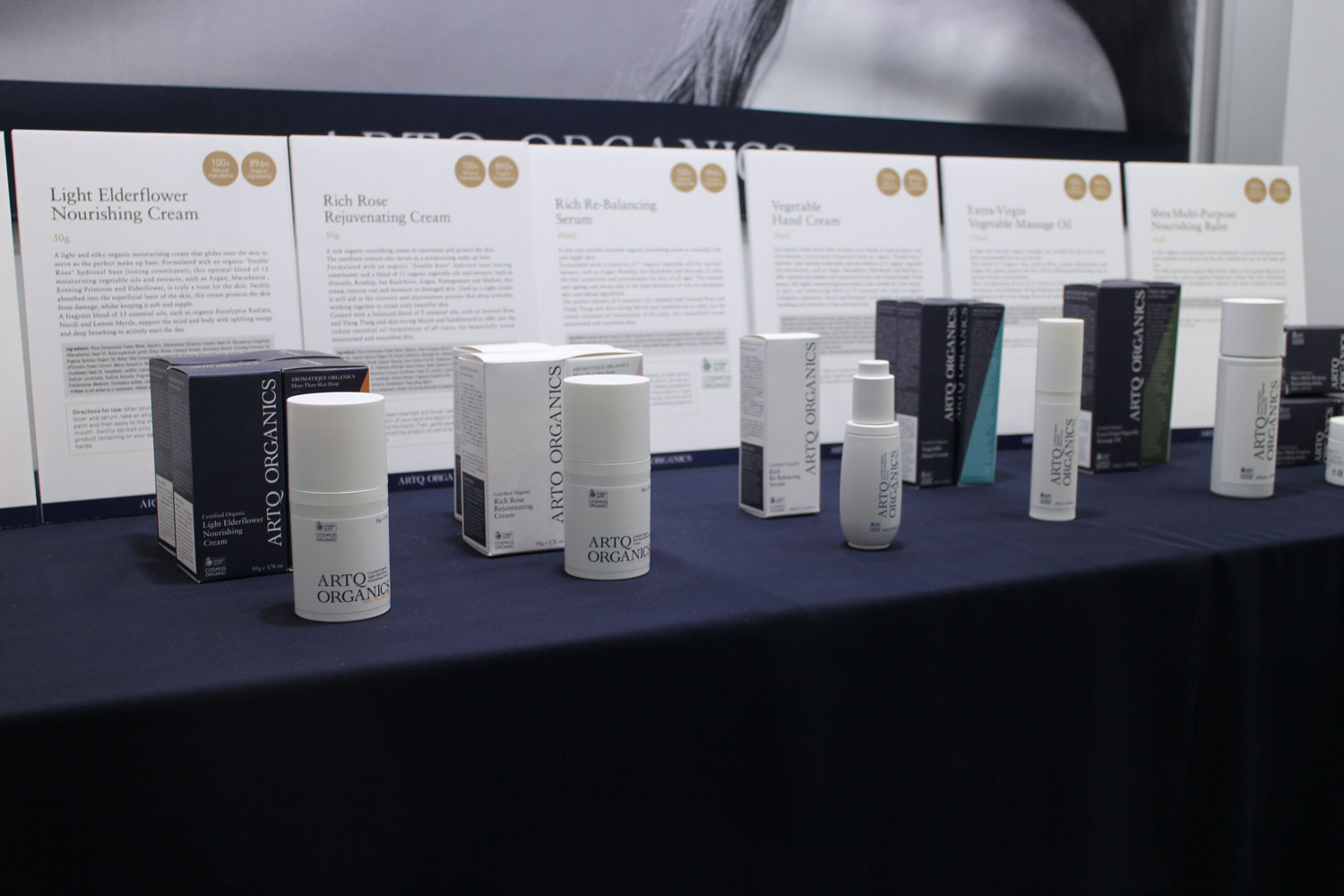 ARTQ Organics
Any organic beauty brand from Japan that exhibits at Vivaness will definitely see me at their booth 😉 ! ARTQ Organics comes from Hokkaido in the North of Japan and offers 13 face and body care products that are formulated according to aromatherapy principles. This range is only available in Japan but the company has also developed a brand for the international market: Atelier Organic offers a Sake Wash, for example, or a Matcha Balm. This is the website of ARTQ Organics.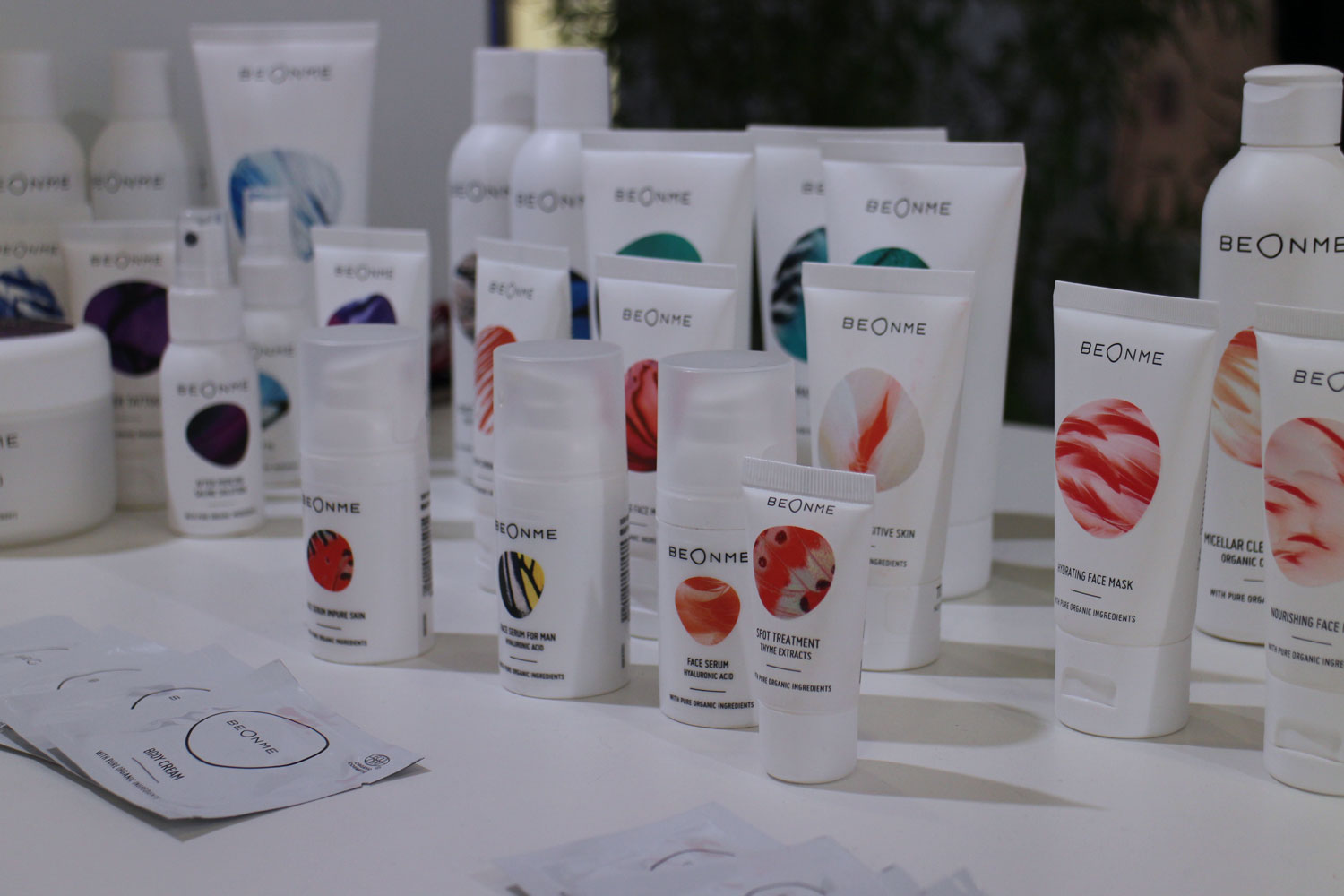 BeOnMe
BeOnMe is from South Tyrol in Italy and was launched two years ago. The portfolio of 29 products is divided into three ranges: a Tattoo care range (including a sun protection cream and professional products for tattoo salons; wow), a Sport range (including an anti-friction gel) and the classic Beauty range. Products are priced from 10 to 14 Euro, all products are certified organic and vegan. The brand's bestseller is the Spot Treatment against impurities which has an interesting product formulation. Here is BeOnMe's home page.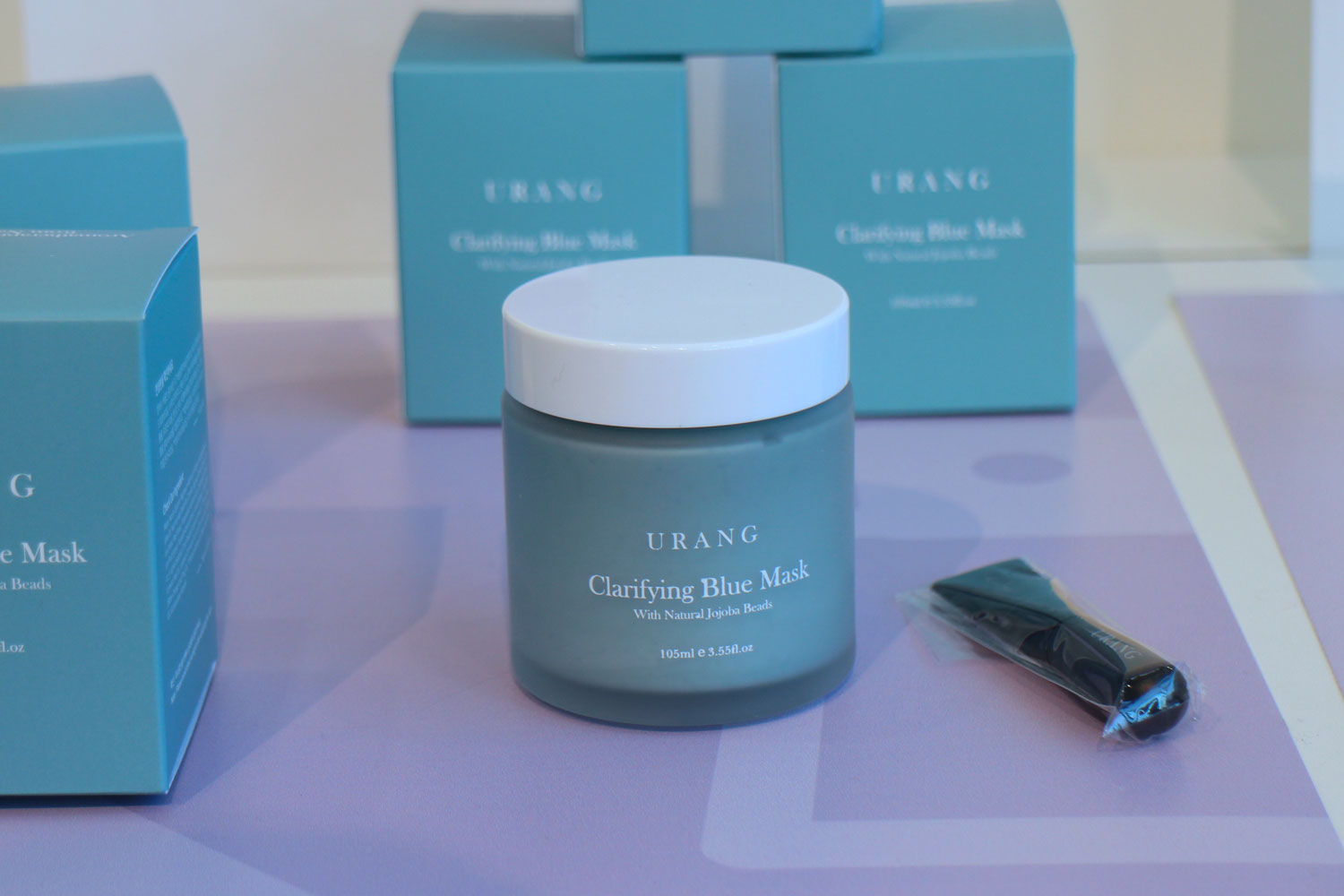 Urang
On the opening day of Vivaness I finally published my blog post about Korean brand Urang. The brand was launched by Jina Lee and her sister and the newest launch in the product range is the Clarifying Blue Mask. The clay mask derives its naturally blue colour from the essential camomile oil and the azulene that is also included in the formula – I will test it soon. I really hope that the brand with its beautiful spherical serums and ampoules will make it to Germany!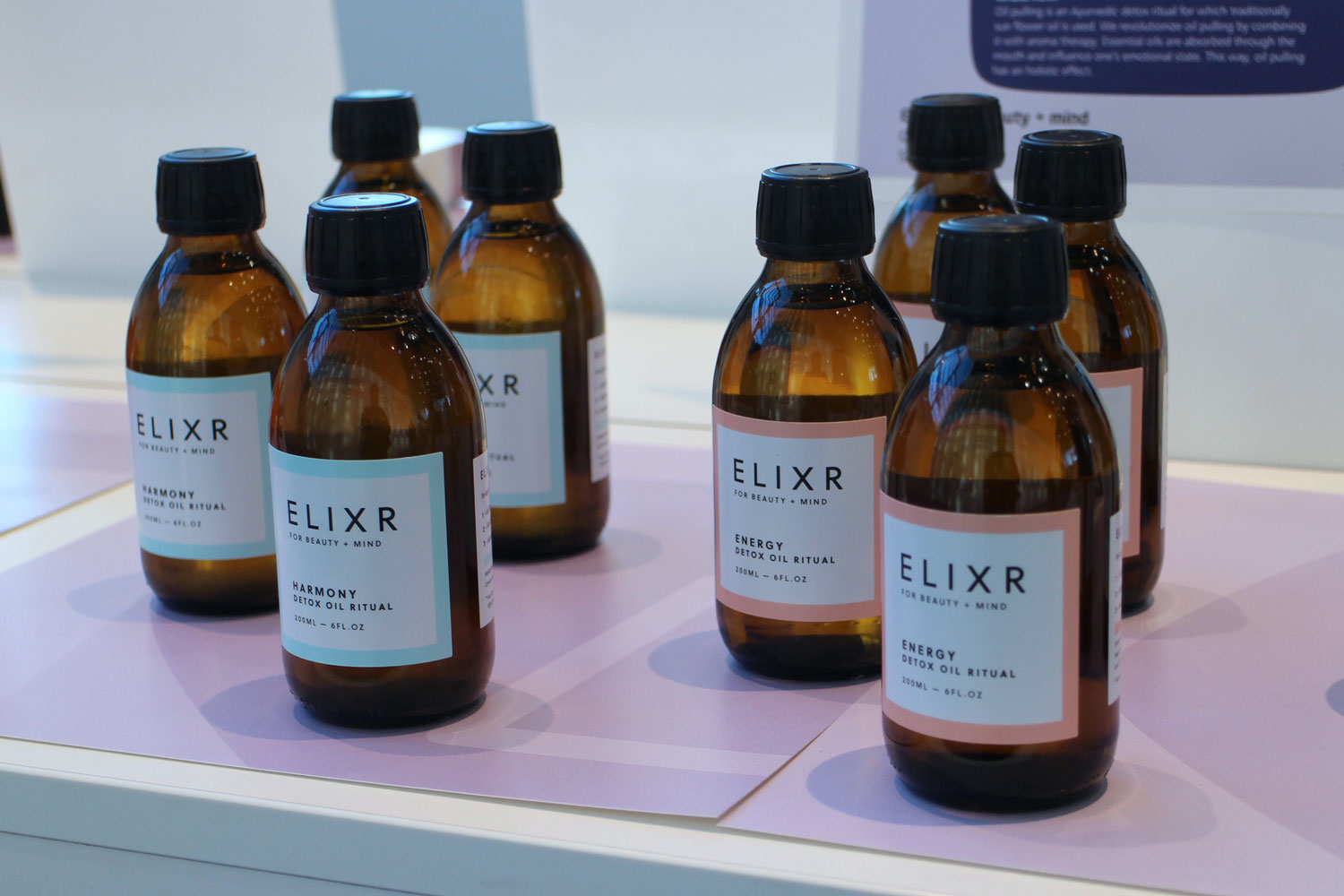 Elixr
I didn't make it to the booth of Elixr but I definitely want to show you the trendy concept of this brand from Freiburg in Southern Germany: the three oil blends are meant for oil-pulling (put a spoonful of oil into your mouth and move it around for around 15 minutes, then you spit out the oil). The product range also includes essential oils and soon there will also be liquid hand soaps. You can look at Elixr's home page here.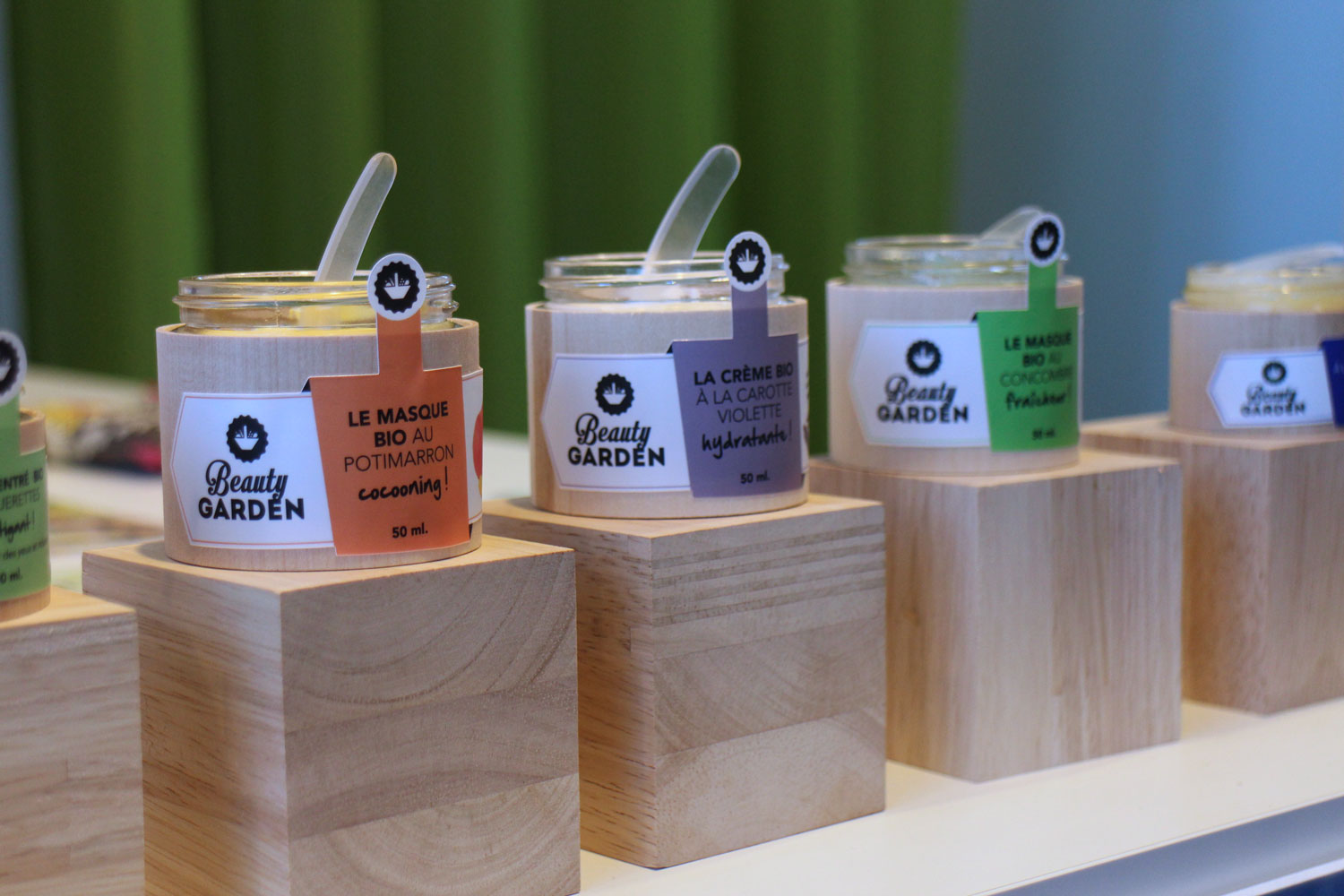 Beauty Garden
Beauty Garden is from France – their wooden jars are really easy to recognise. I was fascinated by the green cucumber mask with its perceptible cucumber fragrance. I'll definitely have to track down this brand next time I'm in France. By the way, the garden which gives the brand its name is located in Limousin and can be visited! Check out the Beauty Garden home page.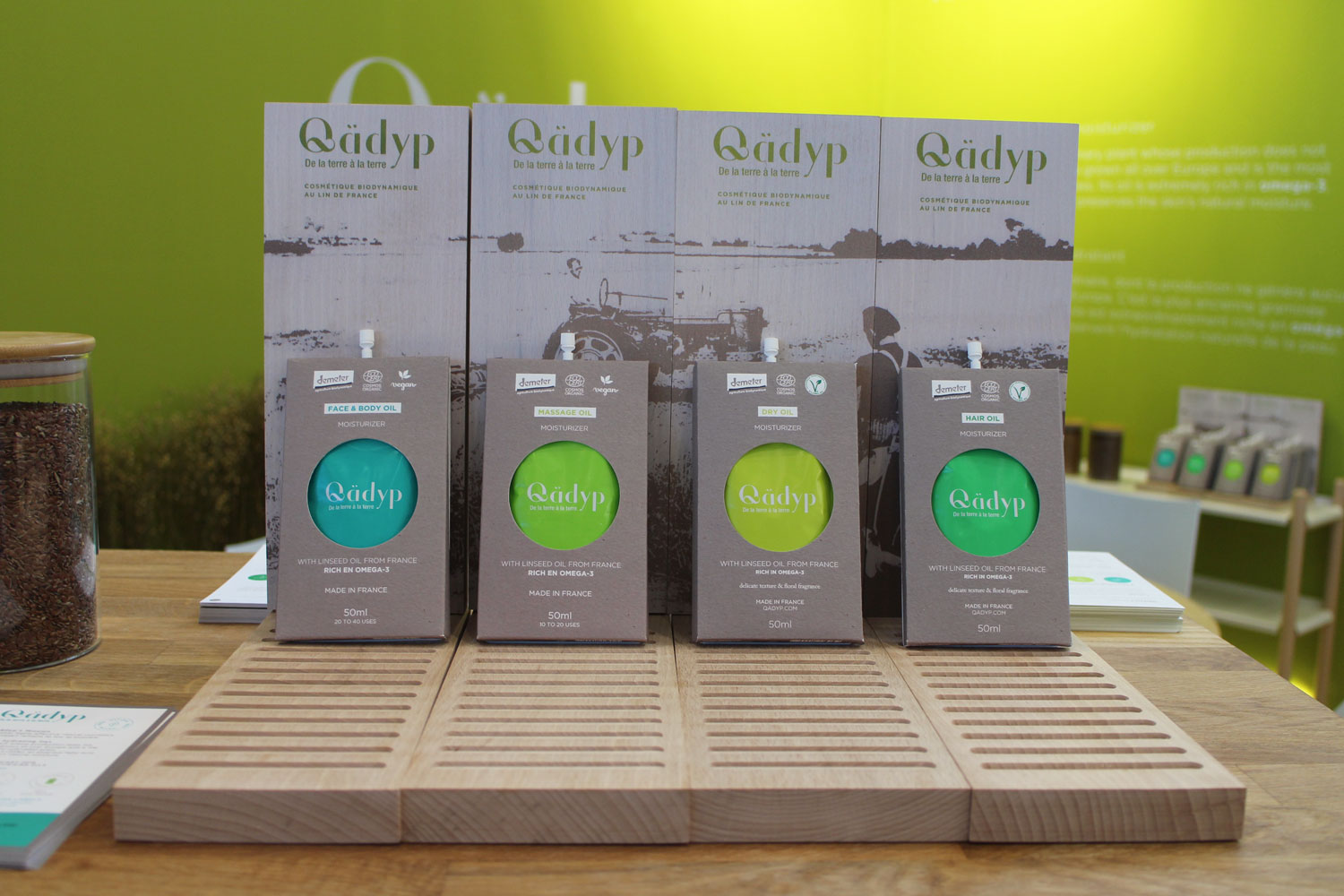 Qädyp
And more niche beauty from France! I do like the North of France so very young brand Qädyp immediately struck a chord. Qädyp offers four different oil blends which are based on Demeter-certified and traditionally harvested linseed oil. The oils are suitable for face, body and hair and are packaged in resealable sachets – very convenient. The brand name comes from the village of Quaëdypre, the home of the brand's founder. Here is the home page of Qädyp.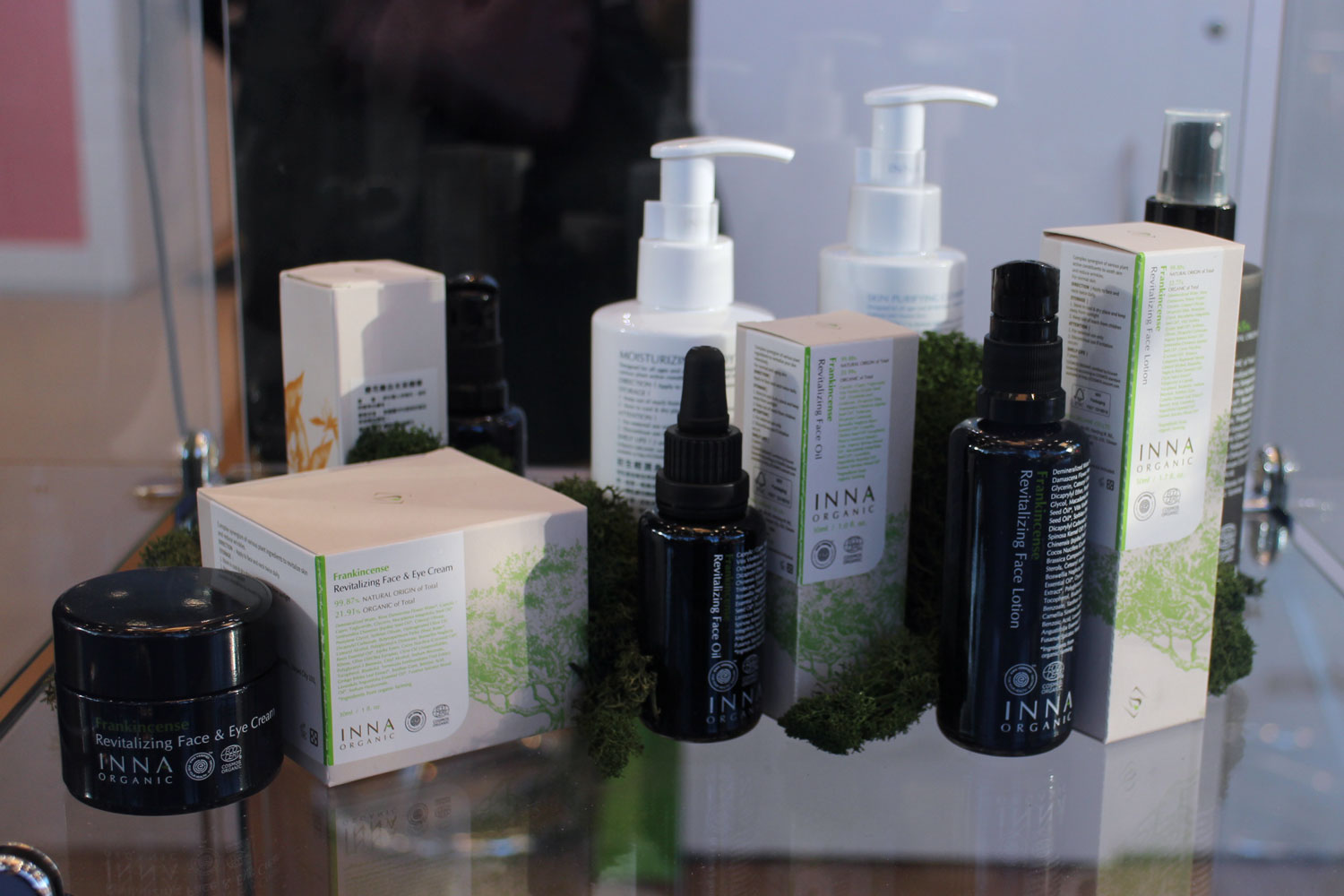 Inna Organics
Inna Organic is one of the best-known beauty brands from Taiwan – I was already introduced to their products courtesy of a beauty parcel from Taipei (here is the blog post). The brand was launched in 2014, the products are certified by Cosmos and EWG. Inna Organic's range offers seven sheet masks as well as face and body care. I like the packaging of the products and the Myrrh Mask had a good effect on my dry skin. Inna's new product is a sheet mask for sensitive skin which is formulated without essential oils. This is Inna Organic's home page.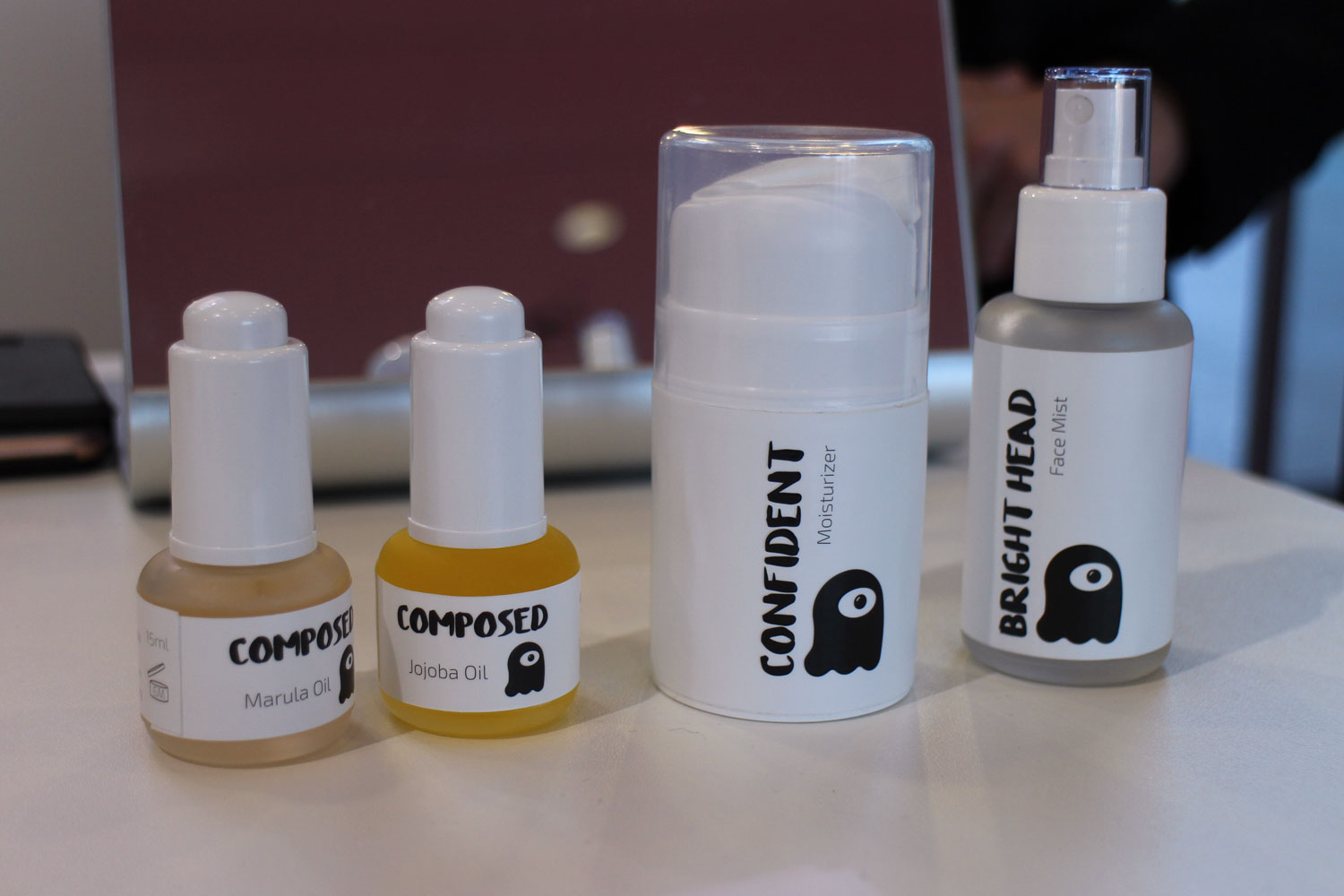 Xeno
So, what do you see in this logo? My immediate association was a fried egg, sunny side up 😉 – but most people tend to see a small monster or a ghost. Xeno designed the logo so that everyone can see in it whatever they want – their brand's slogan is "My Way". The young Hamburg-based beauty brand offers four products: two face oils (including one with marula oil), a face cream and a face spray. The product formulations are minimalistic and do not contain alcohol or fragrance. Here's the brand's website.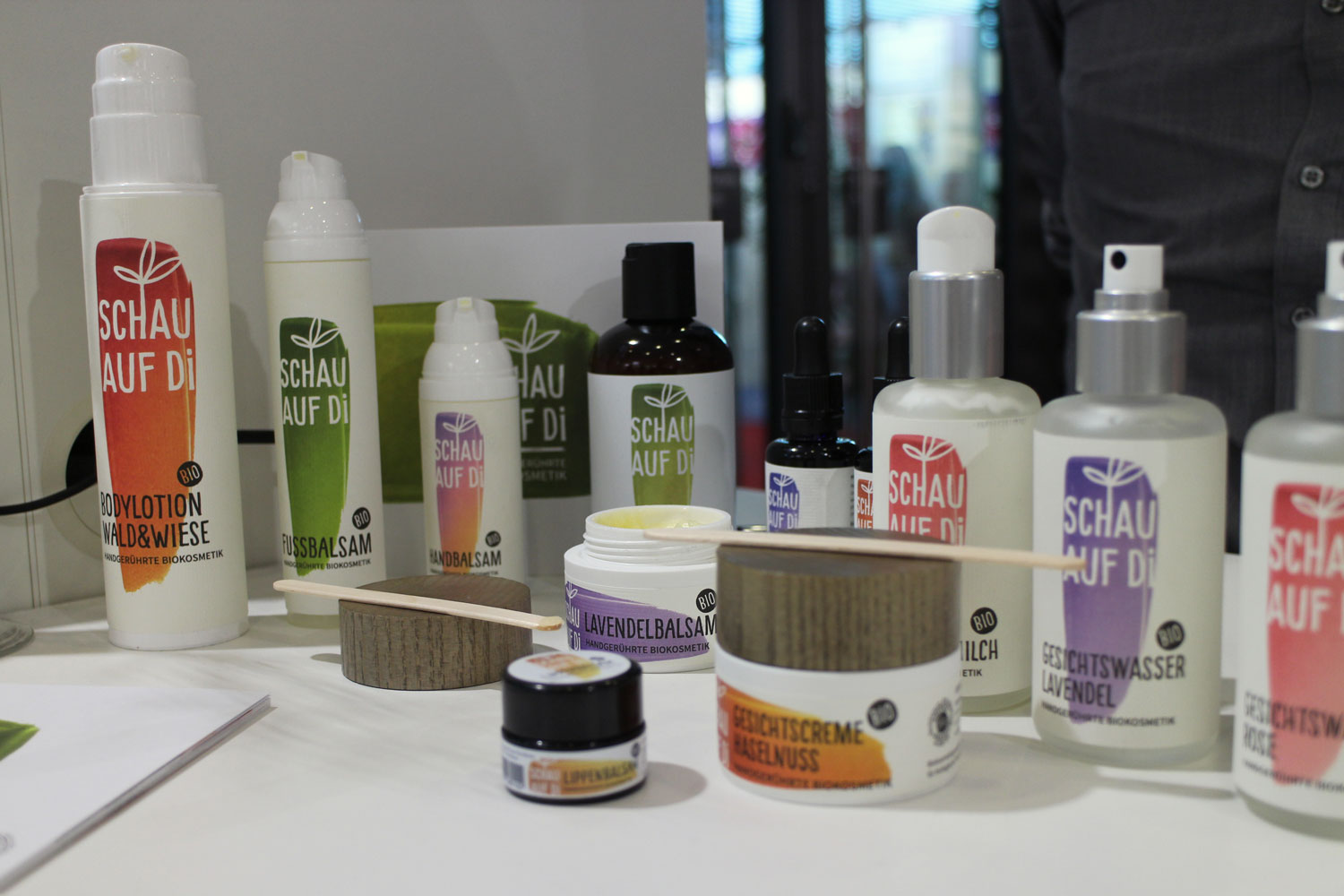 Schau auf Di
Schau auf Di is a young organic beauty brand from Lower Austria. Their 14 products are sold in various stores in Austria, for example in the Sonnentor shops. Regional ingredients, like hemp oil or hazelnut oil are very important to Schau auf Di. I immediately liked the Bodylotion Wald & Wiesen ("forest & meadow") which is scented with aromatic notes of frankincense and rosewood. You can check out Schau auf Di's homepage here.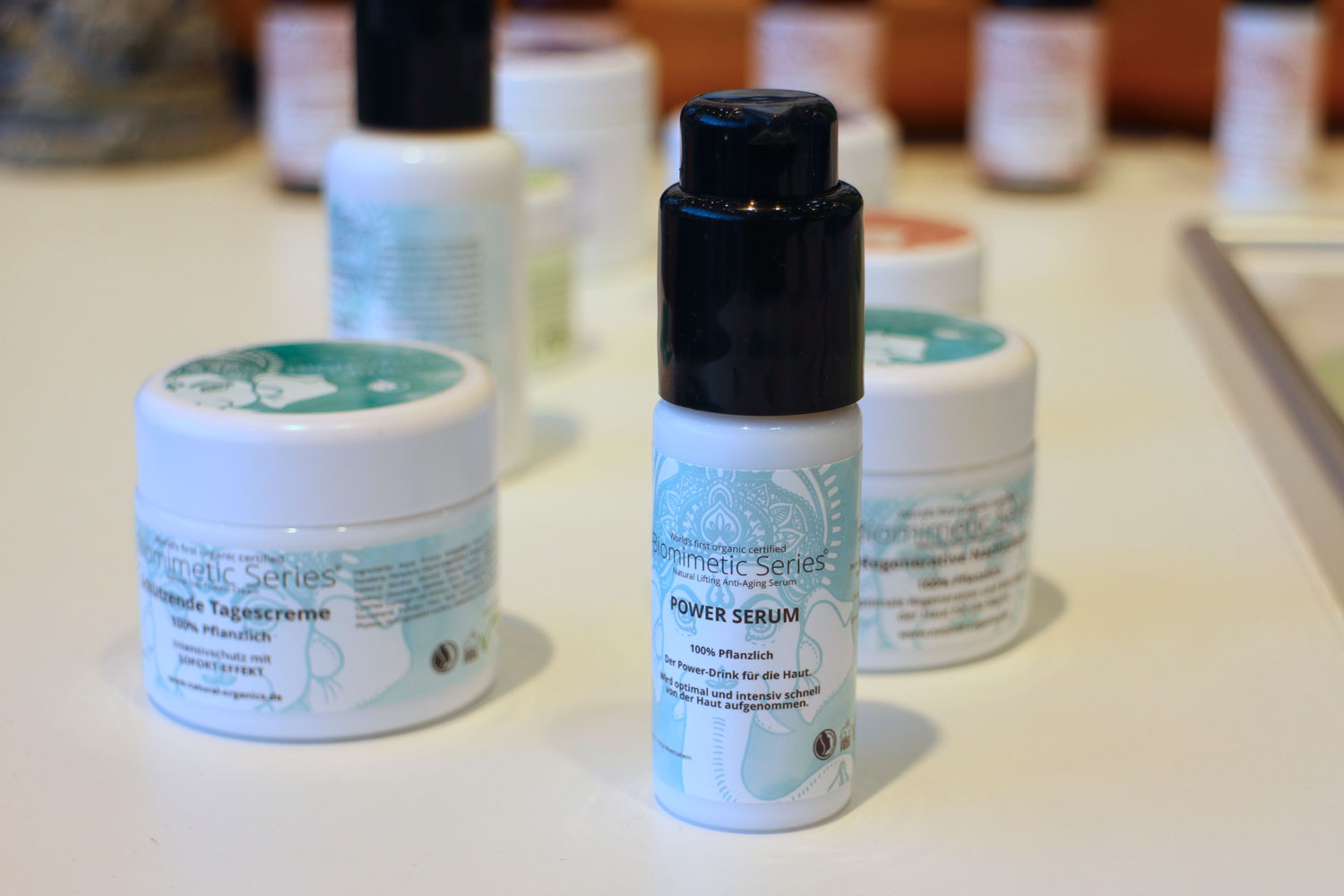 Natural Organics
I didn't know German brand Natural Organics from Rheinzabern in Rhineland-Palatinate but at the Vivaness Novelties booth I spotted their new biomimetic skin care range which comprises a day cream, a night cream and a serum. The formulations combine lecithin, squalane and tocopherol wih plant extracts from red algae, tree fern and rock rose. Products are certified by Natrue and you can find out more about the Natural Organics on their home page.
Fiilit Parfum du Voyage

Paris-based beauty brand Fiilit Parfum de Voyage was launched two years ago. And the name says it all: each fragrance is dedicated to a travel destination, with places ranging from Morocco over Japan all the way to Bali in Indonesia. Not every fragrance is 100% natural (similar to Aimée de Mars) but they are based on organic alcohol. The perfume Camina Provence (100% natural) is new in the range; the fragrance combines lavender, fig and cypress. It is also available in a refillable travel flacon. My recommendation for anyone who wants to switch from conventional perfume to natural fragrances. Here is the home page of Fiilit.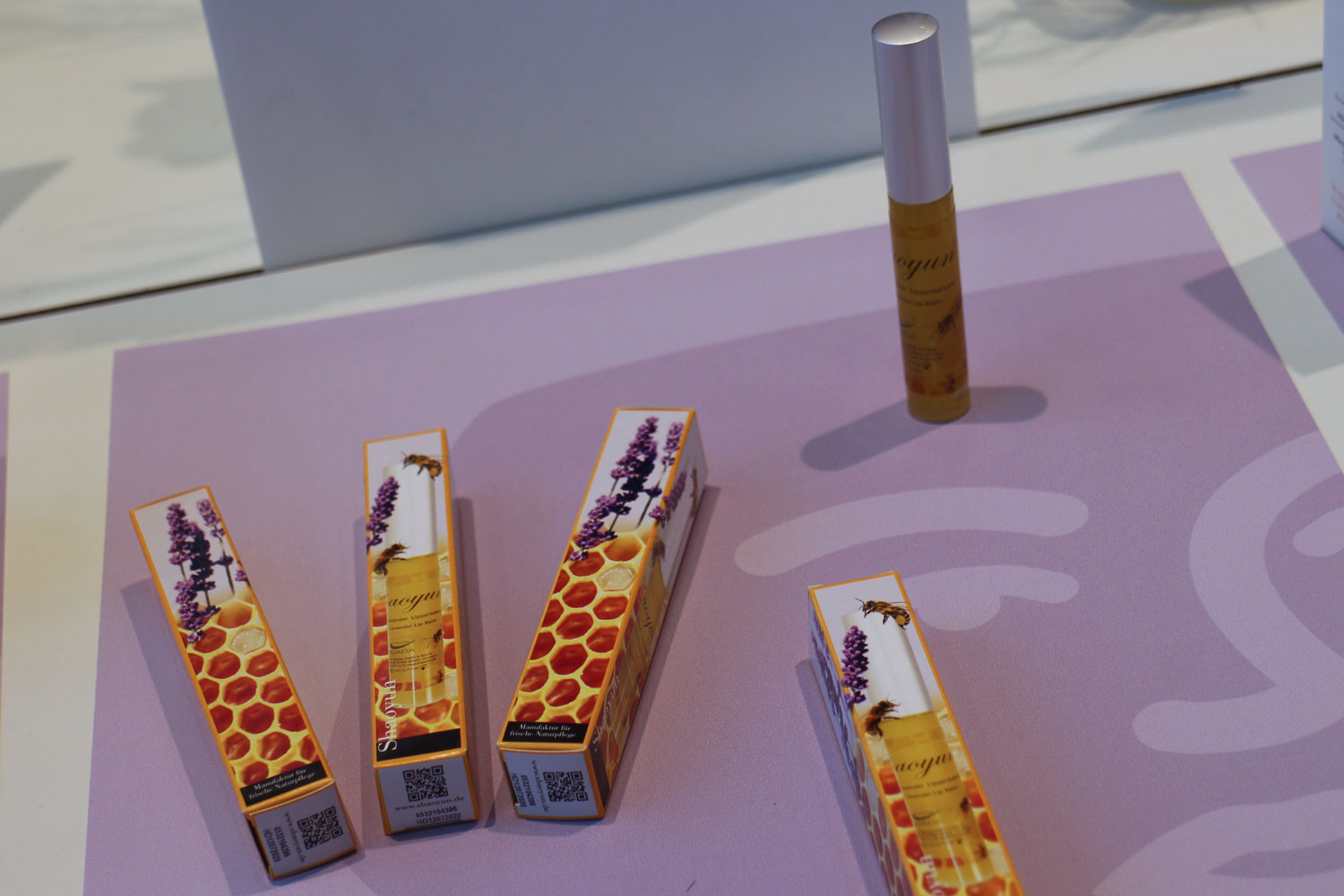 Shaoyun
The products of Shaoyun, a brand from Speyer in Rhineland-Palatinate, are formulated according to the principles of Traditional Chinese Medicine. Founder Shaoyun Liang developed her almost medicinal beauty range to help customers with skin problems. One of Shaoyun's new products is the Gelée Royale Lavender Lip Balm. More information about Shaoyun is available on the brand's home page.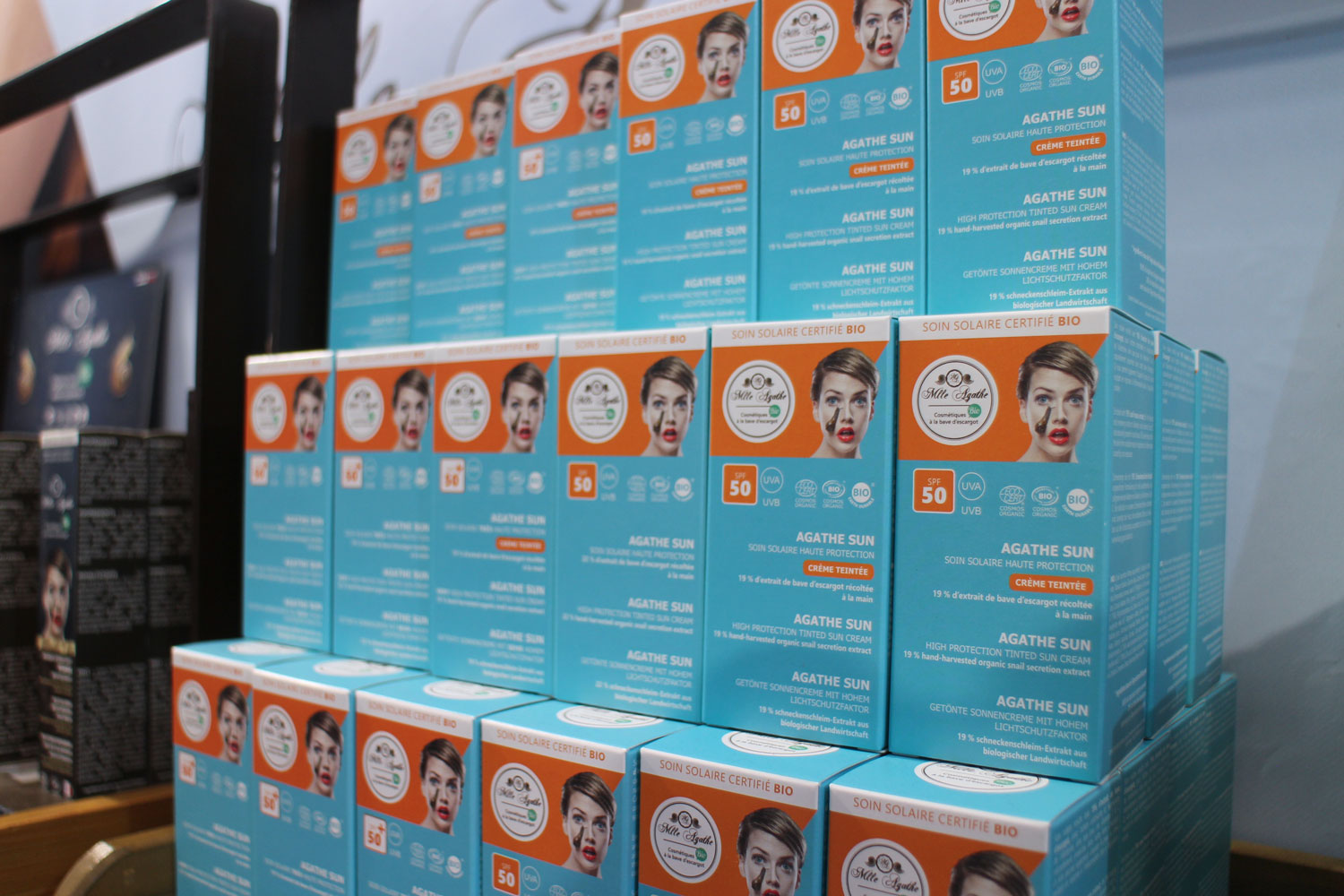 Mlle Agathe
There were several snail beauty brands exhibiting at Vivaness – I visited two of them. Mlle Agathe is from France: the brand offers a very large range of face and body care as well as nutritional supplements. Amongst the new products this year are the Sun Cream with SPF 50+, the Anti-Age Serum with 93% snail extract and a lip care product. The products are formulated with concentrated snail mucus extract which is manufactured under low pressure and at cool temperatures. The manual and careful harvesting of the snail slime is controlled by Ecocert. Here is the home page of Mlle Agathe.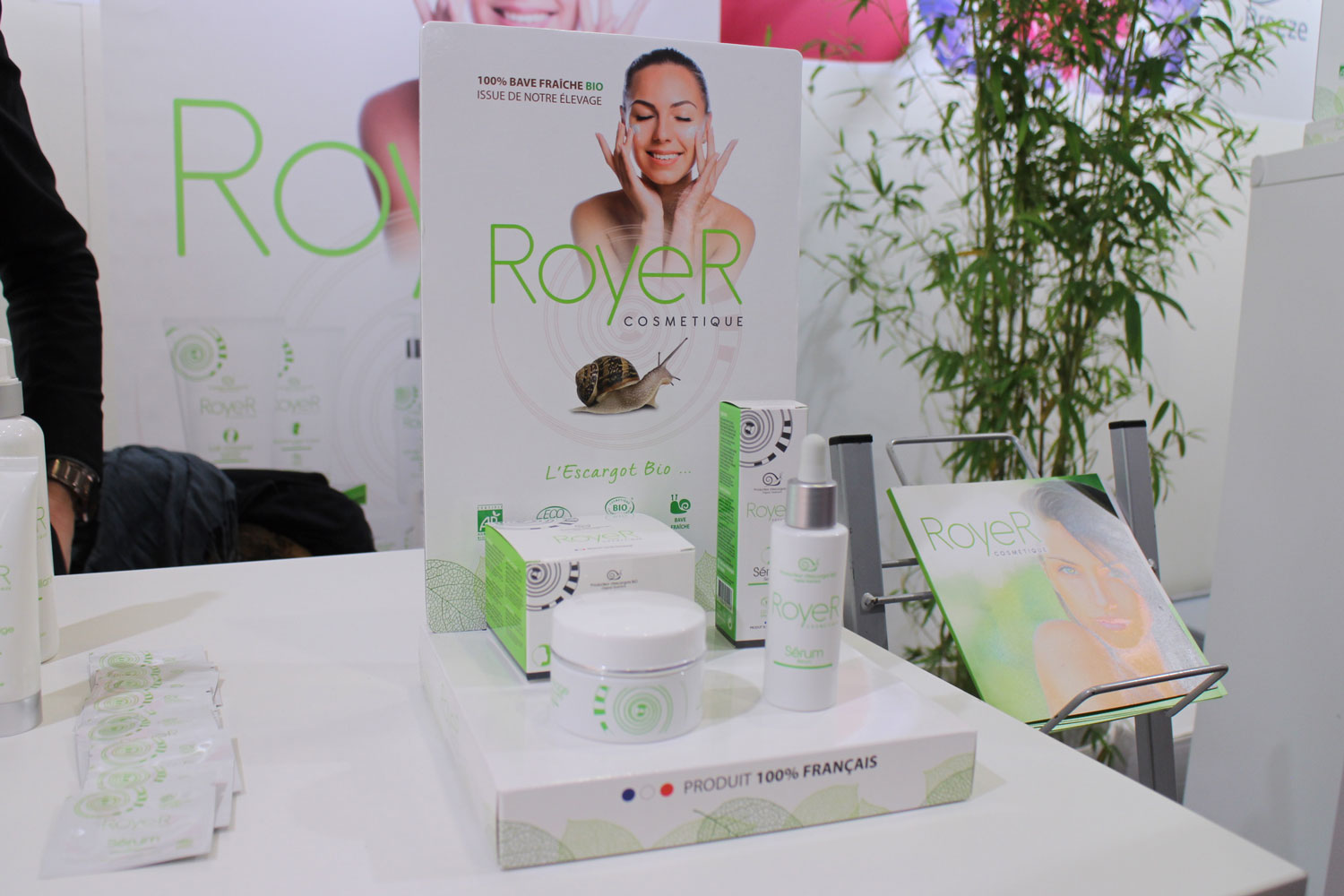 RoyeR
This French snail cosmetics brand uses fresh snail mucus (not extract) and says that this is the best way to safeguard the valuable ingredients – snail mucin contains allantoin, collagen, elastin, glycolic acid and vitamins. RoyeR's patented and careful harvesting process is also certified by Ecocert. The brand's product range offers skin and body care and hair care. You can check out the Cosmebio-certified products on RoyeR's website.
Of course there were many more interesting exhibitors at Vivaness but I was unable to squeeze all of them into this article – it would definitely go beyond the scope of this blog post 😉 . Brands like Green + The Gent (men's care) and Anakena (beauty from Easter Island) were also at Vivaness but didn't have any new launches to show this year.
Wow, this Vivaness coverage is really time-consuming! I think you can probably see how much work it is to compile these articles… and of course I will also feature some of the new products on this blog as soon as I can test them out!
[Click here for more pictures and the original German article Naturkosmetik: Neue Nischenmarken von der Vivaness 2019]