Dear international readers of Beautyjagd,
Welcome to the next English-language edition of Beautyjagd! This is a condensed version of the most important articles that have appeared on my blog over the last two weeks. For more information about this new format, click here. And now: enjoy the best of Beautyjagd in English!
Best wishes
Julia

Biodeo Sauge et L'Orange and Sauge et Limon from Baldini by Taoasis [Sponsored Post]
Curtains up for Baldini's pretty new deodorant sprays! Biodeo Sauge et Limon (Sage & Lemon) and Biodeo Sauge et l'Orange (Sage & Orange) almost look alike, don't they? However, the two sprays are actually very different as you will find out…
Biodeo Sauge et L'Orange: Goodness me, I'm feeling hot! I really need to take off my bamboo hat and spray a light mist all around me. Luckily I look good even without accessories.
Biodeo Sauge et Limon: Oh, I'll also spray a bit to keep you company although I don't really need to – my essential lemon tree oil lasts for a very long time.
Biodeo Sauge et L'Orange: Don't brag so much! Your lemon tree oil might last longer but it also means that you smell more woodsy and spicy than me! Personally, I prefer fruity bitter orange and green mandarines – and I still contain sage which, as we all know, helps to inhibit perspiration.
Biodeo Sauge et Limon: Yeah, ok, calm down! To each his (or her) own! I also contain sage and a citric acid ester which prevents the skin's enzymes from decomposing the sweat and therefore preventing bad smells. Although I must admit that I am rather proud of the strong effect I have thanks to my anti-bacterial lemon tree oil 😉 .
Biodeo Sauge et L'Orange: Well, we are both pretty hot, aren't we? And we have nothing against a cocktail 😉 – although we can burn a little if we are applied on freshly shaved skin.
Biodeo Sauge et Limon: Well, I always think it is much easier to shave in the evening and apply deodorant in the morning – then again, I am a morning person – erm, morning deodorant, I mean!
Biodeo Sauge et L'Orange: And quite a few other deodorant sprays are really envious of our orange Demeter seal! I love to dress up and the orange Demeter brooch is perfect for this 😉 .
Biodeo Sauge et Limon: Well, we both contain 93% Demeter-certified ingredients – I guess, we are alike in some respects! And of course we also wear the NaTrue and BDIH seals – and we are vegan, too.
Biodeo Sauge et L'Orange: Well, let's spray to that!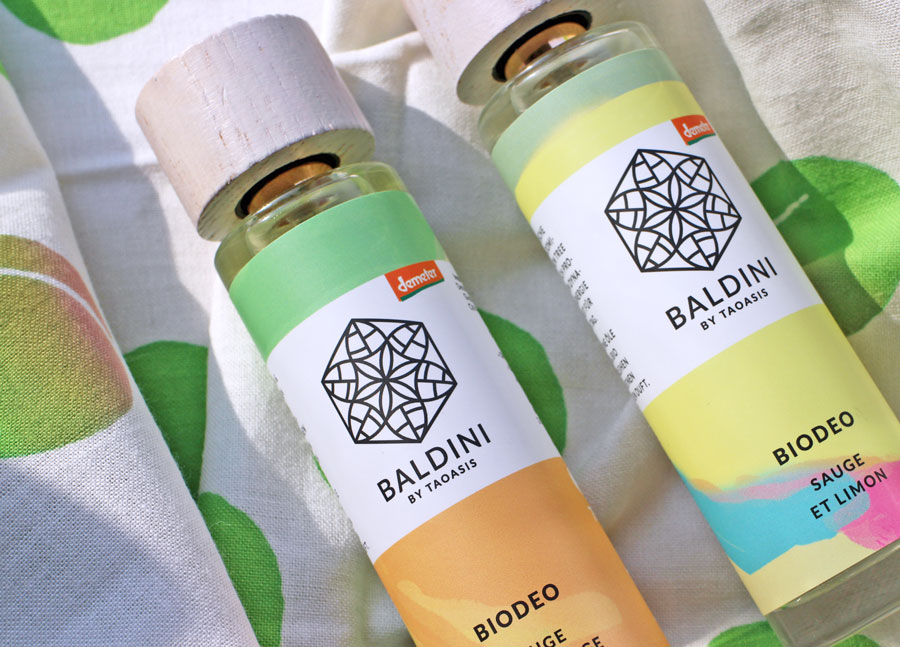 In case you are confused because you've just heard two deodorant bicker, I'll be happy to translate the previous dialogue 🙂 .
I first discovered the two new deodorants from Baldini by Taoasis at Vivaness trade show this February. I was given a deo sample to try out and was impressed by how well Sauge et Limon worked on my skin. However, the spray really has a strong herbal-aromatic fragrance with woody notes (which is not to everyone's taste!) but that is probably the reason why it lasted so long. The citrus notes evaporate fairly quickly. Essential lemon tree oil has a strong anti-bacterial effect (the lemon tree is actually a relative of the manuka tree and the tea tree!).
The Biodeo Sauge et Limon prevented smells for the entire day, even when it was hot outside – it really exceeded my expectations. The flacon is half empty already! The Biodeo Sauge et l'Orange smells a little like bitter orange marmalade, fruity and aromatic (because of the sage) but it didn't last as long as Sauge et Limon; I had to reapply the spray during the day. Both deo sprays are based on (Detemer-certified) alcohol so I never apply them on freshly-shaved skin – then again I shave in the evening under the shower and apply my deo in the morning, so it all works out 😉 .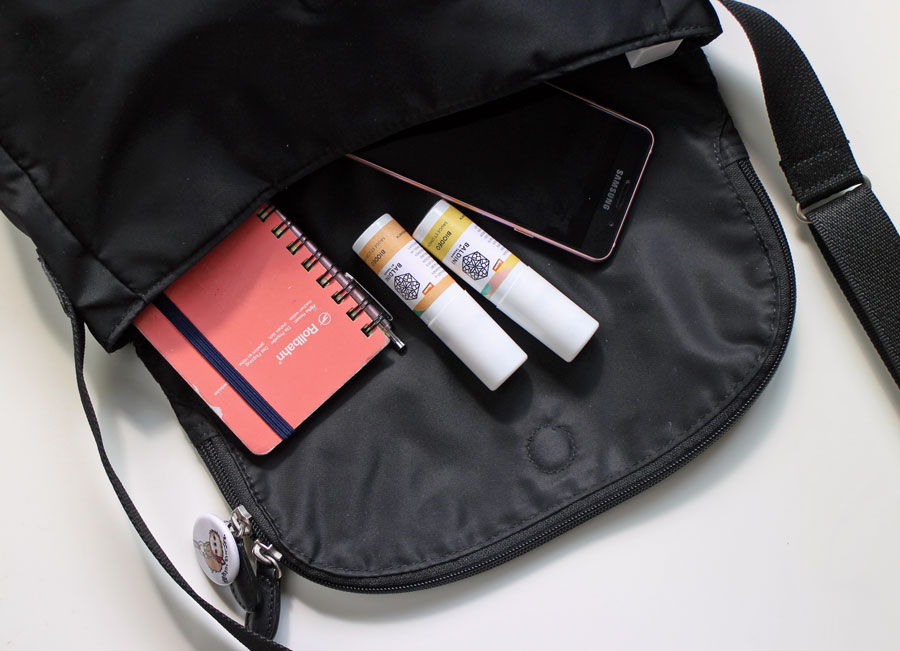 I also like the pretty packaging of the two deo sprays: the spray nozzle is protected by a cap made from light bamboo wood. I have already introduced Taoasis' fragrances Aqua di Tao and Laura Lorenzo on Beautyjagd, as well as the organic fragrances MyTao. Taoasis is based in the German city of Detmold and was founded by Axel Meyer: he originally owned a publishing company for nutrition and health and in 1991, he established the Taoasis Natur Duft Manufaktur. In Germany, Taoasis products are traditionally sold in pharmacies; in 2005 Meyer launched Baldini, a brand especially for the organic food retail channel. The two new deo sprays are from the Baldini brand.
Both deodorant sprays are packaged in glass bottles, contain 70 ml and cost 9.90 Euro. In Germany they are available in organic supermarkets or online – here is the homepage of the manufacturer. The deodorants are also available in the hand-bag sized pump sprays which you can see on the picture.
[Click here for the original German article Biodeo Sauge et l'Orange und Sauge et Limon von Baldini by Taoasis]
New Limited Editions from Dr. Hauschka, Alterra and Alverde
It's almost the weekend! And here is a compact review of three new limited editions which have just hit the shelves (I wouldn't want you to miss anything 😉 ) .
Ok, let's start with German brand Dr. Hauschka – like this year's spring edition, Dr. Hauschka's autumn/winter edition is called Welcome back: it presents five of the brand's best-selling makeup products from previous limited editions. With the exception of the Kajal Eyeliner Duo Black/Berry (an extravagant aubergine colour!) I have already shown every product from Welcome Back on this blog: The Lavender Dream Eyeshadow Palette from 2011 was actually responsible for drawing me back into the world of organic colour cosmetics. The Illuminating Powder – launched as part of the Slow Mood Limited Edition in 2012 – has a lot of fans already. I must admit that it took me a while to warm up to this product. However, over the last few years my skin has become drier and now I really like the beautiful glow I get from the Illuminating Powder. I think it's great that the Matte & Shimmer Blush Trio is back; I liked the product so much when it first came out that I bought a backup, just in case! I had briefly mentioned the Lip Gloss Blackberry No 6 (a beautiful blackberry-coloured shade which tints the lips a light, shiny berry colour) when I introduced the Limited Edition Natural Glamour back in August 2011. The limited edition Welcome back from Dr. Hauschka is now available in organic supermarkets, department stores and, of course, online. I received my products from Dr. Hauschka.
I was recently received the new limited edition Nude Perfection from German drugstore retailer Rossmann's own label brand Alterra. The collection contains three Cream to Powder Eyeshadows in shades Espresso (a nice taupe), Capuccino (a warm light brown) and Latte Macchiato (a cream tone). The eyeshadows offer light coverage only (also, they smeared on my eyelid) – it's a pity because I really like the colours. There are two Eyebrow Stylers in a lighter and a darker shade (for my eyebrows, shade 01 Light turned out to be ideal; compared to this colour, Alverde's blonde Eyebrow Gel is a little more yellow-toned). Nude Perfection also offers a two-toned Perfect Contouring Set with neutral undertones and a creamy finish (it is probably my favourite piece from this collection), two creamy Concealers which are both very light in colour and provide only a little coverage, and the vegan Ultimate Volume Mascara with a classic brush applicator – the mascara looked ok on my lashes but it wasn't sensational or anything. Altogether I like this collection, it's a good combination of products; even if there aren't any super-exciting colours. The new limited edition is available in outlets of the Rossmann drugstore chain.
And now let's move on to Alverde! Alverde is the certified organic own label brand of Rossmann's competitor DM – and Alverde's new limited edition is called Beautiful Birds & Bees. Although the display case is decorated with birds, bees and plants I wasn't exactly bowled over by it. I bought the Anti-Shine Powder which has a hint of mauve to make the skin appear like porcelain, and the lightly tinted Lip Balm in shade 30 Delicate Pink. The lip balm has an oily-waxy texture and a minty fragrance; it leaves a light shimmer on the lips. The other two Lip Balm shades were too pink for my taste. The collection also includes three lip glosses that are packaged in tubes; the finish is transparent and they are scented with sugary notes. The baked mono eyeshadows have a shimmery finish with visible glitter particles, the coverage is light. There is also an Overnight Caffeine Lash Serum and a Fragrance Splash Roll-On which has a floral-citrus fragrance – for me this is the typical Alverde smell! The limited edition is now available in all outlets of the DM drugstore chain.
[Click here for more pictures and the original German article Neue Limited Editions von Dr. Hauschka, Alterra und Alverde]
Postcard 3: Beet&Yarrow from R.L. Linden&Co.
Hello my dear,
Do you know what beets and yarrow smells like? You might be surprised; the new fragrance oil of US brand R.L. Linden was actually inspired by a flower store called Beet & Yarrow which is located in the US city of Denver. Denver is where R.L. Linden manufactures their fragrances and products – check out the founders Lynn Flanagan-Till and Robin King on this photo! R.L. Linden works with local companies, manufacturers and brands to produce their cosmetics.
The Perfume Oil Beet & Yarrow smells amazing: a classic floral fragrance with tuberose, orange blossom, frangipani, gardenia and a hint of violet. I can also detect green notes of plant stems which provide a certain earthy character – I don't know whether you can see this in the picture but the Roll-On actually contains a few plant fragments! All of the ingredients used in Beet & Yarrow are organic, the perfume oil is based on jojoba oil and processed coconut oil. I've been reapplying the scent like crazy and I keep dreaming about opulent flower bouquets strategically placed around my spacious and oh so sophisticated mansion 😉 .
And I keep thinking that this autumn or winter I really would like to buy another of R.L. Linden's Denver fragrances – perhaps a perfume which tells the story of an artisan chocolate company or an interior design store, a butcher or perhaps a manufacturer of cocktail bitters…?
Lots of love
Julia
PS: I bought my Perfume Oil Beet & Yarrow from R.L. Linden at Savue Beauty. Here is the homepage of R.L. Linden which gives more information about their fragrances.
[Click here for more pictures and the original German article Postkarte 3: Beet&Yarrrow von R.L. Linden&Co]
Foxes in the Forest: Limited Edition Body Collection from Green People
I am in fox fever! It all started with a photo that fellow blogger Chez Matze took while he was walking through the woods – he kindly "lent" me the picture so I can present it on Beautyjagd.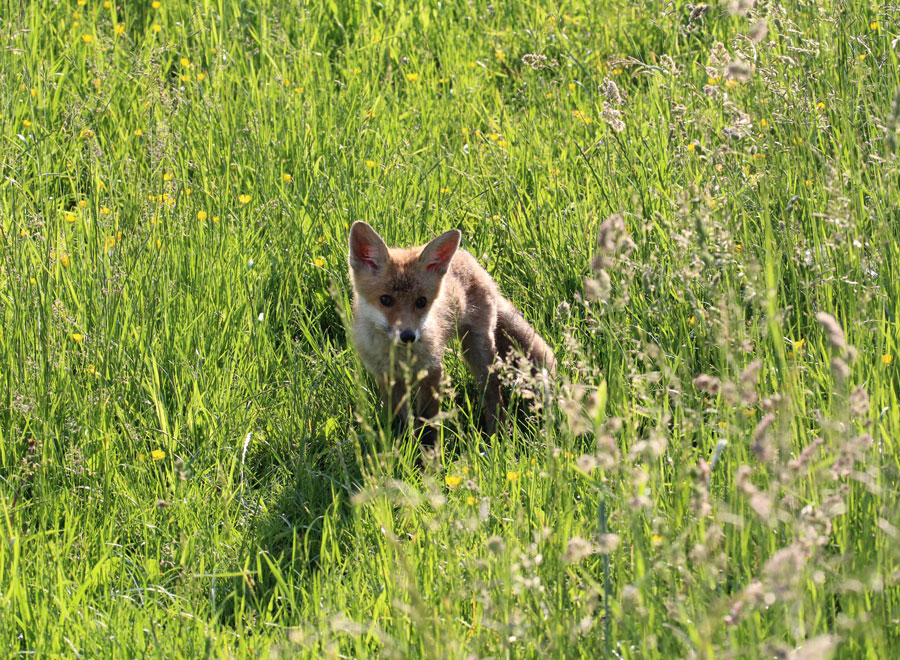 The picture shows a very young fox who is (presumably) on one of his very first excursions into the wild. I am captivated by the look in the eyes of this fox cub.
Then a taxi driver recently told me a Turkish proverb which I liked so much that I wrote it down immediately: "a walking fox is better than a sleeping lion". We had been talking about how important it is to keep moving, to make active changes in your life, even if they are small and might seem comparatively insignificant.
So I think this might be the perfect opportunity to introduce the Fox Set from Green People which I bought during my trip to England this March. Green People is a UK brand which is based near Brighton in the South of England. They have launched a number of body care gift sets in cooperation with the Woodland Trust, a UK charity which was founded in 1972. The Woodland Trust is campaigning to protect the forests in Great Britain, especially the older forested areas. From each purchased gift set, 50p are donated towards Woodland Trust. Green People has also guaranteed the charity a sum of at least 5,000 GBP.
I like the packaging with the fox design but also the fragrances of the two products: lemongrass and ginger – delicious and invigorating but at the same time surprisingly soft. The combination of essential oils that was used in the fragrance is listed in the INCI declaration.
The Body Wash Lemongrass & Ginger has a yellow-transparent colour and a soft pliable texture which is neither too liquid nor too "stiff" (some shower gels from Alverde and Alterra tend to be rather thick). The body wash is based on tensides from coconut sulfates and coco betaine as well as a sugar tenside; the spicy ginger scent stays on the skin for a while. You can also use the body wash as a bubble bath additive.
The Body Lotion Lemongrass & Ginger feels refreshing on the skin, the creamy texture leaves some streaking at first but is then absorbed quickly, leaving a soft protective but non-sticky film on the skin. The lotion is based on water, shea butter, sunflower oil, glycerin and olive oil and I think it is quite suitable for drier skin types, too.
Both products are packaged in tubes which contain 100 ml each; they come as a gift set in a cardboard box. I bought my Body Collection for 19.95 GBP but I have also seen the gift set online at Naturisimo for 17.95 GBP.
[Click here for more pictures and the original German article Füchse im Wald: Limited Edition Body Collection von Green People]
Postcard 4: Natural Eyeshadow Crazy Octopus from Uoga Uoga
Hello my dear,
if an eyeshadow is named "crazy octopus" I simply can't resist! The Natural Eye Shadow in Crazy Octopus from Uoga Uoga has become one of my summer favourites. Although it is a loose eyeshadow it is very easy to apply. I'd describe the colour as a matte salmon pink-orange which has the perfect pigmentation, neither too strong nor too weak. The swatch in the picture looks a little more orange than the eyeshadow actually is.
I apply Crazy Octopus with a brush: first I shake some of the powder into the lid of the eyeshadow pot and then I dip my brush into these loose pigments – that way, I never get too much colour onto my brush! The eyeshadow base of German brand Benecos works well under this powder shadow. If you brush Crazy Octopus onto the entire movable lid and you want a stronger effect, apply two or three coats of the colour; work the powder into the lid a little. The shade looks great with my blue eyes but I think it'll also work well for brown or green eyes. For a more subtle look, apply just one coat of Crazy Octopus which gives a soft, warm glow to the skin – a great day-time look. It is also fun to mix the Octopus with light brown or taupe shades, or use the eyeshadow as a light blusher on your cheeks.
By the way, Uoga Uoga comes from Lithuania (the brand name means "berry berry") so the eyeshadows also contain some amber – very suitable for a product named after a sea creature, don't you think?
Lots of love,
Julia
PS: I received the Uoga Uoga mineral eyeshadow Crazy Octopus from Sirkku, the owner of Hilla Naturkosmetik. You can buy the eyeshadow through Hilla (or other online shops); it costs 12.90 Euro.
[Click here for more pictures and the original German article Postkarte 4: Eyeshadow Crazy Octopus von Uoga Uoga]
An antique makeup pot from Paris
Do you remember my article series Fragrant Beauties from earlier this year? That same collection of antique perfume flacons also includes a few other beauty items which I liked – and here is one of them: a little rouge make-up pot (I can't really think of a better description) which was manufactured at around 1800 in Paris. It is made from porcelain and is just 3.6 cm tall, with a diameter of 5.5 cm.
You mix the blush in the little pot and then apply it to your cheeks. I was particularly intrigued by the golden inscription "Laugier Père et fils, Rue bourg l'abbé à Paris", so I did a little research and discovered that in the 19th century, Laugier Père et fils was a well-known Parisian perfumery. The Rue Bourg l'abbé is in the 2nd Arrondissement of Paris and the Laugier store used to be in a covered shopping arcade which still exists today! The blush from Laugier Père et fils seemed to be known in Germany, too; German author Wilhelm Hauff mentioned it in his novelette "Freie Stunden am Fenster" which was published in 1826: "This Rouge fin of nature is not available at Laugier pere et fils, rue bourg l'abbe a Paris".
I wonder which modern blush would be equally famous today – perhaps the Blush Orgasm from Nars…? I hope you enjoyed this little historical beauty expedition! I have already decided that the next time I'm in Paris, I'll visit the Rue Bourg l'abbé and have a look around the shopping arcade!
[Click here for more pictures and the original German article Kleiner Schminktopf aus Paris]
Welcome back! I really missed the Beauty Notes during my little summer break, although it always takes me several hours to write them. Over the last month I have assembled such a back-log of new products and news….some of the products I have already shown on Instagram; like the wonderful parcel with beauty samples which I received from my reader Jessie 🙂 .
First of all, my new Najoba blog post: I am analysing the new #skintertainment trend from Korea. For more information about what skintertainment is and which organic beauty products are particularly suitable for this trend, check out the Najoba article (German only, sorry!). Enjoy!
The launch of German drugstore retailer DM's organic brand Alverde's Med range has caused a fair bit of interest in the German blogger scene – and of course I also checked out the three new products (body lotion, shower gel and face cream) for allergic and sensitive skin. Here is the body lotion Pflegelotion med from Alverde which is my favourite product from the new range. The products are pH-neutral, alcohol-free and fragrance-free and are based on mineral-rich water from the Augusta spring in the Saarland region. The Pflegelotion is unscented, with a light and non-greasy texture so it is easy to apply. There was some streaking at first but then the lotion was quickly absorbed into the skin. Besides the spring water the lotion contains sunflower oil, processed plant-baseed oils and glycerin and has been certified by NaTrue. A good line extension for the Alverde portfolio! Another unscented body lotion which I really like is the Baby Derma Weisse Malve (White Mallow) body lotion from German brand Weleda; in 2014 I published an article about fragrance-free organic cosmetics and presented a number of organic products, including the White Mallow lotion.
I recently bought two of the three new Rouge à Lèvres Sorbet lipsticks from French brand Absolution's online store. In contrast to Absolution's Sweet and Safe Kiss Lipstick range (which have a semi-matte finish and comparatively strong pigmentation) the Rouge à Lèvres Sorbet lipsticks are transparent and glossy. The texture of these new Sorbet lipsticks is almost gel-like and very pliable (without being oily which is impressive!) and they are scented with notes of rose (very French!). The two shades that I bought are 03 Cerise – a cherry red with subtle blue undertones – and 05 Dusky Rose, a apricot-toned medium pink colour. The third Sorbet shade, by the way, is called Papaya, which is a strong orange-red. The Absolution lipsticks contain some synthetic colourants, by the way, like those of Ilia Beauty. The lipsticks are packaged in matte black, the outer cardboard packaging is red and pink: very stylish indeed. You can tell that French visagiste Christophe Danchaud had a hand in developing these lipsticks, they feel very luxurious and high-quality. The lipsticks costs 28 Euro in the Absolution online store but I assume that they'll soon be available through all the usual Absolution stockists in Germany.
Back in early August I mentioned that I had spent a weekend at a Bavarian lake (I showed you my morning summer skin care routine here). Since Bavaria is close to the border of Austria, I used the opportunity to visit Austrian drugstore chain Bipa and an Austrian outlet of the German DM chain. And at the DM store I noticed a new organic beauty brand, Sisi and Joe from Graz in Austria. The product range is vegan and certified by NaTrue; the key ingredient is anti-oxidant edelweiss extract. I like the packaging of the skin and body care products: the outer cardboard boxes – as well as the bottles and glacons – are decorated with pretty flower drawings. I decided to buy the Intensive Serum and the Eye Gel from Sisi and Joe (for 14.95 Euro and 13.95 Euro respectively). The serum has a refreshing fluid texture – when it was really hot I used it as a day care product – and is based on Alpine spring water, apple hydrosol, grapeseed kernel oil, processed plant oils and glycerin. The eye gel contains spring water, aloe vera juice, glycerin and edelweiss extract; I found it very light on the skin, quite moisturising and it even seems to have a slight skin-tightening effect. In winter time I think this might not hydrating enough for my skin but it is a good summer-time product. Both products are scented with light floral notes. More information on the brand and the products are available on the Sisi and Joe website.
A note for my international readers: the brand name is a reference to Empress Elisabeth (whose nickname was "Sisi" or "Sissi") of Austria and Hungary. Sisi lived from 1837 to 1898; she was married to Emperor Franz Joseph I. (the "Joe" in the brand name!) and they were probably one of the most best-known royal couples in Europe in the 19th century. After Elisabeth was assassinated in Switzerland, she became even more famous; her life was dramatised many times on stage and screen – there are novels, operettas, movies, ballets and theatre performances about Sisi's life and death. In the 1950s the ultra-romantic "Sissi" trilogy – starring teenage actress Romy Schneider – was filmed in Austria, Germany and Italy, and the "Sissi" films are still regularly shown on German television.
Austrian organic brand Sonnentor has now also launched three teas with turmeric (in July I showed you the Golden Turmeric tea from UK brand Pukka here). I particularly like the Blumige Kurkuma Tee (Floral Turmeric Tea) from Sonnentor; it contains 46% turmeric as well as rosehip, rose, linden blossoms and elderflower blossoms so the taste of turmeric is not too strong. It's a nice composition. You can find more information about the other turmeric tea variants here. I bought my tea in the Sonnentor shop in Salzburg in Austria.
Finally there are two interesting events coming up! From 27.9.-28.9.2016 the annual Natural Cosmetics Conference is taking place in Berlin. As always, they have an interesting conference program; here are some of the highlights: the keynote speaker is media psychologist Professor Jo Groebel who will talk about the digitalisation of corporate communications; former German food and agriculture minister Renate Künast will take part in a discussion about consumer protection, there will be a forum on the palm oil controversy plus lectures on topics such as the organic market in the US, innovative packaging concept or future retail trends. More information is available here.
And in March 2017, Wolfgang Falkner's TheCampCompany (Wolfgang also founded the very successful annual bar camps Natural Cosmetics Camp and Spa Camp) is organising Germany's first bar camp for the organic food industry. More information on BiolebensmittelCamp is available on media partner Chez Matze's blog or on the homepage of TheCampCompany.
And here are some of the most interesting organic beauty news I've come across last month:
Austrian organic brand Ambient is launching a new product range, Beautiful Aging. More information is available here.
US colour cosmetics brand Kjaer Weis has introduced a new range of lipsticks – for more information, click here.
DM's Alverde brand will soon go through its bi-annual portfolio relaunch; some of the current products will disappear from the portfolio, others will join the new line-up. For more information check Alverde's facebook page or, for a preview, look at Testgitte's blog.
German brand Dr. Hauschka is relaunching its body oils with special limited edition packaging. The brand is also introducing the Reichhaltige Maske (Rich Mask), a product which used to be available only in special Dr. Hauschka beauty salons.
US deodorant brand Schmidt's will soon bring out a new Deo Stick with Rose and Vanilla (sounds fabulous!). More information is available here.
And RMS Beauty (also from the US) is launching the pressed eyeshadow range Swiftshadows. You can check it out here on Instagram.
[Click here for more pictures and the original German article Beauty-Notizen 2.9.2016]
Good-bye everyone and see you in a few weeks!
Julia