Dear international readers of Beautyjagd,
Welcome to the next English-language edition of Beautyjagd! This is a condensed version of the most important articles that have appeared on my blog over the last few weeks. For more information about this format, click here. And now: enjoy the best of Beautyjagd in English!
Best wishes
Julia
A recent e-mail from one of my readers reminded me that I had planned to write a proper Beauty Shopping Guide to Los Angeles. So here is it: an overview of stores and places in LA that sell organic beauty, thematically divided into store categories.
Prior to leaving for Los Angeles (you can read about my trip in these Beauty Notes here) I had researched the stores that I really wanted to visit and added them to a city map app on my smartphone – although I usually prefer travel maps on paper, Los Angeles is so big that a paper map doesn't make any sense. As always I arranged my shopping excursions by city neighbourhoods in order to maximise my time: one morning I was beauty hunting in Venice or Santa Monica, the next day I visited downtown LA or Beverly Hills. And here are my shopping tips!
♦ Organic beauty specialist retailers
The two most important organic beauty stores in LA are Credo Beauty and The Detox Market. Both stores are located in West Hollywood (around West 3rd Street) so this neighbourhood was on the very top of my list. They offer a great selection of organic and natural niche beauty brands.
At Credo Beauty, for example, I found Ursa Major, Marie Veronique, Josh Rosebrook, Juice Beauty (incl. Goop), W3ll People, Vapour Organic Beauty, Ilia Beauty and RMS Beauty.
The Detox Market has a second outlet in Santa Monica which is also worth a visit – that's where I bought One Love Organics and Kypris Beauty; the store also sells Odacité, Agent Nateur, CV Skinlabs, Gressa, Lina Hanson, Shiva Rose or Lotus Wei. Check out the brand lists on the websites of The Detox Market and Credo Beauty!
Number 3 in the specialist retailer category is Green Line Beauty – unfortunately I didn't have the time to visit this store but Green Line Beauty offers brands Amala, Vintner's Daughter or Vapour Organic.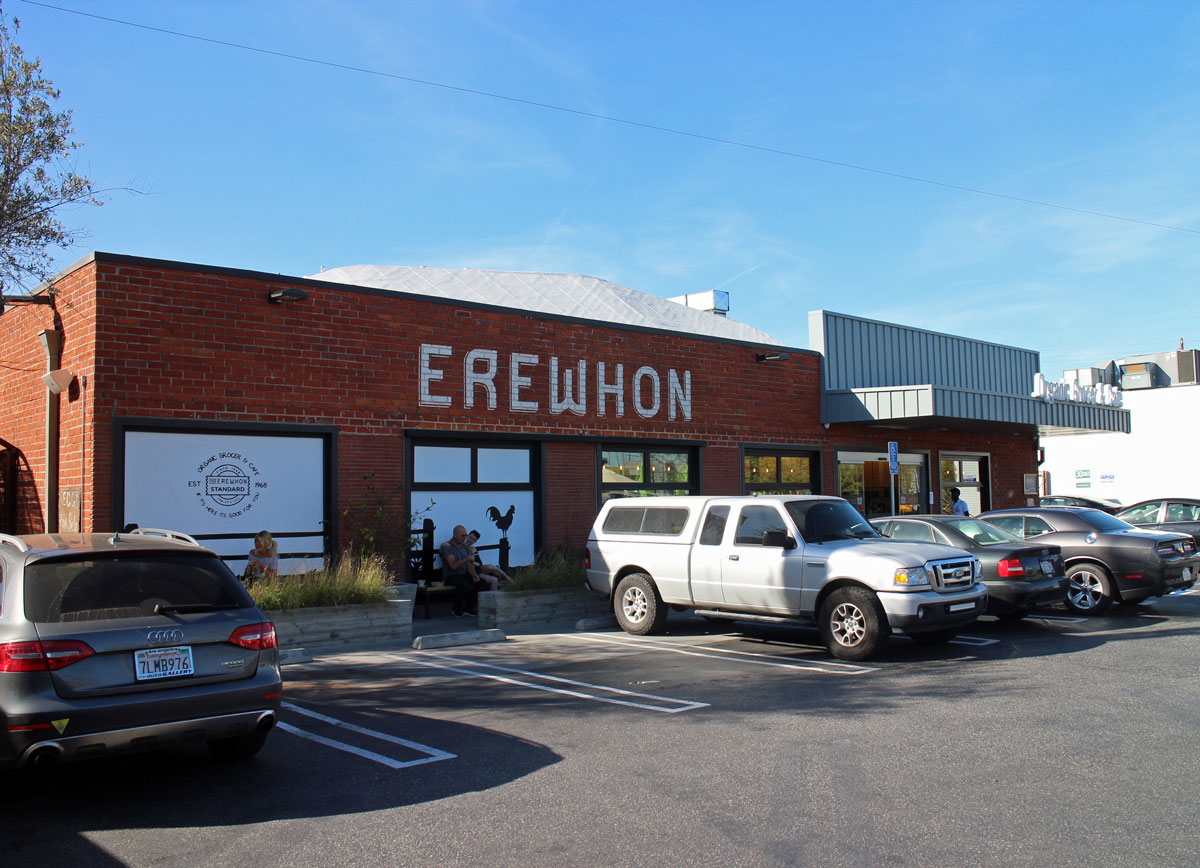 ♦ Organic supermarket chains
Los Angeles has several organic supermarket chains which all offer a (differing) selection of organic beauty. Make sure to check the ingredients thoroughly, some products contain ingredients which do not belong in organic beauty (at least not according to the regulations of the European certifiers).
Whole Foods has a number of stores in Los Angeles. The outlet on Farmers Market offers a good overview of what an organic supermarket looks like in the US. The selection of organic beauty is large: you can buy brands like W3ll People, Alba Botanica, ShiKai, Burt's Bees, Acure, Mineral Fusion, Dr. Bronner`s, Earth Science, Kiss my Face, MyChelle or Goddess Garden – less niche-ey and expensive labels than at Credo Beauty or The Detox Market.
I also liked the stores of the Sprouts Farmers Market retail chain. They offer a good selection of the bigger mainstream beauty brands such as Alba Botanica, Pacifica, Burt's Bees, Acure, Andalou Naturals, Dessert Essence, ShiKai, Avalon, Jasön, Dr. Bronner's, Goddess Garden or MyChelle, all at comparatively affordable prices.
A little more alternative (or hippie-esque, depending on your preference 😉 ) is the small organic food chain Rainbow Acres in the west of Los Angeles, for example in Venice. I was particularly impressed by their selection of incenses, deodorant and sun protection products.
Erewhon is probably the most stylish and expensive organic supermarket chain in LA. The outlet in Venice is very much worth a visit, the store had such a rockstar atmosphere! Compared to other organic food chains Erewhon offers a much more curated selection of organic beauty – here you can find brands like Saavy, Komen, Valentina's Naturals, Primal Pit Paste, Gaffer &Child, Bogavia or Simply Divine Botanicals. Many products seem to be intentionally packaged in an "ugly" design; perhaps as a sort of counter point to the usual ultra-stylish look of organic beauty brands in the US.
Unfortunately I didn't have the time to visit organic supermarket chain Mother's Market. Stores like Lassens or Vitamin Shoppe offer nutritional supplements and usually also a small selection of organic cosmetics.
♦ Niche beauty stores
In this category I'm listing stores that specialise in niche beauty and usually include at least some organic beauty brands.
In the Santa Monica outlet of US beauty retail chain Blue Mercury I bought the two Signature Sets from RMS Beauty. This store also offers other higher-priced brands, like Odacité, One Love Organic, Tammy Fender or Ilia Beauty.
There are also independent niche beauty boutiques such as Le Pink and Co. Apothecary in Silverlake (brands include Dr. Alkaitis, Herbivore Botanicals or Antonym) or Violet Grey (with, for example, Vintner's Daughter, In Fiore, May Lindstrom, Tata Harper, Agent Nateur or Kosas). Well-known online store Beautyhabit also has a retail outlet in Los Angeles (Thousand Oaks) and in Brentwood you can find Pharmaca which offers organic beauty brands like W3ll People, Dr. Hauschka, One Love Organics, Juice Beauty, Jane Iredale, MyChelle oder Alaffia.
I have already written about the Broome Street General Store in Silverlake – this store offers brands like Kypris, Ilia Beauty, Captain Blankenship or Grown Alchemist.
♦ Perfumeries
A visit to Sephora is obligatory when I visit the US – the Sephora chain offers so many beauty brands that we don't have here in Europe! I immediately checked out the Bite Beauty counter – Bite Beauty is a brand which specialises in lip makeup – yay! I also saw brands likeTata Harper, Ilia Beauty, Kora Organics, Jurlique, Kari Gran (these brands are usually present with a partial product portfolio) or Lavanila. On the picture above you can see the Sephora in Hollywood Highland Center.
At Ulta Beauty I discovered products from Pacifica, Acure, Burt's Bees, Juice Beauty, Andalou Naturals, Shea Moisture and Honest Beauty.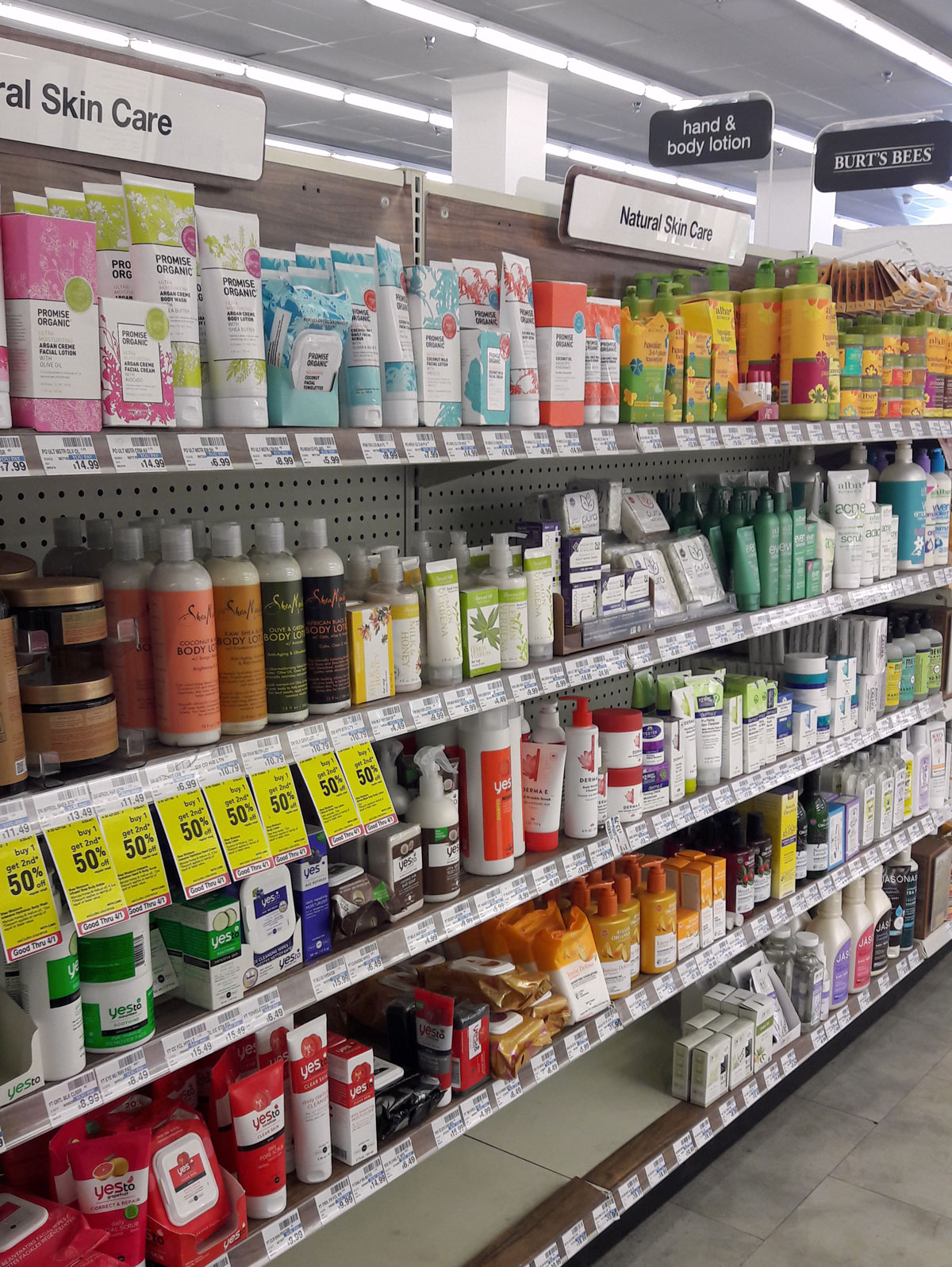 ♦ Drugstores
Depending on which neigbourhood you're visiting it is worthwhile checking out the big US drugstore chains, like CVS, Rite Aid or Walgreens. The picture above is from a CVS store in Beverly Hills; they offered an entire shelf of organic beauty brands, like Alba Botanica, Mineral Fusion, Burt's Bees, Yes to or Avalon.
♦ Brand Shops
My favourite store in this category was Strange Invisible Perfume on Abbot Kinney Boulevard in Venice! The store offers every single fragrance of this US niche organic fragrance brand – they also have some other selected organic beauty products. And such knowledgeable and competent store advisors!
US brand 100% Pure has two stores in metropolitan Los Angeles (in Calabasas and Torrance) and in Beverly Hills you can find a brand store of UK beauty brand The Organic Pharmacy.
♦ Department stores
As far as organic beauty is concerned the classic department store retailers like Barney's New York, Nordstrom, Bloomingdales, Macy's or Saks Fifth Avenue are not particularly exciting. However, make sure to check out the Target chain: the larger Targets sell organic beauty brands like Burt's Bees, Pacifica, Alba Botanica and Acure but also S.W. Basics, Honest Beauty and Fig&Yarrow.
At Urban Outfitters in Santa Monica I saw Herbivore Botanicals and Monoi de Tahiti.
And this was my personal LA organic beauty shopping guide! I have already written about five interesting organic niche beauty in this blog article here – and have also shown some of my LA purchases in these Beauty Notes.
[Click here for more pictures and the original German article Shopping Guide: Naturkosmetik in Los Angeles kaufen]
The inspiration behind this blog post dates back to 2014 and my first visit to Hong Kong. As you probably know, Hong Kong has a sub-tropical climate which means that it can be a challenge to keep your makeup from running in all that heat and humidity! I was in Hong Kong for a couple of weeks and during that time I experimented with different application methods and products to ensure that my makeup remained comparatively intact while I was out and about in the city.
And since we've had rather high temperatures in Germany this summer (not quite tropical but definitely hot and steamy!) I think this is the perfect time to share some of my application tips for heat-resistant makeup.
Step #1: Morning skin care with extra sun protection. After cleansing my face I apply a hydrating gel toner (for example from Korean beauty brand Whamisa, French brand Sanoflore or Biofficina Toscana from Italy) and let it sink in for a minute. Afterwards I apply a sun cream with at least SPF30 (like Pot of Shade Heliotropic from US brand Kypris or the face cream from French brand Alga Maris). Make sure to use an adequate amount of sun cream; I tend to err on the side of caution and apply two layers of sun protection.
After around ten minutes I move on to Step #2: I use a blotting paper to blot excessive oil and moisture from my skin. Then I take the Natural Sun Stick SPF 50+ from French brand Evoa and draw thick white stripes on the areas of my face that are especially exposed to the sun: forehead, the bridge of my nose, cheek bones and chin. I make sure to blend the sun block into my skin – the stick has a nice dry and non-oily texture so it is easy to apply. Then follows a layer of my Cushion Foundation from Korean brand Aromatica which counteracts the whitish colour of the Evoa Sun Stick. A powdery mineral foundation also works well.
Step #3: Setting the foundation. My preferred setting powder is the loose powder from French pharmacy brand T.Leclerc in shade Chair Ocrée. I use the Allround Brush from German brand marie w. to apply the powder to my entire face and then work it into the skin. The mattifying effect of this powder is phenomenal (this means: it is very mattifying indeed) which is exactly what my skin needs in these tropical temperatures. On top of the T.Leclerc powder I apply a layer of the Colour Correcting Powder from German brand Dr. Hauschka which really evens out the skin tone – it's become one of my everyday favourites! Depending on how I feel that day I might add some powder bronzer to my cheek bones.
Step #4: Eye makeup. When the temperatures turn tropical I forego my usual eyeshadow – when it's hot outside eyeshadow tends to crease rather rapidly. Instead I opt for a liquid eyeliner which dries quickly. My recommendation is the Eyeliner from French brand Couleur Caramel which lasts really long on my eyes – I draw a thin line along my upper lashes. In summer time I love turquoise eyeliner but you can also buy the product in a classic black colour. Then I use a long-lasting black mascara on my lashes. Since there are no real waterproof mascaras in organic quality I use the Divine Mascarade Mascara from French beauty brand Lady Green as a substitute or the Lash Colour Long & Thick from marie w. – the Lady Green mascara is quite liquid while marie w.'s Lash Colour is more on the waxy side. My eyebrows get a quick sweep of Alverde's ash blond Eyebrow Gel – Alverde is the organic own label brand of German drugstore retailer DM.
Step #5: Lip makeup. Depending on what kind of makeup look I am going for that day I use a more natural or stronger colour. A great summery shade is the strongly-pigmented Lipstick Matt Bright Pink from Couleur Caramel (it lasts really well, like Neon Angel from US brand Ilia Beauty) or the pink Lipstick Busylizzy from Dr. Hauschka which has is an eyecatching colour but still looks quite natural. When I am in Asia I like to wear quieter shades on my lips; sometimes a gloss or tinted lip balm stick is enough.
During the day I repeatedly use blotting papers to keep down shine – simply applying powder on top of sweaty and oily skin really doesn't work so I always carry a pack of blotting papers in my handbag.
[Click here for more pictures and the original German article Mein Make-up für tropische Temperaturen]
A few weeks ago I was reading Austrian women's magazine Wienerin (the title translates as "Viennese woman" and in my opinion it is one of the few German-language women's magazines that are worth reading) – and was really surprised when I read in the beauty section that salon hair care brand La Biosthétique had launched a new organic product range: Botanique Pure Nature! La Biosthétique is a traditional German-French hair care brand; they are based in Pforzheim and Paris. Back in 2012 I wrote an article on Beautyjagd about my salon hair care dilemma (German-language only) – and I am so excited that it is now possible to buy certified organic hair care in many La Biosthétique salons! I immediately went to my local salon and purchased the Botanique Intense Styling Cream. The new salon brand is certified by Italian ICEA and there are three ranges: Gentle, Intense and Balancing (fragrance-free). The fragrances for the Intense series (an uplifting, stimulating scent) and the soothing Gentle range were developed by natural perfumer Tanja Bochnig, the creator of fragrance brand April Aromatics – check out this article about Tanja's perfume brand. And the new Botanique products look so stylish! The first test of the Intense Styling Cream was very promising: with soft notes of mint and lemon the cream offers a little more hold than the Cream Wax from US brand Rahua. You can find out more about the new hair care brand here, the line-up also includes a hair oil and three skin care products. I'll write about the new brand in more detail later on!
Australian makeup brand Zuii Organics has launched a new product: Flora Lip & Cheek Crème – I recently received a press sample. And while I might not be the biggest fan of the diamond-shaped packaging I really like the contents! Flora is a combined lip and cheek colour, it is available in eight shades – my press sample was the berry-coloured blue-toned red in shade Pan. The texture is located in between a cream and a gel with medium pigmentation and a satinised to matte finish. The colour feels feather-light on my lips and you only need a tiny amount for the cheeks. The Flora colours are vegan and based on various plant oils and waxes, with a bit of glycerine and aloe vera juice which probably accounts for the gel-like feel of the Lip & Cheek Crème. And because the cream is not too oily it lasts quite long on the skin. I rarely find combination products that really are suitable for both lips and cheeks but with Flora Lip & Cheek I'd say, this is it!
I recently received the Mellow Mallow Creamy Cleansing Gel from Berlin-based niche brand Lovely Day – what a beautiful amaretto-almond fragrance! I was fascinated by the texture which is ever so slightly slimy – I don't mean this as a negative thing, by the way: the cleansing gel includes marshmallow root which is also contained in German brand Weleda's Weisse Malve Pflegelotion. Mallow extract is anti-inflammatory and soothes irritations; traditionally it is used to make marshmallows (the confectionery) – hence the product name Mellow Mallow. Foam up a small amount of the cleanser in your hands and then massage the foamy cream gel into your skin. Afterwards, rinse it off with warm water. If you usually prefer cleansing gels but like the advantages of a cleansing milk, check out this product. It might not be moisturising enough for dry skin in winter time but at the moment my skin (which has a dry tendency) likes the cleanser very much. You can buy the Mellow Mallow Cleanser from Lovely Day in the brand's own webshop or in online perfumeries like Spatacular or Savue Beauty.
When I was tidying up my room this week I found the pretty cat postcard you can see in the picture above – I had received it in Tokyo when I was shopping in organic perfumery CosmeKitchen and told the sales assistant that I didn't need an extra bag or packaging because I had my own shopping bag with me. Isn't it a nice idea to reward the customer with a little gift when they don't require a shopping bag?
[Click here for more pictures and the original German article Beauty-Notizen 11.8.2017]
I always enjoy writing about marie w.'s product launches because I know how thoroughly Marie Wissler – the brand's founder – develops her new products. I have featured marie w. on this blog many times over the last years; the brand is celebrating its 10th anniversary this year.
In this sponsored post I'd like to show you marie w.'s three new Gloss Serums! The combination of lip care and colour reminded me of the Japanese lip oil trend: last year I bought a lip oil from Japanese natural beauty brand Naturaglacé but the moisturising lip oils are, of course, also offered by many conventional and mainstream brands. Perhaps this trend was the inspiration behind marie w.'s new Gloss Serum launch?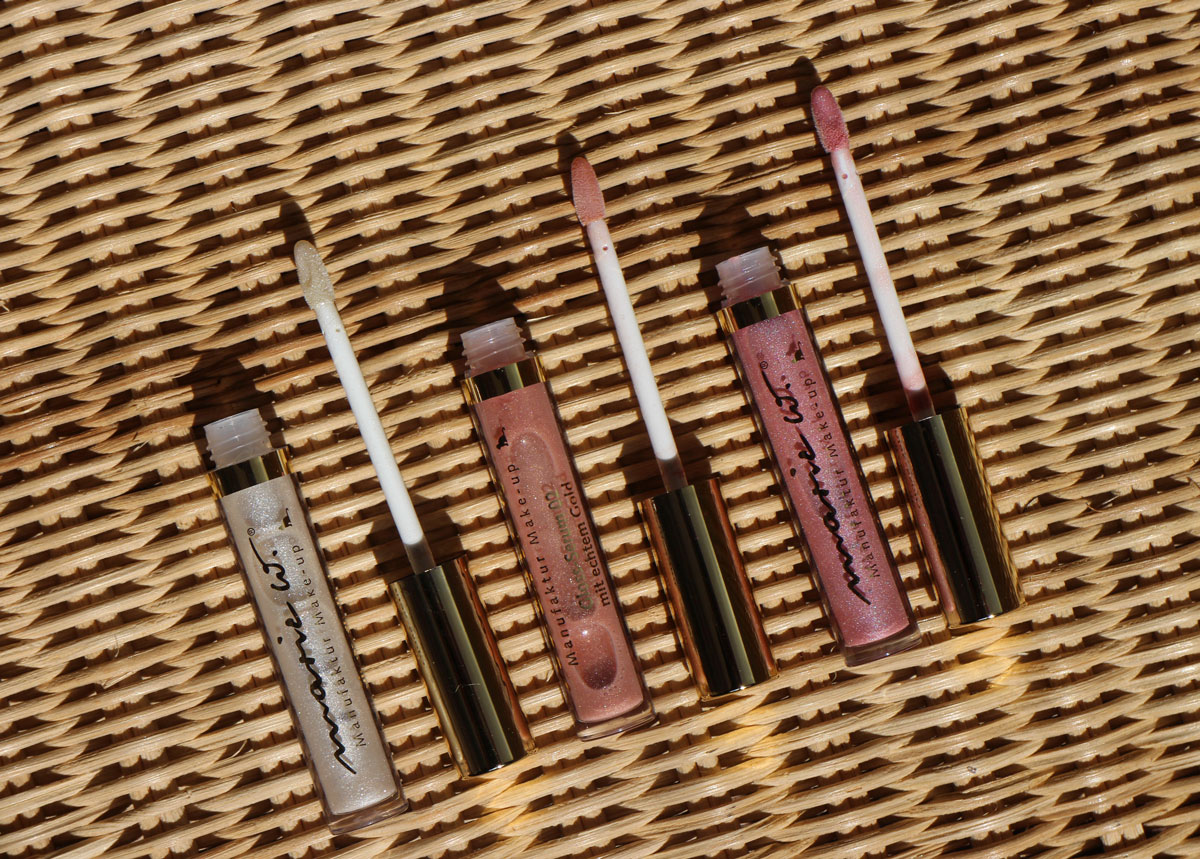 The Gloss Serums from marie w. are packaged in a flacon with a little sponge applicator; the outer packaging is a pretty round cardboard sleeve. There are three shades: Gloss Serum 01 Transparent, Gloss Serum 02 Warm and Gloss Serum 03 Fresh.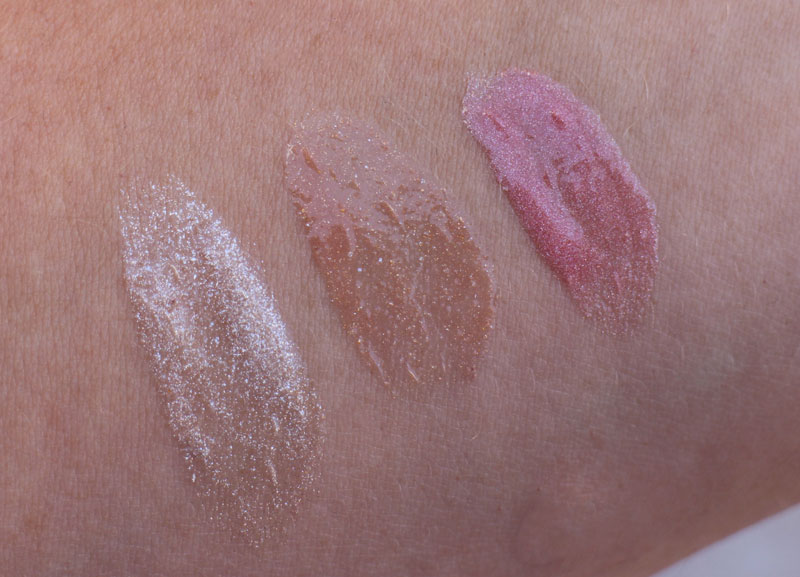 On the swatch you can see shade 01 Transparent, depending on the light it has a stronger or more subtle white shimmer. The middle swatch is 02 Warm which is a transparent apricot. Finally there is 03 Fresh, a cooler pink tone. All three colours have a glossy shimmering finish; they are not too strongly-pigmented so the shimmer effect is grown-up rather than Teenie-like!
The texture is gel-like and oily but not sticky, it feels light on the lips and the fine shimmer particles are barely perceptible. The ingredients include plant waxes so the gloss stays put on the lips – it doesn't run or crease.
My lips can be quite demanding but they immediately liked the Gloss Serum, so I looked at the ingredients in more detail. Marie w.'s Gloss Serums are based on castor oil and jojoba oil; plant based carnauba wax, mango butter and shea butter have an occlusive effect so they lock in moisture. The ingredients also include hydrating and soothing hyaluronic acid and aloe vera as well as gold and silver which have an anti-bacterial and anti-inflammatory effect.
The Ecocert-certified Gloss Serums have a subtle vanilla fragrance. 100% of the ingredients are natural, 80% are from organic agriculture (yay! That's a really high percentage).
Each gloss tube contains 3.5ml and costs 29 Euro. You can buy the product from marie w.'s online shop or in any of the stores that stock the brand. I received all three Gloss Serums for this post.
My favourite is the apricot-tinted Gloss Serum in shade 02 Warm. My lips love the combination of hydration, shimmer and colour – you can also use the gloss to make lipsticks appear less matte.
[Click here for more pictures and the original German article Neu von marie w.: Gloss Serum]
This DIY anti-ageing recipe from the 1930s tells it like it is: "Gegen Gesichtsrunzeln" ("against facial frowning")! The article (headlined: The Practical Housewife) appeared in a 1939 edition of German-French magazine Der Sonntag (The Sunday). My translator Annika sent me a picture of the recipe – it turns out that she has an amazing collection of vintage women's magazines.
And this is the product blend that is outlined in the recipe: Take 3 gr of salicylic acid, 125 gr of red wine, 125 gr of Eau de Cologne and 50 gr of glycerine and blend together. Cleanse your face as usual, apply the mixture to dry skin, leave it on for several minutes and then gently wipe it off with a cloth. Apply powder on top. It could almost be a Starter Essence from Korea or the US 🙂 .
The ingredients are very modern: salicylic acid and glycerine are still two key ingredients in toners today; they have anti-inflammatory and moisturising properties. And Eau de Cologne at that time was probably just alcohol and essential oils (alcohol is a good preservative). The red wine is a bit unusual as a toner ingredient, but it would have had an anti-bacterial and anti-oxidant effect thanks to the polyphenols. Also, it would have tinted the liquid a beautiful pink.
It's fascinating how little the beauty world seems to have changed over the last 80 years – and DIY seemed to be just as popular back then as it is today 😉 .
[Click here for more pictures and the original German article DIY gegen Gesichtsrunzeln]
How did this happen?! I really don't like liquorice so when Annika suggested we visit the Bikini mall store in of Danish liquorice brand Lakrids by Johan Bülow I was entirely certain that I wouldn't buy a thing. And I only tried a sample of the brand's new summer liquorice collection to be polite – but wow! Soft, mild pieces of liquorice wrapped in white chocolate scented with aromatic elderflower notes… I simply had to buy a large jar after all. Now I'm a fan of this amazing liquorice brand – check out the brand's homepage here but be warned, Lakrids liquorice is addictive!
Taoasis pop-up store in Berlin
The main reason I was in Berlin's Bikini mall was to check out the recently opened pop-up store of German organic aromatherapy brand Taoasis. The shop presents the brand's entire product portfolio of Taoasis, Baldini and pharmacy brand Meditao. I bought the new fragrance FeelBerlin, a blend of grapefruit and vanilla which is also available as a room spray and as scented wooden sticks. Right next to the cashier's desk was a small product display of Taoasis' new essential lavender oil which is harvested from the brand's own lavender fields near Taoasis' headquarters in Detmold. Yes, Taoasis is planting lavender in Germany! (Note for my international readers: Usually German beauty brands import their lavender from France). The lavender project is called Petit Provence; I bought a little bottle of the essential oil which is from last year's harvest. Very cool; I like these kind of initiatives. I also purchased a small bottle of sunflower oil macerated with camomile blossoms; it has a beautiful camomile smell. The Taoasis pop-up store in Berlin's Bikini mall will remain open until January 2018.
Liquid Eyeliner Tincte from Und Gretel
A few weeks ago I had read that Berlin-based organic colour cosmetics brand Und Gretel had launched a new liquid eyeliner. The press information stated that Tincte combined "the German art of engineering with sophisticated organic beauty" – so, of course, I simply had to order the eyeliner from Naturdrogerie online store. Well, the elongated flacon looks elegant as you can see on the picture above but with liquid eyeliners the texture, durability and applicator design are more important than fancy packaging. The applicator is bendy (but not too flexible) and picks up the black liquid well – almost too well, in fact; to get a really thin line I have to thoroughly scrape off excess colour on the edge of the flacon before applying the colour. Compared to this brush the applicators of the liquid eyeliners from Couleur Caramel are more precise. Tincte eyeliner has a deep black colour and one line is enough to get a dense, dark eyeliner effect, wow! It is easy to create a 1960s look with this eyeliner, if you want a more natural effect you have to be careful to very lightly paint along the upper lashes. I'm satisfied with the durability of the colour, it dries down well but doesn't last quite as long as the turquoise eyeliner from Couleur Caramel's summer collection. Tincte is certified by Cosmos, the formula is based on aloe vera juice, acacia gum (gum arabic) and glycerine. It costs 34 Euro.
Gold Luminosity Moisturizing Skin Serum from Ileur
I was only in Berlin for a few days and the time passed much too quickly so I had to miss Savue Beauty's launch event for the new Ileur Gold Luminosity Moisturizing Skin Serum. This is a pity but at least I have been testing the serum for quite a while now – I received a press sample. The serum has only seven ingredients: water, hyaluronic acid, MSM (sulphur), alginate, gold, mangosteen extract and silver – a good combination of moisturising, anti-inflammatory and anti-oxidant properties! Gold Luminosity Serum has a gel-like but not too liquid texture which is easy to apply on the skin. It was really hot and humid recently so I used it as an oil-free night care product. My skin doesn't feel tight after I apply it, you can also add a drop of oil or a bit of cream afterwards. My impression was that the serum helped against impurities – silver usually works well on my skin, as does MSM which is difficult to find in organic beauty products here in Germany – and against redness. The serum is available at German organic perfumery Savue Beauty: there are three product sizes and prices start at 29 Euro.
Amazonian Saviour from The Body Shop
I recently saw the Amazonian Saviour Multi-Purpose Balm from The Body Shop on Instagram: the pretty little jar contains a water-free balm which is made from 100% natural ingredients. There are nine ingredients in total, starting with sunflower oil and beeswax; the formula also includes andiroba and babassu oils from Brazil. The Body Shop recommends the Amazonian Saviour balm as a skin care product for tattooed or scarred skin; I have been using it to hydrate my feet and dry cuticles. The balm is unscented so it should also be suitable for face care in colder weather or if you have dry skin – the waxy component means that the balm is quite protective. You can find more info on the homepage of The Body Shop (just to prevent misunderstandings: The Body Shop rarely has organic beauty products; the Amazonian Balm is an exception).
Organic beauty news:
[Click here for more pictures and the original German article Beauty-Notizen 18.8.2017 (Berlin-Edition)]
Good-bye everyone and see you soon!
Julia