Dear international readers of Beautyjagd,
Welcome to the next English-language edition of Beautyjagd! This is a condensed version of the most important articles that have appeared on my blog over the last few weeks. For more information about this format, click here. And now: enjoy the best of Beautyjagd in English!
Best wishes
Julia
For my last trip in 2017 I went to Paris. It was rather cold and very rainy but I still went beauty-hunting every day 😉 .
Lotion wipes from Oil'a
One of the few beauty products I took with me to Paris were the Lotion Wipes from French brand Oil'a which I discovered at organic online store Ecco Verde. These are single sachets which each contain an oil-saturated cotton wipe. The lotion wipes are produced in Monaco and there are six different oil variants. I packed Sweet Amandine (almond oil) and Le Caricocot (coconut oil blended with apricot kernel oil) – they are so convenient for travelling when you don't want to take an oil bottle with you! The lotion wipes can be used on face or body and, if necessary, you could also use them to remove your makeup. The coconut oil sachet should be warmed up a little bit before you use it so the oil turns liquid. I bought the Oil'a wipes at Ecco Verde, they are priced at 1.29 Euro each.
Beauty-hunting in Paris
Check out some of the cool products that I found in Paris! For example, I discovered (or rather, re-discovered) Ecocert-certified beauty brand Novexpert and bought the Creme Douceur Hydrobiotique for sensitive skin. The cream is based on water and squalane and is formulated without preservatives. I like the texture, it's light but the skin still feels like it is enveloped in a protective cocoon. You can also apply a magnesium spray underneath the cream which increases the skin-soothing effect. You can find Novexpert at French parapharmacies like, for example, Parashop. Here is the homepage of Novexpert.
Of course I also visited Mademoiselle Bio's Paris store to check out the company's own label skin care range. In the end I purchased the cleansing balm Beurre Démaquillant Confort and the cleansing foam Mousse Nettoyante Micellaire which can be used in a classic double cleansing routine. I tried out the products yesterday; in winter time I really like this kind of rich cleansing balm. Then I used the foam cleanser to wash off the last traces of the balm. My skin felt clean and moisturised. If you combine this double-cleanse with the Novexpert cream and magnesium spray I mentioned above, you have a nice compact skin care routine for sensitive skin.
At Mademoiselle Bio I also discovered a really cool gadget for bar soaps: Savosec. You moisten the soap bar and then press the triangular Savosec plastic piece into the soap. The soap will last longer because it now rests on the plastic holder rather than a soap dish, so it can dry properly in between uses. It worked really well with my small travel soap; let's see how Savosec performs with my bigger bar soaps at home!
In the famous pharmacy in Rue du Four I bought the organic-certified Brume Hydra-Défense Anti-Pollution from Patyka. This face spray forms a very thin film on the skin; you can also apply it over makeup throughout the day. I really liked the way my skin felt afterwards – in fact, the Brume Hydra-Défense reminded me of the wonderful face spray from Japanese brand Bikanryoku. Patyka has interesting products; here is the homepage of the Parisian brand.
In January 2018 French brand Sanoflore will officially launch the new Masque du Botaniste – however, Mademoiselle Bio in Paris already sells this face mask. The peel-off mask is packaged in sachets and should be similar to the masks from French brand Secrets des Fées: powdered medicinal clay and alginate are mixed with water; the mask hardens out (but doesn't dry completely) and can then be pulled off the skin. I'll try it out as soon as I get home!
[Click here for more pictures and the original German article Beauty-Notizen 15.12.2017 (aus Paris)]

Why on earth has no one thought of this solution to soggy bar soaps before? It's such a simple yet effective little gadget! I like bar soaps very much but I can't stand it when the soap doesn't dry out properly – even if you use a soap dish with a raised surface the soap still stays sort of damp.
But French inventor Nicolas Trüb from Stilic Force had a brilliant idea: he developed a little plastic tool with three wings (the diameter is around 3cm) which you press into the soap. And, wow! With Savosec the soap doesn't slither around the edge of the wash basin, it dries out in between uses and you can even take Savosec on holidays!
I discovered Savosec at Mademoiselle Bio in Paris last week. I immediately tried out the plastic tool on my small travel soap bar and was delighted: Savosec stays put in the soap (even if the soap is small because it is constantly in use) and keeps the soap stable on the surface of the basin. There is a narrow gap between bar soap and basin so the soap is surrounded by air and dries quicker.
As soon I was back home in Nuremberg I stuck Savosec into my Dr. Hauschka lavender soap from the Soul Warming Gift Set: simply dampen the soap with a little water and press Savosec into the middle of the bar (the reverse side of the plastic thingy is hollow). And that's it! I think Savosec should also work well with face cleansing bars, like the soaps from Binu Beauty.
The Savosec pack contains three Savosecs and is priced at 10 Euro. I bought mine at Mademoiselle Bio in Paris, but Savosec is now also available at Wolkenseifen in Germany.
When I researched the company I saw that Savosec has already won an innovation award which doesn't surprise me at all. It's such a small, simple tool but it makes everyday life so much easier for bar soap lovers – a definite product recommendation for anyone who is a soap fan!
[Click here for more pictures and the original German article Savosec: Der schlaueste Seofenhalter der Welt]
And finally, here it is: my annual review of the most interesting organic beauty products that I discovered in 2017! This year the review is looking a little different. Initially I planned to list my ten favourite beauty products like I did last year, but then I decided that I also want to talk about some of the current trends and innovations in the world of organic beauty. You can find detailed Beautyjagd product reviews when you click on the links embedded the text. And now, let's go!
Trend: Green and clean
Clean beauty and green ingredients continued to be a major trend in the beauty industry. I have selected three examples – ingredients, packaging and own label brands – which illustrate some of the changes that I noticed last year.
The green and clean trend doesn't just apply to ingredients but also to product packaging. In my opinion, packaging solutions that protect our natural resources will play an important role in the further development of the organic beauty market. Sustainable packaging is already an big topic in the industry – German brand Speick's Organic 3.0. products, for example, are packaged in bottles made from renewable raw materials. The flacons of New Zealand brand Living Nature are manufactured without plasticisers and German brand Plaine has even developed a compostable sachet for its Powder Wonder cleanser. German drugstore retailer DM's certified organic own label brand Alverde has packaged its new Naturschön product range in glass containers. And near-natural beauty brand Yves Rocher offers a shower gel concentrate – the small bottle is sufficient for over 40 uses – which shows that cosmetic brands from outside the organic sector are also working on greener packaging options.
The growing importance of own label brands continued to drive the cosmetics industry forward in 2017 and the organic beauty sector is no exception: In Germany, DM's Alverde brand is a prime example of what a well-developed own label brand can look like. However, smaller retailers – and increasingly online stores as well – are starting to introduce their own beauty products, like Mademoiselle Bio in France or German online perfumeries Amazingy with Hiro and Savue Beauty with Nui Cosmetics.
Innovations in 2017
There are six beauty products that I want to honour with a sort of gold medal this year. All of these products have either created something completely new or they offer an exciting twist on an already existing product.
Trend beauty in 2017
It's no secret that organic beauty is a major trend but there are other influences that also helped to shape new product development in 2017. My silver medals go to the following brands:
Skincare trends in 2017
The skin care market last year was not just influenced by K-Beauty but also by Internet face care gurus from the US and by the further development of skin care technology. Luckily the choice of natural raw ingredients continues to grow as well, which means that organic beauty brands can also participate in the development of new textures and ingredient blends.
New organic colour cosmetics in 2017
And of course there were a number of exciting new makeup products last year! Here is a selection of my favourites:
New organic fragrances 2017
And these were the fragrances that particularly impressed me last year:
Body and hair care in 2017
And here is a brief excursion into the body and hair care category:
Personal favourites in 2017
There are beauty products that sort of sneak into your daily beauty routine – and all of a sudden you realise that you use certain products every day! To finish off this Best of Organic Beauty review I want to introduce you to my personal favourites from 2017:
And this review would not be complete without mentioning all the new organic beauty stores that opened in 2017, especially towards the end of the year: starting with the pop-up store of German body care brand Wolkenseifen in the city of Heidelberg through the new Berlin outlet of German online store Amazingy to online perfumery Ecco Verde's flagship store in the Austrian city of Graz. I really hope that this wave of shop openings will continue in 2018 😉 .
My Best of Organic Beauty 2015 and Best of Organic Beauty 2016 reviews also feature some interesting organic beauty brands, many of which I still like very much.
[Click here for more pictures and the original German article Best of Bio- und Naturkosmetik 2017]

New year, new luck, new organic beauty! Last summer I heard rumours about an exciting new organic brand from Austria and few weeks ago, the first Hands on Veggies products finally hit the shelves. Yay!
As the name suggests, Hands on Veggies' cosmetics are based on vegetable ingredients. I was rather curious about their brand concept and I am glad that this sponsored post offers me the opportunity to tell you a little more about Hands on Veggies and the people behind this unusual new beauty brand.
Hands on Veggies was founded by Lisa Dobler and Dr. Nicole Doyle, the Graz-based duo behind premium organic beauty brand Pure Skin Food. Both brands belong to a company called No Planet B. The key ingredients in Hands on Veggies' product portfolio are different vegetables, like carrots, kale, artichokes, fennels or chilies. The vegetables are included as plant oils, as extracts and – particularly interesting – as ferments. Fermented ingredients are a major trend in the Asian beauty market where this type of ingredient is considered an important part in new skin care product development.
The fermented vegetable extracts that are contained in Hands on Veggies' cosmetics play a key role in the product formulations. Lisa told me that their goal was to create beauty products without any kind of preservative, organic or otherwise. And when she and Nicole were researching plant ingredients they came across the topic of fermentation. Certain fermented ingredients can actually take on a dual role in beauty products: they keep the formulation stable (therefore increasing the product's shelf life) and at the same time offer an antioxidant, anti-inflammatory and moisturising effect.You are probably familiar with the fermentation process from foods like sauerkraut (a type of fermented cabbage which is popular in Europe) or Korean kimchi. Fermented foods contain a lot of probiotics which in turn aid digestion so they are considered very healthy. For Hands on Veggies, Nicole and Lisa used for example chilies, pumpkins and coconuts that were fermented with lactic acid. Other plant ingredients, like antimicrobial hops extract, also work as a natural cosmetics preservative. With its fermentation research the company is actually developing an exciting new type of natural preservatives for organic beauty.
So far Hands on Veggies has launched twelve body care products: four shampoos, four body mousses and four shower gels. The packaging of the products is also innovative – rather than the usual plastic packaging, Hands on Veggies is using a type of bio-based plastic which is derived from renewable ingredients (sugar cane) and is also called "green polyethylene".
Aren't the pictures on the tubes beautiful? The eye-catching drawings were created by Carola and Sabrina Deutsch – Carola is a tattoo artist and Sabrina a graphic designer – who run a creative agency in Graz. Another charming detail: every product carries an inspiring phrase or proverb such as "P.S.: No one is too old for fairytales" or "P.S.: Yesterday NOW Tomorrow!"
All Hands on Veggies products are vegan, certified by Slovenian association Ecogea (whose standards are similar to other European labels like Natrue or Cosmos) and the ingredients are from organic agriculture wherever possible. And now let's take a closer look at three of the products.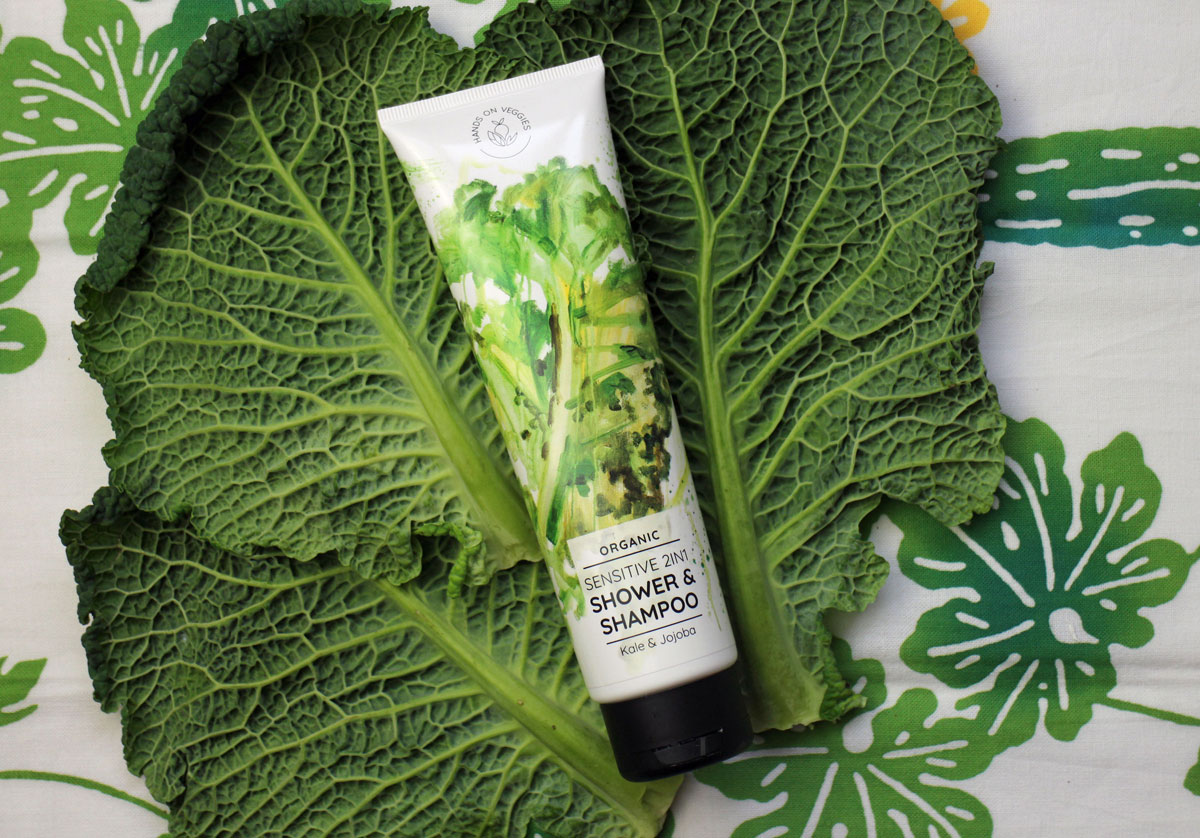 Kale and jojoba are the key ingredients of the two Sensitive products from Hands on Veggies – and yes, the cabbage on the photo isn't actually kale (my local organic store only sold savoy cabbage) 😉 .
The Sensitive 2in1 Shower & Shampoo does not contain essential oils or alcohol, it is based on water and camomile hydrosol. Nicole and Lisa are very proud of the surfactant blend in this shampoo: it is free from sulfates but still foamy! More about these tensides further down the article.
The shampoo has a yellowish-transparent colour and the texture is rather liquid – I was told that the next batch will have a thicker consistency; Hands on Veggies continues to work on its products. I actually don't mind the liquid texture because it makes the cleanser really easy to apply. And when I shampoo my hair for the second time – which is something that I recommend for almost every organic shampoo – the Kale & Jojoba shampoo turned into a rich creamy foam. Afterwards my skin felt soft and almost silky which probably comes from the many proteins that are contained in the product formula.
The Sensitive 2in1 Shower & Shampoo contains 150ml and costs 8.99 Euro.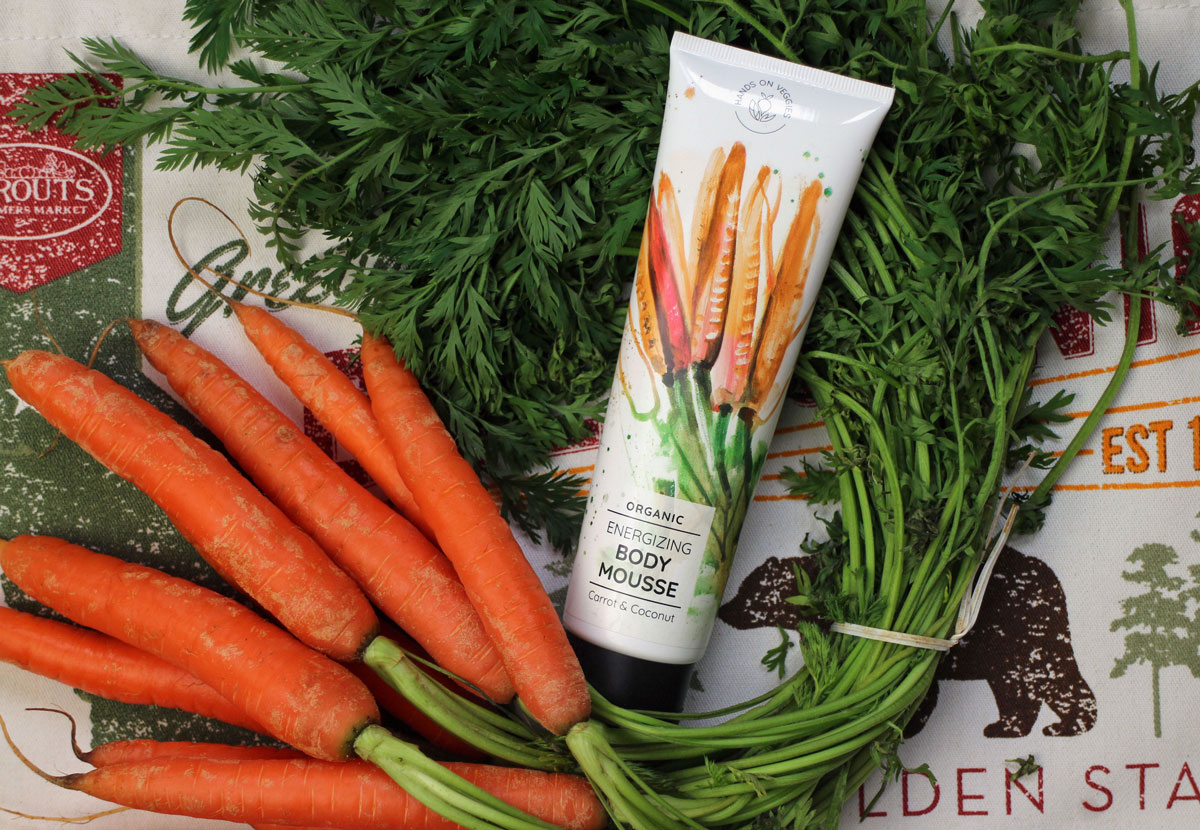 Wow, the Energizing Body Mousse Carrot & Coconut doesn't contain any processed oils but still has such a light texture! The moisturiser is based on water, camomile hydrosol and orange blossom water as well as sesame oil, safflower oil, shea butter and organic coconut oil.
The texture isn't quite as moussy as I had expected from the product name – however, the brand has already started to tweak the formula – and more like a moisturising fluid. The Body Mousse leaves a pleasantly hydrating (but not sticky) film on the skin so it should also be suitable for drier skin types.
As indicated by the product name, the moisturiser contains coconut and carrot as proteins and fermented extracts. The fragrance combines subtle lavender accords with soft florals and vegetable-ey undertones – definitely a unisex scent! Which reminds me, all Hands on Veggies products are suitable for both men and women.
The Energizing Body Mousse Carrot&Coconut contains 150ml and costs 9.49 Euro.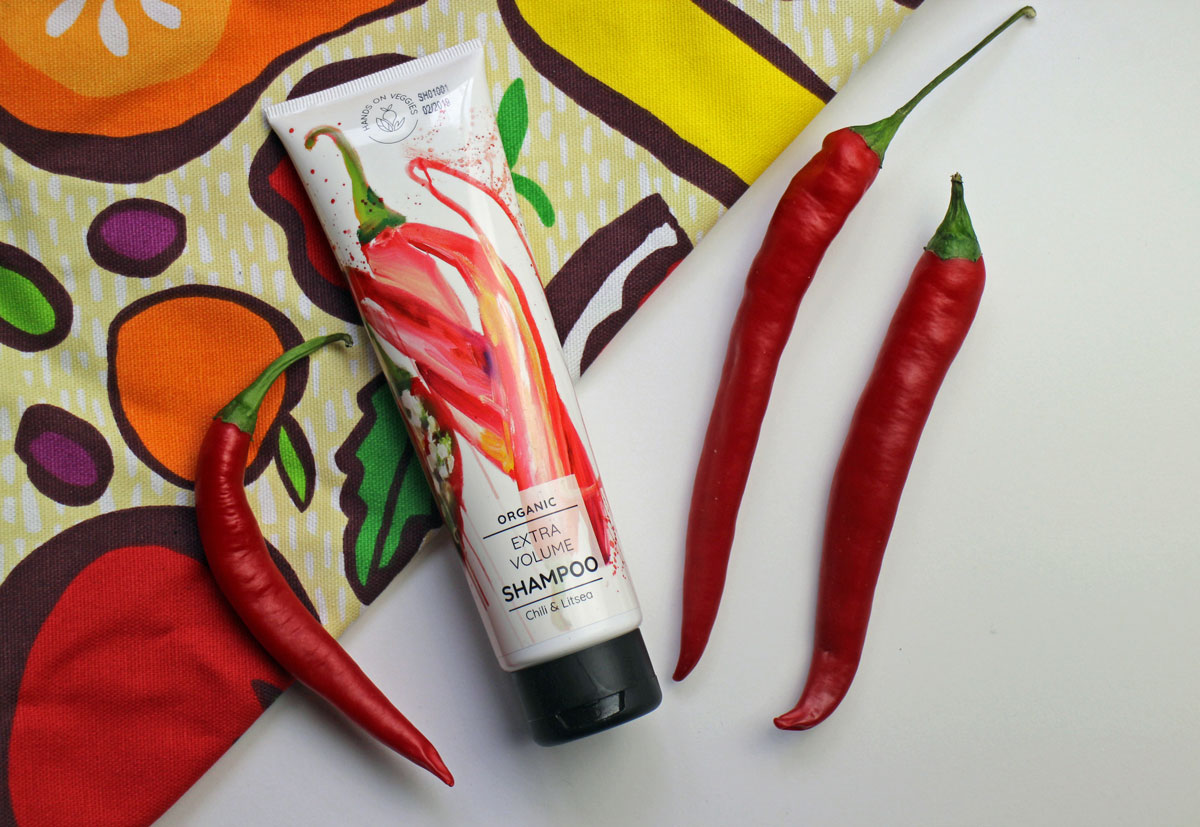 All Hands on Veggies shampoos contain the surfactant blend I've mentioned above. It was very important for Nicole and Lisa that their organic shampoos foam up well (most organic shampoos tend to be non-foamy), so they selected a combination of non-ionic and anionic tensides. This blend of different surfactants makes the shampoo texture pliable and easy to apply. And, of course, you get a nice amount of foam.
The packaging of the shampoo is decorated with bright red chili peppers and I almost expected a certain tingling on my scalp. However, unlike classic chili extract the fermented chili doesn't irritate the skin but actually has a soothing effect. It also boosts the skin's absorption of nutrients so it's beneficial for the scalp and therefore encourages hair growth.
Proteins derived from peas and rice plus medicinal clay help to strengthen the hair and increase volume. My hair felt a little stronger and more texturised (then again, my hair is short and doesn't really need any volume 😉 . Thanks to the litsea cubeba essential oil the shampoo has a pleasant citrus-fruity fragrance.
The Extra Volume Shampoo Chili & Litsea contains 150ml and costs 8.99 Euro.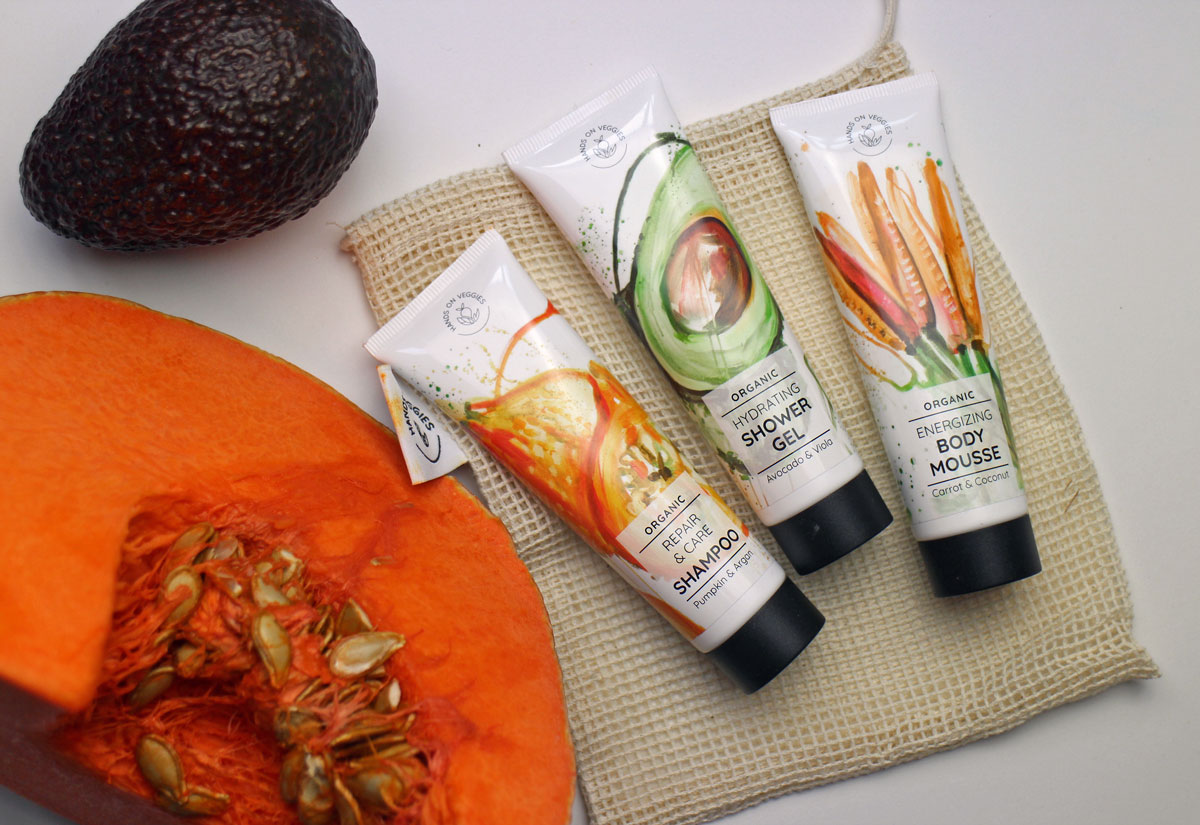 Hands on Veggies also offers travel-sized product sets and trial sets of full-sized products which is a great idea. You can select three full-sized products from the range or, alternatively, get the travel-sized product set (three products; one from each category – shampoo, shower gel and body mousse) which are delivered in a reusable cotton bag that can also be used for grocery (or vegetable!) shopping 😉 .
You can also try some of the other Hands on Veggies products, like the Repair &Care Shampoo Pumpkin & Argan, the Anti-Dandruff Shampoo Fennel & Rosemary, the Hydrating Shower Gel Avocado or the Firming Shower Gel Artichoke.
The Travel Size Trial Set (containing three 50ml tubes of shampoo, shower gel and body mousse as well as the cotton bag) costs 11.47 Euro. You can also buy travel sizes of each product which are priced from 2.99 to 4.49 Euro.
I received some of the products for this post, others I have bought myself.
At the moment you can buy Hands on Veggies through the company's own webshop or online perfumery Ecco Verde, in Mangolds store in Graz (Austria) or in DearGoods in Munich and Augsburg (Germany). However, the brand will soon also be available in other retail chains and outlets.
[Click here for more pictures and the original German article Hands on Veggies: Eine neue Naturkosmetik-Marke mit viel Gemüse]
Good-bye everyone and see you soon!
Julia