Dear international readers of Beautyjagd,
Welcome to the next English-language edition of Beautyjagd! This is a condensed version of the most important articles that have appeared on my blog over the last few weeks. For more information about this format, click here. And now: enjoy the best of Beautyjagd in English!
Best wishes
Julia
A Happy New Year with Frangipani
Happy New Year, everyone! I wish you all a lovely and peaceful 2017. And to start off the New Year on the right note (pardon the pun!) I recommend a blast of uplifting frangipani – I simply love this intensely floral, vanilla-and-almond accented fragrance. The frangipani plant belongs to the Plumeria family (which also includes oleander bushes) and grows in the tropics, for example in India, South America or Australia. And whilst we European frangipani lovers might not be able to revel in the fragrance of the actual frangipani blossoms, we can at least enjoy frangipani essential oils or absolues (an absolue is a highly concentrated oily perfume essence).
Several European organic beauty brands offer frangipani absolues, like Primavera from Germany or Farfalla from Switzerland. These two companies sell a 20% liquid essential oil which has been dissolved in alcohol. French store Aroma Zone even sells a solid, waxy frangipani absolue which is packaged in a little jar. Frangipani essential oil contains primarily triterpenes and phenyl esters which means that it is a skin-friendly oil. You can blend it with your favourite body oil or add it to hydrosols or other liquid toners.
The recently launched Cocoa Butter from French brand Lamazuna has also been scented with frangipani: the small cake-shaped body butter contains cocoa butter, baobab oil and coconut oil. Massage your skin with the solid oil-cocoa butter mixture; it melts immediately and hydrates the skin really well. And the fragrance is delicious, it smells like white chocolate with a hint of tropical blossoms 🙂 . By the way, Lamazuna is Georgian and means "beautiful young woman" (I read this on the packaging). I bought my Lamazuna butter from the brand's online store.
And here is what I did with my two frangipani absolues: I used the solid absolue from Aroma Zone to scent an almond body oil (the wax dissolves when you immerse it in oil but it takes around six days until the wax has turned completely liquid). The Aroma Zone jar only contains 0.5 grams, by the way, which is a very small amount. The bottle of Primavera's liquid Frangipani Absolue contains 5ml. I added a few drops of the oil to an orange blossom hydrosol (a recommendation from Naturdrogerie founder Beate).
Have a beautiful year!
[Click here for more pictures and the original German article Mit Frangipani ins neue Jahr 2017]
I like it when things slows down between Christmas and the first week of the New Year – there are fewer e-mails than usual; it's a time for sleeping in, for leisurely breakfasts and relaxing… I really appreciate this quiet time. I am not a big fan of New Year's resolutions but of course I also think about my plans for 2017 – about the new things I want to try out, the new places I want to discover, what kind of changes I'd like to make in my personal and professional life. However, I decided to let myself be surprised by what I'll do in 2017 😉 .
Of course I didn't JUST stay at home during the Christmas holidays! I went on a day trip to Salzburg in Austria (Salzburg is the birth place of Mozart!), complete with a walk through Getreidegasse, eating apple strudel in Café Habakuk and buying Mozartkugeln (a very Austrian confectionery!). I also bought the Lip Balm Schwarze Ribisel ("Schwarze Ribisel" is the Austrian word for blackcurrant) from Austrian drugstore chain's Bipa's organic beauty range bigood. I like the texture of this twist-up lip balm: it's not too oily nor too waxy, with a fruity fragrance that is definitely reminiscent of blackcurrant.
I have also awarded my personal Beauty Oscars in my new article for German organic online store Najoba! Each January I select six particularly interesting beauty products that were launched in the previous year. Enjoy the article! (German only, sorry).
If you are feeling a little tired at the moment and need a gentle nudge to get going in the morning, try out the new Pink Pepper Skin Care Oil from German niche brand Mahlenbrey. I was sent the oil by founder Brigitte Mahlenbrey (thank you!) and tried it out immediately. The complex fragrance is difficult to describe: it starts out with herbal-peppery notes, then I detect citrus fruits and floral accords which are tempered by an aromatic sweetness. The pepper is more of a background presence towards the end. Spicy, warming and intriguing! More information is available on the Mahlenbrey website. You can use the Pink Pepper Oil as a body moisturiser or simply apply it to your wrists or neck and wear it like a perfume oil.
In January I often have a craving for nude makeup colours. This is also why I kept French beauty brand Avril's new Eye Shadow Palette in Nude until now although I already received the product from online store Ecco Verde back in December. The Avril palette contains six powder shadows in natural tones (three are shimmering, three are matte): there is a shimmering champagne colour, a matte cream white, a shimmering copper-apricot tone, a neutral to slightly warm-toned matte light brown, a shimmering copper-bronze tone and a neutral-toned matte medium brown. All powder shadows have a silky, finely-milled texture with good pigmentation. I have already shown some swatches on Instagram. The matte shadows tend to crumble a little bit when you apply them to the lid with an eyeshadow brush. If you prefer a Smokey Eye effect, Avril also offers an eyeshadow palette in shade Smoky which features six darker colours. I also like the packaging: strong cardboard with a magnetised closure flap which looks very stylish.
Sometimes little things can make me very happy! For example, I have finally attached the single pump dispensers (which I bought at Aroma Zone during my December trip to Paris) to a hydrosol and my beloved vanilla body oil. Both of these bottles have a classic screw top and the pump dispenser makes things so much easier!
And here are some interesting organic beauty news that I discovered last week:
US beauty brand Axiology has launched new lipstick colours; in Germany Axiology is exclusively available at online store Savue Beauty.
German perfumery chain Douglas has listed a new organic beauty label: Hej Organic is based in Hamburg and offers 11 sku. German blog Louise et Hélène has reviewed the new beauty brand.
And artisan fragrance manufacturer Florascent (Germany) recently introduced five new The Cube home fragrances which are available, for example, at Naturdrogerie.
US brand W3llPeople has brought out two new products, the Expressionist Liquid Eyeliner and a Tinted Moisturizer SPF 30. I hope the products will be available in Europe soon! More information is available here.
German beauty brand Benecos has just introduced a pack of facial cleansing wipes, the Happy Cleansing Wipes.
Organic niche fragrance brand April Aromatics is launching a new limited edition fragrance, the Eau de Parfum Agartha. For more information, click here.
And in early February US brand Ilia Beauty will launch its Spring Collection which includes two Quattro Eyeshadows and an Eye Primer. Here is a first pic.
[Click here for the original German article Beauty-Notizen 6.1.2017]
Ta-dah! It's time for my annual beauty review!
In this article I'll tell you about my ten favourite organic beauty products/brands from the year 2016. And believe me, it wasn't easy keeping the list confined to ten products only! There were so many cool beauty launches last year 🙂 .
In fact, for me 2016 was a pretty good year all round. I travelled a lot which I always find very inspirational. My favourite journeys last year included my first visit to Seoul (I love the strong beauty vibe of that city!) and a recent trip to the Finnish part of Lapland. I never would have thought that the blue quietness of the arctic landscape could be so riveting!
I visited several trade shows last year – always interesting! – and participated in a Social Media panel discussion at the Spa Business Lounge at Beauty Düsseldorf trade fair last March. I'm also very happy that my blog was mentioned in a number of publications, for example in Ökotest and Allegra – thank you! And last but not least I want to thank all of my amazing readers who make Beautyjagd possible. Merci!
And here are my Top Ten organic beauty launches of 2016! These are products that made me think: "wow, I never knew this kind of product existed!" Or, "amazing, this really works!" Or, "such cool packaging!". The order of products is random and the list includes products from all over the world. And now, curtains up for the Best of Organic Beauty 2016!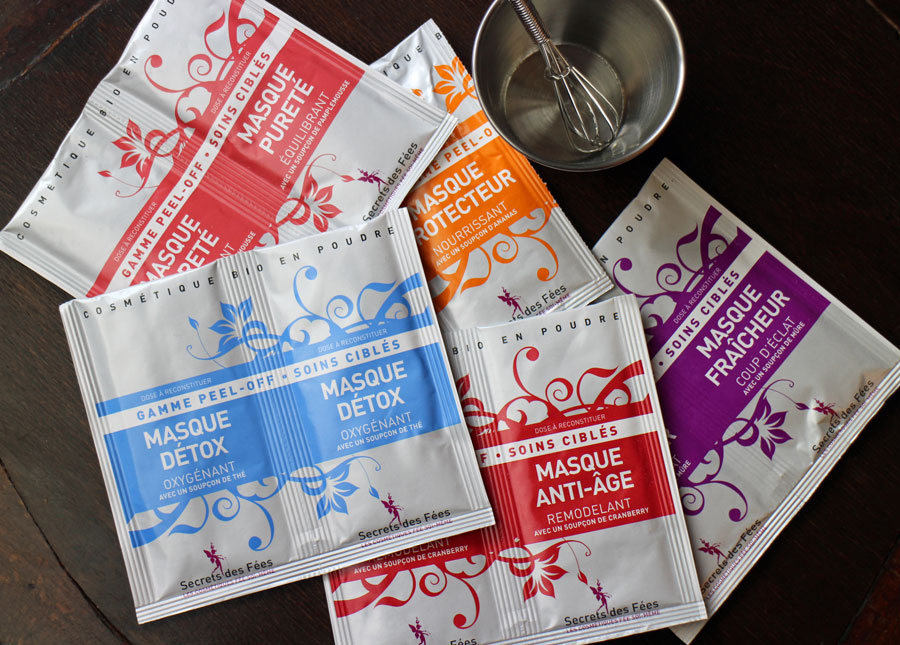 ♥ In my opinion the peel-off face masks from French brand Secret des Fées are really innovative. They are sort of a "clay mask 3.0": a completely new interpretation of a very traditional beauty mask. The clay is combined with algae so the mask not only cleanses the skin but is also hydrating. I first came across this type of mask in Seoul – the Rubber Masks (modelling masks) of Korean brand Lindsay – and was very excited when I found a European alternative in French beauty brand Secrets des Fées new peel-off masks. In early 2016, Secret des Fées finally became available in Germany (yay!). I usually mix the mask powder with hydrosol, apply the thick mass to my face and then peel off the mask layer after 5-10 minutes. The mask leaves my skin clean and refined but not dry. By the way, I usually use two sachets at a time – it makes the mask easier to remove and is a lot more fun! You can find more information about the masks in this blog post here.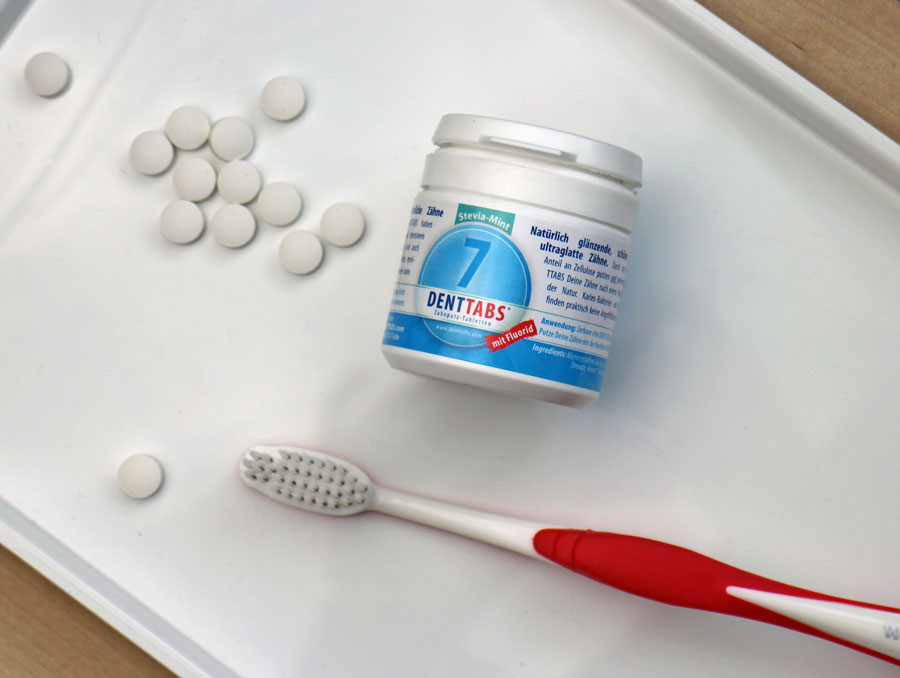 ♥ At Vivaness trade show last February I came across the exhibition stand of German brand Denttabs. And I have been using Denttab's toothpaste tablets ever since! In fact, I rarely use normal toothpaste anymore. You chew the little powdery white tablets until the saliva and the tablet powder form a creamy mass, then brush your teeth like you normally would. These tablets are not just ideal for travelling but they are also effective against cavities and tartar: the tablets are based on cellulose which softly polishes the teeth rather than scrubbing them. The surface of the enamel becomes very smooth which means that food particles are less likely to stick to your teeth. Denttabs also sells a super-soft toothbrush which works very well in conjunction with the tablets. In my opinion the Denttabs with fluoride work better than the tablets without fluoride. And yes, I admit that you have to get used to the whole "chewing your toothpaste" thing first – but it is worth it 😉 . For more information about Denttabs, click on this blog post here.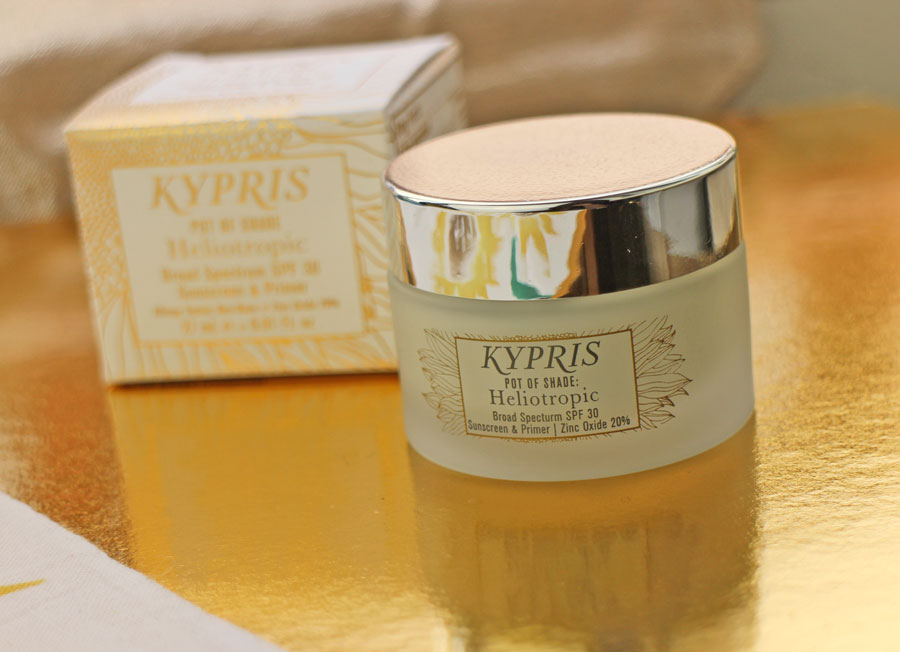 ♥ My annual sun care post had already gone online when US niche brand Kypris launched its new sun protection cream Pot of Shade Heliotropic SPF30. I didn't want to wait until next year to review this product because Pot of Shade is one of THE best facial sun protection creams I have ever tried out! When I was in the South of France last September I wore Pots of Shade every day, over a hydrosol or serum. The sun cream feels very comfortable on the skin (almost like a primer); with 20% zinc oxide (non-nano) as a mineral sun filter, plus a range of plant-based antioxidants. And no fragrance. Although Pot of Shade is expensive, I will buy it again this year. You can read more about Pot of Shade from Kypris in this Beauty Postcard here.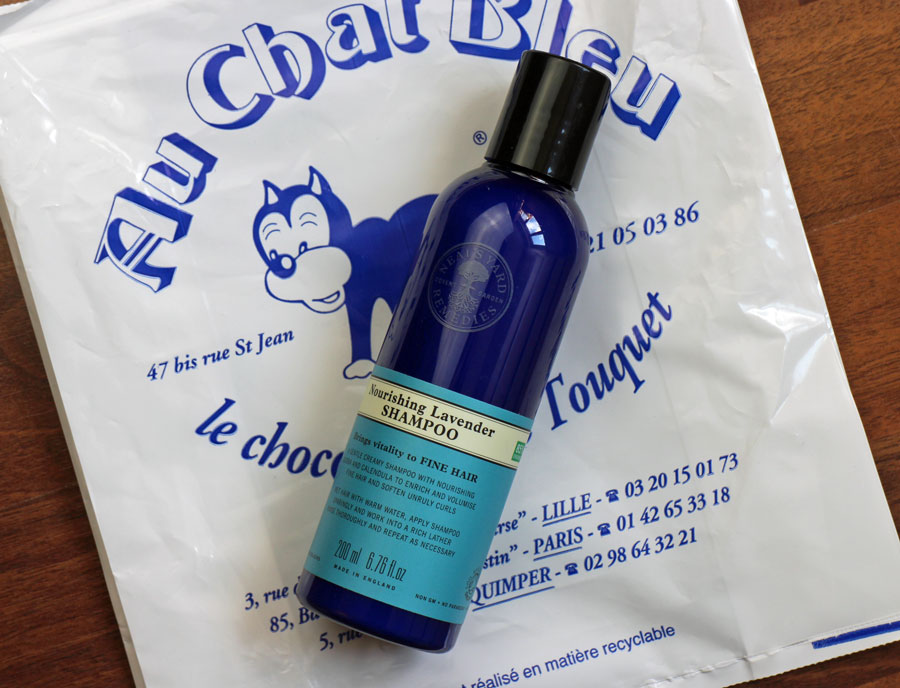 ♥ A shampoo for fine hair which is based on oil? Seriously?! I almost didn't believe what I read on the packaging of the Nourishing Lavender Shampoo from UK brand Neal's Yard Remedies: most of the shampoo consists of sunflower oil and jojoba oil, with just a little water in the mix. This is also the reason why the shampoo has an unusually high organic percentage of 85% (unusual for a shampoo I mean; shampoos are traditionally based on water which does not count in the percentage of certified ingredients). Ok, so we have this shampoo which is mostly plant oils and tensides/emulsifiers – and it still leaves the hair clean and soft and not heavy at all! I assume the product was inspired by the CoWash trend (washing your hair with conditioner). Because the shampoo formula contains almost no water, the percentage of preservatives is also very low. You can find a more detailed article about the Nourishing Lavender Shampoo from Neal's Yard here.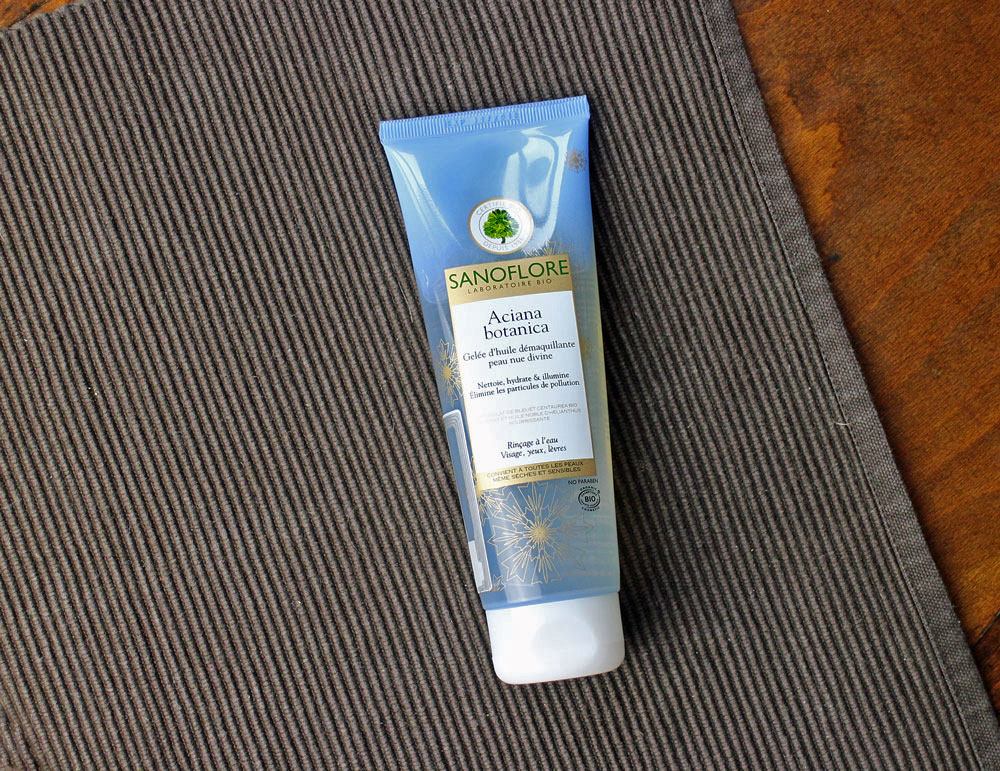 ♥ The Aciana Botanica Gelée d'Huile Démaquillante from French brand Sanoflore follows a similar principle. This innovative facial cleanser has a clear gel texture which you apply to dry skin. Once you add water (with your wet hands) and massage the product into the face, the cleansing gel turns into a milky texture which is easily rinsed off. There are similar products on the market, of course, but most of these are too thick, too oily or they dry out my skin too much. The Gelée d'Huile, on the other hand, is excellent: the oil gel has a light comfortable texture, cleanses the skin well without drying it out and the transparent-blue packaging (decorated with cornflowers) looks really pretty. I mentioned the Gelée d'Huile in these Beauty Notes a few weeks ago – and I have already repurchased the product.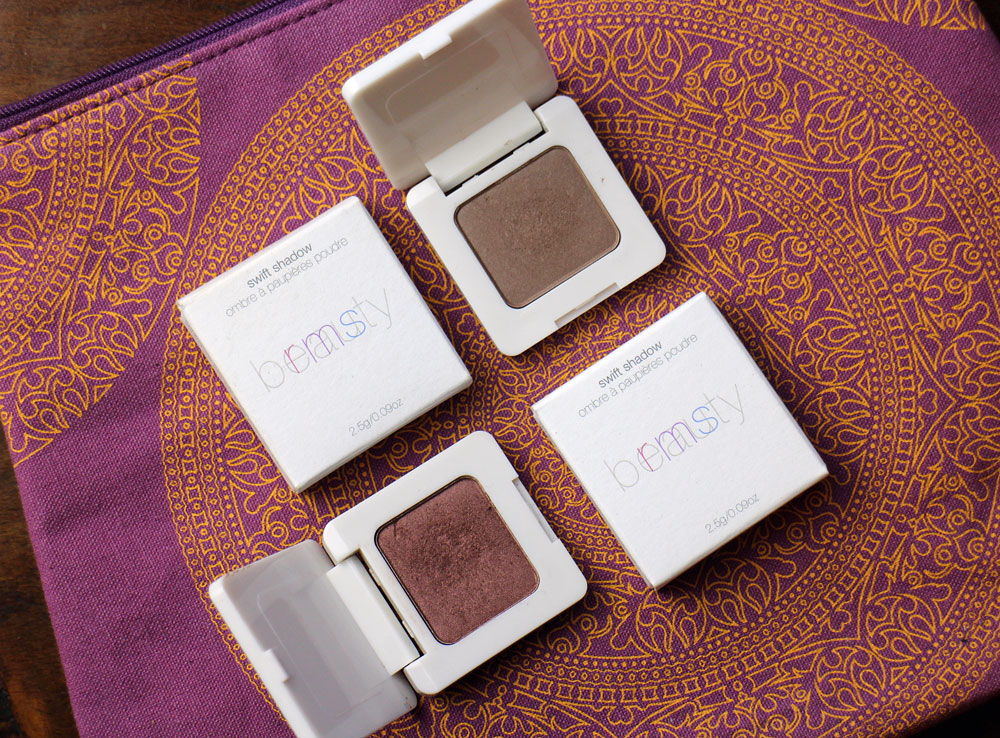 ♥ Up until recently Rose Marie Swift (the founder of US colour cosmetics brand RMS Beauty) was considered the queen of natural creamy eyeshadows and foundation. In 2016, however, RMS launched a collection of powdery pressed eyeshadows in square white packaging. The 18 Swift Shadows from RMS Beauty are divided into six beautiful colour families (like Tobacco Road or Sunset Beach) which include three eyeshadows each. A perfect combination of packaging, texture and colour choice! Well done! My current favourite is the Swift Shadow in shade Garden Rose 13: a multi-dimensional brown-rosé with a subtle golden shimmer. I introduced two of the Swift Shadows last September.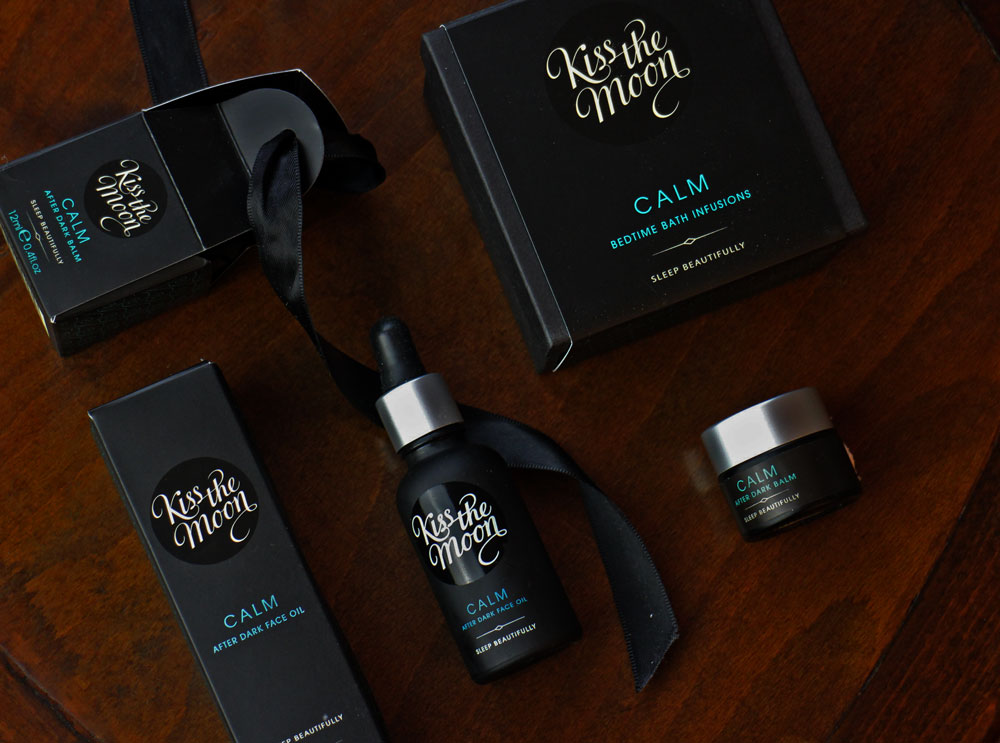 ♥ When writing about beauty brands I always take a look at the whole presentation of a brand, not just the products. And UK brand Kiss the Moon has a very convincing brand concept indeed: they develop beauty products exclusively for night-time use! The range includes face oils, balms, pillow sprays and bath additives and there are four aromatherapy-influenced fragrance collections: Love (ylang ylang, rose and frankincense), Glow (bitter orange and myrrh), Dream (lavender and cedarwood) and Calm (jasmine, camomile and ylang ylang). This last fragrance is my favourite, I love the soothing, powdery floral scent! I wrote about Kiss the Moon is these Beauty Notes here.
♥ I already mentioned the products of Korean organic beauty brand Whamisa in my 2015 Annual Review. And I am glad that Whamisa is finally available in Germany; I like the comfortable and innovative textures of the brand's face creams and toners. In 2016 I discovered the Damask Rose Petal Mist from Whamisa: there are actual flower petals in the bottle (the Olive Leaf Mist contains olive leaves!) and the texture is beautifully moisturising and slightly gel-like. The toner has been formulated with fermented herbal extracts which have an antioxidant effect; use it as a hydrating step in your daily face care routine or simply spray the toner onto your face whenever you need a boost of freshness! The K-Beauty trend just keeps on growing – and is increasingly influencing the product development of European beauty brands.
♥ Last spring French beauty brand Melvita launched the two-phase moisturising face care product Nectar Bright Duo Lumière (you need to shake it up before use). The Duo Lumière hydrates the skin thanks to lipids (sunflower oil) whilst the lactic acid has a very gentle and non-abrasive peeling effect on the skin. In summer time I wore the product solo, but you can also apply a few drops of facial oil afterwards. This is a truly unusual All in One product – it doesn't fit into any of the classic skin care categories; I guess you could describe it as a cross between an anti-inflammatory facial toner (which also refines the skin) and a moisturising serum. I showed you the Nectar Bright Duo Lumière from Melvita in these Beauty Notes from last April.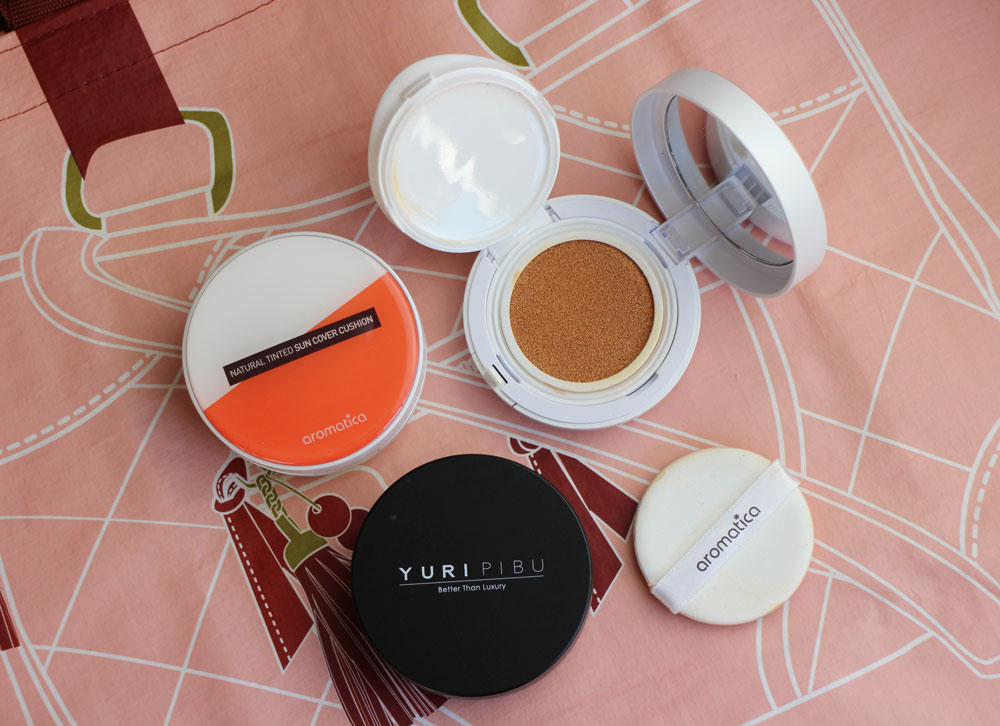 ♥ And in 2016 I finally found a cushion foundation which is pretty near organic and doesn't contain synthetic sun filters! Actually, I found two cushions, both from Korea: the Natural Tinted Sun Cover Cushion SPF30 from Aromatica and the Arpen Aqua Cushion Foundation SPF29 from Yuri Pibu. And when I tried out these two foundations I could finally understand all the cushion hype in Asia and the US! The almost watery texture is amazingly light, you can build up to a medium coverage and the finish looks natural and healthy without any oiliness or a glossy effect. The foundation is packaged in a sponge; you use a small applicator to apply the liquid to your face. Amazing! My verdict: never again without my cushion foundation! You can find a much more detailed article about the Cushion Foundations from Aromatica and Yuri Pibu in this blog post from last October.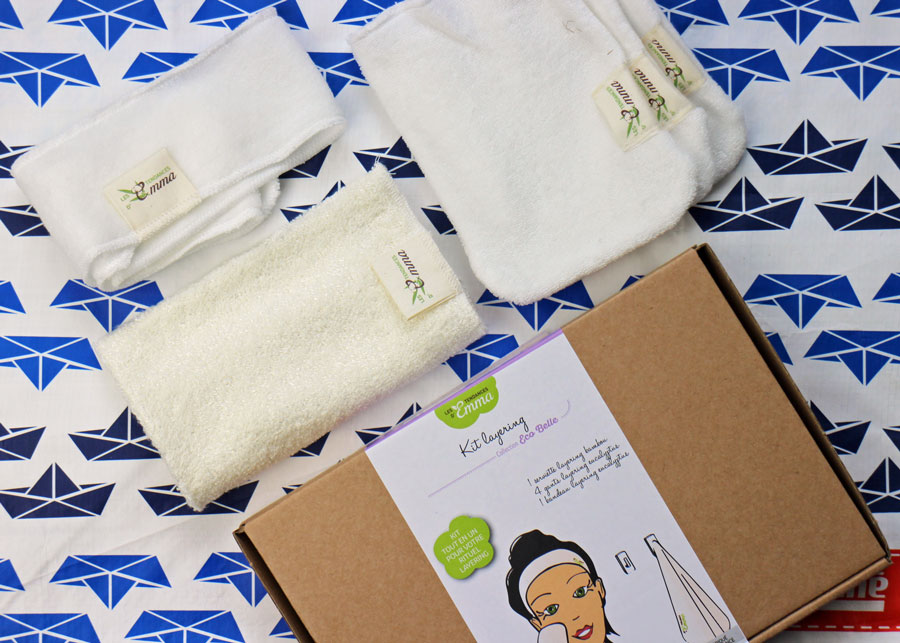 ♥ I have already reached the limit of ten products but I reeeeally want to mention the (non-beauty) Kit Layering Collection Ecobelle from French brand Les Tendances d'Emma! The set contains four little wash cloths which I like so much that I have even sworn off my beloved konjac sponges! The wash cloths are made from eucalyptus fibres which are so ultra soft and supple that even the softest cotton can't compete (seriously, any other fabric just seems abrasive compared to the Ecobelle cloths). I really hope that this innovative material will be also used for other beauty tools – or that the wash cloths will also be available individually. More information about the Kit Layering from Les Tendances d'Emma can be found in this blog article.
There were so many amazing organic beauty launches last year that I really must mention the following products which just barely missed becoming my favourite beauty product 2016! As in previous years, I've divided the runner-ups into different product categories. Each product is linked to the respective blog post where you can find more information. Enjoy!
Category Organic Fragrance: Aqua Composita Eau d'Iris from German brand Florascent, Perfume Oil Beet&Yarrow from US niche brand R.L. Linden, DuftArmband von Primavera, (Germany), Eau de Parfum Golden Neroli from Abel Organics (Netherlands) and Taonano Zirbelkiefer from German brand Taoasis
Category Skin Care: Sensitive Line from NZ brand Living Nature, Mangosteen Beauty Drops from SkinOwl (US), Miracle Rose Cleansing Stick from Korean Brand su:m37, TCM Cosmetics from Austrian beauty brand Master Lin, La Cure Peau Nette from Absolution (France), Chamomile Deep Moist Gel Mask from Terracuore, (Japan/Italy), Intense Moisture Nährende Feuchtigkeitsmaske from Farfalla (Switzerland), Cacay Face Oil from Oils of Heaven (UK), Age Protect Fluid LSF 6 from Santaverde (Germany), Sleeping Cream von Lavera (Germany)
Category Body Care: Shower Oil Apple Elderflower from Estonian brand Joik, Shower Gel Organic 3.0 from Speick (Germany), Body Lotion Nectar de Roses from Melvita (France), Deodorant from Clemence et Vivien (France), Madame Inge Body Mousse from German brand i+m, Foot Cream Sheabutter Geranium from Cattier (France) and Alverde Med (Germany)
Category Colour Cosmetics: Liquid Eyeshadows from French brand Couleur Caramel, Mascara Divine Mascarade from Lady Green (France), SPF Collection from Ilia Beauty (US), Cream Eyeshadows from Studio78 Paris (France), Eyeshadows from PuroBio (Italy), Lipsticks from Kjaer Weis (US)
Category Hair Care: Chia Wash Clay from German salon brand Kastenbein Bosch
Category Sun Protection: Sunspray LSF 30 from Alga Maris (France), Everyday Natural Sunscreen Continous Spray LSF 30 from Goddess Garden (US).
Category Baby Care: German beauty brand Belle&Fleurelle
Category Best DIY: Face Oil Immortelle Vanilla from Primavera
The most beautiful idea for a limited edition: Tassilo Linde range from German brand Martina Gebhardt
And if you're interested: here is the link to my last year's Annual Review (my favourites from 2015) – I still like many of these beauty products.
[Click here for more pictures and the original German article Best of Bio- und Naturkosmetik 2016]
Limited Edition from Couleur Caramel: A Sunday in Deauville (Fall/Winter 2016/2017)
I really like the theme of organic French colour cosmetics brand Couleur Caramel's current limited edition: A Sunday in Deauville (in French: "Un dimanche à Deauville").
Imagine the light greyish blue of the seaside in winter-time, with the colours of sky, water and beach almost blending together. There is a fresh breeze that is just chilly enough to make you glad that you'll be warming up in a café after your walk along the shore. Deauville is an elegant French seaside resort in Normandy. In summer, the town is bustling with activity but in winter-time, everything slows down.
And no kajal pencil reflects the colours of the winter sea better than the Jumbo Eye Pencil 148 in shade Rock – a light grey with bluish undertones. I wear the kajal in a thick, smoky line on my upper lash lines and on the outside of my lower lids. Jumbo Eye Pencil 150 in Root, on the other hand, is perfect for a relaxed evening in a small café: the medium-toned brown warms your eye colour (see swatch below), adding depth and definition. Both pencils are soft and easy to apply; I usually smudge the lines to get a softer effect. The third Jumbo Pencil in the collection is a deep petrol blue which is also a great colour.
As you can see from the swatches above, the Longlasting Lipglosses of A Sunday in Deauville are highly pigmented. I'd describe them as liquid-creamy lipsticks with a glossy finish. Lipgloss 827 in Desert Rose Pink is a medium-toned opaque pink, Lipgloss 829 Pink Red is more of a coral-shaded medium red with bluish undertones. Both glosses are completely shimmer-free so you get a blast of pure colour! They are scented with light powdery-floral notes. If you apply several coats of lipgloss I'd recommend using a lipliner so that the colour stays within your lip contours. For me, one coat is usually enough because the pigmentation is so intense. The lipglosses last well and the texture feels light on the lips and completely non-sticky. The third lip gloss shade, Heather Pink, is a more blue-toned darker red colour.
The limited edition also includes two Flash Make-up Kits, with three powder eyeshadows and one powder blush each (one kit has cooler tones, the other offers warmer colours). There are also three Nail Polish Kits which each contain a colour polish and a glitter polish.
I received the four products from Couleur Caramel. More pictures and swatches are available at Pretty Green Woman, Tried it out and Was macht Heli..
[Click here for more pictures and the original German article Limited Edition von Couleur Caramel: Ein Sonntag in Deauville (Herbst/Winter 2016/17)]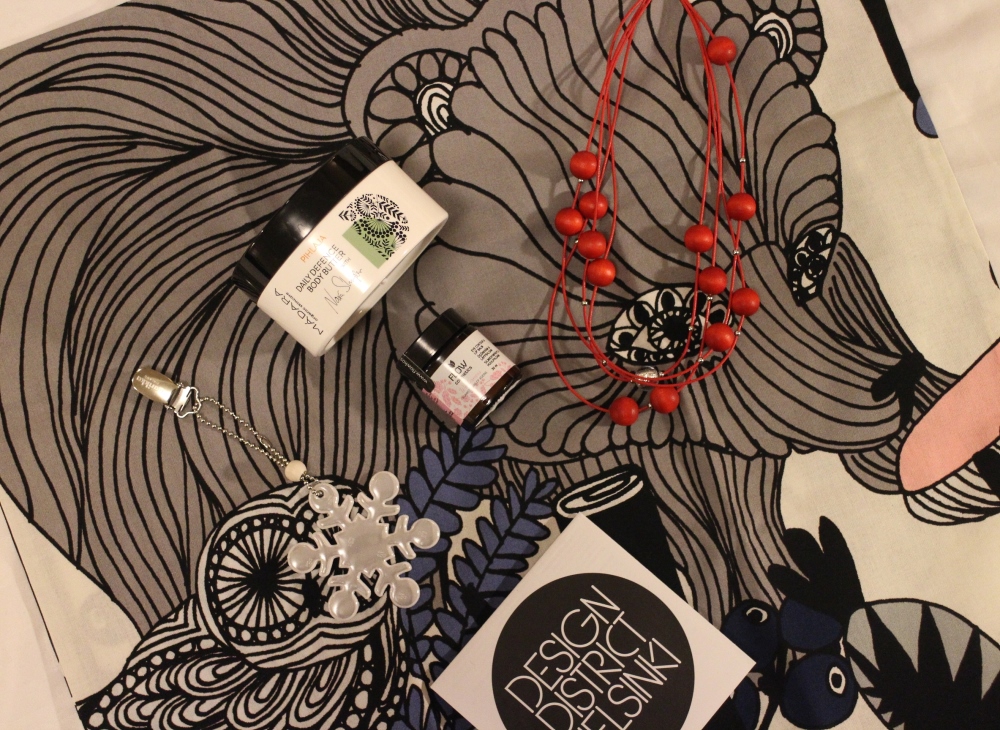 Beauty Notes 13.1.2017 (from Helsinki)
Yes, I am in Helsinki again! I guess I have the Finland fever 😉 . My last trip to Helsinki was in November 2016. It was already quite cold then but now it is really winter-time over here! Sleety snow, grey sky and strong winds but also cosy cafés, Chocolate Bonbons (which are called Julia!) from Finnish confectionery brand Fazer and designs from Iittala, Arabia, Marimekko and Aarikka. I also love Helsinki's covered market halls (there are three markets altogether).
In the background of the picture above you can see Marimekko's new fabric design Veljekset which was launched to commemorate the 100th anniversary of Finland. It's one of the most famous Finnish interior and fashion design brands! I bought a Veljekset cushion cover because I fell in love with this forest fantasy of bears, berries, birds, roses and mushrooms 😉 .
I also discovered the wooden jewellery of Aarikka; the red necklace Vilkas was on sale (yay!). It looks really good with my black turtleneck sweater. I also bought a reflector shaped like a snowflake – everyone in Helsinki has one of these reflectors dangling from handbag or jacket so I also needed one 😉 .
And of course I visited all of the usual organic beauty stores to do store checks. I am impressed by the selection of international beauty brands that are available here in Helsinki: Naturelle offers Kypris, Mahalo, Axiology, Hynt Beauty, Juice Beauty and RMS Beauty (including the new powdery RMS eyeshadows), Eco Beauty Wellness sells Studio 78 Paris and Kahina Giving Beauty, and Jolie's brands include Neal's Yard Remedies, Iroisie, Pai Skincare and Absolution.
At organic supermarket Ruohonjuuri I bought the Pihlaja Daily Defence Body Butter from Latvian brand Màdara – Pihlaja is a beauty range which was developed together with Finnish beauty blogger Nora Shingler. The body butter contains rowanberry extract, has a light pinkish-orange colour and a fresh, herbal fragrance.
I am wearing the Eye Contour &Lip Balm from the Wilderness range of Finnish beauty brand Flow Kosmetiikka (isn't "Wilderness" a cool name for an anti-ageing skin care range?!) on my cheeks during the day to protect my skin from the icy wind. Also, I will soon go to Lapland (again!) which will be even colder than Helsinki. I did mention that I had Finland fever, right? Careful, it might just be contagious 😉 .
[Click here for more pictures and the original German article Beauty-Grüße 13.1.2017 aus Helsinki]
Good-bye everyone and see you in two weeks!
Julia